Home cinema install: Going for a spin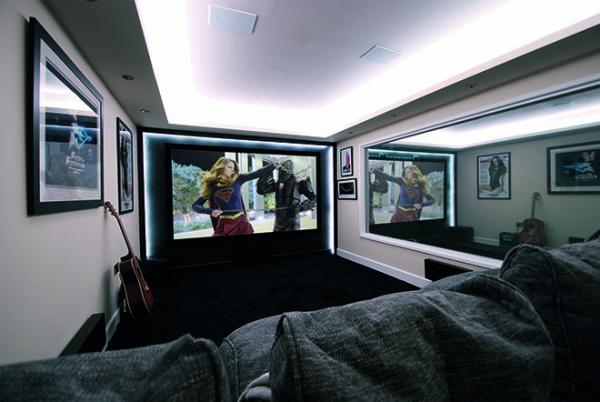 Ultra HD and Dolby Atmos theatre room takes over one half of a garage...
Vrooom! This unusual home cinema setup is the result of a car-mad movie fan who wanted to split his double garage in half, thus creating space for a high-spec theatre and a slick residence for his motor. And he wanted to be able to see one side from the other...
CEDIA-registered install outfit Cre8tive Rooms took up the challenge, and delivered this eye-catching solution. Work time on the project was a rapid 15 days.
As befits a modern home cinema, Ultra HD projection and Dolby Atmos audio are catered for. A Sony VPL-VW320ES projector, mounted to the ceiling at the rear of the room, fires at a 2.5m-wide projector screen. The chosen ratio of 16:9 means it's suited to both movies and bigscreen sports.
The speaker configuration is 7.1.2. In-wall and in-ceiling UniQ driver models from KEF's Ci line are used for the front LCR soundstage (hidden from sight behind the screen) and the Atmos overhead channels. Two-way Flatbox speakers from Swedish brand DLS are sited on-wall for the surround and rear channels. Providing audio processing and 110W-per-channel amplification is a Yamaha RX-A1050 receiver.
Source gear for the cinema includes a Sony Blu-ray player and PlayStation, Sky+HD and Apple TV. These are housed in a wall-mounted rack on the car-side of the garage, in addition to the hardware for the Savant smart control system that makes driving the cinema room easy.
Through the looking glass
Perhaps the most startling aspect of this conversion is the window between the cinema and the other side, a key demand of the owner. The solution is clever, as at times it is transparent, and other times hides its secret with a reflective surface.
'Due to budget constraints the tinted window isn't an electric optical solution,' reveals Cre8tive's Technical Director Nick Oke. 'We used a special film which rests in different light situations. When the light in the showroom side is 33 per cent brighter than in the cinema it becomes see-through. LED lights were installed in the showroom to achieve this result. When the lights are off, the cinema is brighter than the garage so the film acts like a mirror. This also helped us to overcome the relatively narrow room dimensions of the cinema, giving a feel of space.'
Having a window in this position isn't perhaps ideal when it comes to room acoustics, yet the installers found the glass didn't have as much of a reflective property as expected. Again, sticking to a tight budget meant bespoke room treatments weren't an option, but the carpeted floor and quartet of soft-fabric recliners help dampen acoustics, and the speaker/amp system was fully calibrated.
The end result is a space that surely hits the unusual brief – a garage conversion that still finds space to park a car, and makes a feature of it too. Now, where'd we leave our Fast & Furious boxset?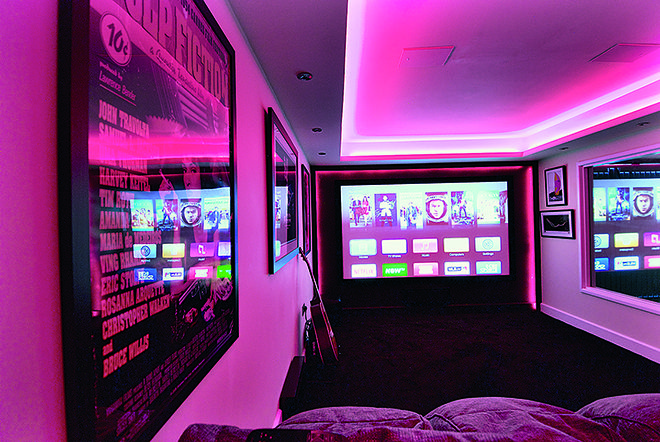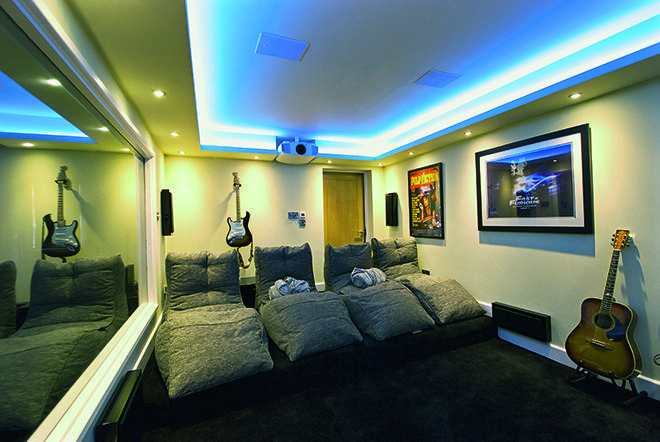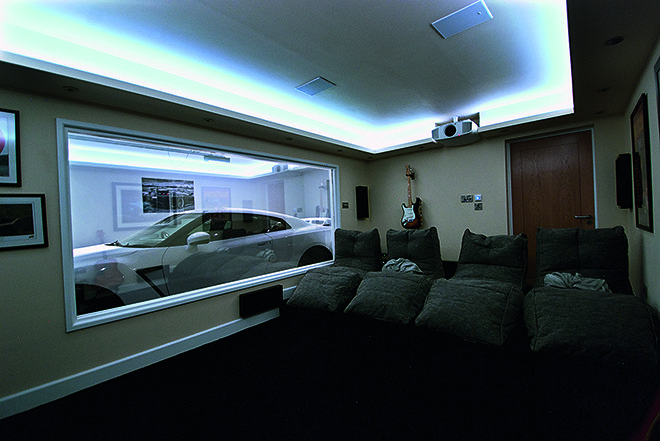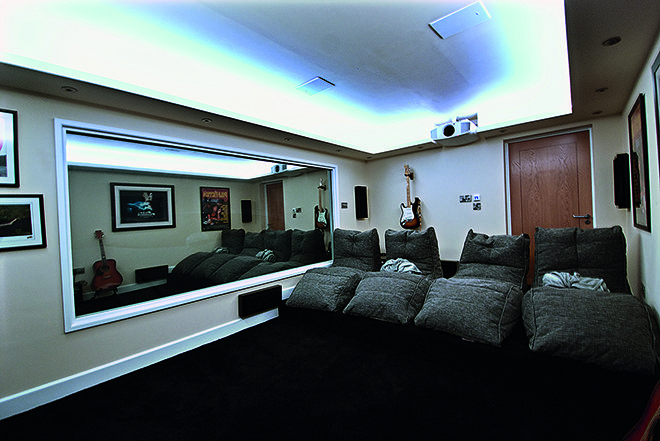 ---
Installer Info
Cre8tive Rooms
www.cre8tiverooms.com
0203 857 7018
---
Kit List
Sony: VPL-VW320ES 4K/Ultra HD projector
ScreenInt: Modigliani 2.5m 16:9 fixed-frame acoustically transparent projector screen
DLS: 4 x Flatbox XL speakers for rear and surround channels; 1 x FlatSUB 8.1 subwoofer
KEF: 3 x Ci200QL for the front left, right, and centre channels; 2 x Ci160QL for the Atmos overhead speakers
Savant: Smart Host with Pro remote for control
HDBaseT: Extension kit for Sky+HD
Sony: BDP-S7200 Blu-ray player; PlayStation games console
Apple: Apple TV
Yamaha: RX-A1050 AV receiver
Starscape: KNX colour change LED lighting kit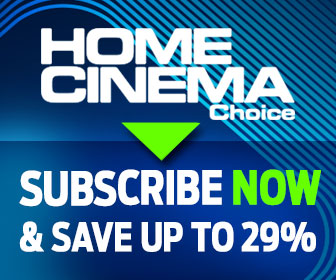 Home Cinema Choice #315 is on sale now

, featuring: Panasonic HZ2000 OLED TV; Focal Twenty5i speaker system; Sony 8K TV; Klipsch SPL-150 subwoofer; 25 fantastic fights on film; disc reviews; opinion; and more.
Want to see your home cinema system featured in the pages of HCC? Click
here
for more info.