Home cinema install: Game on in Dolby Atmos
This bespoke 4K PJ/3D audio media room is designed for a film and TV fan with a passion for console game thrills
While for some a living room can easily double up as a home cinema, others crave a private space where they can get away from it all and settle into the serious business of watching movies. And, in this case, blasting aliens, thrashing cars and pretending to be Lionel Messi.
The owner of this custom-designed media den is a console game junkie. So much so that installer Cyberhomes has integrated a wire-ready cubby hole into the front wall, enabling him to swap in games machines as and when he wants.
Projection selection
Once his trigger-finger is worn out, other sources deliver movie and TV content to the 120in projector screen via a Sony 4K HDR projector (the VPL-VW520ES), with automated masking for switching aspect ratios. A Kaleidescape Strato and Amazon Fire TV provide Ultra HD material, and are joined by Sky+HD and Blu-ray-playing hardware.
Audio is Dolby Atmos flavoured, with a full 7.2.4 system fitted discreetly in-wall and in-ceiling, using speakers and subwoofers from Triad, plus processing and power from Triad and Integra.
A purpose-built timber frame around the room houses absorbing and diffusing acoustic treatments, finished off with a suede-style (and acoustically-transparent) fabric. Even the ceiling (which hides three layers of plasterboard to stop the sounds of Call of Duty annoying those in the rooms above) is dressed to match.
The lucky owner describes the room as a 'gaming heaven with astonishing sound and visuals.' We'd happily challenge him to a Dirt Rally time trial...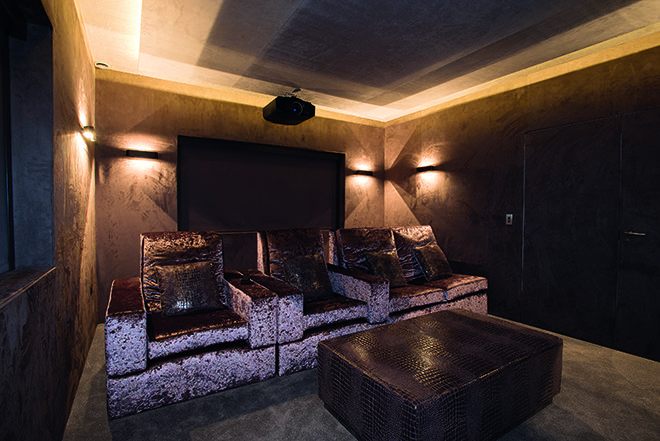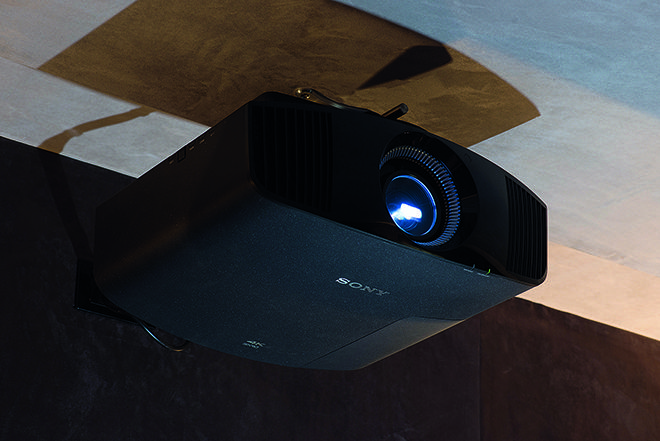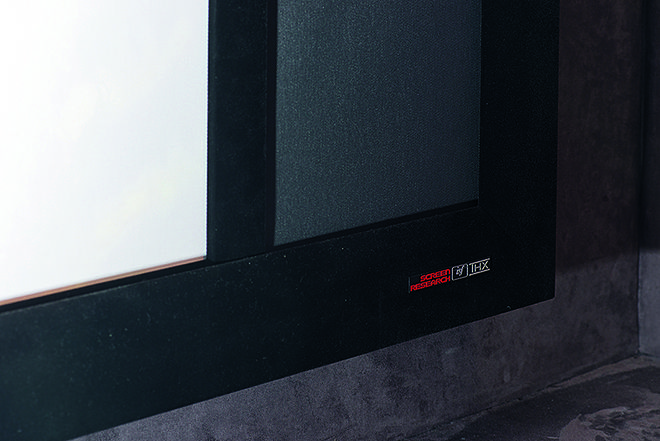 ---
Installer Info
Cyberhomes
www.cyberhomes.co.uk
0333 344 3718
---
Kit List
Sony: VPL-VW520ES 4K projector with HDR support
Screen Research: 120in fixed 2.35:1 screen with motorised side-masking (EL1C-120-240)
Kaleidescape: Strato 4K movie server
Triad: 3 x InWall Bronze/4 LCR; 8 x InWall Bronze/4 satellites; 2 x InWall Bronze subwoofers; 2 x RackAmp 350 amplifiers
Amazon: Fire TV 4K media streamer
Integra: DTR-70.6 AV receiver (7.1.4); DBS-30.3 Blu-ray player
Sky: Sky+HD set-top box
Lutron: Motorised blackout blinds; lighting control
Leaf: HDMI extender kit (4K)
Control4: HC800 processor; SR260 remote