Drive-in theatre - Jason Plato's home cinema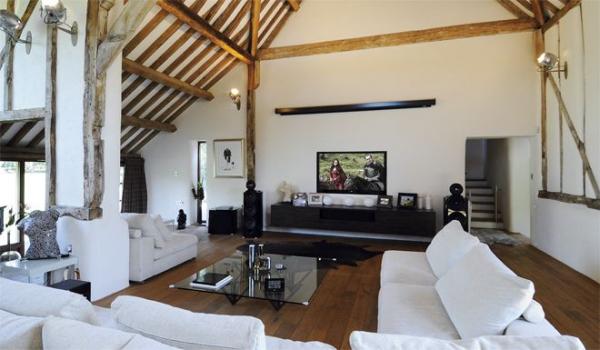 The Touring Car legend and TV presenter kicks back with reference grade KEF and Pioneer kit
The professional cinema installs featured in HCC sometimes look like part of the lifestyle of the rich and famous – and 
here that's most certainly the case. 
This impressive 16th century barn conversion 
in Oxfordshire, brought up to 21st century standards via some cutting-edge home automation and AV hardware, is where British Touring Car legend and Fifth Gear presenter Jason Plato kicks back after a hard day behind the wheel. Because, although driving cars at ridiculous speeds is his passion, he's also a bit of an AV freak, and has been known to pop down to the Bristol Sound & Vision Show in the past.
The centre point of the barn is the projector-based cinema setup, but the entire house is tech-savvy. Security, the Lutron HomeWorks lighting scheme and the 12-zone heating system are all controlled by a high-spec AMX solution. A series of touchpads, remotes and wall-mounted keypads means Jason and his family can keep on top of everything, including the multiroom audio system and video intercom, should Tiff Needell keep popping round uninvited. The AMX home network even extends to the outbuilding from which Jason runs his management company.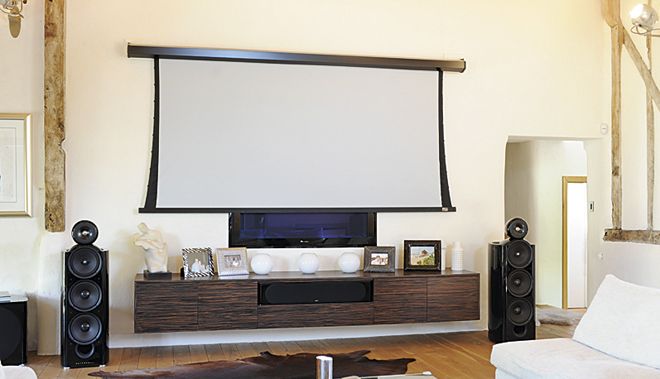 TV addict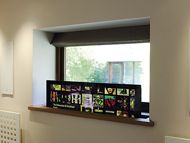 The house features a plethora of Pioneer Kuro screens, in 42in, 50in and 60in flavours, fed by an 8x8 HD matrix switcher in the main kit rack. Some of the Kuros are mounted on automated lifts – others, like the 60in model in the high-ceilinged main room, are wall mounted.
The cinema consists of a Projectiondesign DLP projector, which is housed in a ceiling recess on a drop-down lift. This fires images 
at a Draper screen which is also automated 
to glide down in front of the Kuro. Sources include a Sony PlayStation 3 (we wonder if 
he ever plays as himself in TOCA?), Pioneer Blu-ray deck, Sky+HD and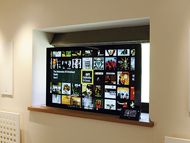 a Kaleidescape media server.
Control of all the sources and display technology is done via a wireless AMX Modero touchpanel. A single button press is all that's required to dim the lights and bring down the blinds and projector screen. Then it's a matter of browsing the Kaleidescape library and choosing a flick.
For audio, the room features a 5.1 array of KEF's high-end Reference speakers – like the Kuro TVs, these have been around for a while, but offer an astonishing performance, even in 
a room that's not quite acoustically perfect.
We'd love to have a go at Jason's day job 
– but wouldn't mind his AV setup, too...
---
Kit list:
KEF: Reference 5.1 array
Projectiondesign: Full HD DLP projector
Draper: Drop-down projector screen
Sky: Sky+HD
Sony: PlayStation 3
Kaleidescape: Server/player
Pioneer: Blu-ray player
Pioneer: Kuro plasmas – 60in, 50in and 42in
AMX: Modero touchpanels; CV700i wall-mounted touchpanels; Metreau Entry Communicator
Lutron: HomeWorks integration
---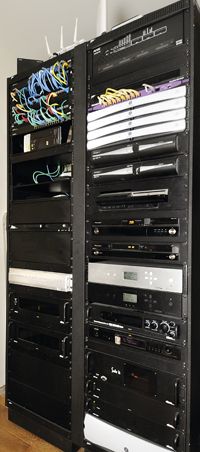 Install Info:
Fire when ready
The Projectiondesign projector is mounted into a ceiling recess, and only drops down when called into action
Double trouble
The complexity of Jason's whole-house automation network and cinema setup requires two full-size racks
Movie maestro
A quartet of Kaleidescape M500 players feed various video zones in the property, linked to a 3U server at the bottom of the rack
Sky high
As well as the PS3, Kaleidescape player and others sources, there are two Sky+HD receivers, allowing Jason to keep track of motor racing and his own TV appearances
Taking control
AMX touchpanels and wallpanels simplify control of the system
Kuro magic trick
The house incorporates three different sizes of Kuro plasma, including some discreetly mounted on automated lifts