Video on Demand grouptest

Acetrax, Blinkbox, LoveFilm, Netflix and Now TV - which is the best movie streaming service?
Few Aces up its sleeve
Acetrax offers new movies to both rent and buy, but in use it's somewhat frustrating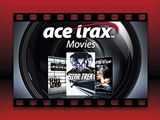 After paying £3.49 to rent a Danny Huston movie called Boxing Day through the Acetrax app on a Samsung Smart TV, I sat back and grabbed a handful of popcorn. An onscreen message told me the movie might take two minutes to load, so I waited – I'm patient and I'd paid good money. Ten minutes later, I was still staring at a blank screen. The popcorn did little to mask the sour taste left in my mouth...
Since I first logged in to the account I had considerable trouble with Acetrax. Where was the message about having to register my TV as a playback device through the Acetrax website? Since I'd already given up on one Samsung Smart TV (the brand-new F8000 screen), I switched to another TV. I knew the drill. I checked online and saw that my screen was already listed as a registered device, although a message said to select the device and complete the registration. When I tried to do so it said it was already registered. Registered by me presumably, but who knows? There's also another generic device listed, which may have been the other TV. Or was it my computer? Again, who knows?
Big Swiss VOD cheese
Acetrax is a Switzerland-based subscription-free movie rental and purchase service that has appeared as an app on Smart TVs since Smart TVs were invented. It ought to know what it's doing by now. Instead, it feels like a fledgling operation, overcomplicating matters such as adding credit, which has to be done using PayPal or Click and Buy through the Acetrax website. Within the app, latest rentals are oddly listed under latest movies to buy, and vice versa. You get the feeling the Smart TV app is an afterthought, as the website is easier to use and, with a browser running Silverlight, a reasonable place to watch movies.
When you join Acetrax you get a £3.49 voucher, which can only be spent on a rental, and is insufficient for an HD title, which typically costs £4.49. You get a 30-day window to watch a rental, and 24 hours before a title expires once activated, and you're allowed to use up to two registered devices at any one time. The system isn't clever enough to pick up on one device where you left off on another. Like most VOD services, there are no chapters and no way of creating bookmarks.
Maybe Sony is the really Smart brand since it is the only major TV manufacturer not to support Acetrax. The app can also be found on a smattering of Blu-ray decks, three types of media player, Samsung Galaxy phones, plus tablets from Acer, Lenovo and Toshiba. Other Windows, Android and all iOS devices are excluded from the Acetrax club.
The app's home page is a little messy but you can choose to browse rentals or purchases, with subfolders for New, Most Popular and Our Pick. Patience is required when waiting for the sleeve art to populate, as it is when playing back, even on the website.
Acetrax claims earlier access to blockbusters than the likes of Netflix and LoveFilm, but while there were 230 HD titles on offer during my audition, Argo, for example, was not in HD. Also annoying is that you can pay for an HD title on the website but viewing in HD is not allowed on a computer. Purchased standard-definition titles can be downloaded, but only to PC computers.
There are 28 rentals at £1.49, all non-HD. Boxing Day, like most titles, looked reasonable on the website, and made the move to fullscreen viewing quite well. A handful of titles offer Dolby Digital Plus surround sound but most are regular stereo.
Conclusion
Acetrax is a welcome rival to Netflix and LoveFilm, in that it provides HD titles (including new releases) without the need for a monthly subscription, and is available on plenty of net-connected TVs, but the awkward user interface, relatively high cost of rentals and lack of 1080p video count against it.
---
HCC VERDICT
Acetrax
Price: From £1.49 (rent)/£6.99 (buy)
www.acetrax.com
Highs: Good variety of prices; decent selection of recent releases; user-friendly browsing; stable online playback
Lows: Unreliable Smart TV app; no TV shows; complicated to set up; no games console support
Quality: 3.5/5
Content: 3/5
Value: 3/5
Overall: 3/5
---

Supermarket sweep
Owned by Tesco, Blinkbox is rich with content – but don't expect anything in hi-def

Owned by Tesco, Blinkbox's digital aisles are crammed with over 10,000 titles, and beyond the odd bit of horse meat you'll find choice cuts – while I was browsing, the likes of Argo, The Dark Knight Rises and the entire James Bond catalogue were prominent, with Django Unchained and The Hobbit: An Unexpected Journey due to appear. Blinkbox is also aggressively adding TV shows, such as Mr Selfridge, within a heartbeat of their original broadcast date.
Subscription-free Blinkbox offers its vast catalogue of movies and TV shows to rent and purchase. Rented movies and TV episodes are available for 30 days. Once you start playback you can watch a title as many times as you like for 48 hours. Buy it, and it's yours forever (with strings attached). The platform also plans to introduce some free content by the Summer.
The Sweeney (2012 movie) is typical of a latest release, priced at £10.99 to buy or £3.49 to rent, although The Pirates! In An Adventure With Scientists sells for £6.99. Most TV shows are priced at £1.89 per episode or £9.99 per series regardless of the number of episodes.
To buy or not to buy?
Deciding whether to rent or buy can be a tricky decision. There is a fiscal advantage clearly if you expect to watch something repeatedly but unless you're familiar with a title you may not feel well enough informed to make the call. But the decision is often made for you, as many titles are offered only for rent or only for purchase.
The Blinkbox option really only makes financial sense if you don't intend to watch more than a few titles per month, although since it costs nothing to be a member you can always use it in addition to subscription services to get access to otherwise unavailable titles, such as An Idiot Abroad.
Currently only Smart TVs from Samsung, LG, Philips and Toshiba feature a Blinkbox app, but it can also be found on connected LG Blu-ray decks, set-top boxes and some consoles. You can authorise up to five devices to use with your account, and can only swap from one to another three times every 90 days.
Studio restrictions currently prevent the transfer of a downloaded title to a portable device, although Blinkbox says it is looking into ways of making its content available on a wider variety of devices. Currently, even though you may have paid £10 to own a movie or TV series you can't actually download it or burn a copy of it. You simply own the right to watch it if you have a working internet connection and can log in to Blinkbox on an approved device. Not ideal if you own, say, The Big Lebowski, yet cannot watch it offline when on a plane or on holiday.
Browsing is a reasonably pleasant experience, but some folders, such as Top Crime within the TV section, appear empty. And searching requires persistence. For example, with An Idiot Abroad the title didn't appear in the shortlist until the first 'd' was entered, but Batman did. Weird.
The main drawbacks to Blinkbox are that playback is prone to stuttering (even occasional freezing) and its maximum resolution is 480p (although, that is set to change this Summer). Woody Allen's Whatever Works, for example, appeared generally soft, a bit noisy and prone to jaggies. And fast forwarding is quick but hard to track.
Conclusion
By only offering SD video, Blinkbox has a hard job persuading AV-hedz to give it much thought, but its decent range of content, pleasant user interface and pricing structure make it worth considering on a casual basis.
---
HCC VERDICT
Blinkbox
Price: From £0.99 (rent)/£1.89 (buy)
www.blinkbox.com
Highs: Massive catalogue including lots of new releases and entire TV series; no minimum spend
Lows: Can't download bought titles; no hi-def streams or 5.1 sound; search engine could be improved; limited hardware availability
Quality: 2/5
Content: 4/5
Value: 4/5
Overall: 3.5/5
---

Love is in the air
LoveFilm Instant's tempting price tag and device support make it a solid option

Top dog in the DVD and Blu-ray rental game, when it comes to video-on-demand LoveFilm has been a bit slow out of the blocks, although understandably (given licensing restrictions) not all of the titles that can be rented on disc are available online, and vice versa.
The current subscription to LoveFilm Instant is just under a fiver (described as a special launch price) and provides online access to a catalogue of nearly 4,000 titles, over 75 per cent of which are movies. Adding a disc rental package costs a minimum extra £3 a month (for unlimited rentals with only one disc at home at a time).
All of the Instant titles can be watched on any broadband-connected computer running Silverlight or on a smart device running the LoveFilm app. This is less prevalent than Netflix on Smart TVs, with no presence at the time of writing on Panasonic, Toshiba and Philips screens. Whilst can you stream movies to an iPad, there are restrictions on how much you watch each month unless you're paying at least £9.99 per month for a disc/streaming combi package.
Like most VOD services, the LoveFilm experience is not as slick on a Smart TV as it is on the website. Because LoveFilm doesn't want you to miss out on a title if it isn't available for streaming, the app also shows what's available to rent on Blu-ray and DVD. Filtering is possible, but it's rather a faff. Worse, though, is that the search engine is unreliable. To watch The Inbetweeners (TV series) I did a search in the LoveFilm app on Samsung's 46F8000 screen. The 2011 The Inbetweeners movie appeared as a disc rental option, but not as an Instant title, and the TV series, which is available online, simply wasn't listed. Yet browsing through the collections folder within the app revealed the entire TV run. Ridiculous.
The interface is decent enough, with large images accompanying each title card. The home page is dominated by 10 scrolling recommendations with smaller portals labelled Watch Now, Search, Rent by Post and Help. Watch Now contains five sub-folders: Pick of the Week, Most Popular, Highly Rated, Genres and Collections. There are 18 genre sub-folders and 100 collections, many of which are simply different series of TV shows.
There isn't exactly a wealth of recent releases. During my test, the two highest-rated titles were the Sandra Bullock movie The Blind Side from 2009 and the equally ancient The Boy in the Striped Pajamas, whilst the Exclusive collection folder included Cockneys vs Zombies and Chernobyl Diaries.
Audio is exclusively non-surround but is generally clean and clear. Not all movies are in 1080p HD, and where it is available, it appears a tad soft and doesn't have the clarity you'd get from a Blu-ray. SD quality is decent but an otherwise enjoyable stream of Office Space was spoiled by the distortion caused by the adoption of a 16:9 aspect ratio. Lawrence of Arabia, on the other hand, was presented with the correct ratio and proved vastly superior to my old DVD. There are no chapters or bookmarking, and forwarding or rewinding is at maximum 16x normal speed, but is easy to track. Stability isn't quite on a par with Netflix and judder is more prevalent.
Conclusion
LoveFilm Instant has a lot going for it – an affordable monthly subscription, plenty of movies and HD provision – but it has a fight on its hands from the similar Netflix platform. Combining it with a BD rental package, ensuring AV quality and brand-new releases, is probably the way to go – but that costs more.
---
HCC VERDICT
LoveFilm Instant
Price: £4.99 per month
www.lovefilm.com
Highs: Huge back catalogue of older movies and TV shows; can use in conjunction with a disc rental package
Lows: Incorrect aspect ratio sometimes used; unreliable search engine; judder and HD softness; no surround sound
Quality: 3.5/5
Content: 4/5
Value: 4/5
Overall: 4/5
---
Born in the USA
Massive in the US, Netflix is growing rapidly here too, thanks to quality AV and original content

Apparently responsible for a quarter of all web traffic in the US last year, Netflix offers a simple proposition: unlimited streaming for a fee of £5.99 a month, with no minimum contract. And like LoveFilm it offers a month's free trial.
As well as appearing on more Smart TVs than any other VOD platform, you can view Netflix on some connected Blu-ray decks (eg Pioneer), plus a Mac or PC, and there are apps for a wide range of devices including the Xbox 360, PS3, Wii, Roku, iPad and Android tablets. The usual caveat applies that you need to be hooked up to an internet connection but there is no restriction on the number of devices you can run your account on. Unusually, there are bespoke apps for Apple TV, the iPhone and iPod Touch and, conveniently, you can pause a show on one device, log in to the app on another one and pick up watching from the same point.
The UK Netflix service has fewer movies than its American counterpart, and recent research by ORIC showed its catalogue of movies numbered under 1,700, whilst it had over 400 TV titles, which added up to over 900 series. Netflix doesn't have the very latest releases but its number of 2012 titles is double that of its main rival, LoveFilm (41 compared with 18). Very few titles appear on both LoveFilm and Netflix.
Content-wise, Netflix has caused a stir by getting in to the production business. Shows such as its $100m remake of House of Cards and the imminent and eagerly-awaited new series of Arrested Development are trying to redefine the way in which some of us watch TV, with all episodes made available simultaneously. Never before, says Netflix, has the viewer had so much control over where and when they watch previously unbroadcast content.
The main UI fills the screen with images of DVD sleeves of what at first seems like random titles but is based on your preferences (specified at registration) and viewing history. Recently-watched titles appear first, making it easy to dive in and pick up the next episode of a currently watched series. Selecting a title brings up a synopsis, user ratings and options for subtitles and audio. If you choose a TV series you've been previously watching, the interface automatically lines up the episode after the one you last watched.
There's an option for registering using Facebook but you can opt not to share your viewing habits with your universe of digitally encountered friends. Uniquely, Netflix also provides an option for selecting kids-only content at log-in for parents looking to leave prying nippers unattended.
HD by default
Movies and shows are streamed in HD by default if the device supports it (a minimum 5Mbps connection is also needed). Netflix calls this Super HD, but we know it as 1080p. HD or not, everything looks ropey for the first 30 seconds or so but soon sharpens up, and almost without exception, is streamed stably without any stuttering. The absence of chapters can be frustrating but pausing and winding through a movie or show is aided by the presence of large thumbnails.
All titles have a stereo soundtrack but there are plenty that also serve up a Dolby Digital+ 5.1 alternative, although you may find yourself at the mercy of your device's audio output options. Despite the reliability of the picture, during my test the DD+ option failed to work during a couple of episodes of House of Cards. Where it worked, it worked brilliantly.
Conclusion
Thanks to its heavily-advertised House of Cards Netflix is the hot topic in VOD circles, and overall it's a decent subscription platform, with 1080p video, 5.1 streams, excellent user interface and wide-ranging device support. Film content, however, is perhaps not as good as you might expect.
---
HCC VERDICT
Netflix
Price: £5.99 per month
www.netlfix.com
Highs: Consistently good picture and sound quality; reliable and stable; original drama content; broad, multi-device integration
Lows: Needs more film content, particularly new releases; user interface a bit baffling; can't watch content when offline
Quality: 4.5/5
Content: 3.5/5
Value: 4/5
Overall: 4.5/5
---

Sky's service has its limits
Now TV is a great option for watching new movies, but it's expensive and hard to find at present

Sky's Now TV is not to be confused with Sky Go and Sky Go Extra, which provide Sky subscribers with a means of watching their subscription channels on portable devices, either live, or cacheable for offline access for a monthly fee of £5, in the case of Sky Go Extra.
Now TV is, however, similar to Sky Go in that it works on computers with Silverlight-compatible browsers, plus dedicated apps for iPhones, iPads and Android devices. Accessing Now TV on AV devices is currently something of a challenge as Sky hasn't yet got much penetration. It can be found on the PS3, Xbox 360, YouView boxes and Roku streaming devices. You can use only two devices at any one time, plus you can only change to other devices once a month.
If you don't have any of the above, it is possible to watch Now TV on your main living room screen by mirroring your computer or phone/tablet's display using a cable. This is an inelegant solution at best as both devices need to be showing the same content, plus site navigation and playback control can only to be done on the original device. But it does do the job (I used a Thunderbolt-to-HDMI adapter with a MacBook Pro) and is cheaper than buying a new playback device.
Now TV is something of a misnomer, because (unlike Sky Go) it doesn't yet offer access to Sky's television channels or shows other than Movies and Sport (Sky Atlantic, Sky 1, Sky Living and Sky Arts are planned to launch later). And with only just over 300 on-demand titles some will think £15 a month is expensive (although you do get a free month to try before you buy and there's no contract). But the big draw is that many of the titles are exclusive to Sky for as much as a year before its rivals (Pixar's Brave for example is available now, and 20 premieres are promised each month), plus you can watch Sky's movie channels live (except on YouView) without the commitment of a long-term subscription. Sport is not included in the monthly fee and is priced at a hefty £9.99 for a day pass to all the sport channels, although this is still useful if you want to, perhaps, watch a specific one-off sporting event.
The greatest disincentive for home cinema enthusiasts is that nothing is available in HD, and nor is surround sound offered.
The Now TV interface is clean and logical with options for Sports, Movies, My TV and Help listed along the top. Hover over Movies and you're presented with a set of sub-folders: Genres, Collections and Live TV (ie. the movie channels). Sleeve screen art, titles and ratings are presented in rows of 15 titles; scroll down to discover more genres or collections.
There's no save-for-later function but selecting and playing an on-demand movie adds it to your My TV folder, so to line something up ready you can simply play the first few seconds or so, which is arguably the only benefit of the platform's inability to restart playback where you left off.
Playback is a little on the slow side to start, with a tiresome 'obtaining licence to play' message appearing during buffering. The movie appears at its native resolution in a small window with darkened borders, with the option to select fullscreen. Audio is decent but image quality varies according to the original transfer with The French Connection too soft, blocky and noisy to bear on a 46in screen. We Need to Talk About Kevin is much more acceptable. Instability is a concern, with Avengers Assemble stuttering and even crashing.
Conclusion
Now TV is the new kid on the block and it shows, with limited ways to get it onto your flatscreen TV and only one current HD option. Now TV's price tag counts against it, too. However, in terms of new movie content it easily beats both LoveFilm and Netflix, and the forthcoming arrival of more live TV channels will make it even more tempting. Definitely one to keep an eye on.
---
HCC VERDICT
Now TV
Price: £14.99 per month
www.nowtv.com
Highs: Great selection of recent content; provides access to live Sky Movies channels; Sky Sports day pass is a handy option
Lows: HD only on Xbox 360; no surround sound; no Smart TV apps; pricey; limited on-demand titles
Quality: 3/5
Content: 4.5/5
Value: 3/5
Overall: 3.5/5
---
Final standings
High-speed internet is more affordable than ever and reliable enough to deliver stable, uninterrupted video streams in Full HD resolution with surround sound. Of course, that isn't always what you get with the current crop of VOD platforms – some are better than others. Choosing which you want will come down to price, device support and, of course, content – and you may even find that combining two or more is the best option...
I was expecting better things from Acetrax but despite a decent website its poorly designed Smart TV apps had me pulling my much-needed hair out in frustration at its user experience, inability to update the account balance and mostly, refusal to play my rented titles. It takes last place here.
Now TV is an enticing prospect for anyone wishing to watch Sky's movie channels without a dish and it has some top-draw on-demand films. But Smart TV apps remain outside its ecosystem (although computer-to-screen workarounds are possible) and HD is not generally available. It's expensive, too, so today takes joint third spot. Hopefully it will improve as it matures.
Sitting next to Now TV, but a completely different proposition, is Blinkbox. This service has a lot going for it, with a huge raft of movies and TV titles available to rent and/or buy. Prices are reasonable, especially if you buy a whole TV series rather than individual episodes. Hardware support is good amongst Smart TVs but its Achilles' Heel is its instability and current lack of HD content.
In second place is LoveFilm Instant. The Smart TV app can be annoying as it seems to be as much about disc rental management as streaming, but it has a huge range of content. More HD would be nice, though.
Netflix, therefore, is the current VOD champ. It's available on more devices, provides the most seamless experience and its movie and TV catalogue has just enough top titles to make it worth the £5.99 outlay. AV quality is consistently higher than the rest.
---
This article originally appeared in the June 2013 issue of Home Cinema Choice

SPONSORED VIDEO

SPONSORED VIDEO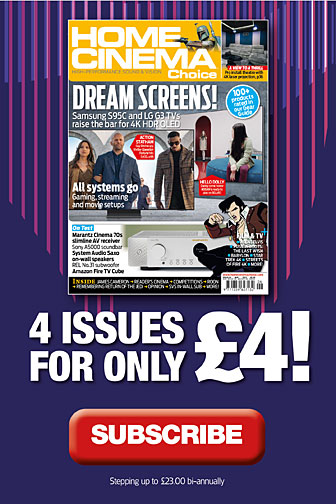 Home Cinema Choice #332

is on sale now, featuring: Samsung's 8K flagship; Anthem AVM 90 processor; B&W 800 Series Diamond; LG smart projector; Hollywood box office bombs; Hitchcock 4K; and more
Want to see your home cinema system featured in the pages of HCC? Click
here
for more info.