A world of Blu-ray delights – where to start importing your movies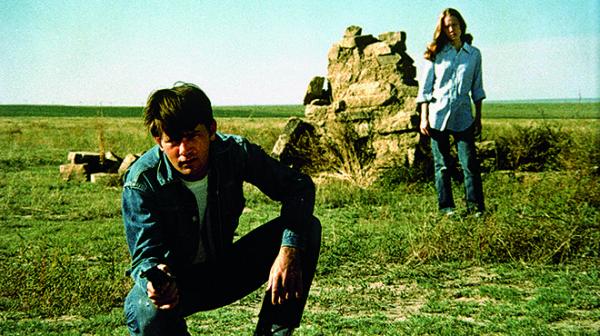 While the UK disc market is packed with goodies, sometimes it pays to shop abroad...
Criterion Collection
This specialist label has long been a fan favourite, dating back to its origins as a purveyor of premium LaserDiscs. It's maintained that reputation through DVD and now Blu-ray, releasing extras-packed editions of classic/cult movies, typically with restored 1080p transfers based upon the best-quality source material available.
Of course, Criterion Collection is now also a UK label as of last year, but its catalogue is far more extensive Stateside – where its discs are Region A-locked.
Numbered spines have been used ever since the first Criterion release (#1 being Jean Renoir's Grande Illusion), and the collection currently reaches #875 with more scheduled. Yet many are for DVD releases that are now out of print, so keen hoarders hoping for a fully-numbered Blu-ray library are out of luck.
Numerous Criterion titles are also sold in the UK via different distributors (Akira Kurosawa's Seven Samurai has been put out on Blu-ray by BFI, for example), but in many cases Criterion's efforts outshine those of others. Consider Nicholas Roeg's majestic 1971 drama Walkabout – while Criterion's Blu-ray (spine #10) is loaded with extras, Universal's hi-def release is a bare-bones offering. Or iconic chiller Don't Look Now (1973, Roeg again), which fans have raced to acquire due to its superior image quality over a preceding UK version.
And then there's the dizzying range of US Criterion releases that are exclusive to that region, spanning decades of cinema. Choice titles include Jean Cocteau's La Belle et la Bete (1946, aka Beauty and the Beast); Wes Anderson's The Life Aquatic with Steve Zissou (2004); Ang Lee's Civil War western Ride With The Devil (1999); Terence Malick classic Badlands (1973, pictured); Michelangelo Antonioni's enigmatic mod masterpiece Blow-Up (1966); the original Godzilla (1954); John Ford western Stagecoach (1939); Rolling Stones documentary Gimme Shelter (1970); and Dutch chiller The Vanishing (1988).
Put another way, if there's a movie you've been struggling to track down on UK Blu-ray, there's
a good chance Criterion can help…
---
Twilight Time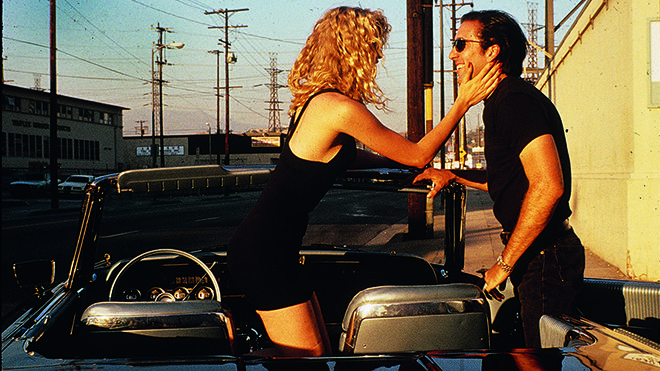 Founded by film historian Nick Redman and restoration supervisor Brian Jamieson in 2011, boutique Blu-ray label Twilight Time has quickly established itself as a friend of film geeks all around the world. Over the course of six years, Twilight Time has launched a cornucopia of classic films on the format licensed from Hollywood heavyweights Twentieth Century Fox, Sony Pictures, MGM and Warner Bros., each release limited to just 3,000 (or, in a few cases, 5,000) copies. Couple these limited production runs with top-quality extra features and new restorations of many of the movies and it's no wonder that a large number of its titles are now out-of-print – and command sizeable sums of money on the secondary market...
Some of Twilight Time's most popular titles have subsequently been released through labels on this side of the Atlantic (examples include Eureka's Fright Night and Indicator's Body Double Blu-rays), but there's still a large number that haven't seen the blue light of a BD deck's laser on our shores, or are simply available from the label in superior packages.
Among Twilight Time's treasure trove of desirable Blu-rays are Sam Peckinpah's gritty Western Major Dundee; John Ford's American Revolution era adventure Drums Along the Mohawk; David Lynch's pulpy road movie Wild at Heart (pictured); Oliver Stone's New West thriller U Turn; Ken Loach's hard-hitting drama Carla's Song; and the Rita Hayworth 3D musical Miss Sadie Thompson.
There's no hard and fast rule when it comes to Blu-ray region and Twilight Time – any region-coding decisions are made by the film licensors, not the label. So while many of its discs are all-region, it's worth checking individual titles before importing just to be on the safe side.
---
Kino Lorber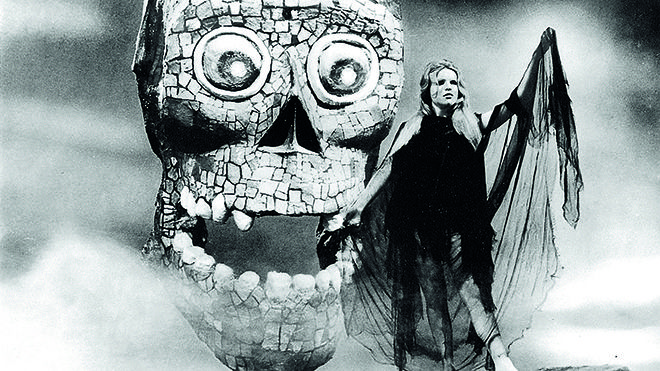 A US label offering a varied selection of disc releases of the kind of films bigger distributors ignore – think silent movies, Roger Corman-produced cheapies, documentaries and world cinema. Kino Lorber is perhaps most noteworthy, however, for its slowly growing catalogue of vintage 3D. If you have a love of stereoscopic home cinema, you can't afford to ignore it.
Working with 3-D Film Archive, the restoration outfit set up by Bob Furmanek in the early 1990s with the aim of 'saving and preserving our stereoscopic film heritage' (and responsible for the 3D restorations of Creature from The Black Lagoon and Dial M for Murder released elsewhere), Kino Lorber has brought a mini-library of classic (and not-so-classic...) 3D features to Blu-ray.
Releases include The Mask 3-D (pictured), a bonkers 1961 Canadian-made psychedelic horror movie, featuring an occult mask that causes its wearer, Dr. Barnes, to experience horrifying visions – the moments where the film really earns its 3D chops; 1953 musical Those Redheads from Seattle, which marries its 3D presentation to Technicolor visuals; and 1966 science-fiction caper The Bubble, originally released in cinemas boasting of '4-D Space Vision' technology, and with a storyline latterly reimagined by Stephen King's Under the Dome. Fancy a retro 3D triple-bill?
Note that, as with Twilight Time, region-coding at Kino Lorber seems to be a bit haphazard across all
its releases, with some titles Region A-locked, others region-free. And as a US label, you'll need to hunt its discs down online.
---
Shout! Factory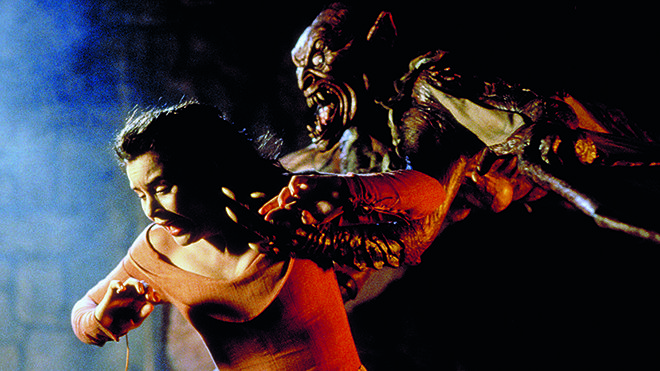 The brainchild of a trio of Rhino Records executives, Shout! Factory formed in 2003 and made its start by licensing and releasing cult TV shows like Freaks and Geeks, My So-Called Life and Pee-Wee's Playhouse on R1 DVD. While smallscreen content still remains a key part of its catalogue, the last 14 years have seen Shout! become a player on the film scene too, licensing an increasingly eclectic array of movies from the likes of Paramount, Universal and MGM, as well as directly distributing critically-acclaimed indie flicks like 2014's The Babadook in the US. Recent Shout! Factory Blu-ray releases that are well worth importing include a Collector's Edition of Walter Hill's Trespass (1992) and the six-disc The Pink Panther Film Collection Starring Peter Sellers (1964-1982), each loaded with new and archival bonus material – a main feature of the company's output.
The launch of the Scream Factory sub-label in 2012 cemented the company's place as a destination for sci-fi and horror aficionados. Among the must-own gems waiting to be discovered in the 250 or so Blu-rays it has released over the past five years are Collector's Editions of most John Carpenter films (including 1993's oft-overlooked Body Bags); an Amityville Horror Trilogy boxset (with the third film in 3D); Ginger Snaps; the Halloween: The Complete Collection – Limited Edition boxset; RoboCop 2; Army of Darkness (pictured); and, of course, the highly sought-after Nightbreed: The Director's Cut – Limited Edition.
Shout! Factory is also one of those rare indies to have already stepped into the Ultra HD Blu-ray arena with a series of IMAX features, including Flight of the Butterflies, Humpback Whales, Journey to Space and Rocky Mountain Express. These are, naturally, region-free, but the company's Blu-rays are Region A.
And... all around the world
There are other Blu-ray markets beyond the US, of course – and Australia and Germany are two of the most interesting for UK film fans.
Like the UK and mainland Europe, Australia uses Region B coding for Blu-ray, so imported titles spin fine on your UK player, and sometimes you just have to go Down Under to get what you want. 1990's Night of the Living Dead – Tom Savini's remake of the George A. Romero zombie powerhouse – was given a Blu-ray release there last year by Umbrella Entertainment (having previously only been available via a Limited Edition Region A Twilight Time release). The same label has also issued a Blu-ray for 1988 horror remake The Blob. Certain Hammer titles (Captain Kronos Vampire Hunter (pictured), The Gorgon and Frankenstein Created Woman) remain Australian Blu-ray only. And Buck Rogers… fans will want to snap up the Complete Series BD boxset.
Closer to home, German labels repeatedly issue discs that are capable of raising UK eyebrows. Of particular note are the Blu-ray of Metallica's Through the Never concert/concept movie, with added Dolby Atmos audio; The Texas Chainsaw Massacre on Ultra HD Blu-ray, which generates 4K visuals from 16mm film, features Atmos audio, but ignores HDR; and Nicholas Winding Refn's Neon Demon, another non-HDR 4K release. There are also various Ultra HD opera titles on offer in Germany, plus, erm, 'adult' content. A good place to start your hunt is Amazon's German portal.

SPONSORED VIDEO

SPONSORED VIDEO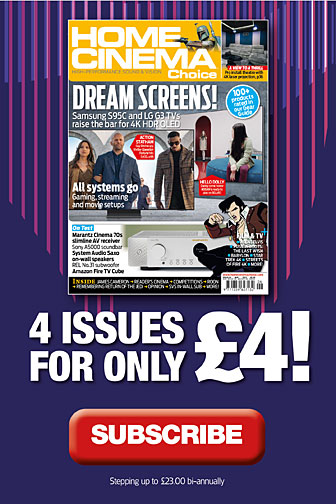 Home Cinema Choice #332

is on sale now, featuring: Samsung's 8K flagship; Anthem AVM 90 processor; B&W 800 Series Diamond; LG smart projector; Hollywood box office bombs; Hitchcock 4K; and more
Want to see your home cinema system featured in the pages of HCC? Click
here
for more info.