The 30 best original movie scores of all time!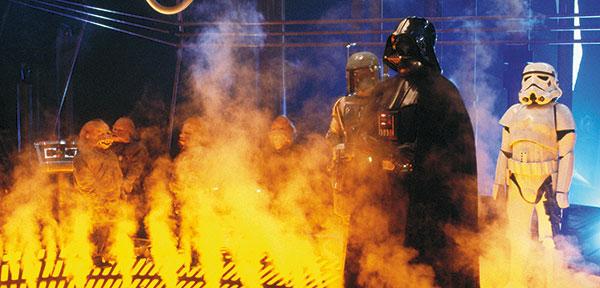 Whether it's a playful melody or synthetic soundscape, a 70s' funk jam or orchestral epic, 
a film's score – an integral part of cinema long before dialogue – can make or break a movie to the point where the best ones are often more highly regarded than the film itself.
But which are 'the best'? Well, that's a matter of opinion, as there are no hard and fast 
rules. In this list, we've deliberately cast our net far and wide, encompassing various genres, styles 
and composers. Some are hummable classics, others the kind of music that takes on a life of it own when combined with lush cinematography.
And choosing our top 30 has been a bittersweet task. We've spent hours listening to some of the finest cinematic music ever created, and then had to discard plenty of it. If we haven't included your personal favourite, we apologise…
So, Hans Zimmer, James Horner, Bernard Herrmann, Ennio Morricone, Lalo Schifrin, Elmer Bernstein, Alan Silvestri, John Williams and more – let's play the music!
30. Batman vs Superman: Dawn of Justice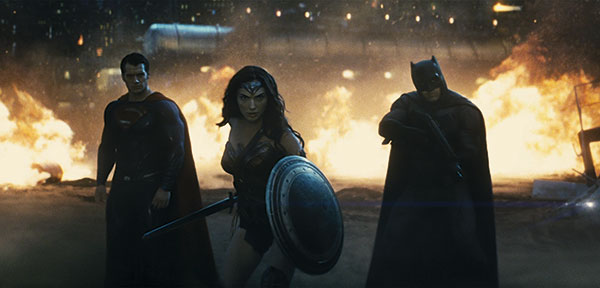 This superhero epic features a score composed by Hollywood heavyweight Hans Zimmer and Dutch DJ/music-maker Junkie XL. Most of it is as dark and brooding as the subject matter, majoring on low-register choral melodies and pounding percussion; raising it up a notch is the thrilling Is She With You? that greets Wonder Woman's dramatic arrival. Its electric cello motif (somewhat reminiscent of Led Zeppelin's Immigrant Song) instantly becomes the character's calling card – and was used again in Wonder Woman.
---
29. The Adventures of Robin Hood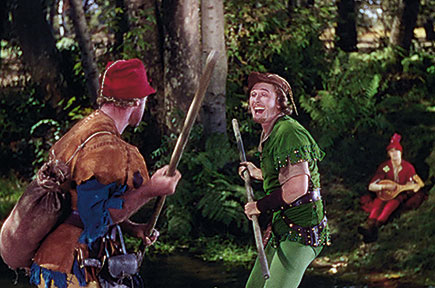 Watching Errol Flynn swinging from trees and dispensing medieval rural justice in this 1938 Technicolor classic is made all the more enjoyable by Erich Wolfgang Korngold's jolly score, which seemingly ranges across the whole orchestra pit to craft a series of inventive cues and themes. Nothing less should be expected of Korngold, of course; a child genius, he'd been famous in his native Austria since his pre-teens as a classical composer. Listening to his work on …Robin Hood now, it's hard not to think, 'They don't make 'em like this anymore.' Possibly because no one these days has quite as much musical talent…
---
28. Gremlins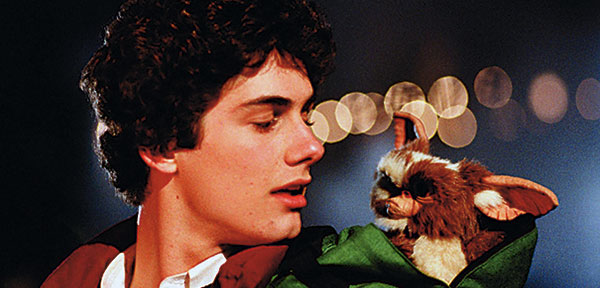 Jerry Goldsmith deserves his reputation as a cinematic music master, with his film career spanning five decades and including Planet of the Apes, Chinatown, Alien and L.A. Confidential. Brought onboard by director Joe Dante for this 1984 flick, he produced a score that perfectly captures the film's mix of comedy, fantasy and genuine horror, blending synthesizers with a traditional orchestra to create some anarchic themes. The wide-eyed wonder of Gizmo is brought to life via a recurring lilting melody; the unfettered lunacy of a hundred killer critters on the rampage is encapsulated by the aptly titled Too Many Gremlins. A lesser composer would have played it safe. Goldsmith does this oddball movie full justice.
---
27. Bram Stoker's Dracula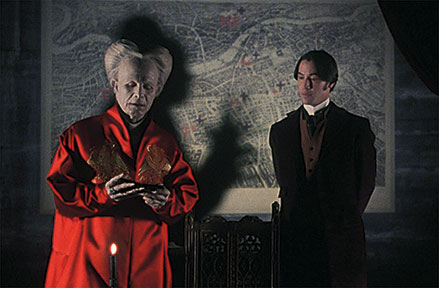 Classical composer Wojciech Kilar may have been scoring movies in his native Poland since the 1960s, but it was his work on Francis Ford Coppola's 1992 horror blockbuster that brought him to the attention of Western film fans – and what an introduction it was. Based around the intertwining and rearranging of three main themes, Kilar's unforgettable score mixes sinister Gothic strings (with occasional explosions of Herrmann-esque horror), strident horns and drums, and haunting choral interludes to conjure up a particularly potent mix of terror, romance and tragedy.
---
26. Tron: Legacy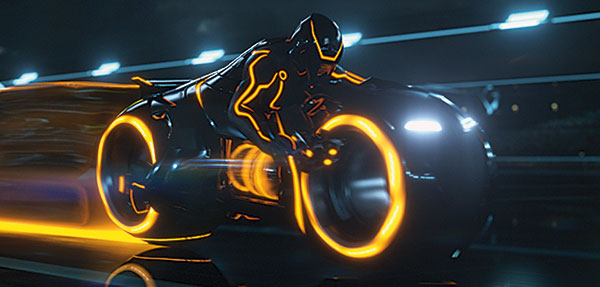 Daft Punk proved an inspired choice by director Joseph Kosinski for this 2010 sci-fi sequel/reboot. Famously given over a year to cook up their themes and cues, Messrs Bangalter and de Homem-Christo set about mashing up their trademark futuristic Euro-bangers with some orchestral constructions, resulting in a soundtrack that's joyfully diverse. There are nods and winks – to the rhythms of The Terminator one moment, and Wendy Carlos's original Tron score the next – but there's also originality in spades.
---
25. Vertigo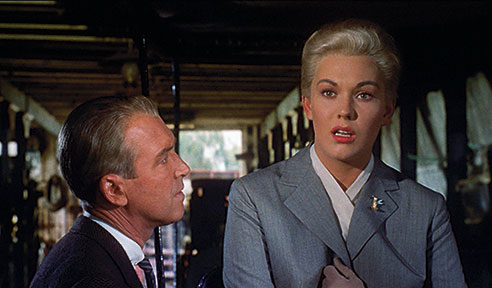 Despite a lengthy and successful career stretching from Citizen Kane (1941) to Taxi Driver (1976), it was Bernard Herrmann's long-running collaboration with Alfred Hitchcock that stands as his most fruitful period, and it's this fourth of the composer's scores for Hitch that towers over everything else he did. As much as this 1958 film finds the director at the top of his mastery of the cinematic art, it's also impossible to think of a sequence from Vertigo and not also hear Herrmann's memorable love theme, or the dizzying sonic spirals that perfectly translate the film's title into an audible experience. Cryptic yet lyrical, disturbing yet beautiful, Vertigo's orchestral score is as much of a classic as the movie itself.
---
24. Conan the Barbarian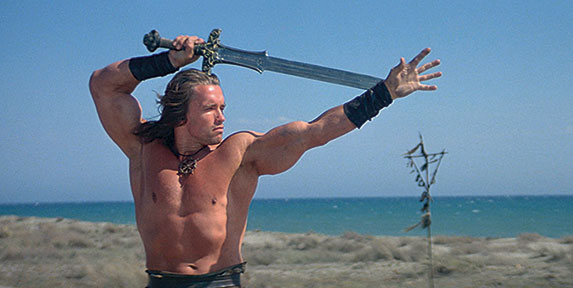 Directed by gun-lover John Milius and starring former 'Mr. Universe' Arnold Schwarzenegger, this 1982 screen take on Robert E. Howard's pulp adventurer may very well be the most macho film ever made. This feeling is further reinforced by Basil Poledouris's muscular score, which drives the action on with relentless drum beats and blasting horns. Add to that some Middle Eastern flourishes and a dash of romance and it has no difficulty whisking you off to a world of derring-do and high-adventure. Quite simply, Poledouris does for the fantasy genre what John Williams previously did for sci-fi. He would continue in a similar vein, albeit with added industrial textures, with his score for 1987's RoboCop.
---
23. Godzilla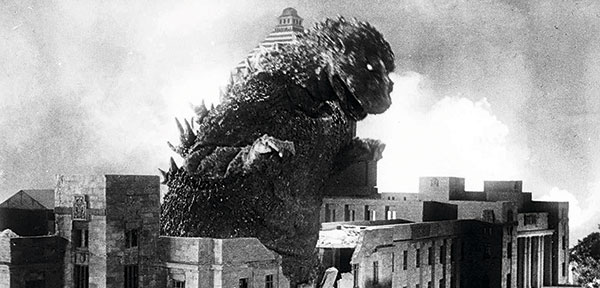 Complex and intricate musical scores are all well and good, but sometimes all that's needed is music that captures the raw, unfettered dynamism of the subject matter. Akira Ifukube's work for the original 1954 Godzilla is a brilliant example; the orchestra march he crafted as Godzilla's theme gives the massive monster a sense of unstoppable power that belies its man-in-a-suit origins, while simultaneously underscoring it with a militaristic edge that plays up the film's allegory to the Hiroshima and Nagasaki bombings. The two-minute piece Godzilla Comes Ashore takes this even further, literally mashing the keys of a piano to highlight the chaos and destruction that follows in the beast's wake.
---
22. Predator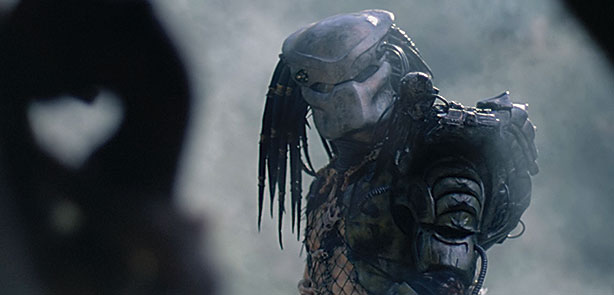 Visually, Predator is rather uninspiring – a tapestry of jungle green and earthy brown. Alan Silvestri's score is altogether more exciting, opening with the bravura title theme that plays out as the camera tracks from outer-space to the arrival of Arnold Schwarzenegger's grunts deep in the jungle. Silvestri segues skilfully from eerie, alien-signalling tones to a bombastic military march, giving us a template for what's to come. Later tracks go heavy on dynamic, percussive brass stabs, a suitable accompaniment to the explosive onscreen action. A legendary score among film music fans, the now out-of-print soundtrack CD sells for upwards of £50. A limited edition vinyl version surfaced last year too.
---
21. The Magnificent Seven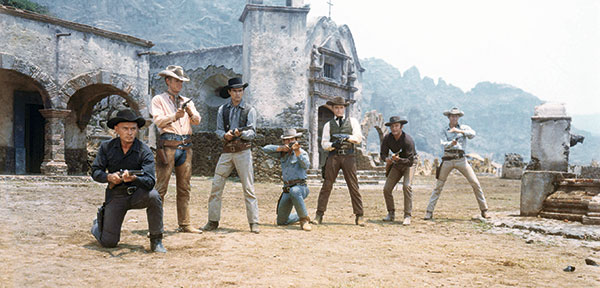 The MGM lion roars, the screen darkens and John Sturges' Wild West 1960 remake of Akira Kurosawa's Seven Samurai (1954) gets underway with the first notes of Elmer Bernstein's thrilling title theme. An instantly memorable, foot-tapping mix of bowed violins and staccato brass hits, it drips with gun-toting, galloping bravado. Bernstein dials down the machismo for the film's additional cues, adding a darker edge at times, but never veers too far from the overall tone. In a word? Magnificent…
---
20. Dunkirk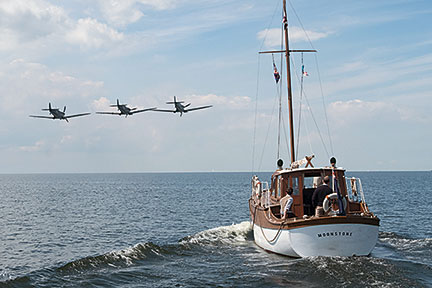 Partnering director Christopher Nolan's dramatic visuals is this Oscar-nominated score (it lost out to Alexandre Desplat's work on The Shape of Water) from Hans Zimmer (and collaborators Ben Wallifisch, Edward Elgar and Lorne Balfe) that's definitely one of his less traditional works. Incorporating the sound of a ticking watch, and Shepard Tone audio trickery (to create the illusion of tones that continually ascend), this is all about the passage of time, and not having enough of it – fitting considering the subject matter. Nolan's dialogue-light script often puts the score centre-stage; at other times it's an unnerving background presence. There's a gorgeous fidelity to the whole suite too.
---
19. Super Fly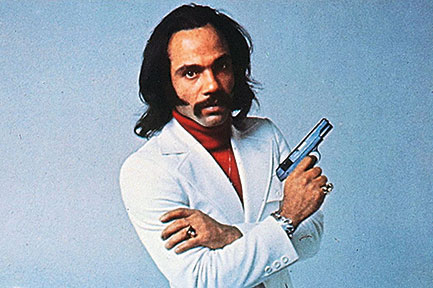 Following in the footsteps of his father, whose film Shaft had been a huge hit the previous year, 1972 saw Gordon Parks Jr.'s Super Fly explode into US cinemas. The story of a New York cocaine dealer looking to make the one big score that will allow him to retire, the film is an entertaining piece of blaxploitation, but its real legacy comes from Curtis Mayfield's astonishingly funky soundtrack. No mere collection of songs, Mayfield's insightful and poetic lyrics tell their own story; one that parallels that of the film only with a far stronger anti-drug message. From the conga-inflected highs of Pusherman to the more rueful Freddie's Dead, it's a remarkably cohesive soundtrack that also happens to be a powerful piece of social commentary.
---
18. Forbidden Planet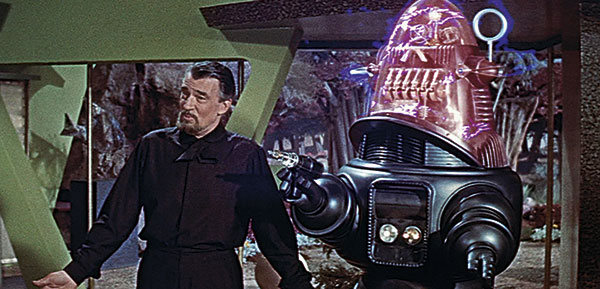 If the early 1950s taught film fans anything, it was that the future would sound just like a theremin. This unusual instrument had become the de facto sound of science-fiction cinema in the early part of the decade. But that wasn't good enough for MGM producer Dore Schary, who hired pioneering electronic musicians Bebe and Louis Barron to score 1956's Forbidden Planet. The 'electronic tonalities' they created for the movie were unlike anything audiences had heard before; the strange bleeps, hums, burbles and whirrs blurring the distinction between music and sound effects, creating an alien soundscape that dovetailed with the unearthly Eastman Color visuals. Groundbreaking stuff.
---
17. The Great Escape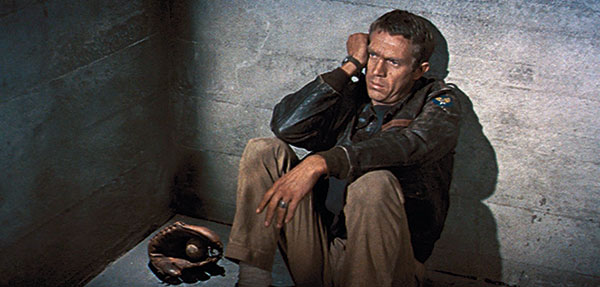 A second entry for Elmer Bernstein (again working for director John Sturges), this major-key composition, complete with its infectious whistling, imbues the 1963 prisoner-of-war drama with an upbeat sensibility that counters the serious nature of the subject matter (the fact that many of the escapees end up getting shot dead is often forgotten). It's therefore easy to see as an odd choice, but The Great Escape above all is a film about hope and the human spirit (witness Steve McQueen's final baseball-throwing scene), something that's brought to the fore by Bernstein's jaunty melody. There are other more atmospheric themes on the soundtrack, of course, but the main title is the one that sticks in the memory.
---
16. The Fog
John Carpenter, writer and director of some of the best genre films of the '70s and '80s, is also an accomplished musician who scored the majority of his own movies. And standing clear from a body of remarkable scores for the likes of Halloween (1978) and Escape from New York (1981), is his composition for The Fog (1980). Right from the off, Carpenter's pared-down music sinks its hooks into you; a delicate piano/synthesizer refrain rams home the ghostly nature of the narrative and hints at the sadness behind the curse. This theme is returned to again and again, each time adding something more dynamic as the tension in the story builds and the titular fog claims more victims. Deliciously spooky.
---
15. Candyman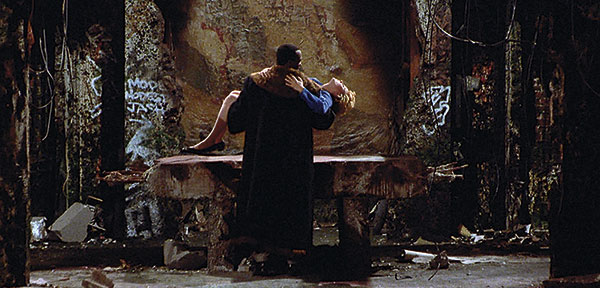 If Hollywood ever gets around to remaking Candyman you just know that the studio will play up the whole 'urban horror' angle by loading the soundtrack with a grab bag of hip-hop and rap artists, interspersed with sudden jump-scare stings. Thankfully, director Bernard Rose went down a very different route for his 1992 bigscreen adaptation of Clive Barker's short story The Forbidden, hiring minimalist composer Philip Glass to score the film. Working almost exclusively with an organ and choir (a piano also features on a couple of the tracks), the stripped-back result is something that seems at once modern and old – a new kind of urban Gothic, if you will – mixed with elements of a lullaby that hark back to the story's roots in urban legends.
---
14. The Bride of Frankenstein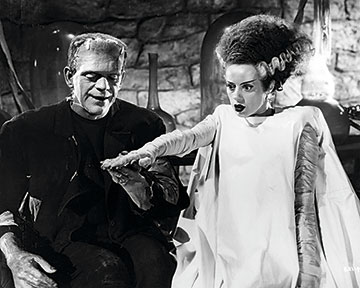 'It's a perfect night for mystery and horror. The air itself is filled with monsters.' So says Mary Wollstonecraft Shelley in the prologue to James Whale's 1935 sequel. While it's a fine setup for the film, she could just as easily have been talking about Franz Waxman's Wagnerian score, which fills the air with all manner of horrors, from the five-note motif of Frankenstein's original creation, to the more discordant three-note cue of the newly-created Bride and the darker theme that accompanies the sinister Dr. Pretorius. Yet what really makes Waxman's score stand out from the horror crowd are the playful moments where it embraces the camp humour of Whale's masterpiece.
---
13. Blade Runner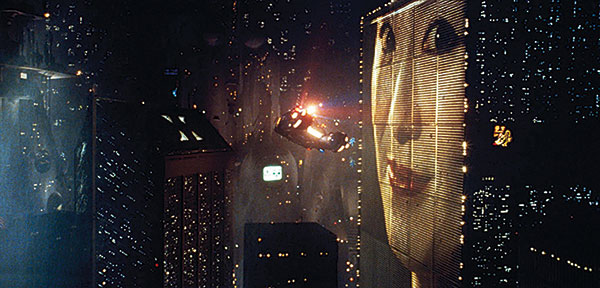 Director Ridley Scott moved away from the typical Hollywood score for Alien in 1977, and then went further off-piste with this 1982 cult sci-fi/noir. Greek electronic noodler Vangelis was tasked with writing the themes that would marry with Scott's visually arresting, futuristic flick, and delivered a suite of undulating synthetic soundscapes with minimalist percussion – the effect is that watching Scott's movie becomes an almost dreamlike experience. Loved by musos, when the soundtrack CD was finally released in 1994 it reached no. 20 in the UK album charts.
---
12. Sicario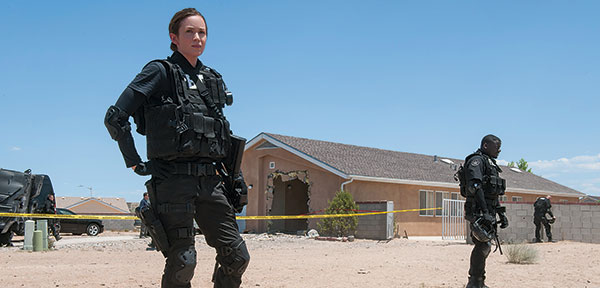 Johan Johansson's industrial-tinged score for Denis Villeneuve's war-on-drugs thriller accounts for so much of the movie's sense of menace it's impossible to imagine any other type of track in its place. Standout theme The Beast is a fine example – a brooding concoction of crashing percussion and deep, repetitive string notes that reaches a soundscape-filling crescendo. Johansson introduces subtle variations for subsequent scenes, all the while sticking close to this terrifying mood-board. For a movie that relies so heavily on creating audience tension, this score is pitch-perfect.
---
11. Braveheart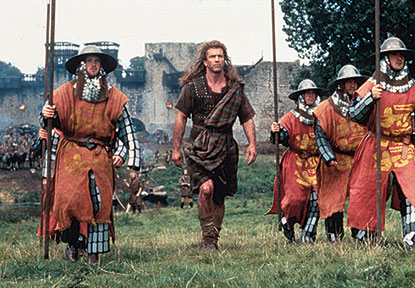 Braveheart (1995) is one of composer James Horner's best-known works from a long career that took in everything from James Cameron mega-hits (Avatar) to 1980s actioners (Commando); ignore the use of Irish uilleann bagpipes to soundtrack a film set in Scotland and instead let this score's wistful melodies wash over you. For The Love of a Princess is without doubt its most famous track, a lilting, plaintive tune that's born to partner Mel Gibson's passion piece (and, oddly, has been adopted by techno DJs for various remixes). However, Horner's battle sequence themes, where timpani rhythms preface the impending slaughter, are equally accomplished. Oscar-nominated, and rightly so.
---
10. Batman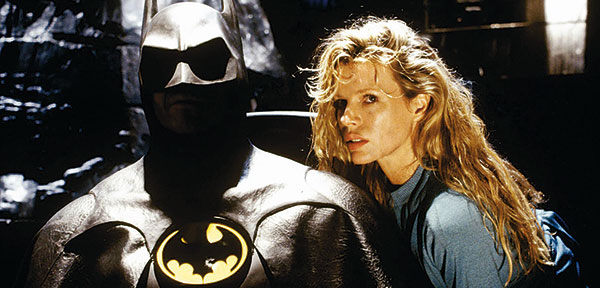 Tim Burton chose to kick off his 1989 blockbuster not with an action-packed set-piece, but with his camera roaming shadowy alleyways that transpire to be the Bat logo, giving the audience nothing much to do but marvel at the brilliance of Danny Elfman's accompanying score. Elfman, a long-time Burton associate, plants brass, string and woodwind phrases against snare rolls and cymbal crashes, the title theme varying its tempo before reaching a triumphant climax (which, unless we're imagining it, pays very slight homage to the soundtrack of the 1960s TV series). Unlike the clean-cut melody of Superman's theme, this composition sounds both heroic and dark – a combination that suits the Caped Crusader down to the ground.
---
09. Enter The Dragon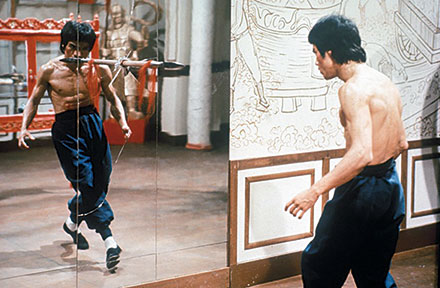 Lalo Schifrin's recognisable film scores seem to dominate the 1960s and early '70s. The Argentine-American brought his jazzy percussive sensibilities to the likes of Mission Impossible, Bullitt and Dirty Harry, and hit peak form with the impressively funky and off-the-wall soundtrack for the 1973 Bruce Lee vehicle Enter the Dragon. Schifrin's main title teams fast-paced bass, wah-wah guitars, triumphant horns and synthesizers with Lee's Jeet Kune Do attack cries, while other pieces throw Eastern influences into the mix. It's a shame there's only 26 minutes of music to savour here, as we'd happily listen to more. It's also a shame that Schifrin's particular style fell out of favour in Hollywood quite quickly.
---
08. Requiem for a Dream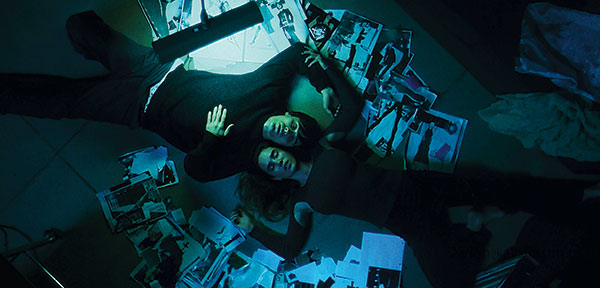 Even if you've never seen Darren Aronofsky's immensely downbeat drug addiction drama (2000), you've most likely heard some of its score – track Lux Aeterna is an epic-sounding, swelling string composition that's since been pilfered by, among others, Sky Sports, The X-Factor, and the trailer for Lord of the Rings: The Two Towers. All of which surely makes its composer Clint Mansell (once of post-punk band Pop Will Eat Itself) massively rich. It's re-use isn't surprising, however. Mansell's layered track, by virtue of some incessant repetition, is the sort that lodges in your brain and, when put to images, seems to add an air of intense drama to whatever your watching (Aronofsky memorably uses it for the film's closing montage). The likes of the Saw theme (2004) and Max Richter's On the Nature of Daylight (featured in Arrival in 2016), appear inspired by Mansell's work here.
---
07. The Terminator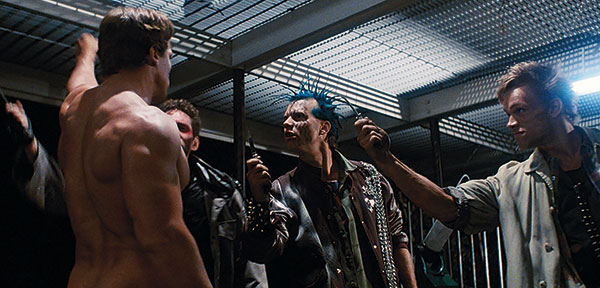 Brad Fiedel's synth-laden soundtrack absolutely nails the brief set by James Cameron's sci-fi B-movie – what better for a film about a metal-cored killing machine than a clanking, lumbering industrial score, which, away from the now-iconic rat-a-tat rhythms, has a sumptuous, steely melody to set your spine tingling. Cameron, knowing when he's on to a good thing, had Fiedel rework the score for T2: Judgment Day – although, as Film Score Monthly reported, the composer seized the opportunity to tweak its time signature. Primitive looping techniques had resulted in the 1984 original (which wasn't written as sheet music) being slightly out of time. Which, considering the time-travel plot, is rather apt.
---
06. Picnic at Hanging Rock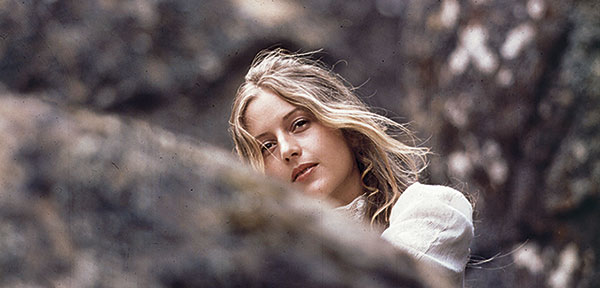 Unlike the vast majority of the films in our list, Peter Weir's Picnic at Hanging Rock (1975) isn't entirely scored by music written specifically for it, instead mixing Australian composer Bruce Smeaton's original pieces (including the wonderfully melancholy piano theme The Ascent) with a selection of pre-existing classical and folk compositions expertly deployed to add weight to the narrative. The most memorable of the latter are two Romanian panpipe pieces – Doina Sus Pe Culmea Dealului and Doina Lui Petru Unc, performed by Gheorghe Zamfir and Marcel Cellier – that effortlessly set up an ominous, ethereal space for Weir's haunting film to inhabit.
---
05. Suspiria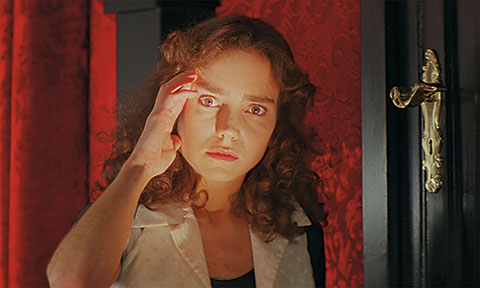 Dario Argento conceived his 1977 supernatural horror as an assault on the senses – and the music score by Italian prog-rockers Goblin certainly fits the bill. An audacious and experimental assemblage of discordant synths, jangling percussion, guttural screams ('Witch!') and various unusual instruments (including Indian tabla drums and a Greek bouzouki), Goblin's avant-garde musical soundscape doesn't so much invite you into the film's nightmarish world of witchcraft, as beat you over the head and drag you in against your will. Like the film itself, the soundtrack is built all around extremes – and because of this it remains an unsettlingly powerful and terrifying experience when played in isolation. Shocking stuff.
---
04. The Good, the Bad and the Ugly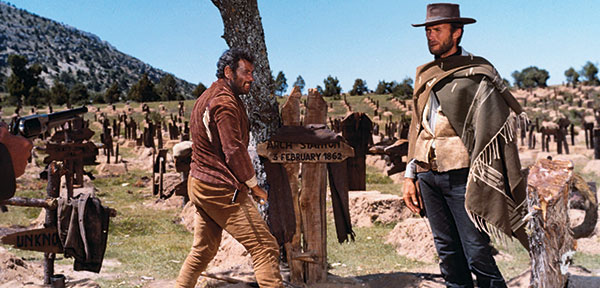 If Ennio Morricone's work on Sergio Leone's Westerns defines his career, then it's his score for this 1966 epic that must be thought of as his greatest achievement. As with Leone's earlier movies A Fistful of Dollars and A Few Dollars More, Morricone rips up the Western music rulebook, replacing the traditional rousing orchestrations with thoughtful, pared-back themes featuring flutes, pianos and vocals. The Good, The Bad and The Ugly's main theme remains the best known (…wah-WAH-wah…) but the track Ecstasy of Gold, used during the movie's graveyard climax, is our pick. Leone's widescreen camera pulls back to reveal the scale of the cemetery and Tuco begins his search for the Confederate gold, driven on by Morricone's surging, dramatic instrumentation and Edda Dell'Orso's wonderful vocals. Magical.
---
3. Jaws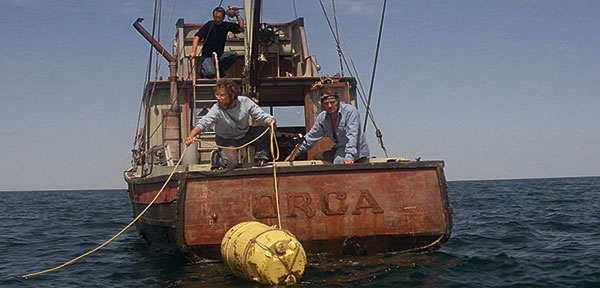 Arguably the most famous film score of them all, with John Williams' two-note theme now a pop culture phenomenon ripped off and reappropriated countless times. As most of us know, Spielberg's troubled production was in desperate need of it too. Practical effects problems had led to the shark being almost excised from its own movie; Williams' relentless theme takes on much of Jaws' heavy-lifting when it comes to tension and terror.
There's much more to the overall score, however. Away from the chomping carcharodon carcharias, this 1975 smash is a boys' own adventure yarn, replete with drunken sailors and sea-borne banter. Playful, symphonic tracks such as Out to Sea and One Barrel Chase cast the audience adrift on the New England coastline. You can practically feel the salt-spray lashing your skin and the wind in your hair. But is it Williams' seminal work? Not quite…
---
2. Back to the Future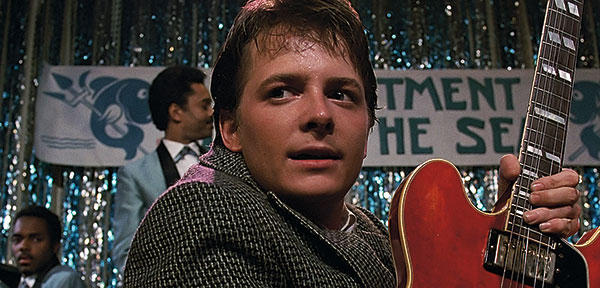 This 1985 time-travel classic may end with Huey Lewis and the News' Back in Time over the end credits, but by the time you get that far Alan Silvestri's orchestral compositions have wormed into your brain and will never leave. As with his work on Predator, this is mainly built around dynamic brass hits, punchy piano notes and percussion, but with an ear-worm of a refrain that's chopped and retooled throughout the movie, sometimes to accompany the euphoric set-pieces (the clocktower lightning strike sequence being an obvious showstopper), other times to signal moments of danger. And then there's that twinkly glockenspiel motif – a mere second of music that sets BTTF fans' senses tingling. You might need a time machine to pick this up on CD though, as the 2009 Intrada release is out of print.
---
1. Star Wars: The Empire Strikes Back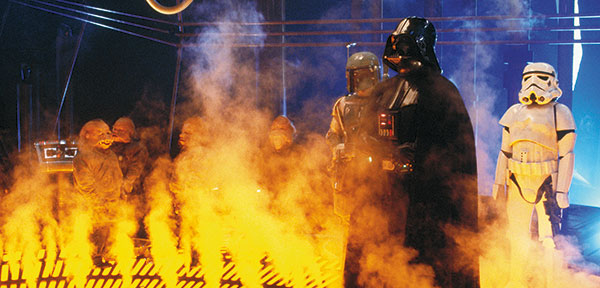 There's a certain immediate thrill that comes from watching Star Wars, and it's John Williams' opening fanfare that accompanies the disappearing text crawl – regardless of whether it borrows heavily from Erich Wolfgang Korngold's theme for 1942 drama Kings Row. From this launchpad, Williams lays on woodwind melodies (Princess Leia's Theme, Ben's Death…) to endow George Lucas's 'space opera' with gut-wrenching emotion. The entire 74-minute soundtrack is nothing short of a masterclass, delivered by the skilled musicians of the London Symphony Orchestra.
So why specifically pick Empire Strikes Back? Because for this 1980 sequel, Williams pulled something special out of the bag in the form of The Imperial March, a malevolent, hair-raising theme that gives series villain Darth Vader the calling card he always deserved, and makes his third act revelation ('I am your father…') all that more horrific.

SPONSORED VIDEO

SPONSORED VIDEO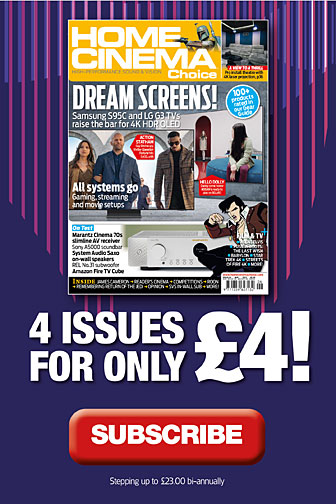 Home Cinema Choice #332

is on sale now, featuring: Samsung's 8K flagship; Anthem AVM 90 processor; B&W 800 Series Diamond; LG smart projector; Hollywood box office bombs; Hitchcock 4K; and more
Want to see your home cinema system featured in the pages of HCC? Click
here
for more info.