Catalogue classic: Cloverfield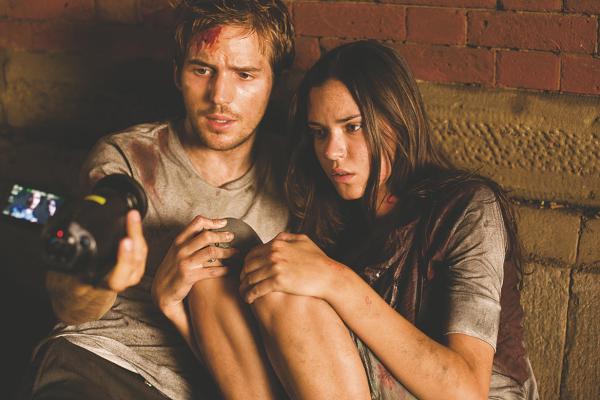 Anton Van Beek powers up his camcorder and sets out to document the truth about the 2008 monster-sized box office smash
The Summer of 2007 saw the much-hyped arrival of the first of Michael Bay's live-action Transformers movies. While that film would go on to score over $700m at the box office, for many who went to see it at the cinema the real talking point was the mysterious trailer that played in front.
The two-minute teaser kicked off with home movie footage of people at a party in New York City, interrupted when the building is jolted by what seems to be an earthquake. The revellers head to the roof and witness a massive explosion in the distance, before rushing downstairs and out onto the streets where they're greeted by the torn-up head of the Statue of Liberty flying through the air and crashing down. And that was it. There wasn't even a title. Just a release date and a handful of production credits, the most prominent of which read 'From producer J.J. Abrams'.
'What the hell was that?'
Although he'd written scripts for a handful of films, including Regarding Henry (1991) and Forever Young (1992), Abrams really found his feet on television, creating cult hits Felicity (1998-2002) and Alias (2001-2006). Another smallscreen creation, the sci-fi-mystery phenomenon Lost (2004-2010), then transformed Abrams into a hot property. Soon he'd been picked by Tom Cruise to direct Mission: Impossible III (2006) and signed on to helm Paramount's cinematic Star Trek reboot (2009). Unlike those projects, though, nothing was known about this mysterious new Abrams' production. In part this was because the teaser itself was essentially a proof-of-concept piece for the film. Although the footage would end up being used in the movie, it was shot specifically during pre-production to serve as both a promo and a VFX test-bed.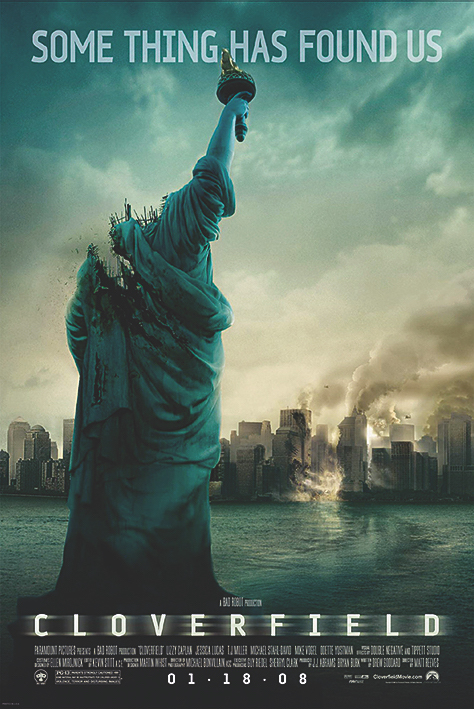 And the teaser was just one aspect of Abrams ignoring traditional promotional tactics in favour of luring moviegoers with viral marketing. If they desired, the curious could be led down a rabbit hole of websites for fake companies and products (like the fictional soft drink Slusho that appears in several of Abrams' shows and films), tantalising them with puzzles and clues hinting at the film's backstory.
The idea of making a monster movie first came to Abrams while in Japan in 2006 as part of the publicity tour for Mission: Impossible III. 'My son Henry and I went to Tokyo last year,' recalled the filmmaker in the Document 01.18.08: The Making of Cloverfield documentary included on the film's 2008 Blu-ray release. 'We went to a whole bunch of toy stores and I realised at almost all of them Godzilla was still featured. It just struck me that there was this iconic monster that was still, so many years later, prevalent in stores and had meaning to the culture. And I thought, "I wish we had a monster like that".'
'People are going to watch this'
To differentiate Cloverfield from the monster flicks that came before, Abrams began thinking about presenting the action entirely from the point-of-view of the tiny, helpless humans trapped in the maelstrom of destruction. 'To see it not from the God's eye or director's or from an omnipotent point of view,' as he put it. So Abrams' film would be in the 'found footage' format made popular by the 1999 box office sensation The Blair Witch Project.
To further refine his idea, the producer collaborated with former Alias and Lost writer Drew Goddard, producing a 58-page script outline over the 2006 Christmas break that convinced Paramount execs to green light their 'Cameron Crowe movie meets Godzilla meets Blair Witch'. With Goddard developing a full script, Abrams began searching for a director to helm the project, eventually settling on his childhood friend Matt Reeves.
Today known for directing Dawn of the Planet of the Apes (2014), War for the Planet of the Apes (2017) and The Batman (2022), in 2008 Reeves had only one previous feature directing credit to his name: the forgettable 1996 Gwyneth Paltrow-David Schwimmer rom-com The Pallbearer. 'The reason I chose Matt is because I know he has always been principally concerned with character, and that he would apply a scrutiny to the heart of each character than many other commercial or video directors might not,' claimed Abrams. Indeed, it was Reeves who came up with the idea of weaving earlier footage of the relationship between Rob (Michael Stahl-David) and Beth (Odette Yustman) throughout the film to give an emotional backbone to the surrounding monster movie chaos.
'Whatever it is, it's winning'
When Cloverfield hit cinemas in January 2008, it was clear the mystery-driven marketing had done its job. Intrigued audiences meant the film – budgeted at somewhere between $25-30m – took over $172m worldwide. Taking advantage of the hype, the DVD release was fast-tracked for April.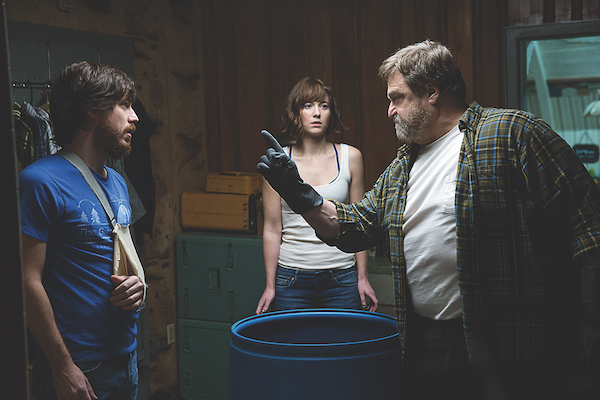 A sequel seemed a given. However, it would be another eight years before the next Cloverfield film, and it wasn't what anybody was expecting. What originated as a standalone script by Josh Campbell and Matt Stuecken called The Cellar became 2016's 10 Cloverfield Land [pictured above], a psychological thriller with no apparent narrative link to its predecessor. Abrams deemed it a 'spiritual successor'.
Another sequel was announced the same year, again originating from a standalone script (Oren Uziel's The God Particle). Yet the development process tied it to its predecessors, with a multiversal story establishing the accident responsible for the events in the other films. The surprise this time was The Cloverfield Paradox getting an unheralded trailer during 2018's Super Bowl, and the film being there to watch on Netflix as soon as the game was over.
The 2018 horror smash A Quiet Place was considered as a Cloverfieldinstalment at one time, before Paramount decided it worked better as its own potential franchise-starter. Production of the J.J. Abrams' produced WWII action-horror Overlord, released the same year, was also dogged by rumours of it being a secret Cloverfield sequel. It's only now, some 15 years on, that fans are set to finally to find out what happened next to Cloverfield's monster. Babak Anvari, director of 2016 flick Under the Shadow, has signed on to direct a new instalment in the franchise that is being described as the 'true' theatrical sequel to the original movie.
---
Cloverfield Ultra HD Blu-ray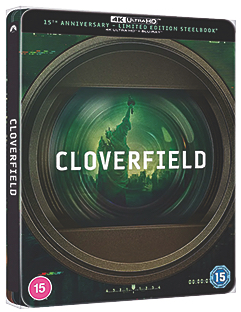 Paramount marked Cloverfield's 15th anniversary with a Zavvi-exclusive Limited Edition Steelbook containing both Blu-ray and UHD copies of the movie (the first time the film has been released on 4K disc on these shores). The 4K platter features an upscaled HDR10/Dolby Vision presentation, and ports across the Dolby TrueHD 5.1 soundtrack (no Atmos remix, sadly) and archival director's commentary from the Blu-ray.
Double-bill it: Shin Godzilla
Co-directors Hideaki Anno and Shinji Higuchi breathed fresh life into the king of kaiju cinema with their 2016 smash Shin Godzilla. Taking the franchise back to basics – while at the same time working as a post-Fukushima political satire – the film finds the rapidly mutating monster trampling Tokyo beneath its feet as ministers and army generals are too caught up in slow-moving bureaucracy to mount a cohesive response.

SPONSORED VIDEO

SPONSORED VIDEO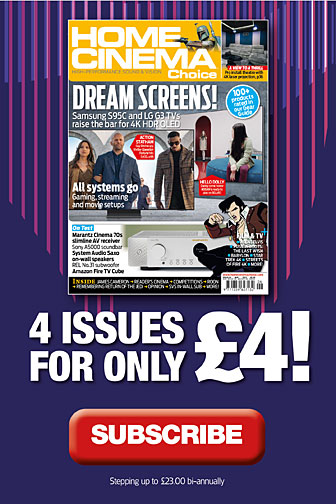 Home Cinema Choice #332

is on sale now, featuring: Samsung's 8K flagship; Anthem AVM 90 processor; B&W 800 Series Diamond; LG smart projector; Hollywood box office bombs; Hitchcock 4K; and more
Want to see your home cinema system featured in the pages of HCC? Click
here
for more info.