Zombie Virus on Mulberry Street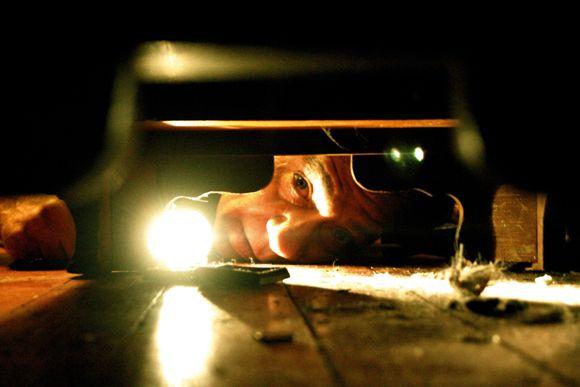 Superior lo-fi shocker takes the horror to the streets of New York
Shot guerrilla-style on the streets of New York city, this clumsily-titled shocker is one of the most impressive micro-budget horrors this reviewer has encountered in some time. The story follows a group of neighbours from a dilapidated apartment block who find their mundane lives turned upside down by an outbreak of violence that sweeps across the city.
Writer/director Jim Mickle paces the action perfectly, introducing viewers to the film's core cast of characters through the first act, while hinting at the horrors to come through TV and radio broadcasts heard in the background. As night falls and the horror comes home, the tension ratchets up spectacularly, and while the FX doesn't always hold up to close scrutiny, there's plenty here for genre fans to sink their teeth into. Most impressive of all though is the way that the filmmakers convey the scale of the events through media reports and repurposed news footage, without the need to spend millions of dollars of staging epic sequences.
Grim and gritty
Presented anamorphically at the original 1.85:1 aspect ratio, Zombie Virus... looks about as good as you'd expect given the source material. This is a gritty and underlit film that doesn't wow with visual polish, but which impresses through its ability to capture the brooding sense of terror the films conjures. Likewise, the Dolby Digital 5.1 mix won't knock your socks off, but makes good use of the surround channels to open up the scale of the movie, although this does come at the cost of dialogue clarity on a handful of occasions.
While the disc serves up a reasonable selection of extra features, the one obvious omission is that of a director's commentary. Given how well the film succeeds despite its miniscule budget and the way it was shot 'on-the-run' in New York City streets without obtaining the necessary permits, it would be great to hear from the director abut how he overcame the challenges these things presented. As for what is included, there's the trailer, a couple of deleted scenes (2mins), Make Up Test footage (2mins), Shooting Rat Creatures (2mins) looks at the filming of one sequence, Behind the Scenes: The Rats (2mins) looks at the use of real rats in the movie, Sketches (2mins) is an animated gallery of drawings pre-production drawings, Storyboards (9mins) offers up split-screen comparisons with sequences from the finished film, and VFX Tests (2mins) looks at how the film's composite effects were achieved. Not bad, but I'd happily swap the lot for some genuine input from the filmmakers.
Momentum Pictures, R2 DVD, £13 each, On sale May 18
HCC VERDICT: 3/5