The 50 best B movies on Blu-ray and DVD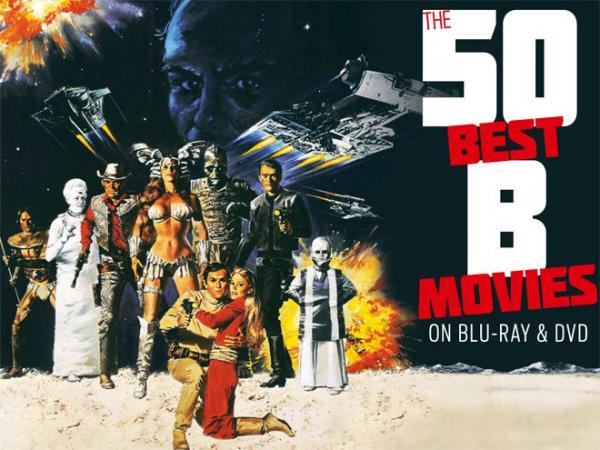 From schlock horror to blockbuster rip-offs, these low-budget flicks can't be missed!
A-list movies with A-list casts and A-list production values are the backbone of Hollywood, and guaranteed to get your home cinema system singing at its sweetest. But with hundreds of flicks churned out each year, there's so much more to choose from than the major studio titles. And this is where B movies come in.
The name denotes their original status as the supporting feature in a cinematic double-bill, with the 'B movie' delivered on a tighter budget than the more prestigious top-liner. Production exploded in the post-silent era, with fan-pleasing genres (Westerns, horror, noir) making up the bulk of the output. And even when the double-bill model faded, the idea of the B movie had taken hold. Low-cost genre flicks, produced outside of the big studios' spheres, could turn huge profits, and the ideas kept coming – sci-fi and exploitation joined the B movie repertoire. More recently, the home media revolution created another path for independent studios to reach their audience.
Of course, there are plenty of B movies that are practically unwatchable, but many gems, too. Here we pick our 50 favourites...
---
American Ninja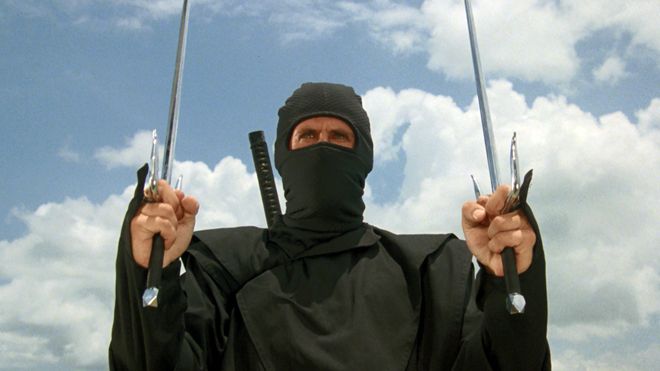 Cannon Films hit a gold-mine in the 1980s with a succession of low-cost bruisers, and American Ninja (originally renamed American Warrior in the UK) was a big enough hit to spawn a franchise. Star Michael Dudikoff is no Jackie Chan, but there's enough sword-swirling scrappery and exploding helicopters here to satisfy your action tastebuds. Made its HD debut last month, courtesy of 88 Films.
---
The Attack of the 50ft Woman
One of the most recognisable B movie titles around (anyone viewing the poster knew exactly what they were in for), this 1958 sci-fi manages to remain eminently watchable despite some very low-budget special effects and wide-eyed acting as Allison Hayes goes on a super-sized rampage. No Blu-ray release yet, sadly.
---
Basket Case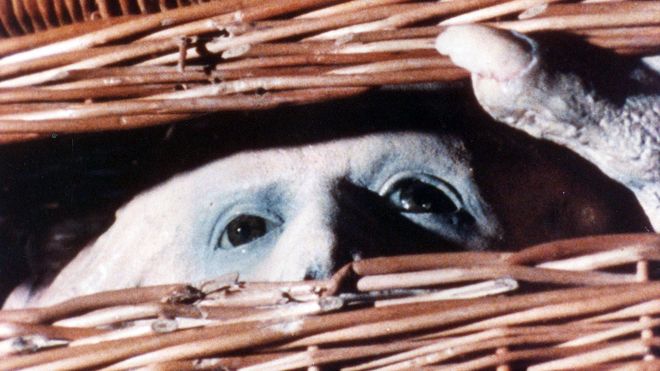 Frank Henenlotter's Skid Row shocker follows two 'Siamese twins' out for revenge on the doctors who separated them. As well as their mental state, the pun-tastic title also refers to the fact that one of the twins, Belial, is little more than a murderous lump of teeth and claws that his brother Duane carries around in a wicker basket. Henenlotter's icky flick is available alongside its two sequels in a UK BD steelbook
---

Battle Beyond the Stars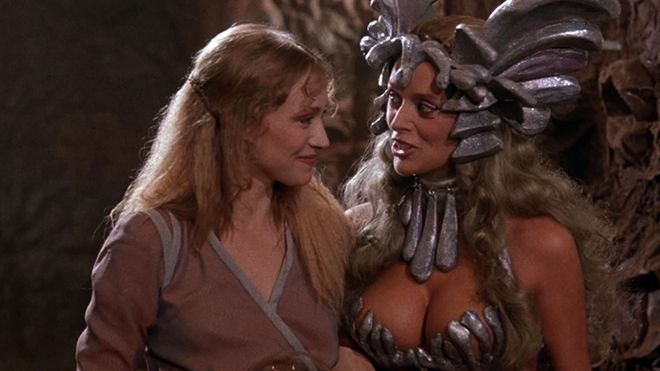 Given the impact Star Wars had on the landscape for low-budget sci-fi (see right), it was only fitting that Roger Corman should cash-in on its success with his biggest production so far – a sci-fi remake of The Magnificent Seven. With special effects by James Cameron and Sybil Danning as a buxom space Valkyrie, it's a blast from start to finish and available on a well-spec'd Region A Blu-ray.
---
The Beast from 20,000 Fathoms
Ray Harryhausen's stop-motion animation mastery ensures this 1953 monster movie didn't sink without a trace, and its aquatic-beast-woken-by-a-nuclear- explosion narrative served as the inspiration for Godzilla the following year. This is 80 mins of B movie fun, and the good news is that it's finally coming to Blu-ray in the US this October!
---
The Big Doll House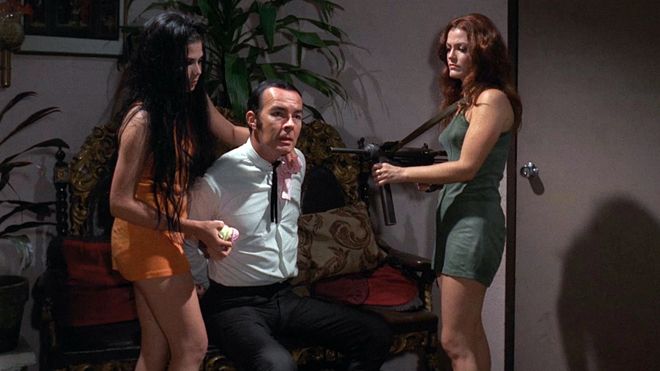 Lesbians! Sadistic guards! Mud wrestling! Director Jack Hill's legendary 'women in prison' flick features all this and more as it follows six inmates as they use their feminine wiles to try and escape from a tropical prison. The affordable US Women in Cages Collection Blu-ray partners this 1971 exploitation classic with the same year's Women in Cages and 1972's The Big Bird Cage.
---
Blacula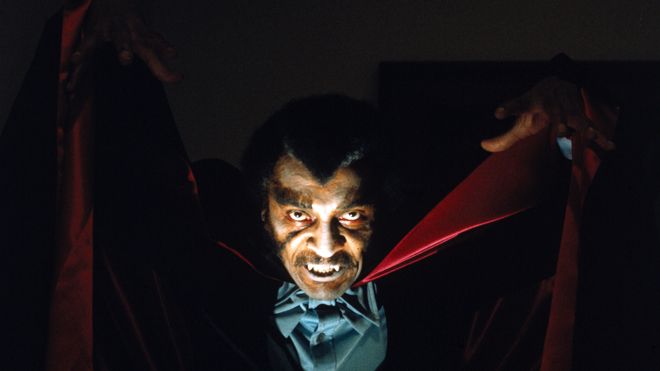 The blaxploitation fad of the '70s spilled into the horror genre with titles like Blackenstein and Dr. Black and Mr. Hyde. Best of the bunch was 1972's Blacula, which somehow mixed racially-charged social commentary with horror, comedy and funk music into a coherent whole – thanks largely to William Marshall's dignified performance as an African prince cursed by Dracula to be one of the undead. Grab it on Blu-ray alongside its sequel.
---
The Blob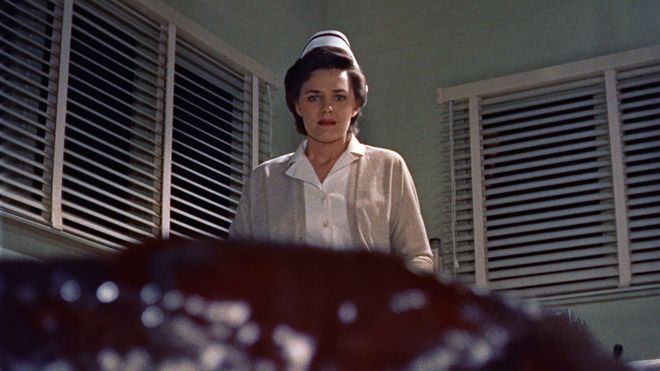 More 1950s sci-fi frolics, with smalltown USA forced to fight a giant, expanding blob that's hitchhiked to Earth inside a meteor. The Blob was a bona fide B movie (billed alongside I Married a Monster from Outer Space), a massive hit (it grossed over $4m from a budget of around $100,000) and eventually spawned a sequel and 1988 remake. Oh, and it gave Steve McQueen his cinema debut.
---
Blood Feast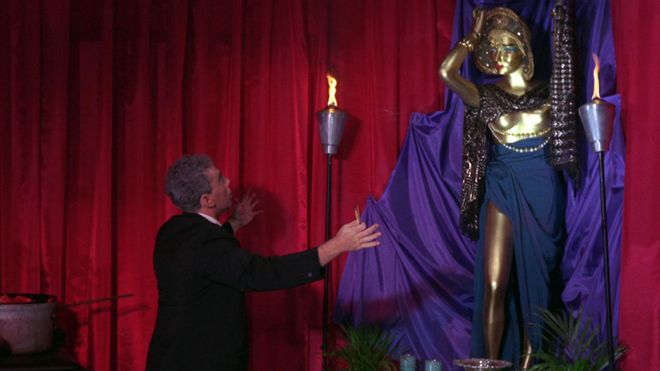 Young women are being murdered by a nutty caterer in 'Godfather of Gore' Herschell Gordon Lewis's notorious 1963 splatter flick. While the onscreen gore was groundbreaking at the time, it all looks pretty hokey these days – which only gives this wonderfully inept film greater camp appeal. The all-region US Blood Trilogy BD also includes the director's Two Thousand Maniacs and Color Me Blood Red.
---
Cat People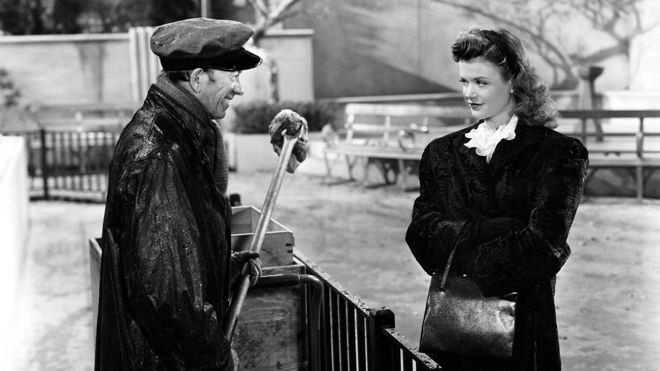 Working for RKO in the 1940s, producer Val Lewton was given a list of pre-approved titles and meagre resources to turn them into films. But instead of the expected lurid horror quickies, Lewton concocted a series of trailblazing psychological shockers including this timeless classic. Criminally unavailable on BD, nine Lewton films were released as an R1 DVD boxset.
---
Coffy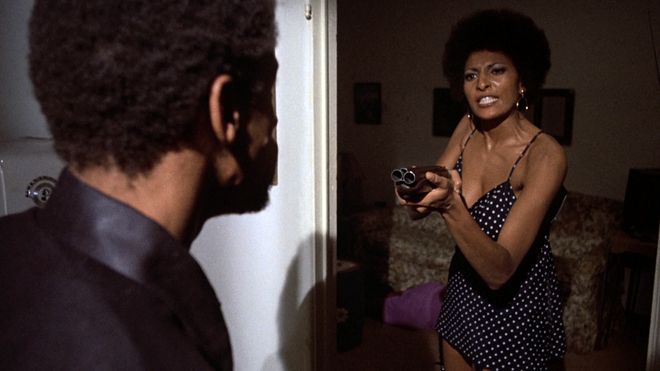 Following a handful of 'chicks in chains' flicks (including The Big Doll House – see above), Pam Grier finally hit it big with this tale of a nurse who spends her nights getting revenge on the drug dealers who put her little sister in hospital. Sexy, sassy and shocking, this blaxploitation stalwart recently made its BD debut courtesy of Arrow Video.
---
Crank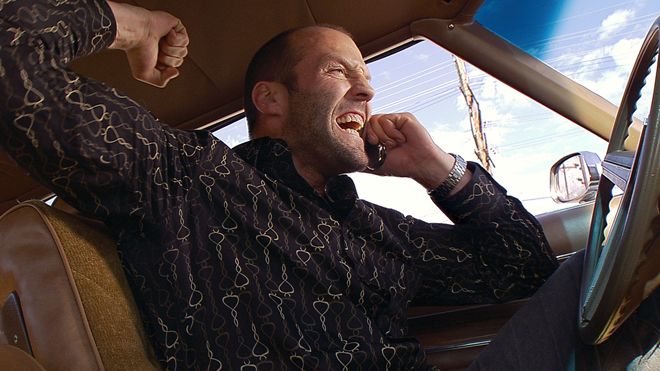 A film about a foul-mouthed hoodlum (Jason Statham) who has to keep his adrenaline pumping to stave off a deadly drug was never going to be an A-grade production, so writer/director duo Neveldine/Taylor wallow in the B movie madness of Crank's premise, shooting on low-budget handheld HD cams, and littering the 88-minute running time with gaming gags, odd captions and brutal violence.
---
Cyborg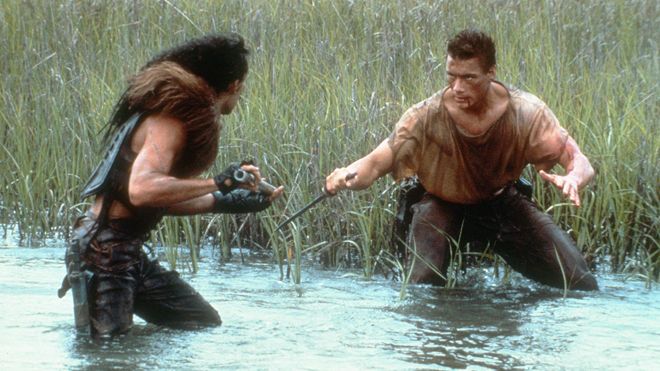 Post-apocalyptic 1989 martial arts mayhem with Jean Claude Van Damme. Confusingly, the Muscles from Brussels isn't playing a cyborg – instead he's a hard-as-nails mercenary escorting a cyborg on a journey through a plague-savaged US – but director Albert Pyun isn't about to let that get in the way of a good title. Enjoyable budget fun with a bit of a Mad Max-vibe, and the US BD looks good, too.
---
Deadly Weapons
Exotic dancer Chesty Morgan made the leap to the bigscreen with this revenge flick. Making ample use of her best assets, Deadly Weapons casts Chesty as a woman tackling the mobsters who killed her boyfriend – which she does by seducing them and smothering them with, er... we'll leave that to your imagination. Available as part of the Region A-locked Chesty Morgan's Bosom Buddies triple-feature BD.
---

Death Race 2000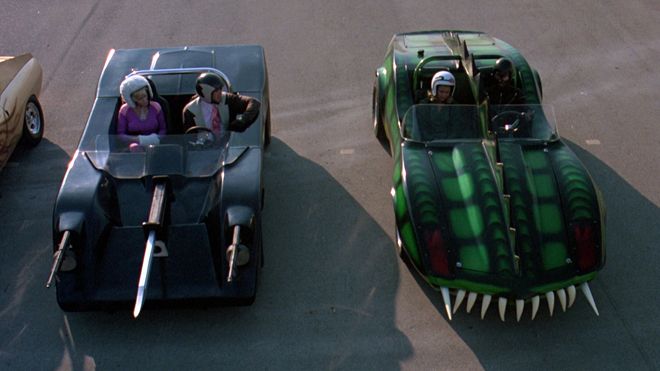 Another Roger Corman-produced drive-in classic, this gleefully violent future sports film stars David Carradine and Sylvester Stallone as rival drivers in the Transcontinental Road Race, where bonus points are awarded for mowing down innocent bystanders. Much more fun (if not quite as spectacular) as the Jason Statham remake, the film can be picked up on a Region A Blu-ray.
---
Dementia 13
Made in Ireland with money left over from the production of 1963's The Young Racers, this horror cheapie about an axe-wielding lunatic carving his way through a rich family marked the 'legitimate' directorial debut of Francis Ford Coppola. This arguably gives the movie more cache than it really deserves, but it's still fascinating to see the young Coppola developing his film-craft. An insanely cheap All-region Blu-ray can be found in the US.
---
The Evil Dead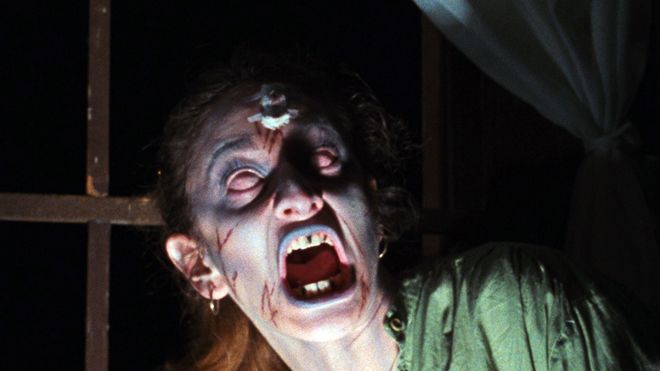 What is there left to say about Sam Raimi's audacious debut? Shot on a miniscule budget by Raimi and his friends and championed by Stephen King, this riotous gore-fest gained true notoriety during the Video Nasties furore that rocked the UK during the 1980s, cementing its place in the heart of horror fans. Although the UK BD is packed with extras, the beautifully restored transfer is cropped from 4:3 to 1.85:1.
---
The Fall of the House of Usher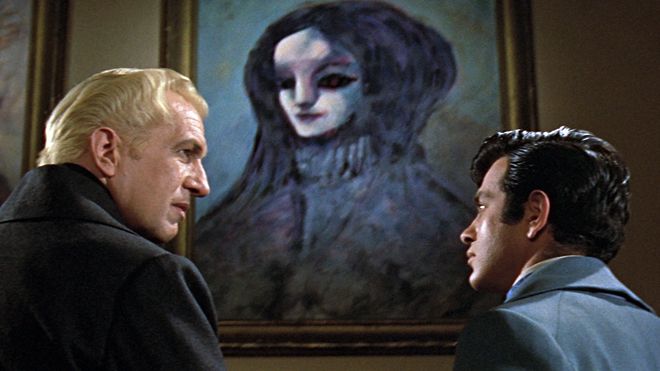 Roger Corman's baroque 1960 Cinemascope chiller was a hit at the box office and kicked off a cycle of Edgar Allan Poe-inspired films that finally made critics sit up and pay attention to this upstart filmmaker. The Fall of the House of Usher is available as both a standalone Region B BD and as part of the lavish limited edition Vincent Price in Six Gothic Tales by Edgar Allan Poe boxset.
---
Faster, Pussycat! Kill! Kill!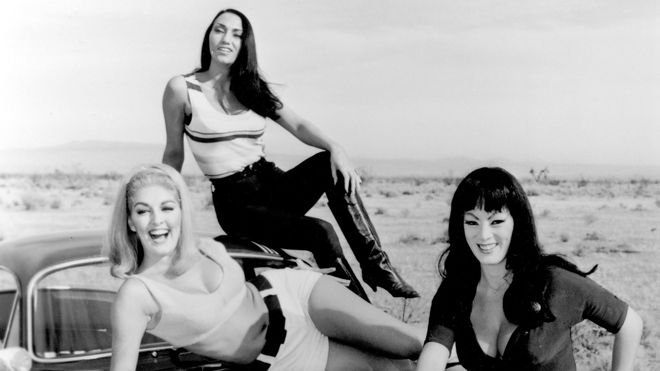 Sexploitation auteur Russ Meyer's surprisingly restrained and unforgettable masterpiece follows the outrageous exploits of three psychotic (and, as always with Meyer, particularly buxom) go-go dancers. The old R2 DVD includes chat tracks by Meyer and the Pussycats!
---
Feast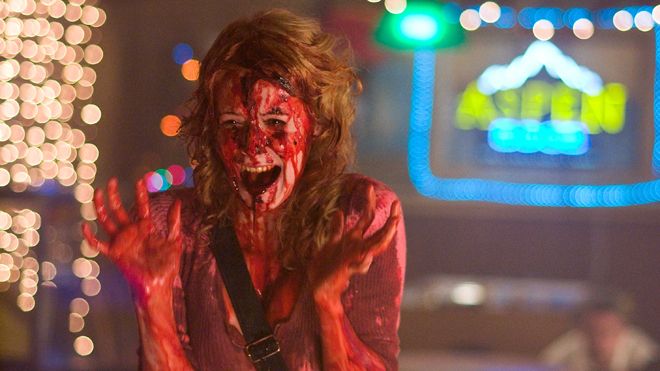 The winner of the third series of US TV show Project Greenlight (a competition designed to give first-time filmmakers a chance to direct a feature film), this no-holds-barred creature-featurepits a bar full of genre archetypes (identified onscreen as 'Hero', 'Boss Man', etc.) against a horde of unstoppable monsters. Feast is a great, gory throwback to 80s splatter flicks – just don't bother with the two terrible sequels.
---
Grindhouse
Quentin Tarantino and Robert Rodriguez's loving homage to the 'grindhouse' cinemas that once specialised in showing exploitation double-bills gets everything spot-on, right down to the missing reels and scratched prints. Extended cuts of the two films are available separately on Blu-ray, as is the original Grindhouse double-bill complete with the full complement of faux trailers.
---
Hell Comes to Frogtown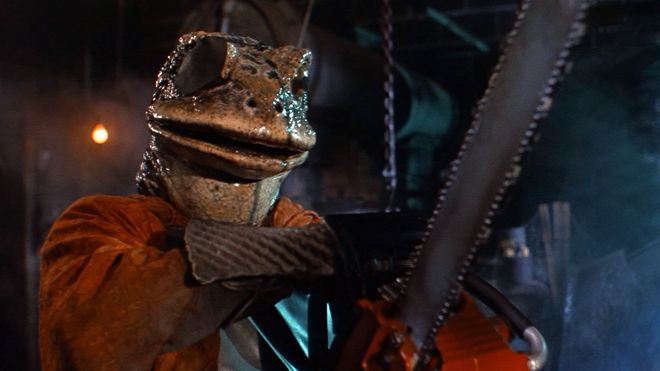 When a nuclear war leaves humanity facing extinction due to widespread infertility, nomadic drifter Sam Hell (pro wrestler 'Rowdy' Roddy Piper) is sent to rescue a harem of fertile women from the slimy grasp of mutant frog people. As mad as a bag of frogs, this dumb-but-fun post-apocalyptic action-comedy made a surprise appearance as a limited edition Blu-ray last year.
---
Hollywood Chainsaw Hookers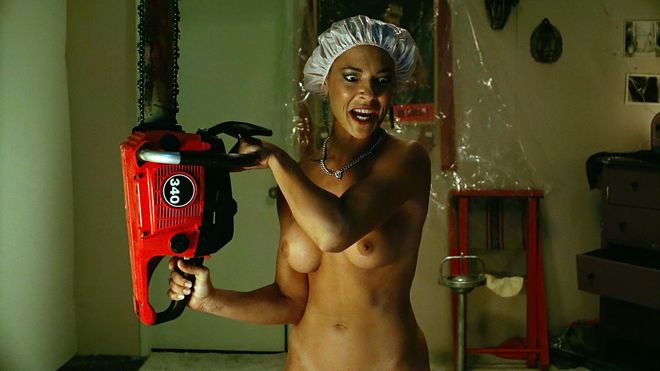 Proud possessor of one of the all-time great B movie titles, Fred Olen Ray's BBFC-bothering slice of schlock is a fun homage to the great film noirs, albeit featuring killer prostitutes belonging to an ancient Egyptian chainsaw-worshiping cult. The restored UK Blu-ray ensures that horror icons Linnea Quigley and Michelle Bauer have never looked better.
---
Iron Sky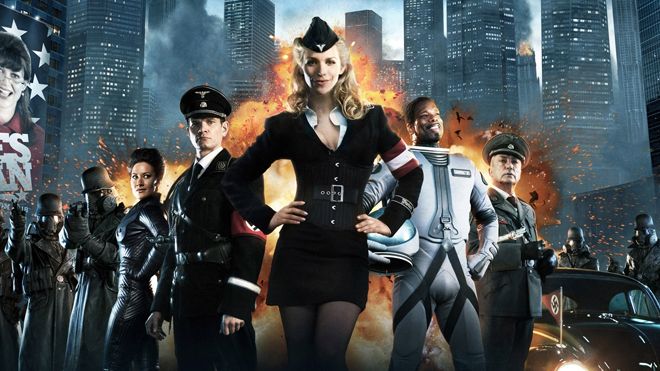 Arriving four years after its teaser trailer became the talk of the town at the 2008 Cannes Film Festival, Iron Sky deals with an invasion by lunar Nazis who have been hiding on the moon since the end of World War II. Both the original theatrical cut and a longer 'Dictator's Cut' of this sci-fi spoof have seen the light of day on Blu-ray, and a crowdfunded sequel (with added Nazi dinosaurs) is in the works.
---
Killer Klowns from Outer Space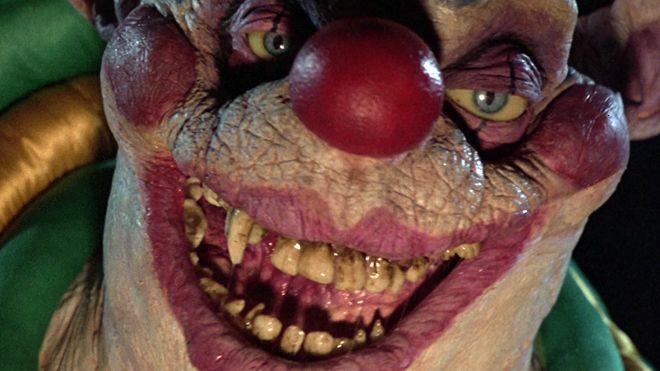 Need proof that clowns are inherently evil? Then look no further than The Chiodo Brothers' 1988 sci-fi comedy. Taking its cues from '50s sci-fi movies like The Blob, it finds smalltown America under attack from alien clowns. Following its success on VHS, DVD and BD, a sequel entitled Return of the Killer Klowns from Outer Space in 3D is in the works.
---
King Kong Escapes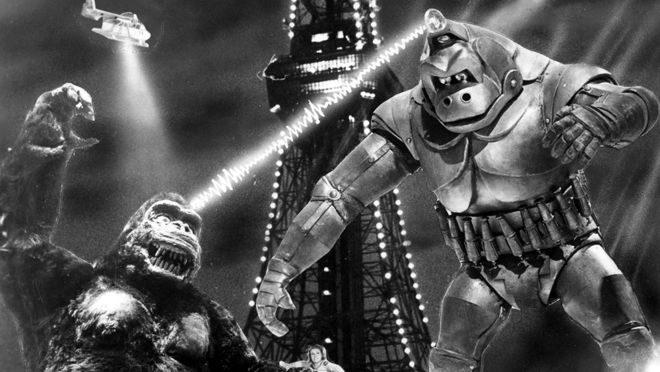 Having fought Godzilla in 1962, King Kong's second Japanese adventure saw the giant ape do battle with the giant robot Mechani-Kong and its creator Dr. Who (no, not that one). This classic example of so-bad-it's-good cinema is a must for fans of men in monster suits monkeying around in model cities. Universal released a barebones All-region Blu-ray in the States last year.
---
Kiss Me Deadly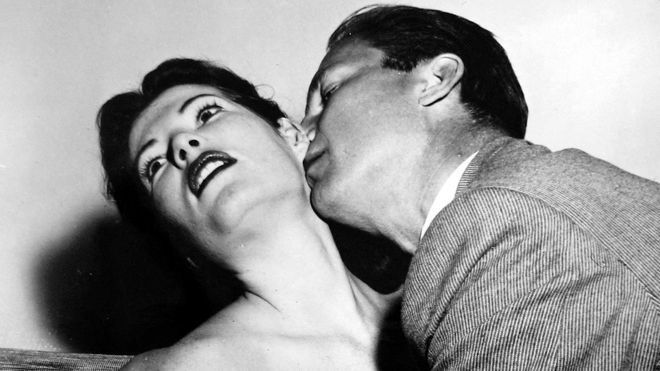 Loosely based on one of Mickey Spillane's Mike Hammer mystery novels, director Robert Aldrich's nihilistic 1957 thriller took the film noir to new depths of paranoia, brutality and cynicism, before climaxing with one of the most audacious finales imaginable. It's worth buying a multi-region deck just so you can enjoy Criterion's Region A-locked Blu-ray with its gorgeous HD visuals and ample assortment of bonus features.
---
Ms. 45
Underground New York filmmaker Abel Ferrara followed up 1979's notorious The Driller Killer with this unflinching revenge thriller. Maligned on its original release, the film is now regarded as a classic, thanks largely to the late Zoë Tamerlis Lund's remarkable central performance as the mute rape victim who is transformed into a man-hating spree killer. A remastered Region A US Blu-ray was released last year.
---
Night of the Living Dead
Described on its 1968 release as 'an orgy of sadism' and 'one of the most gruesomely terrifying movies ever made', George Romero's revolutionary zombie film took cinemagoers on a gruelling tale of gory terror far removed from the traditional fright flicks of the era. Of the two UK BDs, we suggest sticking with the old Optimum release, as the Network disc is missing some dialogue.
---
Piranha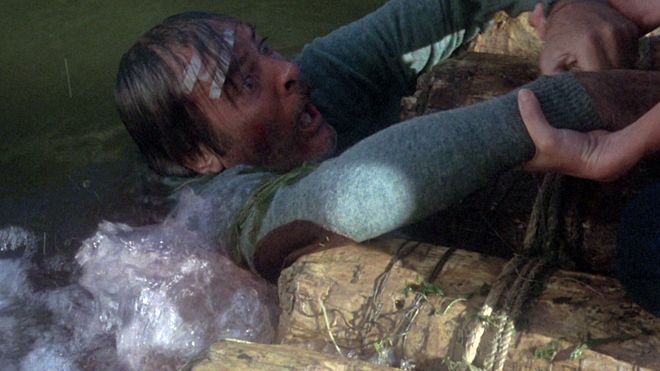 By far the best of the many Jaws rip-offs that swam into cinemas in the late '70s, Piranha rises above other creature-features thanks to the winning combination of Joe Dante's playful direction and John Sayles' knowing screenplay. Funny and frightening in equal measure, this killer fish flick may have only cost $600,000 to make, but in terms of entertainment value it's absolutely priceless. The recent 3D remake is also worth a look.
---
Plan 9 From Outer Space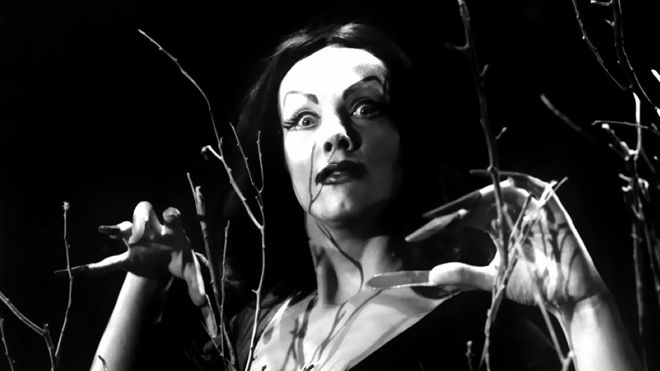 Is Ed Wood's 1959 sci-fi horror really 'the worst film ever made'? Not really. Inept, infantile and incoherent it may be, but it's never boring; the myriad faults and general weirdness only make it more fun. Heck, given the choice, we'd sooner watch Plan 9 from Outer Space over …The Phantom Menace any day of the week. The All-region US BD includes restored black-and-white and colour versions.
---
Psycho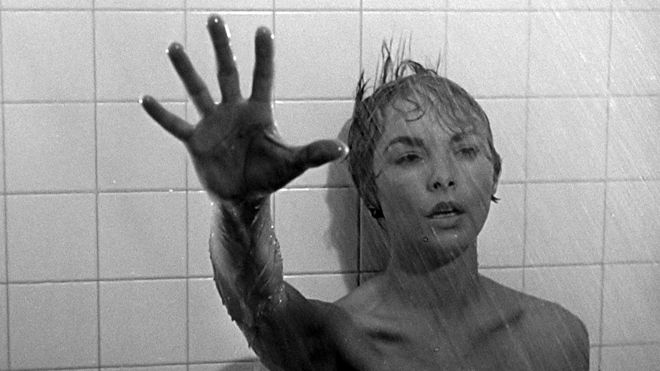 Alfred Hitchcock's most famous flick was deemed too gruesome an idea to be produced by his regular studio partner Paramount, so the director got the shower-scene classic rolling under his own independent Shamley Productions banner, partly keeping the budget under $1m by opting to shoot in black-and-white. Estimated eventual box office takings of around $50m proved Hitch's instincts right.
---
Q: The Winged Serpent
Larry Cohen's cheap and cheerful monster movie cleverly relegates the expected mayhem to the background in order to tell the story of a small-time crook who stumbles across the creature's lair. Great performances and a canny script make it easy to look past the naff stop-motion effects – but even these have a charm of their own. Fans should swoop on the All-region US Blu-ray.
---
Re-Animator
Grande guignol splatterfests don't come any more audacious than Stuart Gordon's 1985 directorial debut. In addition to giving film fans a new horror icon in the form of creepy medical-student-cum-mad-scientist Herbert West (Jeffrey Combs), Re-Animator proved equally proficient at both splitting sides and churning stomachs – something that is more evident than ever via its recent Blu-ray restoration.
---
Return of the Living Dead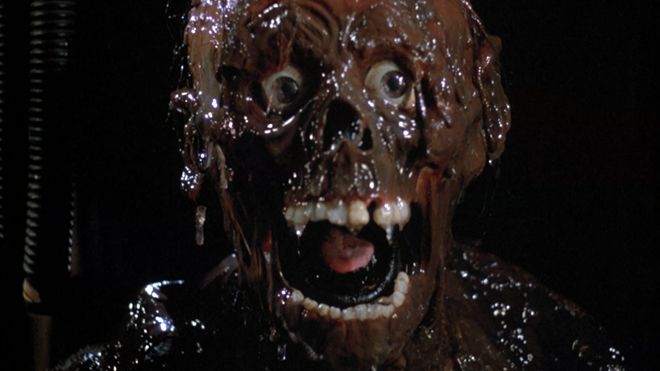 This hip parody of George Romero's zombie films plonks a gang of punks in the middle of a cemetery full of fast-moving, fast-talking ghouls and then sits back to watch the chaos unfold. As well as looking great, the UK Blu-ray also restores the film's original rock soundtrack.
---

Sharknado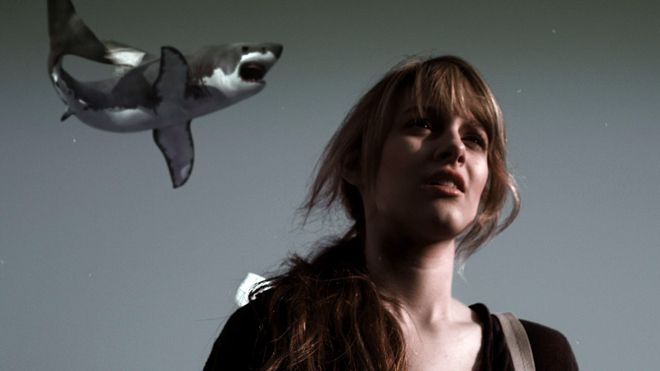 A tongue-in-cheek mashup of Jaws and Twister, with a cast including former Beverly Hills 90210 star Ian Ziering and American Pie-ster Tara Reid, Sharknado is perhaps the most well-known flick to come out of The Asylum. A riot of green-screen acting and CGI teeth, it broke SyFy channel viewing figures when it debuted in 2011, and has since been given a budget Blu-ray release.
---
Shivers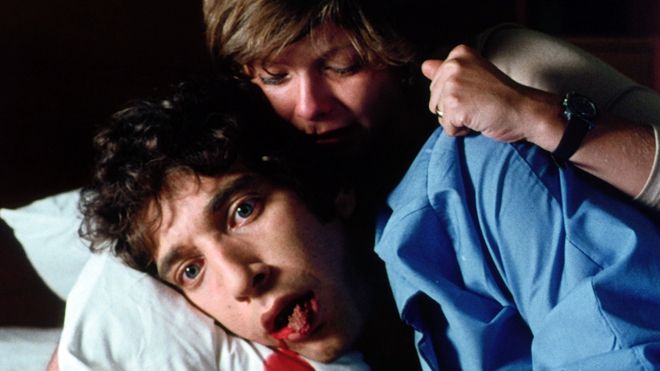 The residents of a sleek high-rise apartment block are transformed into sex-crazed maniacs by oddly phallic-looking parasites in David Cronenberg's directorial debut. Rough and ready in all the right ways, Shivers is a provocative piece of body horror that still has the power to shock. Sadly, while the UK Blu-ray makes Shivers look better than we ever thought possible, it's based on a pre-cut version of the film.
---
Sorority Babes in the Slimeball Bowl-O-Rama
Writer/director/producer David DeCoteau's ramshackle 1987 exploitation flick follows a group of students who run afoul of a demonic genie trapped inside a bowling trophy. As well as that title, it's notable as being one of only two films in which legendary '80s Scream Queens Linnea Quigley, Michelle Bauer and Brinke Stevens appear together.
---
The Stuff
'Are you eating it? Or is it eating you?' B movie auteur Larry Cohen turned his satirical sights on our obsession with junk food via this tongue-in-cheek flick about an addictive (and sentient) dessert that is threatening to take over the world, one delicious mouthful at a time. Remarkably, The Stuff underwent a 2K restoration for its UK Blu-ray debut, which also benefits from a terrific hour-long doc about the making of the film.
---
The Terminator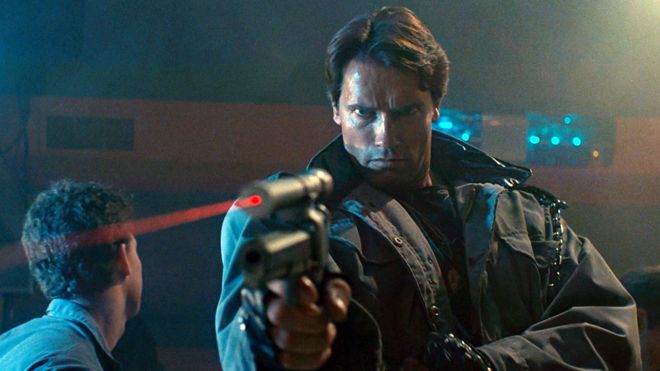 James Cameron put the experience gained working under B movie legend Roger Corman to good use when writing and directing this low-budget sci-fi cracker. It made Arnold Schwarzenegger a star, Cameron an A-list director, gave us the immortal line 'I'll be back' and proved that stunning special effects needn't cost the earth to achieve.
---
The Terror of Tiny Town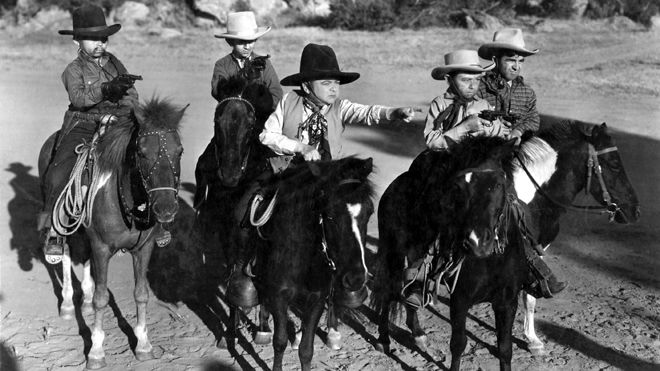 Of the countless B movie Westerns made during the '30s and '40s, The Terror of Tiny Town (ironically) towers above the rest due to its infamy as the world's first 'all-midget show'. Naturally, this fact is milked for as many gags as possible - which means we get to see cowboys riding Shetland ponies and walking under swinging saloon bar doors. Rustle up a copy on R1 DVD.
---
The Tingler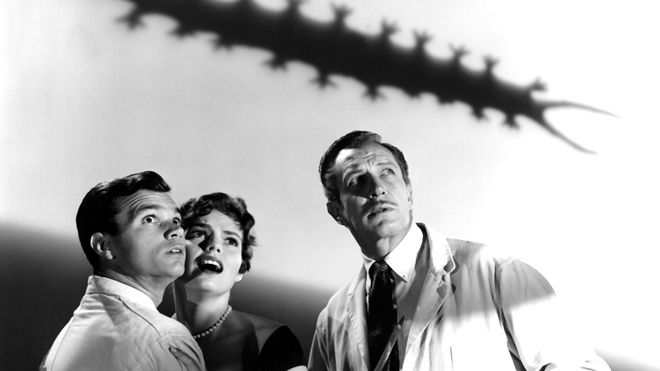 Wacky 1959 horror from director William Castle (House on Haunted Hill) and starring Vincent Price, The Tingler wooed cinemagoers by applying vibrations to seats to correspond to the onscreen 'tingles' delivered by the movie's parasitic killer, and a finale that saw the beastie run amok in a movie theatre. It's unavailable on BD, so you'll need to import the Region 1 US DVD edition, which packs some decent extras.
---
The Toxic Avenger
This trashy superhero spoof sees a 98lb weakling changed into a 'hideously deformed creature of superhuman size and strength' after falling into a barrel of toxic waste. While most Troma films are borderline unwatchable dross, The Toxic Avenger gets the brand's mix of gore, gags and sauciness spot-on, resulting in an unforgettable 88 minutes of cinematic nuttiness.
---

Trancers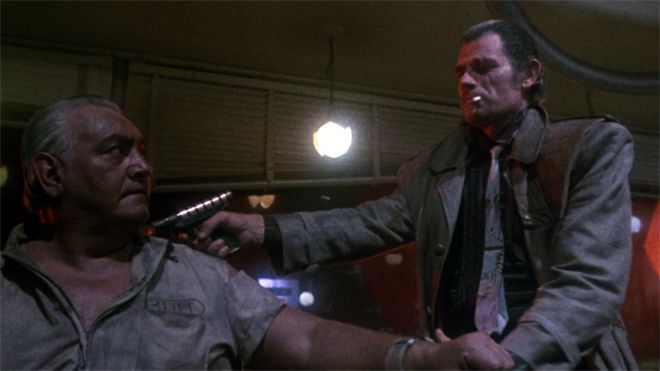 Pitched somewhere between Blade Runner and The Terminator, Charles Band's 1985 sci-fi gem sees future-cop Jack Deth sent back in time to 1985 to eliminate a fugitive time traveller. With its fun concept and terrific performance from Tim Thomerson (supported here by a before-she-was-famous Helen Hunt) it comes as little surprise that Trancers was a big enough hit to justify five-and-a-half DTV sequels.
---
Tremors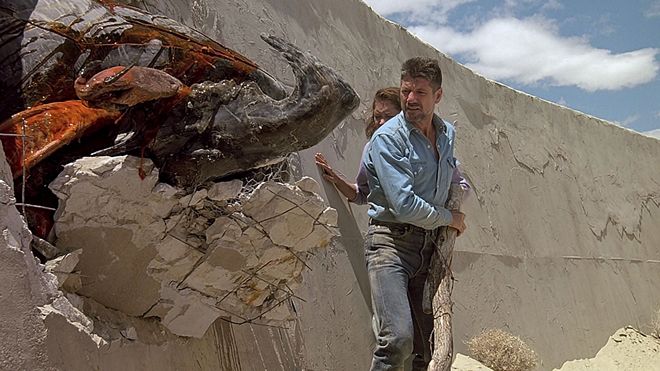 A big studio picture (Universal), but one that pays loving homage to '50s creature features – without veering into spoof territory – as Kevin Bacon and Fred Ward's smalltown handymen go up against giant, ravenous worms. The initial BD release had overzealous edge enhancement and DNR; slightly better imagery can be found on a more recent boxset, which includes the film's three sequels.
---
Troll 2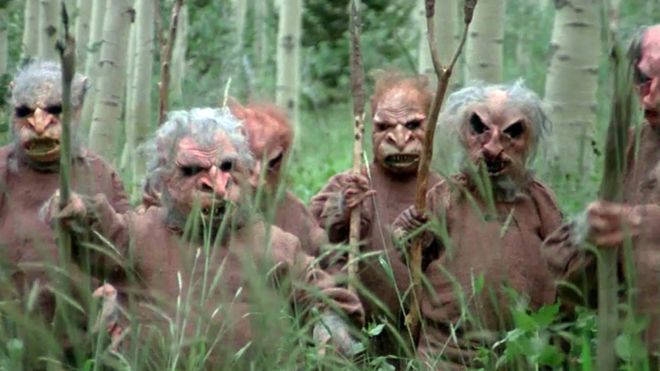 A young boy attempts to save his family from being turned into plants and devoured by a pack of vegetarian goblins in this brilliantly incompetent horror-comedy, which has developed a keen cult following over the past quarter century. In addition to importing MGM's '20th Anniversary' Region A-locked Blu-ray, you should also pick up Best Worst Movie, the acclaimed documentary about Troll 2 and its fans, on R1 DVD.
---
White Zombie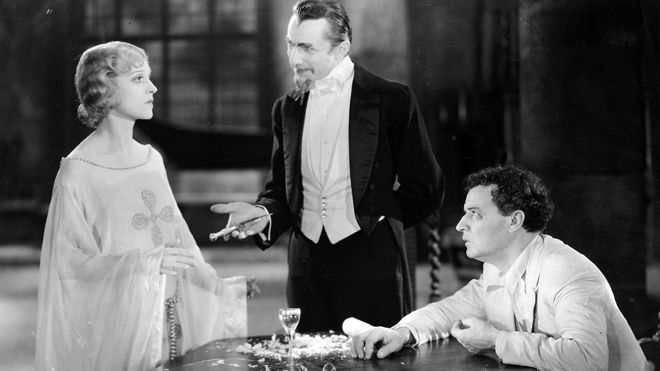 Bela Lugosi stars in this 1934 horror cheapie about a young woman's transformation into a zombie at the hands of an evil voodoo master. Very much a product of its time, White Zombie suffers from outdated racial elements and acting that is stiffer than any corpse. But its status as the first full-length zombie film, and curious fairy tale atmosphere, make the Region A 'Cary Roan…' Blu-ray well worth a look.
---
The Wicker Man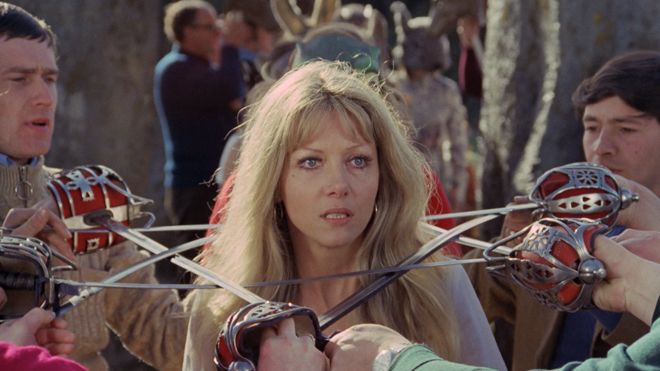 Actually released in 1973 as the B movie on a double-bill with Don't Look Now, The Wicker Man went through a fraught, cash-strapped production, and harried editing process, but still managed to emerge with enough of its unsettling horror intact to mark it down as a genre classic. Pick up the restored, feature-packed UK Blu-ray for the definitive version of the film.
---
The Wild Angels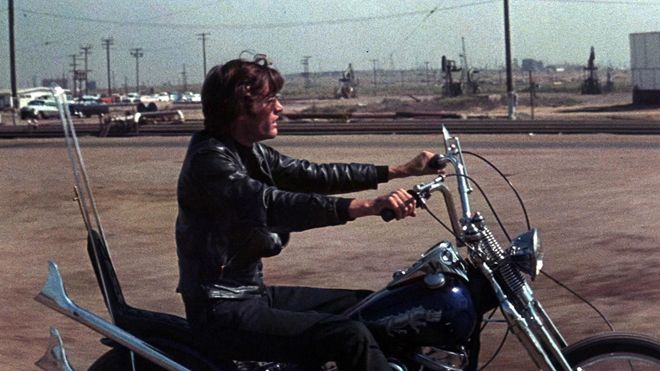 Roger Corman helped to create a whole new genre, the outlaw biker movie, with this authentically ugly Hells Angels flick. Starring Peter Fonda (three years before Easy Rider), Nancy Sinatra, Bruce Dern and members of the Coffin Cheaters motorcycle club, it's a tough, uncompromising film that is well worth revisiting on Region A BD.
---
X: The Man With X-ray Eyes
Shot in three weeks on a budget of just $300,000, Roger Corman's 1963 sci-fi/horror parable stars Ray Milland as a scientist whose experiments with X-ray vision have terrifying consequences. Imaginative, intelligent and eerie, X… is a superb example of what can be achieved with limited resources – and has just been released on Blu-ray in the States.

SPONSORED VIDEO

SPONSORED VIDEO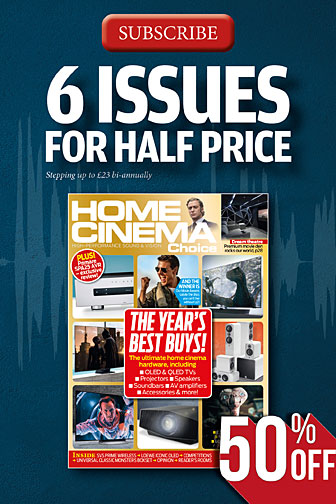 Home Cinema Choice #332

is on sale now, featuring: Samsung's 8K flagship; Anthem AVM 90 processor; B&W 800 Series Diamond; LG smart projector; Hollywood box office bombs; Hitchcock 4K; and more
Want to see your home cinema system featured in the pages of HCC? Click
here
for more info.