The 25 best animated movies on Blu-ray!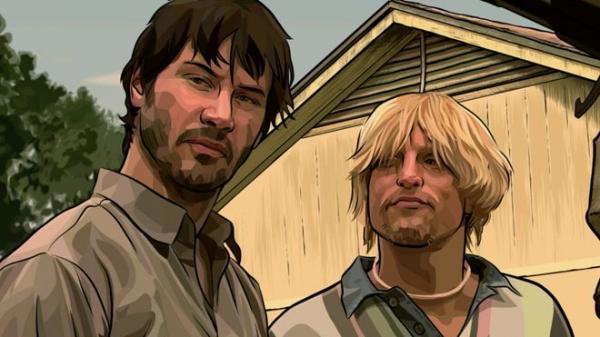 From hand-drawn psychedelia and Rotoscoped documentaries to cutting-edge CG 'toons and 3D conversions, Team HCC trawls through cinema history to reveal the genre-shaping flicks that are yours to cherish in HD...
25. A Scanner Darkly
Indie director Richard Linklater (Dazed and Confused, Before Sunset, er, School of Rock) employed Rotoscoping (where animators draw around live-action footage) for this mind-melting sci-fi thriller. Keanu Reeves is perfectly cast as a drug-addled undercover cop, supported by Robert Downey Jnr and Woody Harrelson, and the movie is well-regarded for being one of the most faithful adaptations of a Philip K Dick novel. Visually, the time-consuming Rotoscoping pays off handsomely, adding an extra layer of weirdness. The BD looks sublime, but the 5.1 mix is regular Dolby Digital.
---
24. The Dark Knight Returns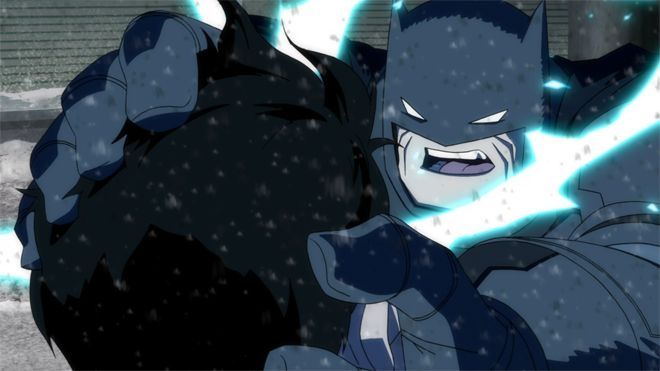 Batman has a long and varied history in animation, going right back to Filmation's 1968 The Batman/Superman Hour TV series. In more recent years, he's starred in a number of animated movies produced for DVD and Blu-ray, the best of which is this epic adaptation of Frank Miller's legendary 1986 dystopian comic book miniseries, where an ageing Bruce Wayne comes back out of retirement to fight crime once more. Originally released in two parts across 2012/2013, dedicated Bat-fans should import the subsequent US 'Deluxe Edition' all-region Blu-ray, which edits the two together and adds some superb new extras.
---
23. Yellow Submarine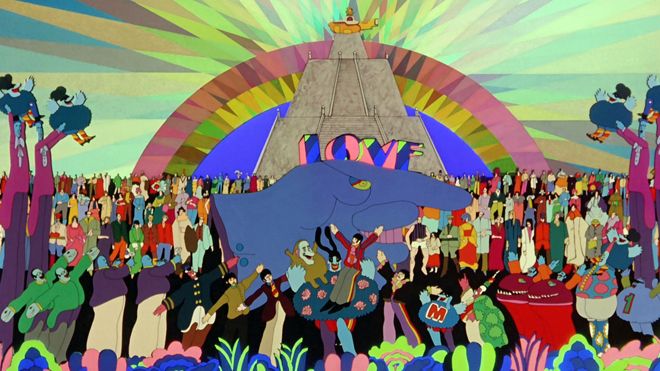 The Fab Four lend their song-writing prowess to this lush-looking hand-drawn musical. The premise is pure 1960s psychedelia, with the band pootling around in their eponymous vehicle doing battle with Blue Meanies to save the under-the-sea Pepperland kingdom from... oh, it doesn't matter. What matters here are the classic tunes (Eleanor Rigby, All You Need is Love, Altogether Now, Yellow Submarine...) and the groundbreaking animation design, and both of these are delivered exceptionally well by EMI's 2012 hi-def release, which is based upon a 4K restoration/cleanup and reworks the score into fulsome 5.1 mixes.
---
22. Who Framed Roger Rabbit
Yes, we know that this madcap 1988 comedy includes a live cast, but it's the use of animated characters that sticks in the memory. Director Robert Zemeckis achieved the unthinkable by having Bob Hoskins, Christopher Lloyd et al interact flawlessly with their 'toon counterparts, in a wickedly funny film noir pastiche littered with high-energy set-pieces and Golden Era cameos. Disney's 25th Anniversary Blu-ray, released in 2013, offers a lossless 5.1 remix, efficient transfer and a bundle of extras, including three Roger Rabbit shorts.
---
21. Persepolis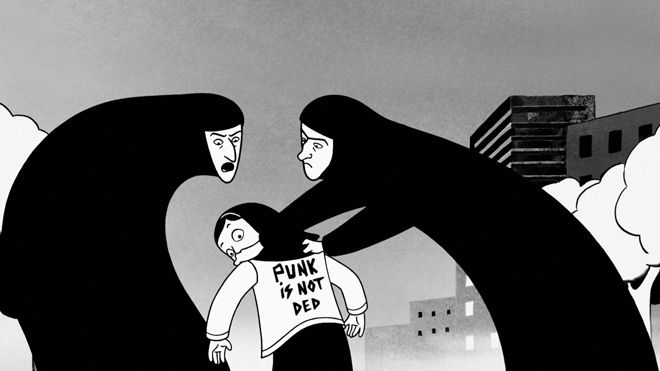 Based on Marjane Satrapi's autobiographical graphic novel, the sublime Persepolis covers Satrapi's life growing up in Iran as a rebellious Iron Maiden and Bruce Lee-loving teen during the Islamic Revolution, through to living in France as a young adult. With so much of the film's power derived from its deceptively simple animation style, its thrilling to witness the clarity and organic quality that StudioCanal's Blu-ray brings to the mainly black-and-white transfer. Essentially, this looks spookily like Satrapi's original illustrations come to life.
---
20. Rango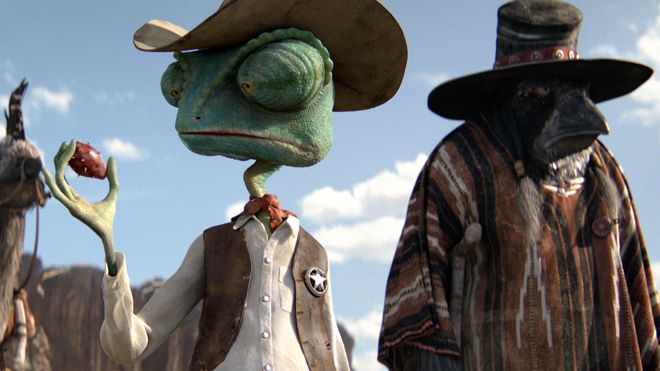 This goofy Western homage reunited Pirates of the Caribbean star Johnny Depp with director Gore Verbinski and won the Oscar for Best Animated Feature in 2011. Yet more notable is the fact that it was the first fully-animated film made by Industrial Light & Magic, the CG wizards best known for creating the VFX for Hollywood's biggest blockbusters. The result is a feast for your eyes, brimming with intricate character design and textures – something made all the more obvious by the film's flawless presentation on Blu-ray. One of the best-looking hi-def platters around!
---
19. The LEGO Movie 3D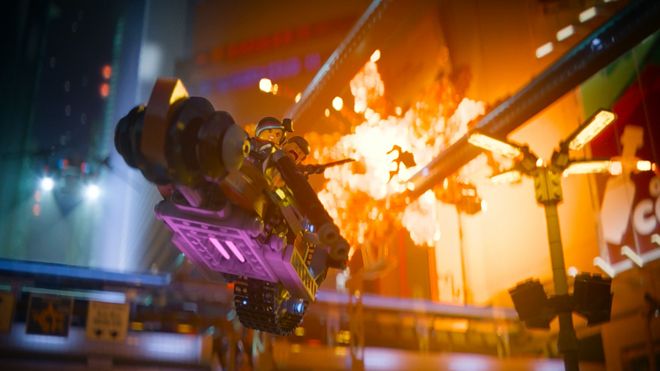 Everything really is 'awesome' when it comes to the spectacular stereoscopic Blu-ray release of last year's animated till-ringer. This hilarious post-modern 'toon displays a dazzling sense of 3D depth, insane detailing right down to tiny chips and scratches in the LEGO characters and blocks, and a boundless array of vivid hues – the result is that you're eased swiftly into the fantastic world it creates. Chuck in a reference-grade audio mix and a toy-box full of extras and you've got a faultless Blu-ray release.
---
18. Les Triplettes de Belleville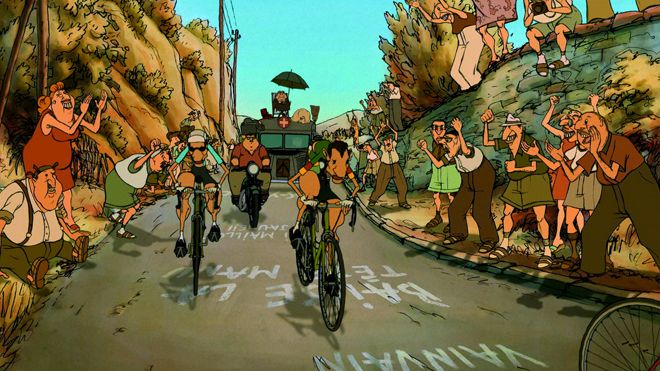 This warm-hearted piece of Gallic whimsy (released as Belleville Rendez-vous in the UK) recounts the story of an elderly woman's journey to the metropolitan city of Belleville to rescue her grandson, a Tour de France cyclist kidnapped by the French mafia. Utilising a delightfully grotesque art style, it's a film that cries out to be watched in high-definition – which makes the lack of a UK or US BD platter so annoying. Thankfully, as the story is told mainly through music and pantomime, it means there's nothing to get in the way of importing the Region B French Blu-ray (which is also available in a double-pack with the director's second film L'illusioniste).
---
17. The Fantastic Mr. Fox
Having demonstrated a propensity for making so-called 'self-contained' live-action movies that employed hand-made set dressings, miniatures and even stop-motion animation, it seemed only natural that Wes Anderson would try his hand at directing a fully-animated feature. For us, this stop-motion adaptation of Roald Dahl's Fantastic Mr. Fox is perhaps Anderson's most satisfying film, the perfect example of his cinematic style and sensibilities. While 20th Century Fox's 2010 Blu-ray remains a thing of beauty, die-hard animation fans with a multi-region deck should import the 2014 Region A-locked Criterion platter from the US.
---
16. Tangled 3D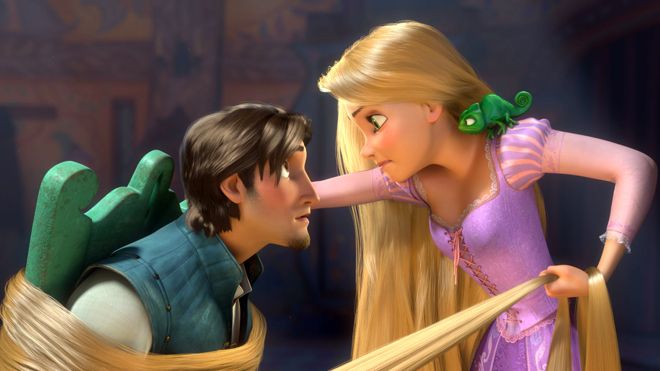 Proving that Disney's own in-house team can still compete with the likes of Pixar (now owned by Disney, of course) and DreamWorks, Tangled is visually remarkable. The animators used state-of-the-art 3D CG animation, but only to deliver a more classical hand-drawn feel that captures a slice of the studio's heritage. Furthermore, they grasped the power of 3D perfectly, delivering an absorbing funny-spex experience that pushes the technology so far to its limits that it can trip up some displays. Oh, and the movie's a heap of fun, too.
---
15. Paprika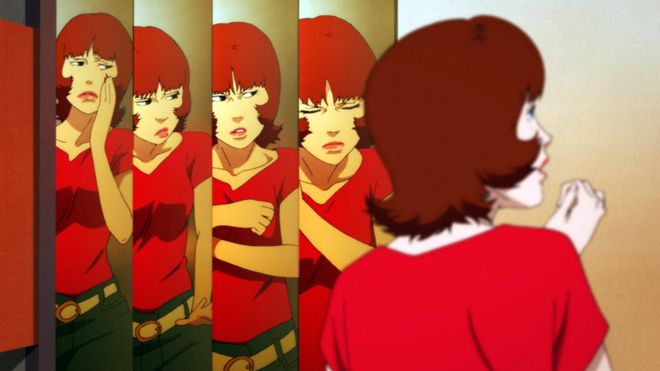 Satoshi Kon may have only directed a handful of films before his untimely passing in 2010, but in a 13-year career he proved himself to be one of the most stylish, ambitious and challenging anime filmmakers. Paprika's cautionary narrative about a machine that allows people to enter the subconscious of others allowed Kon to let his imagination off the leash, filling the screen with a dizzying parade of images that are by turns strange, scary and spectacular. And Sony Pictures' Blu-ray (albeit an early MPEG-2 encode) delivers the experience with panache.
---
14. Finding Nemo 3D
Pixar's mega-hit is a wondrous blend of CG eye-candy, slick plotting and stand-out voicework, aimed squarely at kids but with enough smarts to satisfy grown-up viewers. Yet nine years after its 2003 release, it was made even better with a high-quality stereoscopic makeover (at a rumoured cost of $5m) that suits its underwater seascapes perfectly. The fishy stars are brought right in to your viewing room and director Andrew Stanton's aquatic playground looks large enough to swim in. Get the region-free US Collector's Ed. for the best selection of extras.
---
13. La Planete Sauvage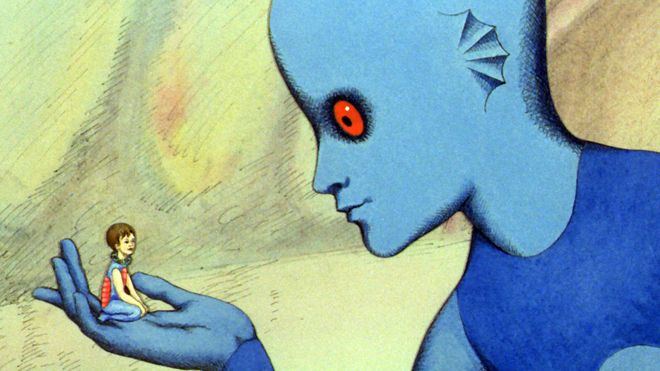 This French-Czechoslovakian co-production (also known as Fantastic Planet) is the only animated feature yet to make it into Eureka's prestigious 'The Masters of Cinema Series' Blu-ray selection. Director René Laloux's sci-fi allegory was awarded the Grand Jury Prize at the 1973 Cannes Film Festival and has lost none of its power over the years, thanks largely to Polish surrealist Roland Topor's stunning cutout artwork. And not only does Eureka's handsome Blu-ray package treat the film with the TLC it deserves, it includes five additional shorts by Laloux, and legendary jazz pianist Alain Goraguer's memorable soundtrack in its entirety.
---
12. The Jungle Book
Inspired by Rudyard Kipling's collection of stories about the abandoned 'man-cub' Mowgli, The Jungle Book (released in 1967) has long been regarded as one of the crown-jewels in the Disney back-catalogue, reason enough for the studio to give it a thorough polish for a 2013 'Diamond Edition' Blu-ray release. As good as the 'toon looks in hi-def, what makes the Blu-ray platter a must-own is the remixed DTS-HD Master Audio 7.1 soundtrack. The new multichannel mix doesn't offer much in the way of surround channel interplay (it's still very front-heavy), but makes the movie's up-tempo musical numbers sing like never before.
---
11. Waltz with Bashir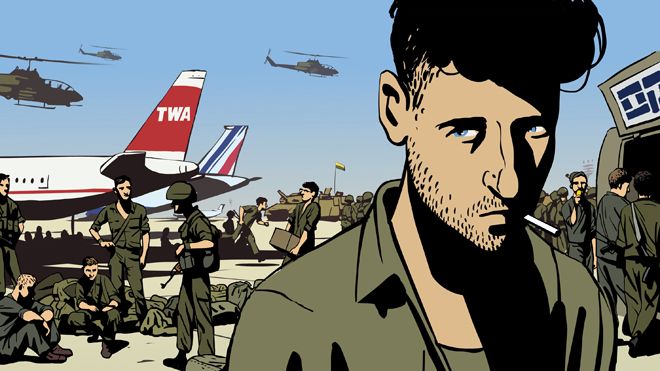 To many people the idea of an animated documentary is ludicrous. However, given the mixture of memories and hallucinatory dreamscapes Waltz with Bashir relies upon as it charts filmmaker Ari Folman's journey to uncover memories he suppressed while serving in the Israeli army, it's hard to think of a way the story could be brought to the screen with anything like the same impact. A harrowing but rewarding watch, it stands out on Blu-ray thanks to Artificial Eye's skillful encoding of its distinctive visual style.
---
10. How to Train Your Dragon 2 3D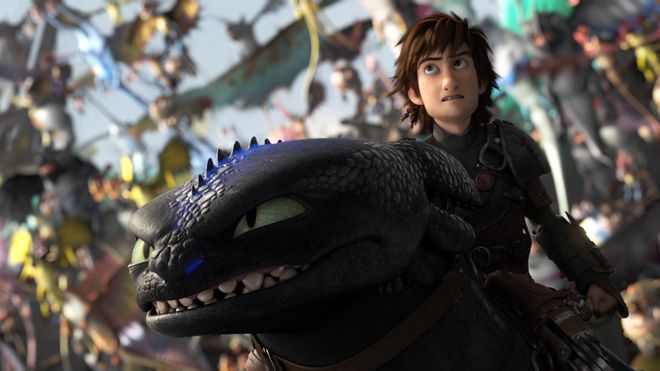 Despite the box office success of titles like Shrek and Madagascar, DreamWorks Animation has always found itself playing second fiddle to rival Pixar. Yet it silenced critics in 2010 with the release of the spectacular How to Train Your Dragon, a modern classic that it somehow managed to improve upon with last year's bigger, bolder and brainier sequel. How to Train Your Dragon 2 is also one of the current flag-bearers for 3D home cinema, unleashing a cavalcade of breathtaking stereoscopic sequences that put many other efforts to shame.
---
9. Grave of the Fireflies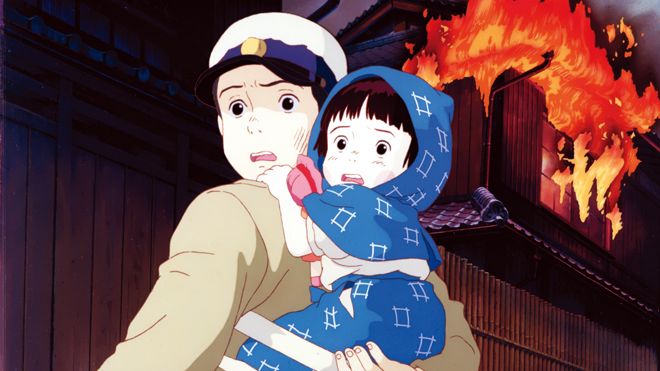 Something of an anomaly in the Studio Ghibli back-catalogue, Isao Takahata's award-winning 1988 flick eschews whimsical flights of fancy in favour of recounting the rather grim story of two young Japanese children struggling to stay alive during the final months of the second World War. Frozen, it isn't: instead, it's easily on a par with live-action classics such as Come and See and All Quiet on the Western Front in its ability to confront viewers with the horrors of war. Have some tissues ready to dab your eyes and then savour the movie's appearance on Blu-ray, not least the beautiful handling of the film's detailed artwork.
---
8. Beauty and the Beast 3D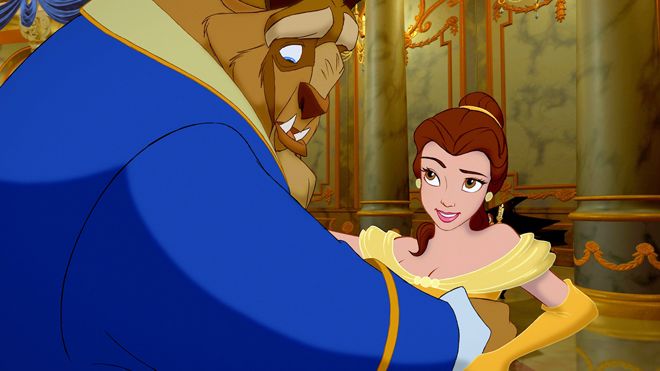 Disney has given several of its modern movies 3D ret-cons on Blu-ray, but none have benefitted from the transformation quite as much as this beloved 1991 musical fairy-tale. The post-production wizardry adds a noticeable sense of depth to the more traditionally animated material, and helps integrate computer-rendered 3D backgrounds (as famously used in the ballroom dance scene) far better than the original 2D version ever managed. Better still, the Blu-ray's stunning 3D visuals are matched by a stonking DTS-HD MA 7.1 soundtrack.
---
7. The Incredibles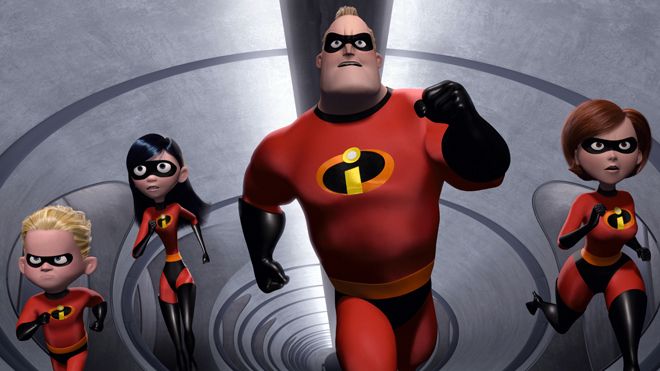 We sometimes wonder why 20th Century Fox bothered to release Fantastic Four in 2005, because Pixar had already nailed the superhero-family theme a year earlier with this rollicking caped caper written and directed by Brad Bird. And on Blu-ray, The Incredibles lives up to its name, with a colour-rich, brilliantly sharp 1080p encode and a boisterous, layered, impeccable lossless surround mix. Don't own it? Head straight for the two-disc US release and bypass the comparatively bare-bones UK single-platter version.
---
6. Pinocchio
Disney's second feature-length animation remains as perfect a film as the iconic studio has ever produced. The adapted story of a wooden puppet brought to life by a fairy, Pinocchio is a deceptively simple coming-of-age tale that still has the power to make grown men cry (well, some Team HCC members, anyway), when they're not distracted by the sumptuous imagery. Released to coincide with the movie's 70th anniversary in 2010, the Platinum Edition Blu-ray benefits from a meticulous frame-by-frame restoration and a vast array of supplementary material, including a picture-in-picture video commentary exploring Pinocchio's production and enduring legacy. We won't lie to you – this is a cracking disc.
---
5. Akira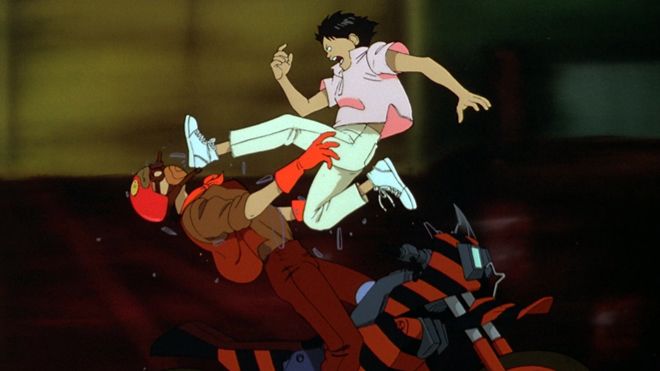 Another milestone in the history of animation, Katsuhiro Otomo's film adaptation of his own epic sci-fi comic is probably single-handedly responsible for introducing the world of Japanese anime to Western audiences – and reminding many that adult-orientated 'toons could be just as successful as those made for children. When this mind-blowing 1988 dystopian sci-fi classic finally surfaced in high-definition in 2011 the major talking point for AV freaks wasn't the restored 1.85:1 1080p encode (which was very impressive), but the 'Hypersonic' audio mix, with Akira's Japanese Dolby TrueHD 5.1 track a pristine, audiophile-pleasing 192kHz affair rather than the standard 48kHz.
---
4. The Nightmare Before Christmas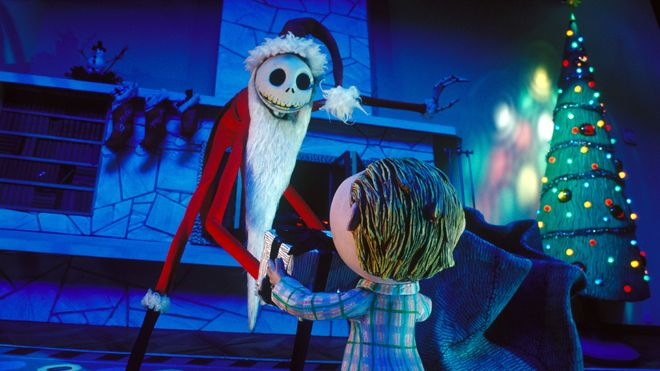 Henry Selick's musical fantasy (co-written/produced by Hollywood's in-house madman Tim Burton) is, we'd hazard, the only family-friendly mash-up of the macabre and festive, with its bizarre tale of Halloween Town residents staging a coup on Christmas. Yet something that could easily have gone so wrong arrives on screen feeling oh-so right, be it the lovingly-crafted stop-motion animation or the foot-tapping tunes. The DTS-HD MA 7.1 soundmix is the star of the audio-visual show, closely followed by Disney's strong 1080p transfer. A 3D version (from the 2006 ret-conned cinema release) is also an option, but we prefer the flat original, to be honest.
---
3. Snow White and the Seven Dwarfs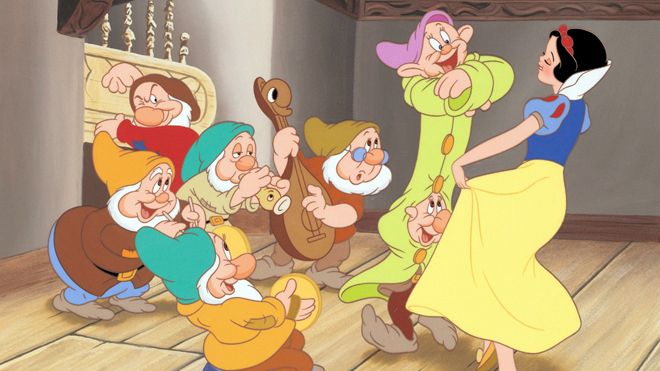 Here, it is: the first feature-length film ever made completely using hand-drawn animation. With that in mind, it's hard to overstate the impact that 1937's Snow White and the Seven Dwarfs had on the movie industry, birthing a genre that shows no sign of fading away. For the modern HD era, Disney delivered a gorgeous new hi-def restoration, but just make sure to track down the (sadly out-of-print) 2009 multi-disc 'Diamond Edition' if you want to enjoy the full assortment of extra features.
---
2. The Hayao Miyazaki Collection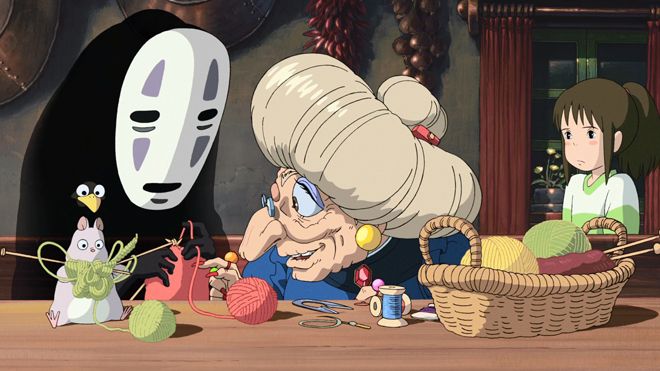 Who can rival the consistent quality shown by Japanese animation guru Hayao Miyazaki? No one, basically. Every one of the films he directed (from 1979's The Castle of Cagliostro to last year's The Wind Rises) is a true work of art. Mercifully, StudioCanal's recent Hayao Miyazaki Collection Blu-ray boxset has saved us the arduous task of choosing between them, by bringing together HD versions of all 13 of these animated masterpieces. An essential purchase, although for bonus features you can't beat the original standalone Blu-ray platters.
---
1. Toy Story Trilogy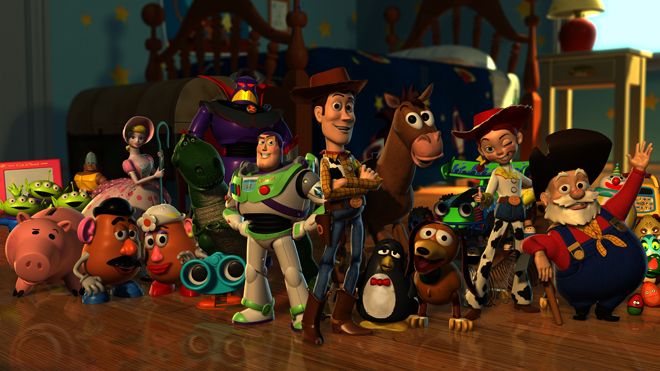 Blagging top spot is Pixar's effortlessly likeable movie series following the exploits of Woody, Buzz and gang. The original made the studio the powerhouse that it is today, the sequel proved it could repeat the magic, and the third saw cast and crew returning after 11 years and picking up right where they'd left off (and introducing Dolby 7.1 to cinemas...). All three are pure popcorn fun and choosing between them is as difficult as it is pointless. Taken as a whole, there's no better example of the CG 'toon revolution that this trilogy. Roll on Toy Story 4!

SPONSORED VIDEO

SPONSORED VIDEO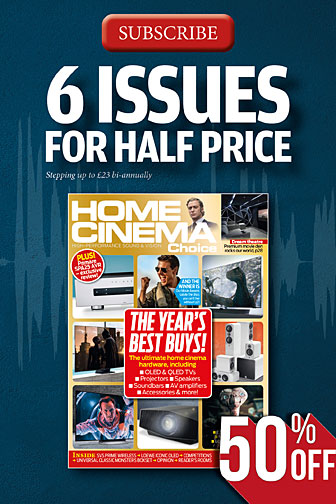 Home Cinema Choice #332

is on sale now, featuring: Samsung's 8K flagship; Anthem AVM 90 processor; B&W 800 Series Diamond; LG smart projector; Hollywood box office bombs; Hitchcock 4K; and more
Want to see your home cinema system featured in the pages of HCC? Click
here
for more info.