20 movies that rocked home cinema!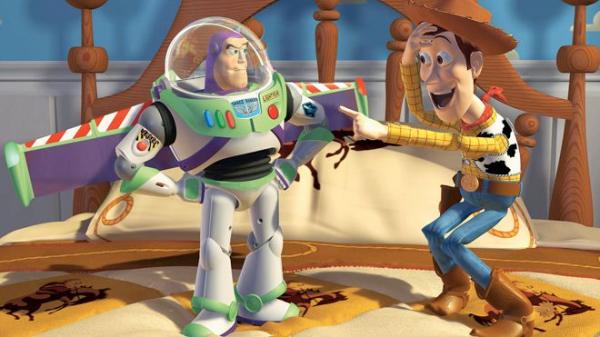 Team HCC picks its favourite flicks from every year of its existence. And by favourite, we mean blockbuster thrill rides that are guaranteed to get your AV system singing. Warning: contains George Lucas.
1995: Toy Story
The world's first feature-length computer-animated film, Pixar's Toy Story is also one of the funniest, smartest and most inventive 'toons yet put on the silver screen. The CG renders look a little basic in comparison with the mind-boggling work Pixar is doing these days, but at the time it was state-of-the-art stuff, dazzling us with visual trickery unlike anything that had been seen in animation before. And behind all the spectacle and razzle-dazzle was the captivating relationship between draw-string cowboy Woody (Tom Hanks) and astronaut action figure Buzz Lightyear (Tim Allen).
Toy Story had an oddball home media birth. It arrived on VHS and Laserdisc in 1996, but got a VHS re-release with bonus content in 2000 before making its DVD debut. Those who waited for the latter were given a THX-certified digital-to-digital transfer and rambunctious Dolby Digital 5.1 EX soundtrack to savour.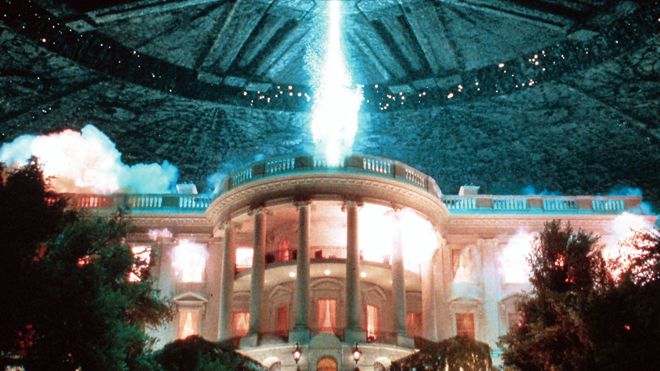 1996: Independence Day
Until this disaster movie/sci-fi obliterated box offices in the Summer of 1996, alien invasions on film had been about stealth rather than strength. Independence Day had its antagonists targeting Earth with brazen brutality, looming over entire cities and blowing up famous landmarks – just the sort of spectacle home cinema fans in the mid-90s were crying out for. Fox's Laserdisc became an instant demo favourite upon release in 1997 thanks to its seismic LFE track. Only 11 years later the Blu-ray repeated the trick.
1997: Star Wars: Special Edition Trilogy
When George Lucas returned to the Star Wars universe to create Special Editions of his trilogy with revamped CG visuals, additional footage and new soundmixes, we all stormtrooped off to the multiplex to gawp. And when the SE versions appeared on DVD in 2004, they were quickly added to our collection. We did the same again in 2011 when the BD boxset was released. Why? Because this trio of sci-fi adventures are, for many, what home cinema is all about – perfect popcorn fodder replete with TIE fighters ripping through your speaker array. Altogether now: 'That's no moon!'
1998: Saving Private Ryan
A film that set out to capture the unsanitised reality of warfare was always likely to have a terrifying soundmix, and Steven Spielberg's mud-splattered, WW2 drama delivered in spades. When Saving Private Ryan surfaced on DVD and Laserdisc, we spun up the Omaha beach sequences and a legend was born. Here was an audio track that left you battered, bruised and with ears ringing, and AV-hedz spent many hours comparing the Dolby Digital and DTS 5.1 mixes.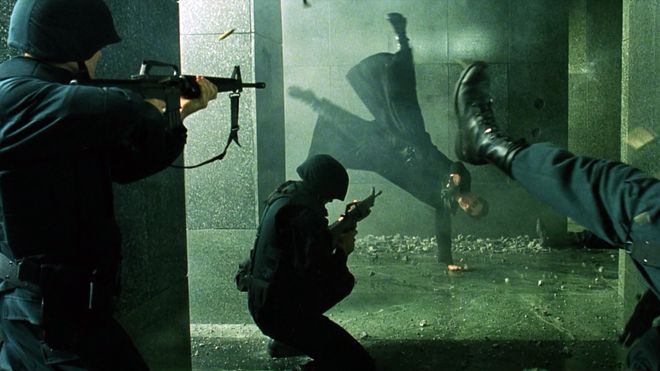 1999: The Matrix
This was supposed to be the year when Star Wars made a triumphal return to cinemas. But as 1999 drew to a close, there was only one sci-fi on the minds of movie fans: The Matrix. Made for half the cost of Star Wars: Episode I - The Phantom Menace, the Wachowskis' film was an ingenious melding of gun-play, virtual reality and philosophy, with groundbreaking 'bullet time' action scenes thrown in for good measure.
The Matrix continued to surprise with its revolutionary DVD release, which used seamless branching to allow viewers to 'Follow the White Rabbit' while watching the film and jump directly into scene-specific behind-the-scenes featurettes. Hardly surprising, then, that it became the first DVD to sell over one million copies in the US.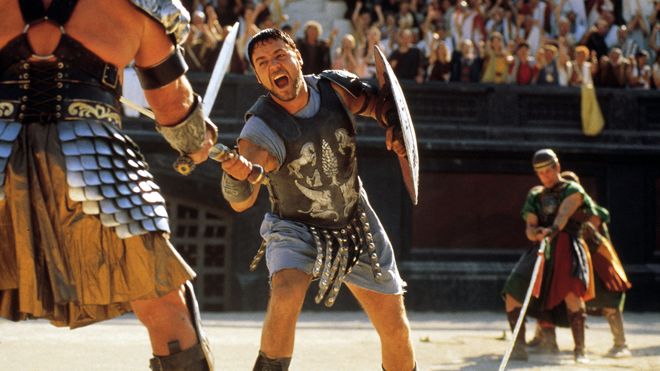 2000: Gladiator
Historical epics roared back into fashion at the start of the millennium when Ridley Scott and Russell Crowe teamed up for this big-budget Roman showdown, making a star of its leading man and putting its director back in the A-List. With its CG tigers, huge sets and classic tale of revenge, Gladiator had a sense of scale about it that harked back to Hollywood's 1950s heyday. Hungrily devoured on DVD, the movie's hi-def touchdown was ruined by an awful Blu-ray release. So bad, in fact, that Universal quickly issued another one.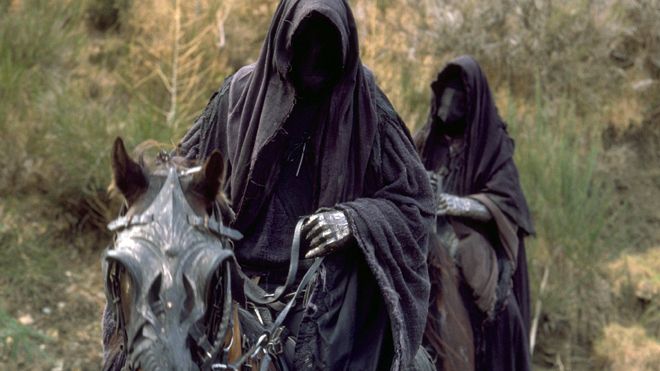 2001: The Lord of the Rings: The Fellowship of the Ring
Peter Jackson proved that J.R.R Tolkien's fantasy novel wasn't 'unfilmable' with this barnstorming first part in his eventual trilogy. You just needed a huge budget, stunning locations, an excellent cast and some in-camera and CG special effects know-how. The initial two-disc DVD dazzled; the following four-disc Extended Edition rewrote the rulebook on what the format was capable of – even if it did split the film over two platters.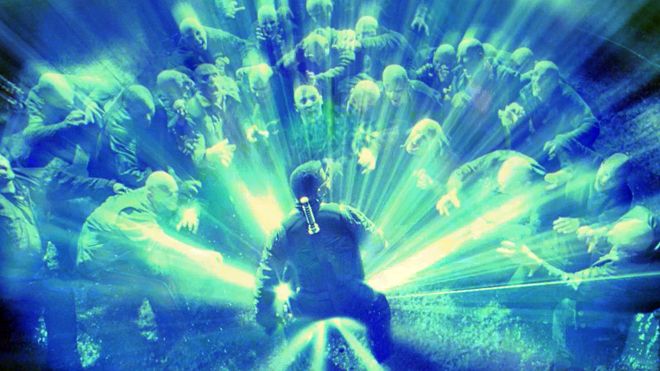 2002: Blade II
This was a major year for sequels, with the Lord of The Rings, Star Wars, Men in Black and Harry Potter franchises all coming back for more. 2002 also saw Spider-Man swing into view, but it was a different comic book adaptation – Blade II – that stole the show. Here, Hollywood took a gamble on monster-mad Mexican movie-maker Guillermo del Toro (last seen directing the subway slimefest Mimic) and he repaid it with an inventive slice of action cinema combining martial arts and horror to thrilling effect.
The eventual R1 Platinum Edition DVD cemented the film's status as a must-see. The image felt as sharp as Blade's teeth, and the disc packed (as was the habit back then) both Dolby Digital 5.1 EX and DTS 6.1 ES soundtracks, plus bags of extras.
2003: Kill Bill: Vol. 1
Quentin Tarantino's ultra-violent homage to the martial arts and exploitation flicks of his youth struck a chord with cinemagoers in 2003. Kill Bill gave the indie filmmaker his biggest opening weekend to date – more than twice that of either Pulp Fiction or Jackie Brown. Annoyingly, the DVD release (and its sequel) suffered from an abundance of edge enhancement; Disney's 2008 Blu-ray put things right with a film-like AVC 1080p encode delivering bold colours (particularly yellow...), macabre blacks and plenty of detail. It's a disc that still gets dug out for demos today.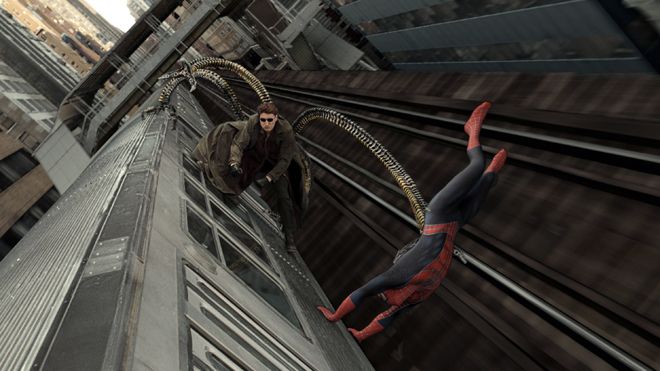 2004: Spider-Man 2
While his first Spidey film seemed a bit subdued, but director Sam Raimi brought his A-game to this superior sequel, creating jaw-dropping demo sequences such as the web-slinger's train-top tussle with Doc Ock. There have been various Blu-ray and DVD releases, including a Superbit edition and Spider-Man 2.1. We bought them all!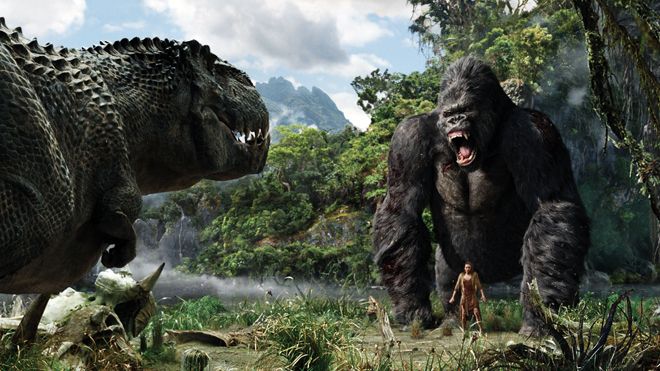 2005: King Kong
Another entry for Peter Jackson, this time for his epic King Kong remake that pushed CG imagery and motion-capture technology to the point where we all believed a giant gorilla could scale the Empire State Building. More importantly, it caused AV fans to go ape over HD DVD the following year when it was released exclusively in hi-def on the Blu-ray rival – and bundled with the Xbox 360 add-on HD DVD drive.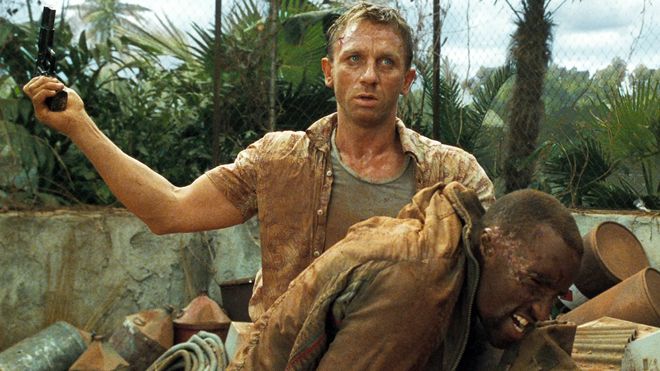 2006: Casino Royale
Bond reborn? You better believe it. With Casino Royale, out went Pierce Brosnan, invisible cars and lame jokes, and in came Daniel Craig, parkour stunts and brutal violence. And for many home theatre owners, Bond 21 was the first Blu-ray title they felt they had to own, rocking a sublime AVC encode that showed the format at its best.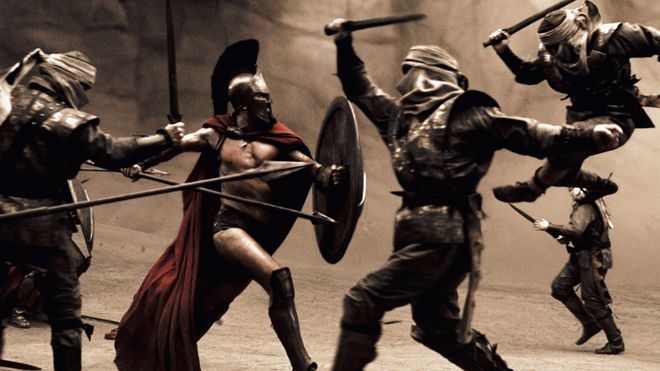 2007: 300
Director Zack Snyder gave the swords-n-sandals genre a 21st-century makeover with this ultra-stylish retelling of the story of the Battle of Thermopylae, based on the historical fantasy comic book series by fan-favourite Frank Miller. The cool part? Snyder's movie looked exactly like a graphic novel come to life, the result of painstaking bluescreen work and devotion to the source material.
The year's tenth-highest grossing film, 300 then went on to become one of the flagbearers for HD DVD, thanks largely to its 'Bluescreen Picture-in-Picture' viewing mode – a feature that didn't see the light of day on Blu-ray until the US release of 300: The Complete Experience some two years later.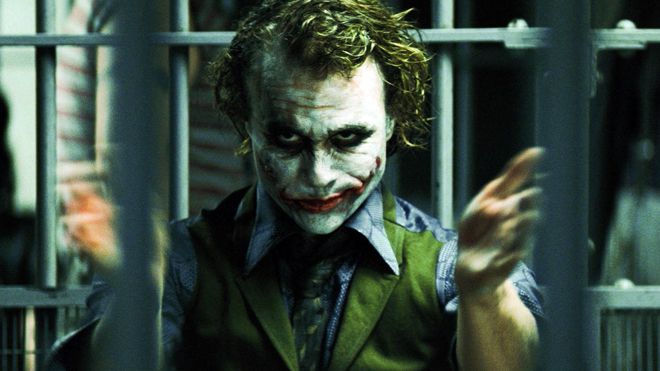 2008: The Dark Knight
The second Bat-flick from Christopher Nolan mixed hardboiled crime drama with the stunts and action set-pieces we had by then come to expect from Summer blockbusters – kinda like Heat on steroids. Add in Heath Ledger's phenomenal take on the Joker and you had a movie perfect for regular repeat viewings. In fact, whenever we ask you what your favourite Blu-ray is, The Dark Knight is the most popular answer!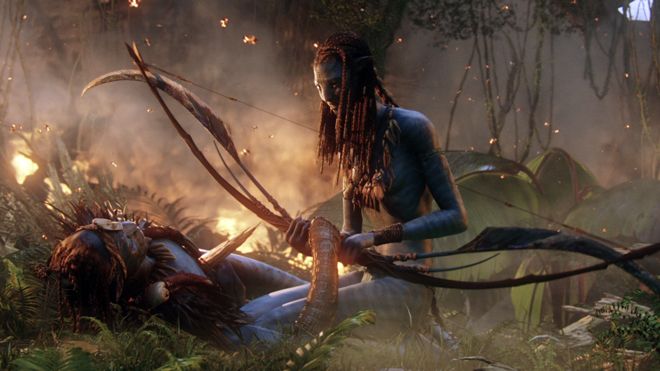 2009: Avatar
Do we really need to explain this one? James Cameron's sci-fi culture clash wasn't just the box office hit of the year (and still the biggest movie of all time), it also kick-started the current era in 3D filmmaking and the 3D TV boom. The irony is that it was only widely available on 2D Blu-ray for some time. Luckily, it looked spectacular 'flat', too.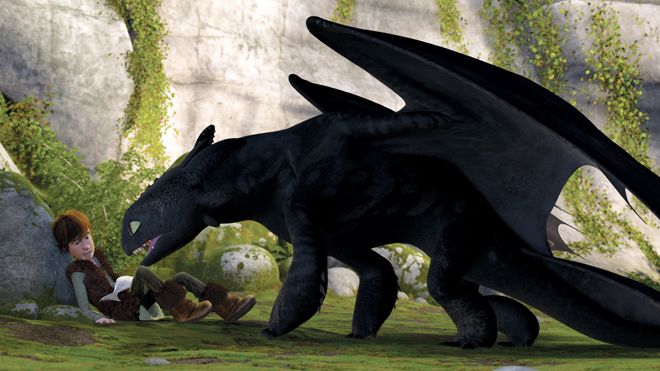 2010: How to Train Your Dragon
DreamWorks Animation had been battling Pixar since the release of Antz in 1998, producing hits but never quite topping the work of the House of Mouse's CG off-shoot. That changed with 2010's How to Train Your Dragon, a razor-sharp comedy that matched its spectacular visual panache with an involving, original story. Scenes of dragons swooping through the skies provided some of the most convincing use of 3D to date when Paramount's good-looking Blu-ray landed in shops – once it had broken free of an exclusivity deal with Samsung, of course.
2011: Fast & Furious 5
This over-the-top sequel features cars towing a bank vault through the streets of Rio de Janeiro, smashing through buildings on the way. It's the sort of stunt that even a James Bond writer in the '90s would have deemed silly, but Fast & Furious 5 gets away with it. This was big, loud, dumb fun. Bet those who bought the Fast & Furious 1-5 Blu-ray boxset feel a bit silly now though...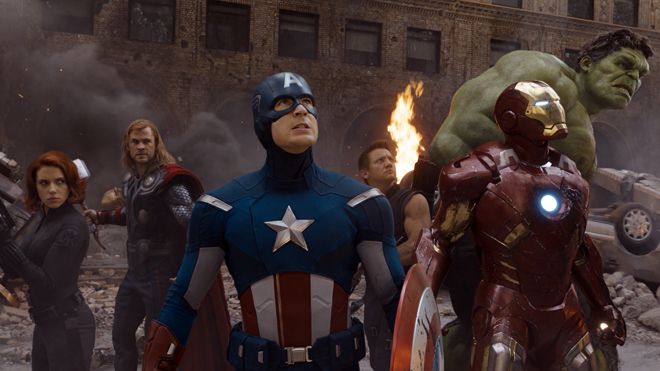 2012: Avengers Assemble
The seeds of the shared 'cinematic universe' that Marvel Studios had been sowing throughout its early run of movies finally bore fruit with this team effort amassing Iron Man, Thor, Captain America, Hulk, Black Widow and Hawkeye. Directed by geek icon Joss Whedon, Avengers Assemble re-invented franchise filmmaking, earned over £1bn at the box office and became the most anticipated Blu-ray of 2012. Upon release it set new sales records. Just steer clear of the censored UK version…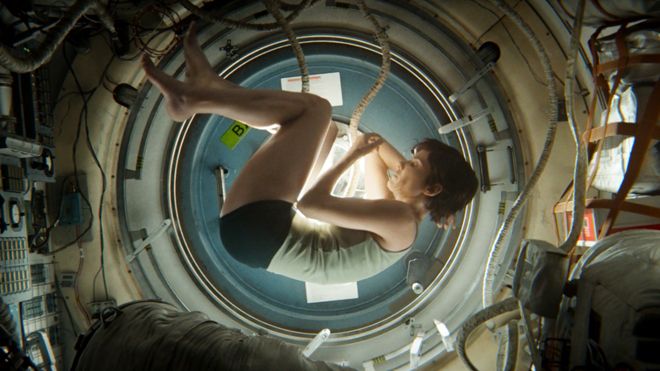 2013: Gravity
Alfonso Cuaron's space-bound thriller cut a swathe through cinemas courtesy of its tech-savvy production and groundbreaking Dolby Atmos soundmix – the film would go on to scoop three Academy Awards for its audio alone. Gravity still stands proud as one of the most accomplished science-fiction movies of the last fifty years, featuring a tight plot, absorbing 3D imagery, how-do-they-do-that visual effects and ceaselessly inventive sonics that put you right next to Sandra Bullock's death-defying astronaut. The eventual Blu-ray release remains one of our go-to demo platters – and Dolby Atmos adopters are advised to pick up the new Special Edition for extra surround sound panache.
2014: Transformers: Age of Extinction
The Transformers movies have become a byword for spectacular scenes of metallic destruction and thunderous LFE, put together under the watchful, manic eye of Michael Bay. This fourth entry in the battlin' bot series was no exception and on Blu-ray it brought new levels of carnage to your cinema room, being the first disc release to offer a next-gen Dolby Atmos mix. A six-week gap between US and UK versions had AV-holics rushing to import.

SPONSORED VIDEO

SPONSORED VIDEO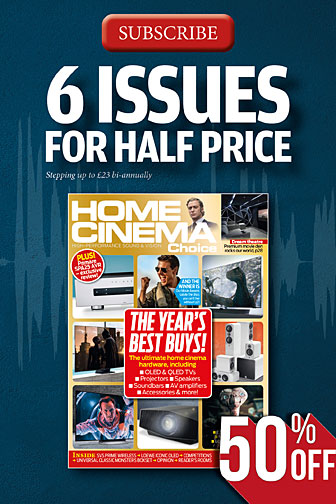 Home Cinema Choice #332

is on sale now, featuring: Samsung's 8K flagship; Anthem AVM 90 processor; B&W 800 Series Diamond; LG smart projector; Hollywood box office bombs; Hitchcock 4K; and more
Want to see your home cinema system featured in the pages of HCC? Click
here
for more info.