Peter Rabbit Ultra HD Blu-ray review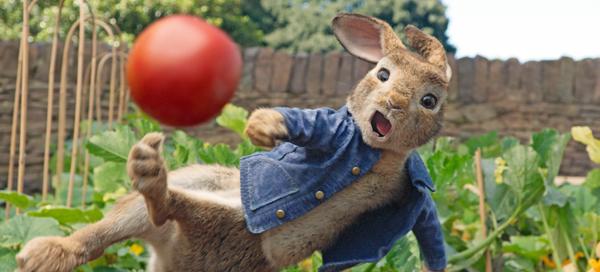 James Corden rabbits on and on in an annoying update of the classic Beatrix Potter character that will leave fans hopping mad.
When mean old Mr McGregor (Sam Neill) has a heart attack and dies, Peter Rabbit (James Corden) and his three sisters Flopsy (Margot Robbie), Mopsy (Elizabeth Debicki) and Cottontail (Daisy Ridley) think they've finally got the run of the vegetable garden. But the animals didn't reckon on McGregor's uptight, workaholic relative Thomas (Domhnall Gleeson), who turns up from London with plans of his own for the property.
Back in 1938, Beatrix Potter refused an offer from Walt Disney to turn her book The Tales of Peter Rabbit into an animated film. But no matter what Disney might have done to her beloved creation, it couldn't possibly be as bad as the film we ended up with 80 years later (for starters, we doubt very much it would have included a scene were Peter threatens to ram a carrot up somebody's backside).
Dispensing with pretty much everything that made Potter's book so memorable, Hollywood has transformed quaint little Peter into an annoying prat who spends his time cracking crude jokes and twerking. The decision to have the insufferable James Corden voice Peter only compounds the problem.
For all of that, the film isn't completely worthless. The handful of scenes where Peter actually shuts up and the focus turns to slapstick gags can be pretty funny, while a flashback done in the style of Potter's original illustrations provides a tantalising glimpse of what could have been.
Brash, noisy and utterly charmless, Peter Rabbit is the complete antithesis to the wonderfully inventive, funny and soulful Paddington films.
Picture: Based on an upconverted 2K Digital Intermediate, Peter Rabbit's 4K encode isn't especially noteworthy. When it comes to detailing, the 2160p presentation offers a very modest uptick (primarily in medium shots and close-ups) over the already rather lovely 1080p incarnation. HDR grading has more of an impact, delivering a stronger sense of contrast and ramping up the standout colour elements.
Picture rating: 4/5
Audio: The Ultra HD BD's exclusive Dolby Atmos mix builds nicely on the effective foundations laid by the Full HD platter's DTS-HD Master Audio 5.1 soundtrack. Without drawing too much attention to themselves, the height channels are well integrated into the soundscape and bring an added sense of immersion to the playful sound design.
Audio rating: 4/5
Extras: Pop the accompanying 1080p Blu-ray in your deck and you'll find a dance-along video, a short Making of… and a rather mawkish bonus animated short. A pretty meagre, not to mention forgettable, selection of goodies in other words.
Extras rating: 1.5/5
We say: A fair, but not fantastic, 4K debut for this dismal animated update of the classic kids' story.
Peter Rabbit, Sony Pictures, Ultra HD Blu-ray & All-region BD, £35
HCC VERDICT: 2/5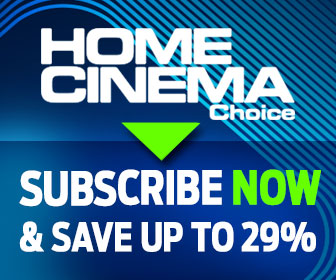 Home Cinema Choice #316 is on sale now

, featuring: Samsung Neo QLED TV; Monitor Audio Atmos system; battle of the SVODs; disaster movies on Blu-ray; BenQ UST projector; disc reviews; opinion; and more.
Want to see your home cinema system featured in the pages of HCC? Click
here
for more info.