Dawn of the Dead 4K Ultra HD Blu-ray review, PLUS exclusive interview with encoder David Mackenzie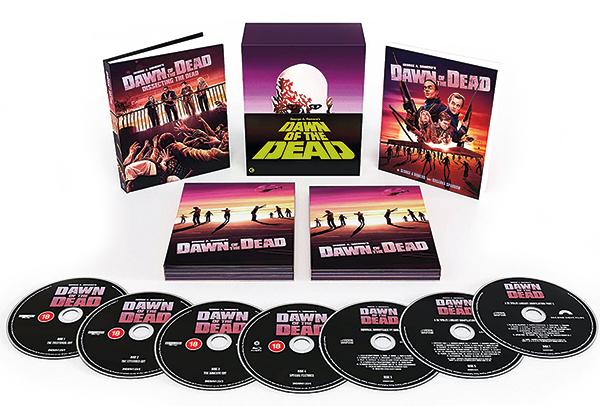 Dawn of the Dead: 4K UHD Limited Edition, Second Sight, Ultra HD Blu-ray & Region B BD, £70
Movie: Blending dark black comedy, stomach-churning gore effects and nail-biting tension – not to mention some slick satire – George A. Romero's 1978 zombie sequel Dawn of the Dead is regarded by many as the decades-spanning franchise's pinnacle.
It has an interesting edit history, too. Fellow horror legend Dario Argento helped finance the film in exchange for international distribution rights, leading to his own alternate cut. Romero himself trimmed it down following its Cannes Festival premiere for its US theatrical release. Each cut (Theatrical, Extended 'Cannes' and Argento) are presented in 4K on 
Second Sight's new boxset.
Movie rating: 5/5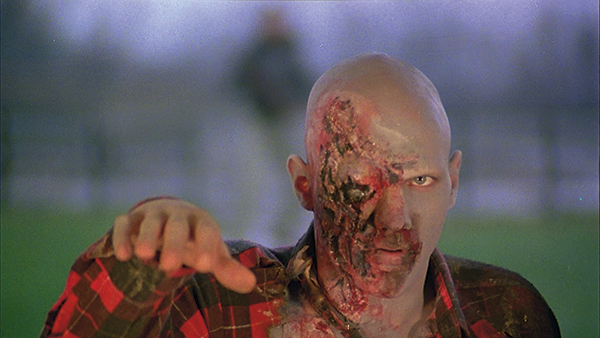 Picture: Be assured, Dawn of the Dead has never looked this good before on home media, although unsurprisingly it's the Theatrical and Cannes cuts that shine brightest, by virtue of a restoration of the original camera negative and HDR (with HDR10+) grading. The Argento cut is offered in 4K SDR, and 
is based on a 4K scan of an interpositive – see our interview below with encoder David Mackenzie for more info.
Second Sight's restoration appears thorough. The film is in remarkably good shape, with no sign of print damage or erroneous speckles. And it looks like film. Grain is expertly managed and feels natural, so even the wide shots of blue/grey sky that highlight Dawn of the Dead's grain structure – more so than its interiors – aren't 
a distraction.
There's often plenty of detail here, but the crispness of the presentation varies. There are occasional shots where foreground elements appear soft, a by-product of Romero's extensive multi-angle shoot and all those zombies rolling about. Often, however, it's strking who fresh and detailed this 42-year-old film feels.
HDR grading is very subtle, without faux-feeling specular highlights added to the mix. Instead, it dovetails with the wide colour presentation to 
really emphasise Romero's diverse palette. The exaggerated red blood looks astonishingly yucky, while neon signs within the mall have a fresh luminosity. Green army fatigues, the yellow trim on the helicopter, the purplish skin of the undead – it all looks wonderful. Throw in a superb, deep black level – when the source material allows it – and you have a first-rate 4K HDR transfer.
The 4K SDR presentation of the Argento cut – complete with 'Zombi' onscreen title – makes for an interesting comparison. The absence of a wider colour range and expanded contrast is immediately apparent, and a great example of this is the outdoor sequences that close Chapter 2 and open Chapter 3. There's a much more muted look to the rolling green countryside, and less tonal variance in the camouflaged fatigues of the zombie hunters. Subsequently, and in part due to the dampened contrast, the image loses the sense of depth of its HDR stablemates, with blacks feeling less pronounced. A shot of an exploding car clearly lacks fiery intensity, while later on, when the characters take up refuge in the shopping mall, the harsh interior shop lighting loses its luminosity. Grain also appears less refined, which affects the feeling of overall crispness – although, as with the remasters of the other two cuts, sharpness varies often. It's not a a poor presentation by any means, but clearly plays second fiddle to the HDR iterations of the Theatrical and Cannes edits.
Picture rating: 5/5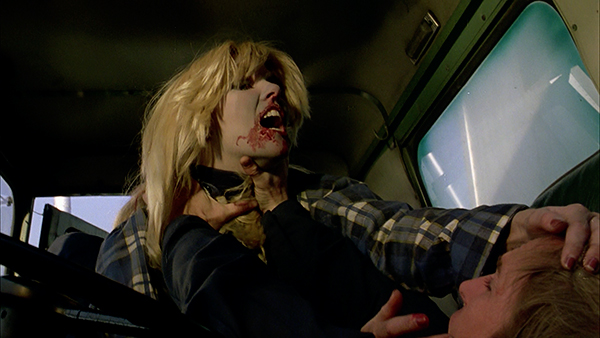 Audio: The Theatrical and Argento edits both offer DTS-HD MA 1.0, DTS-HD MA 2.0 and DTS-HD MA 5.1 mixes. All suffer the limitations of the source recordings, sounding muddy at times, and with dialogue getting a little lost amongst the score and other sound effects on a handful of occasions (the opening TV studio scenes are the worst offenders, but it's hard to tell how much this is an intentional attempt to depict the chaos of the setting). The multichannel mixes add some good separation and an appreciably expanded low-end. The Cannes cut sticks to a DTS-HD MA 1.0 track.
Audio rating: 3.5/5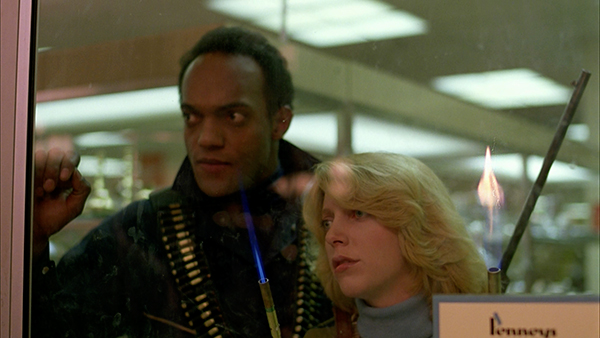 Extras: Each cut of the film gets a 4K platter to itself, as well as commentary tracks by filmmakers George A. Romero, Tom Savini and Christine Forrest (Theatrical Version), film journalist Travis Crawford (Theatrical Version), producer Richard P. Rubinstein (Cannes Cut), and stars Ken Foree, Scott Reiniger, Gaylen Ross and David Emge (Argento Cut). <> A bonus Blu-ray houses an extensive array of new interviews (including a trip with some back to the Monroeville Mall); a 'lost' 2004 audio interview with Romero; behind-the-scenes footage; feature-length documentaries Document of the Dead (two different cuts) and The Dead Will Walk; and a reel of 13 trailers, TV spots and radio spots.
A CD of Goblin's 17-track soundtrack is joined by two further discs containing a complete compilation of stock music cues used in the film. The set also includes a reprint of the original Dawn of the Dead novelisation, and a new interview-, article- and picture-packed 160-page book.
Extras rating: 5/5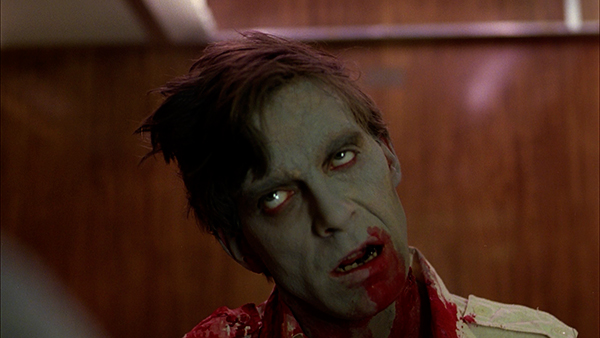 HCC VERDICT: 5/5
We say: This is a bulging boxset for a brilliant movie that looks gorgeous in 4K HDR. Buyers will be dead happy.
Dawn of the Dead: 4K UHD Limited Edition, Second Sight, Ultra HD Blu-ray & Region B BD, £70

---
Bringing the dead back to life
Encoder David Mackenzie discusses his work on Dawn of the Dead's new 4K and BD releases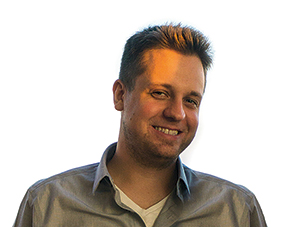 It's nearly two years since Dawn of the Dead 4K was teased by Second Sight. When did you get involved?
Around two years ago, we at Fidelity in Motion were asked if we knew of any capable film scanning facilities in or around New York. We didn't know what the project was, just that there was a very rare opportunity to scan the original camera negative of a well-regarded film. Second Sight eventually reached out to Final Frame to undertake the scanning and restoration work. Obviously when we heard what it was, that was a tremendously exciting moment.
It's impossible to say how many hours we've spent on it; at some point you stop counting. There were some tricky scenes near the ends of some of the reels that needed some thinking outside the box from a restoration perspective, and we did a lot of extra work on those. Things accelerated this summer.
This isn't the first time Dawn... has been resurrected on BD, or even 4K BD. Did you look at previous releases for comparison?
Honestly, not really, because they were made in such a different time and from different elements. This is the first time the film has been transferred from the original camera negative; that is to say, the exact film that ran through the camera on the day of the shoot, and not a downstream copy of it. The previous BD releases will have been made using some type of hi-def video telecine, probably from an interpositive film element, and were subjected to the kind of grain reduction processing that was seen as a good idea at the time – in other words, quite a different process to scanning the original negative to 4K data and keeping it natural with all of the detail intact.
For the Argento cut of the film, Second Sight accessed the same master that ESC in France used for its UHD Blu-ray [released in 2019]. Both post facilities involved – Final Frame and Fidelity in Motion – did some additional work on that version.
Having worked on both the Blu-ray and 4K releases, were there challenges that were unique to either format with this film?
From a video encoding perspective, each format has its own issues that need working around. A 4K scan from a 35mm camera neg has a lot of detail in it, and downscaling this to 1080p for the standard BD needs to be done in a way that doesn't stress the compression. Even the best encoders will show artefacts if you feed them an image with too much high-frequency detail, due to the sheer amount of approximation and data reduction necessary to fit a film on to a consumer format – rather than a server with 16 hard disks. So the downscaling has to be tuned in a way that gives a picture that's both detailed and free from obvious compression artefacts. Dawn... has all its bonuses on a fourth BD, so BDs 1-3 max out the available video bitrate.
For UHD BD, bit-budgeting – calculating the average bitrates for all elements to fit on the disc – is very different. Thanks to UHD BD's maximum video bitrate, which is more than double that of standard BD, you can overshoot the disc capacity much more easily. So with the UHD BD, there was more time needed to adjust compression parameters to make the most of the disc space.
Was any thought given to using seamless branching for the three different cuts?
There was, but this soon proved to be a non-starter. Seamless branching is a great way to present multiple versions of a film when there are obvious key differences between edits, but the restoration team soon found that the Theatrical Cut and the Extended 'Cannes' Cut had many small differences between them, so it made more sense to give each their separate disc. The Argento cut was made from an existing 4K scan of the interpositive of that version, and looks quite different to the first two cuts due to the different film process involved. Branching that in with the new negative-sourced portions, if it was even feasible from the perspective of edit differences, would result in a visually inconsistent experience.
What is the reasoning behind the lack of any HDR grading on the Argento Cut?
The decision to present that cut in SDR stems from the French distributor, which had that master prepared for its release. Second Sight accessed this and further improved on it, but after discussing it with Final Frame, felt that the interpositive footage wouldn't really benefit from an HDR pass. Unlike a camera negative which doesn't contain any grading decisions, the look of a downstream film element such as an interpositive is mostly baked into the film.
More independent labels on both sides of the Atlantic are starting to experiment with 4K Ultra HD disc releases. How important do you think this is for the physical market?
Years ago, when the indies were still sceptical of the need for a 4K format, I made the point that if you were promoting a new 4K restoration, and consumers had 4K displays at home, then the logical conclusion is the disc-buying film fan asking, 'Well, why can't I buy it and watch it on 4K disc?'
Internet delivery doesn't have the bandwidth to produce a really high-quality result, especially for movies scanned from film, or anything VFX-heavy. A 4K disc format lets film lovers have quality that, when done correctly from a compression perspective, is an extremely close approximation of the masters we look at in the studio.
It'll be interesting to see what the launch of the PlayStation 5 does for UHD disc numbers. I think people currently buying standard BDs will find it to be a logical progression.
Dawn of the Dead 4K UHD Limited Edition is released by Second Sight on November 16.

SPONSORED VIDEO

SPONSORED VIDEO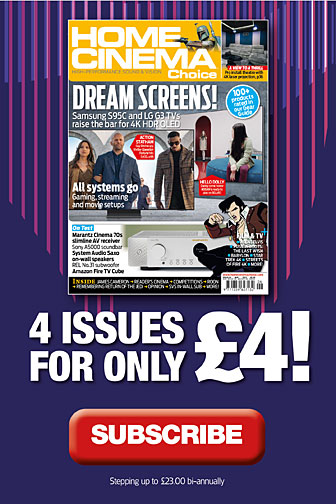 Home Cinema Choice #332

is on sale now, featuring: Samsung's 8K flagship; Anthem AVM 90 processor; B&W 800 Series Diamond; LG smart projector; Hollywood box office bombs; Hitchcock 4K; and more
Want to see your home cinema system featured in the pages of HCC? Click
here
for more info.