Mission: Impossible – Fallout Ultra HD Blu-ray review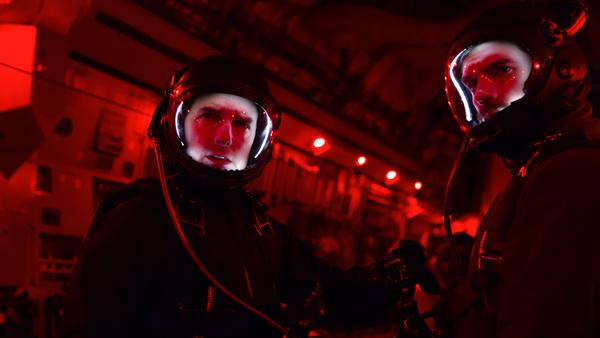 Strap in for a wild ride as the latest instalment in cinema's premiere action-thriller franchise explodes onto 4K Blu-ray…
The one thing that linked the first five Mission: Impossible movies, besides Tom Cruise's super spy Ethan Hunt of course, was a complete lack of links between them. Not only did each film have a different director and feel but, outside of a couple of supporting characters, there was barely any sense of continuity.
Mission: Impossible – Fallout changes all of that. Not only is the previous instalment's Christopher McQuarrie back on directing and scriptwriting duties, this latest sequel is full of references to the franchise's past. These may be a major story element, like returning villain Solomon Lane (Sean Harris), or a more casual nod, such as a spot of M:I-2-style free-climbing or a sting operation that harks back to a similar scene in the very first film. As Cruise himself says in one of this set's extras: 'For all the M:I fans […Fallout] really is a culmination of every film. Every mission has led to this one.'
It's ironic then that it is precisely those ties to the past that prevent Mission: Impossible – Fallout from quite measuring up to the brilliance of Cruise and McQuarrie's previous franchise team-up Mission: Impossible - Rogue Nation. While that 2015 film felt like its own self-contained thing, this entry is very much part of a series and feels the weight of franchise baggage accordingly.
Still, if …Fallout does slip short of …Rogue Nation, it's not for want of trying. Despite a hefty 147-minute running time, it never once lags. Instead, it's relentless in its dynamism, piling incident on top of incident, twist on top of twist, with a breakneck pace that will leave you gasping for breath. And at the centre of it all is Tom Cruise, once again putting his life on the line and performing some of the most audacious stunts and action set-pieces ever brought to the silver screen.
It all adds up to yet another soaring triumph for Cruise and his flagship franchise. Mission: Impossible – Fallout is pure action-movie bliss, a non-stop thrill-ride that towers above every other blockbuster released this year. All that remains to be seen is how Cruise and co. plan to top it next time.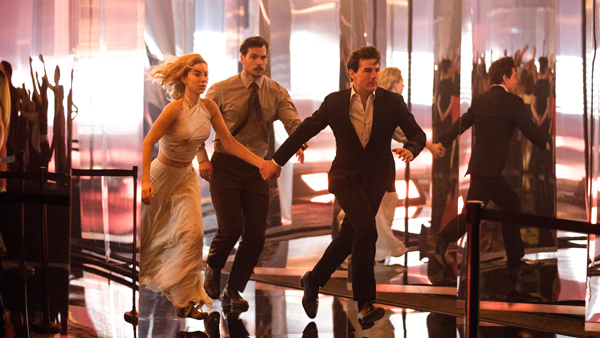 Picture: The picture on …Fallout's Ultra HD Blu-ray is a curiously mixed bag. On the one hand, the two sections of the film that have been mastered from IMAX sources and appear in their 1.90:1 ratio (the HALO jump and helicopter chase) look stunning. These are packed with noise-free detail, gorgeously rich but also naturally coloured, and explosively HDR. Seriously stellar.
However, the non-IMAX stuff that occupies most of the running time looks frankly disappointing at times. Black levels can be shallow, colours often look oddly flat, skin tones sometimes appear rather awkward, and HDR feels muted throughout. Detailing is also a little disappointing – especially considering the film was granted a 4K DI.
Given the love and attention lavished on so many aspects of this release (not to mention the fact that the encode on the accompanying 1080p platter exhibits the same qualities), it's hard to believe that the 2.39:1-ratio sequences don't appear pretty much as Christopher McQuarrie wanted them to, presumably in a bid to create a relatively down-beat tone. But if this creation of a 'mood' is indeed behind the frequently rather dour 4K BD pictures, maybe it wasn't such a good idea to include such spectacular-looking IMAX sequences?
Paramount has provided a Dolby Vision transfer alongside the usual HDR10 one, and this does improve things. Colours look a little more balanced and refined, and there's slightly more dynamism. But even DV can't hide the sensation that this just isn't quite the 4K Blu-ray ace we'd hoped for.
Picture rating: 3.5/5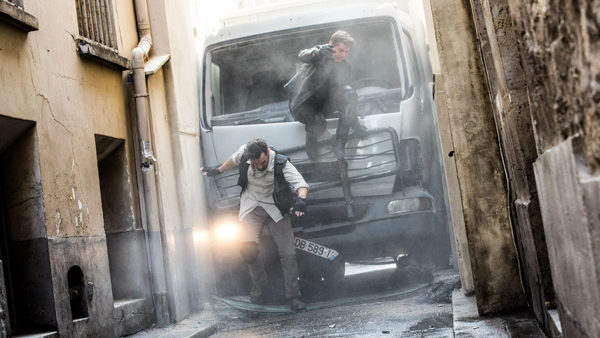 Audio: Whatever concerns we may have regarding Mission: Impossible - Fallout's 4K visual prowess, there are no such reservations when it comes to the audio side of the AV equation.
The film's Dolby Atmos soundtrack (also employed on the Full HD platter) unleashes a cavalcade of surround effects – particularly with the many action set-pieces. Not only are they perfectly placed and pan with wicked accuracy, they pack a real punch (as does the absolutely monstrous LFE that underpins it all). Check out the toilet fight (Chapter 4), which abandons music and dialogue completely in favour of punishing Foley effects, for a taste of just how powerful and precise the mix can be.
The car/bike chase through the streets of Paris (Chapter 7) is another strikingly effective sonic showcase. The roar of the BMW's engine delivers a room-rattling low-end, while the surrounds ground you right at the heart of the onscreen action (best demonstrating by the sounds whipping past from front to back as Ilsa guns her motorbike through a covered walkway).
While not as pervasive as in some other Atmos mixes we've encountered, the height layer is also used extremely effectively, whether it's something a simple as having a train rattle past off-screen on an overhead track (Chapter 7) or as dynamic as placing you inside a crashed helicopter, rolling down a mountainside (Chapter 14).
The enhanced, object-based mix also works wonders for Lorne Balfe's energetic score, giving it more chance to breathe and wrap itself around you. Dialogue, meanwhile, sounds perfectly natural and is cleanly rendered.
Audio rating: 5/5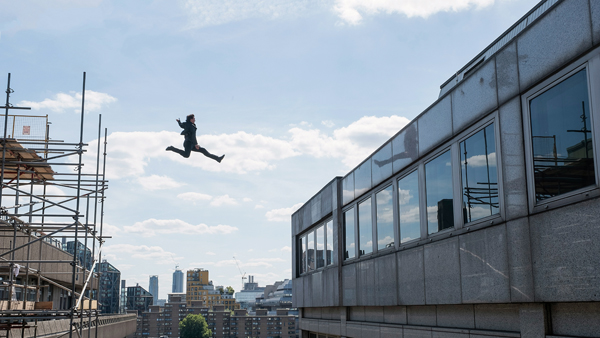 Extras: Paramount's Ultra HD release includes three discs – the 4K film disc, a Full HD film disc, and a bonus 1080p platter. Both the 4K and Full HD movie discs share the same extra features – a commentary from McQuarrie and Cruise, a second commentary with McQuarrie and editor Eddie Hamilton, a third commentary with composer Lorne Balfe, and an isolated score. Sadly, the last of these is presented as Dolby Digital 5.1, rather than in its lossless form.
The second BD houses the rest of the goodies. The biggie here is the seven-part Behind-the-Fallout documentary. Running 54 minutes in total, it kicks off with a general overview of the production (Light the Fuse), before using the remaining six parts (Top of the World, The Big Swing – Deleted Scenes Breakdown, Rendezvous in Paris, The Fall, The Hunt is On and Cliffside Clash) to provide a behind-the-scenes look at the making of the film's biggest set-piece stunts. As one of the titles indicates, this includes a stunt from the Parisian party that was cut from the finished film.
Speaking of material cut from the finished film, next up is a four-minute Deleted Scenes Montage reel with optional commentary from McQuarrie and editor Eddie Hamilton. As the director himself points out, there is quite a bit of material in here that appeared in the trailers, but not in the finished film – although the helicopter-lorry stunt teased by the trailer remains notable by its absence.
Serving as an addendum of sorts to Corne Balfe's commentary, the five-minute Foot Chase Musical Breakdown gives the composer the chance to highlight each of the different musical sections (Bongos, Strings Short, Bass Short Synth, etc) that build together to create the score for the London foot chase sequence.
Rounding things off are four storyboard galleries – Paris (32 images), What If? (31 images), London (57 images) and Helicopter (137 images); a three-minute behind-the-scenes promo (The Ultimate Mission); and the theatrical trailer.
Extras rating: 4/5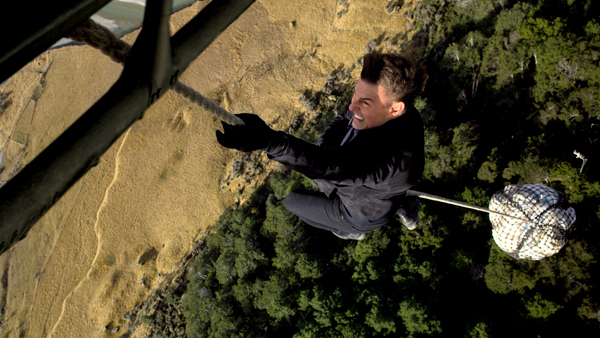 We say: The year's best blockbuster – we only wished it looked as good as it sounds on 4K Blu-ray.
Mission: Impossible – Fallout, Paramount, Ultra HD Blu-ray & All-region BD, £35
HCC VERDICT: 4/5

SPONSORED VIDEO

SPONSORED VIDEO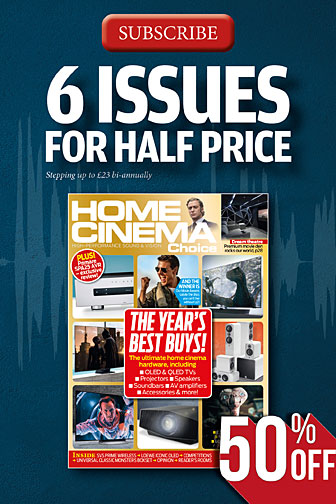 Home Cinema Choice #332

is on sale now, featuring: Samsung's 8K flagship; Anthem AVM 90 processor; B&W 800 Series Diamond; LG smart projector; Hollywood box office bombs; Hitchcock 4K; and more
Want to see your home cinema system featured in the pages of HCC? Click
here
for more info.