Exclusive interview: George Lazenby on the 50th anniversary of On Her Majesty's Secret Service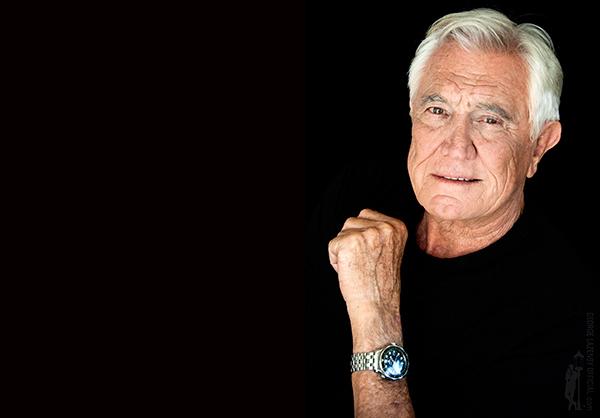 Bond is back! April 2020 will see the long-awaited return of 007 to the bigscreen with the release of
No Time To Die
– the 25th film in the franchise and Daniel Craig's final outing as the world's most famous secret agent.
Craig is the longest-serving actor to have played the super spy – it's 14 years since he signed up, back in 2005 – but before the latest Bond blockbuster is unleashed, there's another 007 milestone to celebrate…
This month, On Her Majesty's Secret Service (OHMSS) – the sixth film in the series – turns 50. Released in 1969, it starred Australian model-turned-actor, George Lazenby, who, as it stands, will go down in history as the man who only donned the tuxedo once. But he – and OHMSS – deserve to be remembered for so much more. The film, one of the more faithful screen adaptations of Ian Fleming's novels, dispenses with the gadgets and gizmos, but more than makes up for it with its in-jokes, glorious Alpine locations, stunning ski chases and emotional storyline.

Earlier this year, we were lucky enough to meet Lazenby, who is now 80, for a one-to-one chat ahead of his appearance at London Comic Con Spring. We didn't have all the time in the world, but we asked him to share some of his recollections of making OHMSS…

It's 50 years since OHMSS came out. How does it feel to be talking about it now and what are your memories of becoming Bond back in 1969?
It's a long time… It was the hippy era, Easy Rider had been a hit and everyone was wearing bellbottoms and had long hair. Bond had short hair and tight pants – he looked like a cop and his image wasn't that popular, which is why I was in two minds and a bit worried that I'd be blanked. We thought Bond was dead!

What can you remember about the time when you found out you'd got the part?
I was living in Paris when I got Bond – they'd tested me for four months and were using me to play Bond while they were testing for the other parts. I went to a voice trainer to get rid of my Australian accent and she also taught me how to breathe. [Prime Minister] Harold Wilson went to the same place – he was going out as I was going in.

United Artists [the distributor] wanted to see me fight – Peter Hunt [the director] didn't think it was necessary, but he got a Russian wrestler [Yuri Borienko] and a couple of other guys who gave me a five-minute lesson on how to stunt fight.

I was supposed to miss, but I didn't – I hit the wrestler and knocked him to the floor. Harry [Saltzman – producer] grabbed me, put me up against the wall and said: 'We're going with you'.

At the time, your portrayal of Bond was, unfairly, criticised in the press...
They were told to trash it because I wouldn't sign a contract … I had a situation where I had only signed a letter of intent. They [the producers] offered me cash – a million dollars to do another one. Ronan O'Rahilly [my manager at the time] said: 'Clint Eastwood is making five hundred thousand per Western and it only takes six weeks – you could do two of those in half the time it would take to do a Bond film and you'd get a million – you don't have to worry about Bond…'

Do you lie awake at night wondering what might have happened if you hadn't turned down the chance to make more Bond films?
No – I never think about it. I let it go, because I thought Bond was over. I've got Roger Moore on film saying: 'If Lazenby hadn't quit, none of us would've been Bond…'

It's been said that you were difficult to work with when you played Bond…
That's not true! I didn't want to let anyone down, or to be difficult. They [the producers] made me – I had the use of a helicopter to go anywhere I wanted. I was on a hundred pound a week per diem – I asked Harry Saltzman how much the other fella [Sean Connery] was on? He looked at the accountant and said, 'tell him'. He said: 'A thousand pounds.' I said, 'I'm getting a hundred'. Harry said to the accountant, 'give him a thousand'. My briefcase got full up of cash, as we were on location for nine months…

In the pre-title sequence of the film, you famously refer to Sean Connery as 'the other fella…'
I always call him that…. When I was doing stunts, I used to say, 'I bet the other fella never had to do this…'

So did you come up with the 'other fella' line in the film?
Does Connery call you the other fella?
I wonder…
For a lot of diehard Bond fans, OHMSS is one of the best movies in the franchise. Why do you think that is?
First of all, it's a good story – it's got a lot of things in it that people can relate to in life, like marriage and love, which Bond doesn't usually have, generally speaking. And it's got a lot of action. I was working with the second unit night and day.

You did a lot of your own stunts. Your fight scenes are great…
I'd been in a lot of fights at school and I was a black belt in judo in Australia. We don't shoot each other there – we punch each other!

Any happy memories of being on set?
The first scene I did was at a table with Angela Scoular [who played Ruby Bartlett]. The crew wanted to play a joke on her, so they got a big German sausage that came down to my knee, put it in hot water and duct taped it to my leg. When she felt my leg under the table, they expected her to jump up and scream and run away – she didn't! She just said to me: 'You've got no pants on!' I thought: 'Holy s**t – she thinks I'm a real James Bond!'

The closing scene – in which Bond's wife is killed – is shocking and very moving…
I could act well enough to bring tears to my eyes – they were flowing, but Peter Hunt said: 'Cut – James Bond doesn't cry. Get rid of the tears.' So I did, but I still had the emotion. And people keep telling me it worked.

Have you seen any of the Bond films after yours?
Well, I attended the Royal world premiere of Die Another Day in 2002, but I can't recall what it was all about...

Has playing Bond only once been a blessing or a curse?
It's just part of my life. I've got a lot of things from it – when people find out you've been James Bond you can get in anywhere – but it's also been a pain in the arse! There have been so many stories made up about me – a lot of bulls**t.

How would you like to be remembered?
I don't care. I'd like my kids to remember me as a good dad – that's about all I care about.

London Comic Con Spring will return in 2020. For more information, visit www.londoncomicconspring.com

George Lazenby's official website can be found at www.georgelazenbyofficial.com

SPONSORED VIDEO

SPONSORED VIDEO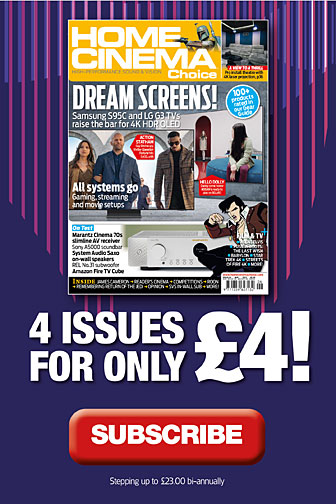 Home Cinema Choice #332

is on sale now, featuring: Samsung's 8K flagship; Anthem AVM 90 processor; B&W 800 Series Diamond; LG smart projector; Hollywood box office bombs; Hitchcock 4K; and more
Want to see your home cinema system featured in the pages of HCC? Click
here
for more info.