Exclusive interview: Capturing the look of Mo'Wax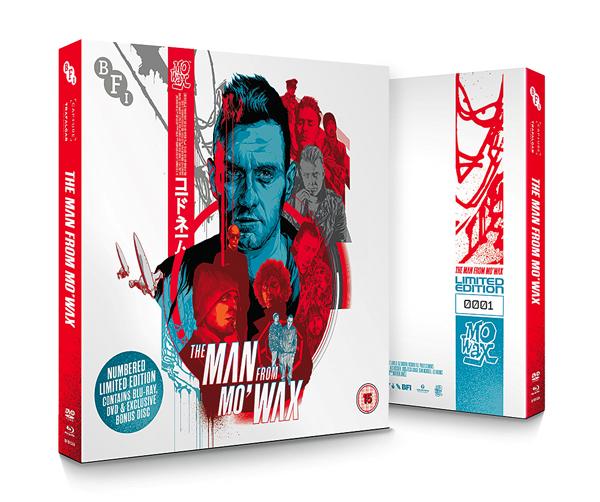 Producer M.J. McMahon reveals the design decisions behind the BFI's eye-catching new Limited Edition Blu-ray boxset of the acclaimed music documentary
The Man from Mo'Wax
...
How and when did you first get attached to The Man from Mo'Wax?
For me this all started back in the summer of 2006. Matt Jones, my business partner, fellow filmmaker and eventual director of this film, came to me about an opportunity to work with the band Unkle. As soon as I heard the name 'Unkle' I was in, as I loved the music, their artwork and general style. Their seminal album Psyence Fiction is so cinematic, it's truly epic and one of my favourite albums of all time.
The idea back then was to make a series of short tour documentaries, which ultimately didn't pan out. Various people came on board and left over the years, while Matt and I were trying to do the project with our own money. Back then we were working out of our bedrooms and didn't have the studio setup at Capture (our production company) that we have now, so it was really challenging to keep it all going.
Eventually, around early 2014, we decided to make a solid plan after various ups and downs. I thought Matt should direct and I would lead the producing. That's when the story focus changed completely to the finished film it is now, which encompasses the Mo'Wax history and the Unkle footage we shot from 2006 onwards, ending in 2014.
Where did the desire come from to do something special with the packaging for the home entertainment release of The Man from Mo'Wax?
Once we worked out the final direction of the story, we knew pretty quickly from that point on that we wanted to do something special with the Blu-ray/DVD, should the opportunity arise. This was purely because the amount of footage we'd researched and shot over the years had accumulated to approximately 700 hours. So there was plenty for extensive extras.
We wanted to do something inspired by the Mo'Wax style and mentality. It's a label that pushed the boundaries of packaging design. In a digital world the bar has really been raised on physical product; it has to warrant the shelf space and it has to be beautiful and have a high quality feel. [Label founder] James Lavelle and the designers of Mo'Wax, like Swifty and Ben Drury, knew that. They always designed with that in mind and together with James created a very cool Mo'Wax brand whose product was extremely collectable.
After we had the world premiere of our film at South by Southwest in March 2016 (the cut of the film was still pretty rough back then) we met Stuart Brown, Head of Programme and Acquisitions at the BFI. He loved the film and selected it right there for the London Film Festival later that year. He knew a lot about Mo'Wax and completely understood our vision and thought we should try and work together to create something special.
One of the ideas the BFI team had was to create a boxset of three discs along with a booklet of some kind. We looked at various samples and all of us fell in love with the same design. It was a package Steven Spielberg had used for a boxset of a selection of his films. The great thing about this was that the machine parts were already prepared, so no fresh production costs there.
It's the shape of a 7in single, which Matt and I loved, and it would end up being made by Modo which is co-owned by James Lavelle's brother Henry, who also does a lot of packaging for James' stuff. The connection was strong across the board and if it's good enough for Spielberg then it should be good enough for any filmmaker.
It was also very important to Matt and I that the overall design connected with everything else we were working on around the film. There needed to be a clear lineage between the Limited Edition box set, the HMV-exclusive Psy-Fi DVD version, the Limited Edition art prints, the double LP blue and red vinyl, and the CD soundtrack. No gimmicks, all premium stuff, as this was exactly the ethos of Mo'Wax, which meant we were keeping true to the origin of the story as well as making something cool. So if someone really loves the film, having the full set of products is a beautiful collective thing and nothing feels cheap or knocked out quickly.
Every detail has been considered, from the typography and design of the titles and motion graphics in the actual film, connecting right across the board with the teaser, trailer, micro trailers, posters, art prints, soundtrack and so on. If you exhibited it all together you could have a mini exhibition of cool, related items with a striking visual connection.
Obviously there's already an established audience for the film with music fans. But how do you go about creating a Blu-ray package that will also appeal to more general movie buyers?
That stems from the film itself. It is a universally themed film about success and friendship, about love and loss and ideas of never giving up in what you believe in, about entrepreneurship and self-belief and the fight between art and commerce. Those themes go well beyond the confines of general music and Mo'Wax fans.
As much as the film is about sampling and trip hop, that's just a detail. It had to be a human story at its core. We see James go from a teenager to a middle aged man, across a 25-year period, and the sacrifices he has made in that time. This is something a lot of people can relate to, that we believed would help reach a wider audience.
Our artwork stems from a love of Mondo, the US-based boutique film merchandise company. I have many of their products in my own collection. We wanted the artwork to have cool, interesting visuals, to be fun and contemporary. We felt this would be the next logical creative step for Mo'Wax should it be releasing products now. So often film merchandise is ill thought out and is just a quick cash-in, rather than something well thought out with a specific aesthetic that contributes to the life of the film.
The Limited Edition set includes both disc-based extras and a 48-page booklet of artwork and photography. What do extras like these add to the overall Man from Mo'Wax experience?
We hope they will work on many levels i.e. for people who are dedicated fans of the Mo'Wax music era, there are a lot of extended interviews with their heroes. For people seeing the film for the first time, we've edited most of the extras in a considered, concise way rather than just dumping them on there without any care. We've made sure there is a connecting aesthetic that makes them feel like video probes that have burst out of the film. This should hopefully make it interesting for a new audience to discover Mo'Wax, DJ Shadow and what James Lavelle has achieved. Not just with Mo'Wax but beyond that as well.
For Mo'Wax fans it's the definitive historical video document of the label. Pulling together these people, a lot of whom no longer speak to each other regularly, was a mammoth task that took 10 years. We believe this boxset will stand the test of time and provide a video history on what some see as the last golden age of underground music in the UK.
Also, we've specifically avoided content that is already on YouTube (legally or not) and the extras contain never-before-seen footage that goes in depth on areas of Mo'Wax that we did not have time to explore in the film.
How important was it to carry across design elements from the Mo'Wax album sleeves onto the Blu-ray packaging?
Extremely important. We wanted the Mo'Wax artwork to be presented in large format, full page and uninterrupted by excessive text, like mini art prints in a way, to celebrate the history of the label. We also maintained the idea of Obi Stips with the artwork front and back. The Mo'Wax look was about giving its audience these small pieces of art and minimalism. This box set is an extension of that.
Cover artist Ken Taylor is someone our readers may recognise from his gorgeous Mondo movie posters. What led to your working with him on the art for this release?
We wanted to bring together all the famous musicians who appear in the film for the main poster. We looked at doing this photographically, but for a combination of costs and aesthetic reasons we thought it would just end up looking like 90 per cent of modern posters and would not stand out. Plus it was very constraining on what images we could use.
Often you see a photoshopped stills montage on film posters and some of the retouching work is a bit dodgy. We wanted something contemporary and modern and Ken Taylor's illustrations work on several levels. First of all, gig posters are a big thing in the music industry; limited edition print fans buy them at live events. Ken has done similar work for bands like Queens of the Stone Age, PJ Harvey and Metallica. Secondly, James references Blade Runner and Star Wars a lot on Psyence Fiction; both those films have a renowned heritage of illustrated posters by artists like Drew Struzan. We wanted to have one foot in that look as well. And finally, Ken Taylor is one of the best illustrators on the planet doing work via Mondo on Marvel and big Hollywood blockbusters. He's very collectable himself and we wanted something new that was not just like a Mo'Wax rip off. So this combination of reasons was why we went for Ken. He was also a big Mo'Wax / DJ Shadow fan too so that helped as well!
What were the biggest hurdles you faced in putting the Limited Edition Blu-ray set together?
Normally a home video release comes three months after theatrical release, so filmmakers have more time to prep extras after the film is out. We're coming out just three weeks after our theatrical run, so that meant we had to produce all these extras at the same time as preparing and working on the main promotional elements for theatrical release too. We had very little time to get all the extras we wanted edited. To complete six hours of boxset bonus features, art direct the BFI Blu-ray/DVD book and the HMV DVD sleeve designs, whilst at the same time producing the film trailers, promos and clips for the main release, and designing the various posters, was high-pressure for Capture, but I think the team here has pulled it off on a scale and quality that I've not really seen before from any other documentary, especially given the time and cost constraints we were under.
Working with the BFI home entertainment department really helped create a foundation for us to keep a focus on the creative standards aspect, while they were able to project manage and oversee the complexities of printing and replication.
One little last minute spanner in the works was that we'd planned to have the Limited Edition numbers on the spine of the slip case. The idea being that you could see your bespoke number on the shelf within your DVD/Blu-ray collection. This had all been designed and spec'd but just when we were about to press go, the printer had difficulty in being able to print the number on the spine. We then had to quickly reconfigure the design and move the number to the back of the slip case under the words 'Limited Edition'. I actually feel it's now in a much better position...
The Man from Mo'Wax is available to buy now as a three-disc Blu-ray/DVD dual-format Limited Edition and as an HMV-exclusive two-disc DVD Psy-Fi Edition , courtesy of the BFI. The film's soundtrack is available from Island Records/UMC on 2LP coloured vinyl and CD, and is also available for download and streaming.

SPONSORED VIDEO

SPONSORED VIDEO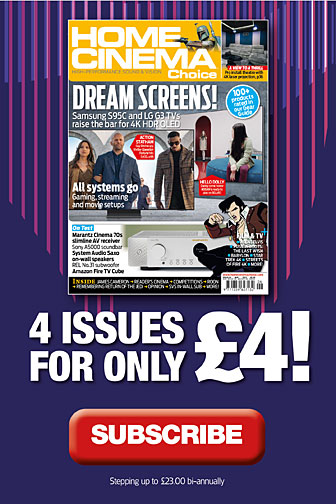 Home Cinema Choice #332

is on sale now, featuring: Samsung's 8K flagship; Anthem AVM 90 processor; B&W 800 Series Diamond; LG smart projector; Hollywood box office bombs; Hitchcock 4K; and more
Want to see your home cinema system featured in the pages of HCC? Click
here
for more info.