EISA Home Theatre Audio & Video Awards 2023-2024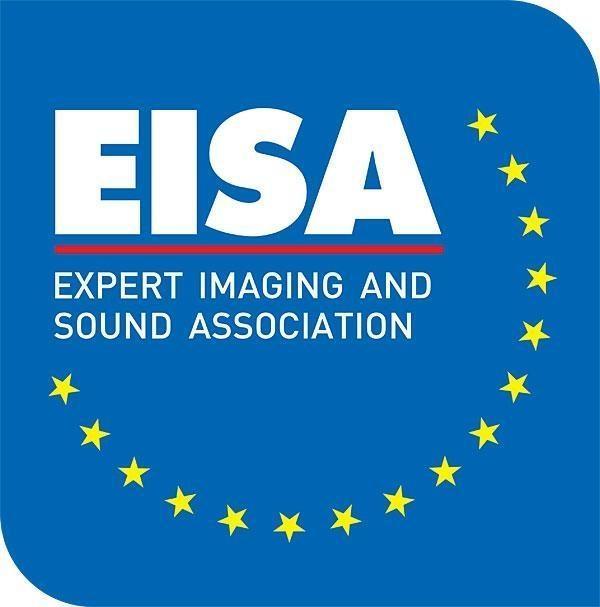 EISA, or the Expert Imaging and Sound Association, is an organization representing 58 of the most respected special interest publications and websites from 29 countries that cover Hi-Fi, Home Theatre Video, Home Theatre Audio, Photography, Mobile Devices, and In-Car Electronics. Every year EISA's Expert Group members, including editors from this publication, test a very wide range of new products from their field of expertise before comparing results and voting to decide on the cream of every product category.
To win an EISA award all products undergo a comprehensive multi-step judging process, and many still fall by the wayside. EISA's product evaluation begins in the first few months of the year and runs right through to early July with EISA's webinar program putting brands and their latest technologies in front of the Association's expert editorial audience. Over 50 brand webinars were hosted by EISA this year and over 100 new – often very new – products were shipped between member countries. In-depth testing and judging extended over many months, fueling lengthy and highly informed discussions. Finally, after all the testing, EISA's democratic voting process establishes a consensus of excellence that ultimately determines the winning products.
To find out more about EISA, visit www.eisa.eu
---
EISA Home Theatre Audio Awards 2023-2024
---
EISA BEST BUY AV RECEIVER 2023-2024
Onkyo TX-RZ50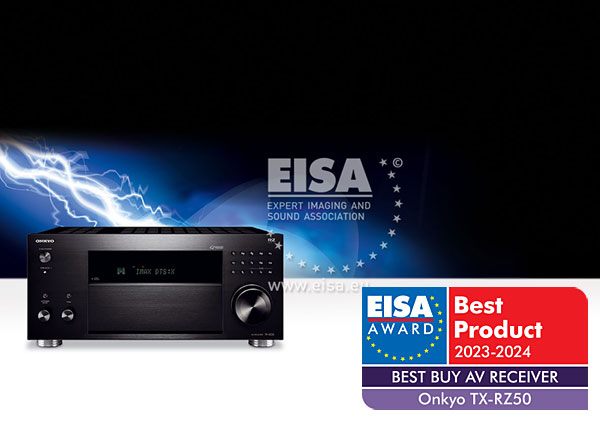 Thanks to an extensive feature set, including full-bandwidth Dirac Live for in-depth calibration, Onkyo's TX-RZ50 receiver offers impressive value for money. Even better, it backs this up with a gutsy, immersive performance that wrings every last detail from Dolby Atmos and DTS:X movie soundtracks. Ample power from its nine-channel Dynamic Audio Amplification output stage ensures a dynamic, bass-rich presentation, while 11-channel processing allows for system expansion. Music playback isn't ignored either: two-way Bluetooth and a DAB+ tuner join forces with Apple AirPlay 2, Chromecast and DTS Play-Fi multiroom to cover all bases. Rounding out a complete package is Onkyo's slick Controller app, plus an app option for Dirac, which makes operation a breeze.
---
EISA AV RECEIVER 2023-2024
Primare SPA25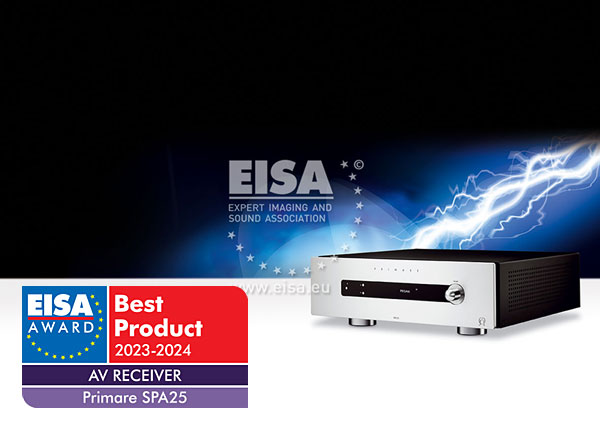 Marking a welcome return to the AV receiver arena, Primare has created a multichannel, immersive audio powerhouse that captivates with both movie and music playback. A nine-channel design based around energy-efficient Hypex Class D amplification, and supporting front speaker bi-amping, the SPA25's sound mixes delicate smoothness with transient attack, bass weight and seamless soundstaging – all ready to be fine-tuned by Dirac Live software. Other features, including the company's well-regarded, hi-res Prisma streaming platform, and a high-quality USB DAC input, will satisfy two-channel audiophiles. Finally, the elegant style and premium build quality of the SPA25 ensures it looks as good as it sounds.
---
EISA PREMIUM AV AMPLIFIER 2023-2024
Denon AVC-A1H
The current state-of-the-art in AV amplifier design, Denon's AVC-A1H marries 15.4-channel processing to a 15-channel power output and is therefore primed for the most expansive of home theatre systems. The attention to detail reserved for the brand's 'A1' class is in evidence, from the amp's hefty 11.5kg EI-Type transformer and separate power supply for its DAC stage, to the 32-bit DSP engine and optimised circuit layout. This high-quality engineering, coupled to both Audyssey MultEQ XT and Dirac Live calibration options, results in a reference-level audio performance from movies and music. Denon's flagship blends energy and scale with breathtaking resolution, detail and clarity. No other multichannel integrated amplifier can match it…
---
EISA BEST BUY SOUNDBAR 2023-2024
JBL Bar 300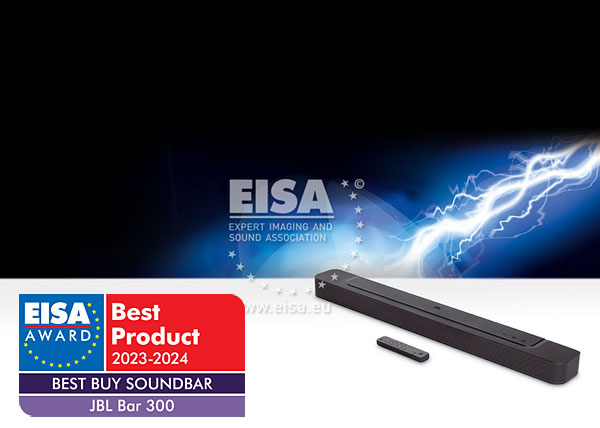 Ready to give a flatscreen TV a serious sonic boost, but from a compact, easy-to-accommodate design, JBL's Bar 300 punches well above its affordable price point. Its six drivers and onboard amplification dovetail with MultiBeam processing and Dolby Atmos decoding to create a well-balanced, full-range sound with notable effects placement and steering. For this generation JBL has both refined its remote handset and introduced a new app controller, making it simple to adjust the Bar 300's EQ settings, run its auto-calibration routine, and stream music fuss-free. This soundbar enters a hotly contested market and coolly claims the top spot.
---
EISA SOUNDBAR 2023-2024
Loewe klang bar3 mr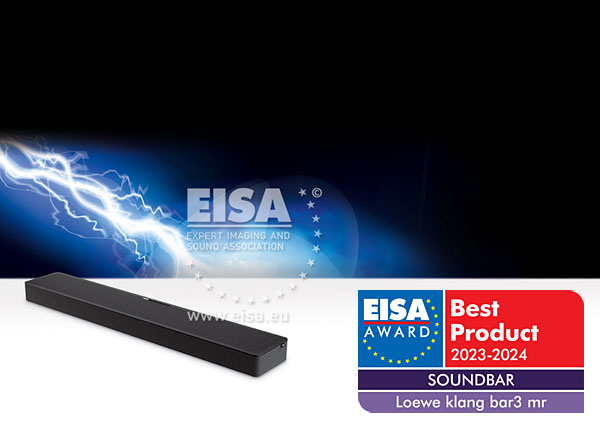 Loewe's smartly dressed klang bar3 mr aims to attract anyone who desires immersive TV sound, without the hassle. Supporting Dolby Atmos, this 3.1-channel model serves up enveloping sonics rich in detail and excitement. Musical performance is great too, and because of its pair of 100mm top-mounted woofers, it doesn't require a subwoofer to sound mighty. One, however, can be added wirelessly by those desiring more bass impact, as can wireless rears to take the surround experience to another level. Employing the DTS Play-Fi platform, the klang bar3 mr possesses a variety of streaming options and caters to a multiroom setup – among its connections are pre-outs for five channels, a unique feature that enables audiophile setups with active speakers.
---
EISA PREMIUM SOUNDBAR 2023-2024
Bang & Olufsen Beosound Theatre
Employing a range of drivers, including a coaxial centre array and dual 165mm woofers, the Beosound Theatre delivers a spacious and well-defined sound with crisp detail and powerful bass, all from a single, gorgeous cabinet. Movie soundmixes are immersive and dramatic, while music listening – either stereo or upscaled to the Dolby Atmos soundfield – benefits from the soundbar's remarkable midrange presentation. Extensive connectivity includes four HDMI ports and wired/wireless PowerLink for adding additional B&O speakers, while operation is easy via a partnering app that opens the door to streaming music services. A customisable design even allows the Beosound Theatre's chassis to match TVs of different sizes.
---
EISA SOUNDBAR SYSTEM 2023-2024
Yamaha True X series
A home theatre system of impressive flexibility, Yamaha's True X combines the SR-X40A soundbar, SW-X100A subwoofer and WS-X1A surround speakers, all connecting to each other wirelessly for a slick, authentic 3D audio experience. Whether crafting immersive soundscapes from Atmos movie soundtracks or games, or playing music, the performance always captivates with its energy, detail and precise soundstaging. The fabric-wrapped enclosures are on-trend, as is the system's provision of control via remote, app, or voice through its in-built Alexa microphone. And there's another trick up this system's sleeve – both rears can operate in solo mode as fully portable (and waterproof) Bluetooth speakers. For Yamaha, X really does mark the spot.
---
EISA HOME THEATRE POWER AMPLIFIER 2023-2024
Musical Fidelity M6x 250.7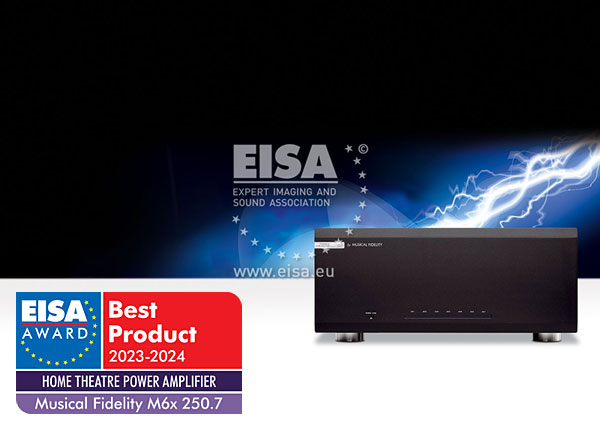 A perfect partner for power-hungry loudspeakers in a home cinema, the M6x 250.7 offers dynamic headroom, rich bass and a feeling of effortless energy from its rated 7x150W amplification. Inside the all-metal chassis, fronted by a milled aluminium fascia, a pair of Musical Fidelity's 'Super Silent' toroidal transformers feed into seven independent amp modules, each with their own heatsinking – bi-amping is provided via daisy-chain outputs on the unit's rear panel, above its choice of balanced or unbalanced inputs. A heavyweight amplifier in terms of both build quality and performance, with a wonderfully transparent sound, the M6x 250.7 is a multichannel marvel.
---
EISA HOME THEATRE SUBWOOFER 2023-2024
Perlisten D212s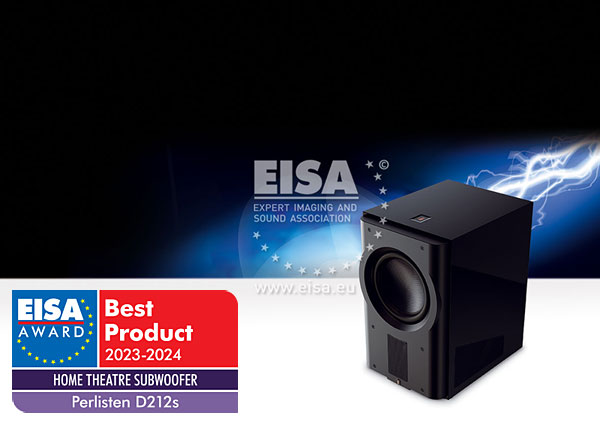 Perlisten's D212s has a fearsome specification, its two custom-designed 300mm woofers, arranged in a push-pull configuration and powered by a 2.4kW amp stage, claiming a bass extension below 20Hz. But these specs only hint at the full story: in your home theatre this meticulously engineered subwoofer offers a fast, dynamic performance, with expert control over its output. Hard-hitting LF effects are delivered with slam, while atmospheric bass details benefit from the D212s' impressive subtlety. Playing a vital part here is advanced DSP, which – in conjunction with Perlisten's app controller – enables in-depth tuning to suit the listening environment, complete with parametric EQ. This is a subwoofer with both brawn and brains!
---
COMBINED WITH Hi Fi EXPERT GROUP
---
EISA LOUDSPEAKER SERIES 2023-2024
KEF R Series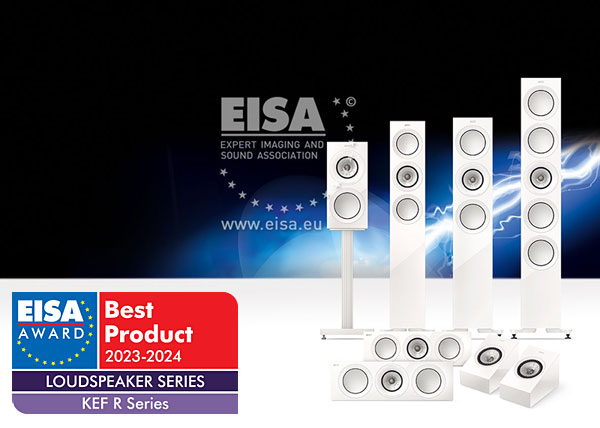 Technologies developed for KEF's higher-end loudspeakers, including the latest- generation Uni-Q driver with Metamaterial Absorption Technology (MAT), inform the design and performance of its stunning R Series. A seven-model range comprising floorstander, standmount, centre and Dolby Atmos-enabled surround options, it's suited to both home theatre and hi-fi enthusiasts alike. Whether used for music or movies, across the speakers there's a dynamic, detailed and thrillingly natural sound combining controlled, extended lows with open, wide-reaching highs. And the various colour options, including special editions for the R3 standmount and R7 tower, will have these gorgeous-looking cabinets fitting right in.
---
EISA POWERED STANDMOUNT LOUDSPEAKERS 2023-2024
Klipsch The Sevens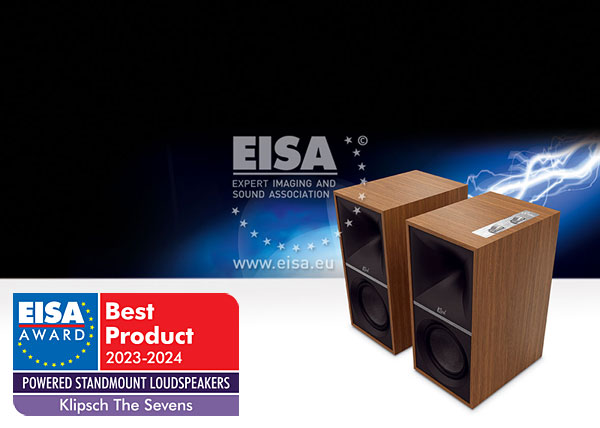 This powered bookshelf/standmount model takes a design cue from the American brand's 'Heritage' speakers and combines it with a forward-thinking specification – the result is a package notable for its styling, feature set and performance. Tractrix horn-loaded tweeters and 165mm bass/mid units are pushed into action by custom DSP and beefy internal amplification. The Sevens' sound is bass-rich, largescale and packed with detail, and can be fine-tuned to suit personal taste through Klipsch's intuitive Connect app. Comprehensive connectivity including HDMI ARC, USB-B, Bluetooth, analogue (inc. MM phono), plus hi-res music playback to 192kHz/24-bit, ensures this is a system that's ready for anything!
---
EISA Home Theatre Video Awards 2023-2024
---
EISA BEST BUY MINI LED TV 2023-2024
Hisense 65U7KQ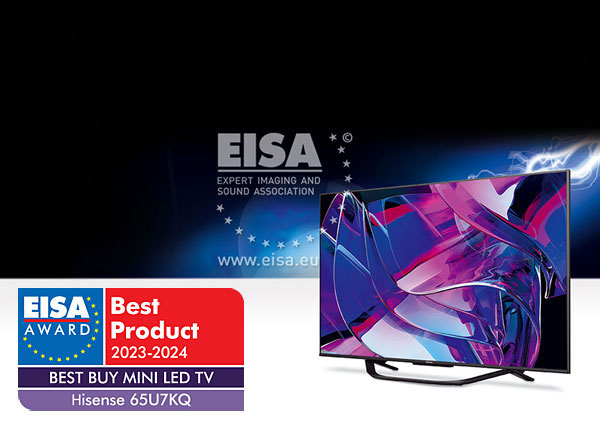 The entry point into Hisense's 120Hz 'ULED' TV line-up, the 65U7KQ combines a 4K panel with a Mini LED backlight offering 384 dimming zones. This technology, allied to Quantum Dot colour delivery, results in crisp pictures with excellent local contrast and vivid hues. Dynamic Dolby Vision IQ, HDR10+ and HDR10+ Adaptive formats are supported, with the TV's colour temperature and brightness sensors measuring the room and adjusting images accordingly. It's a feature-rich set too, with HDMI 2.1 inputs accepting signals up to 4K/144Hz, Apple AirPlay 2 support, plus Hisense's bespoke VIDAA U7 operating system granting access to a wide range of apps. The 65U7KQ is a superb mid-range option that impresses with its performance, features and style.
---
EISA BEST BUY OLED TV 2023-2024
Philips 55OLED808 (55OLED818)
An excellent image performance and a wallet-friendly price make the 55OLED808 the OLED TV to beat in the competitive mid-range market. Building on the success of the brand's previous 8 series models, this new set showcases improvements to Philips' P5 processing engine, Ambilight system, user interface and more. It's a sublime performer with 4K HDR content, benefiting from superior light control and contrast, plus skilful tone-mapping, while HD material is effectively upscaled. As expected from a Philips screen, there's a wealth of picture adjustments on offer to tune the 55OLED808's images, plus well-judged presets for ease of use. Google TV smarts, HDMI 2.1 connectivity and a punchy integrated sound system complete a winning proposition.
---
EISA BEST BUY PROJECTOR 2023-2024
XGIMI HORIZON Ultra
This home cinema projector takes XGIMI's HORIZON range to new heights. A 4K resolution model, its proprietary light engine combines cutting-edge contrast and sharpness with vivid brightness and colour detail. Added to this are HD processing for optimal playback of premium content, and adjustment of its dynamic iris for performance fine-tuning. Its crisp, vivid images can be accompanied by powerful sonics from a built-in Harman Kardon sound system, while Android TV integration allows control via voice and smartphone, in addition to a huge app selection. Set-up versatility including auto-focus and auto-keystone make the HORIZON Ultra easy to install, and with its smart design and compact chassis you can place it anywhere in your home without compromising on style or performance.
---
EISA HOME THEATRE PROJECTOR 2023-2024
BenQ W4000i
BenQ's expansive projector stable includes many multi-use designs, but the W4000i focuses on full home cinema duties. There's magnificent clarity and colour from this beamer's combination of the latest and largest 0.65in 4K DLP panel, a 4LED light source to deliver a claimed 3200 ANSI Lumens brightness, and BenQ's exclusive CinematicColor technology yielding 100% of the DCI-P3 colour gamut. HDR-PRO technology, with Local Contrast Enhancer, optimises dynamic contrast in HDR10 and HLG playback. And while designed for serious cinephiles, this is still a smart projector, with a Wi-Fi dongle introducing Android TV and all its apps, including Netflix. Versatile setup, fuss-free operation and a quality performance make BenQ's W4000i a brilliant home theatre solution at the price.
---
EISA MINI LED TV 2023-2024
Hisense 65U8KQ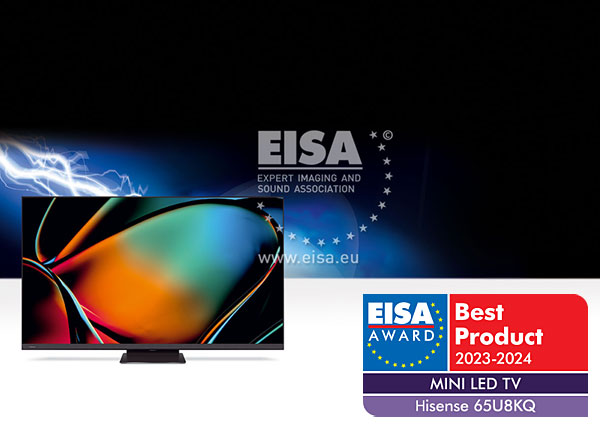 Hisense's 65U8KQ leverages the latest advancements in Mini LED technology and Quantum Dot panel design to deliver a stunning picture performance. Dividing its Mini LED backlight into 1008 zones, with precise local dimming, yields an enhanced contrast with deep blacks and bright whites, complemented by rich colours. To further optimise its visual impact, the TV supports Dolby Vision IQ, HDR10+, HDR10+ Adaptive, as well as Filmmaker Mode for movie playback as the director intended – and when it comes to sound, the built-in Dolby Atmos 2.1.2 speaker system is equally cinematic. Add in the 65U8KQ's gamer-friendly connections, VIDAA U7 smart system, and sleek, modern design, and you have a TV with real appeal.
---
EISA HOME THEATRE MINI LED TV 2023-2024
TCL 65C845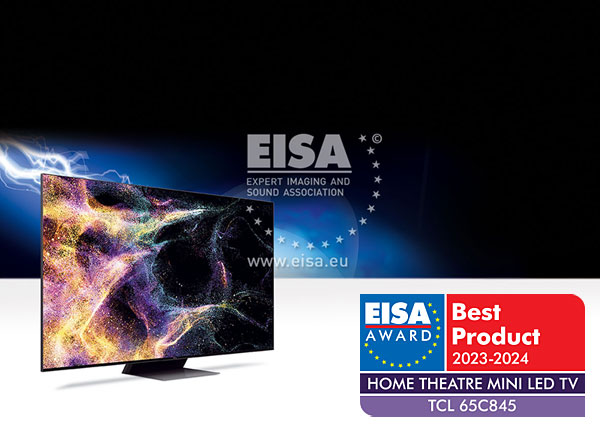 TCL continues to extend the performance of Mini LED technology, the C845 series this year doubling the zones and upgrading the LEDs, along with a host of other tweaks for results that rival OLED panels and in some key areas outperform them. That includes brightness, which in the temptingly priced 65C845 can hit 2000-nit peaks during HDR playback across HDR10, HDR10+ and Dolby Vision IQ, with full-white levels of 800 nits. This 65in TV's performance will thrill movie fans and gamers alike (the set is fully compatible with latest-generation consoles), as will a comprehensive feature list that includes Google TV, an Onkyo-designed speaker system, and IMAX Enhanced certification. This is another fine all-round winner from China's TCL.
---
EISA GAMING TV 2023-2024
TCL 55C745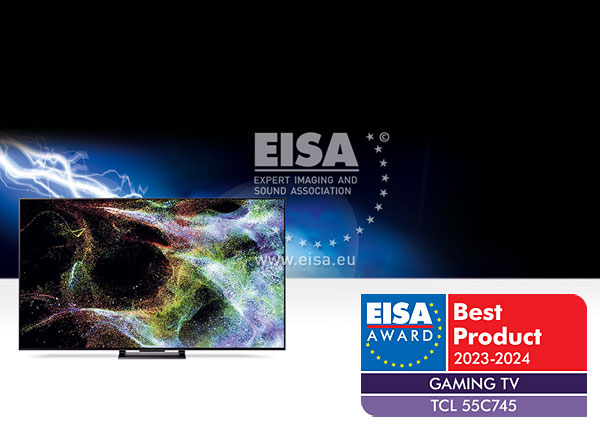 A high-quality display is needed to tap into the potential of the latest generation of games consoles and PCs, and TCL's 55C745 is up to the challenge. This 55in TV appeals with its gaming bar interface and QLED panel capable of a 4K/144Hz VRR presentation (plus Full HD at a lightning-fast 240Hz). Key features including ALLM, Dolby Vision gaming and FreeSync Premium Pro are also incorporated, so there's no tearing or stuttering while you enjoy sharp and clean low-latency images. But this TV is not just for gamers: its colour handling, brightness, HDR abilities and full-array local dimming translate into a dynamic movie performance, while the Google TV interface brings streaming apps and voice control. However you plan to use it, the 55C745 is superb value for money.
---
EISA FAMILY TV 2023-2024
Philips 55PUS8808 (55PUS8818)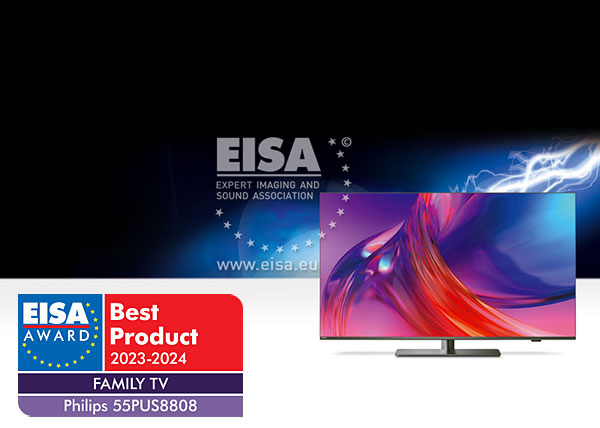 This 55in Ambilight-enabled LCD TV from Philips has your living room in its sights and succeeds thanks to its S-IPS panel that supports a wide viewing angle, and a punchy, bright picture performance that isn't fazed by ambient light. Positioned by this iconic brand as a home entertainment all-rounder, the 55PUS8808 fits the bill by virtue of its accomplished 2x40W audio, multi-format HDR handling, gaming credentials and content-rich Google TV smart platform. There's even DTS Play-Fi integration, enabling the TV to become part of a multiroom audio system, or take on centre channel duties in a surround sound setup. Philips' elegant styling also deserves a thumbs up, but it's the 55PUS8808's image quality and affordable pricing that seals the deal.
---
EISA PREMIUM OLED TV 2023-2024
Samsung 77S95C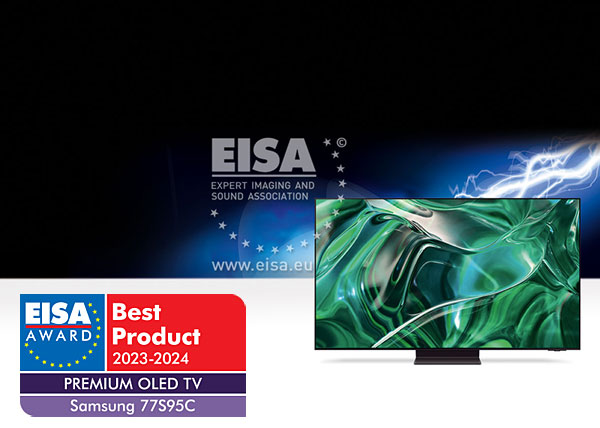 Class-leading HDR brightness, deep black levels and a vibrant, wide colour performance cement this Samsung TV's premium status. Enabling the 77S95C's immaculate imagery is Quantum Dot OLED technology, here in second-generation guise and benefiting from new panel driving software and a refined light path. Coupled to this is Samsung's upgraded Neural Quantum Processor 4K, which helps finesse motion, clarity, colour and more. When it comes to audio, a multi-speaker array ranged around the screen brings an immersive, cinematic feel to movies, TV and gaming, and the design of this 77in model is equally inspiring, from the One Connect box for a clutter-free installation to the high-quality finish of its ultra-slim frame. Looking for the ultimate OLED TV? Look here…
---
EISA GIANT TV 2023-2024
TCL 98C735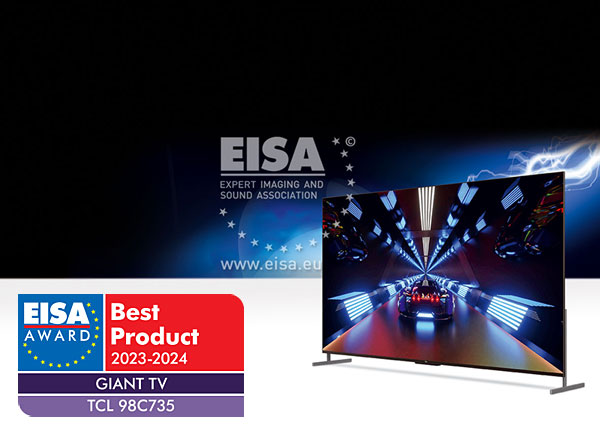 For those seeking to turn a living room into a home cinema with larger-than-life images, TCL's 98C735 is the answer. A 98in TV with Direct LED backlight and Quantum Dot panel technology, its wall-filling pictures combine deep blacks with excellent shadow detail and deliver stunning highlights thanks to impressive peak brightness and local dimming. HDR movies, whether in HDR10, HDR10+ or Dolby Vision IQ, dazzle with colour, while a wide viewing angle and excellent anti-reflection ability guarantee a cinematic experience for a big audience. Full gaming compatibility for high-end consoles and PCs, plus Google TV integration, give this giant-sized screen all-rounder status, and at a price that doesn't break the bank.
---
COMBINED WITH AUDIO EXPERT GROUP
---
EISA HOME THEATRE DISC PLAYER 2023-2024
Magnetar UDP800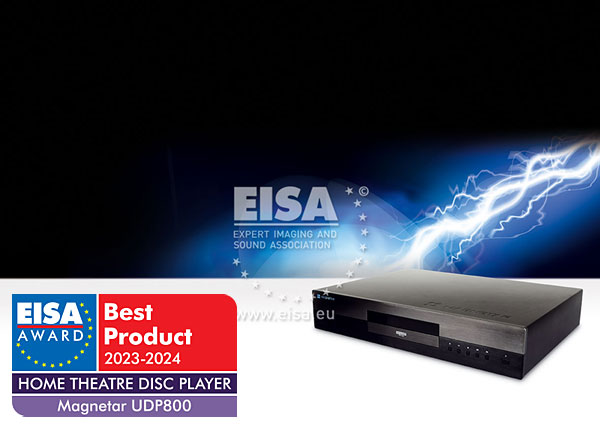 For a high-quality AV experience, there is still nothing better than Ultra HD Blu-ray discs, especially when delivered by a premium player. Magnetar's UDP800 is the star you need to illuminate your home theatre, combining DVD, Blu-ray and Ultra HD Blu-ray playback with handling of music formats including DVD-A and SACD. Comprehensive user menus and connectivity make this disc-spinner user friendly, while its high-end construction befits the price tag. The UDP800 delivers 4K discs (including Dolby Vision or HDR10+) with pin-sharp detailing and smooth colour gradations via HDMI, but switch to music though its analogue outputs (RCA or XLR) and its performance is equally captivating. The UDP800 is the long-awaited new king of discs.
---
COMBINED WITH MOBILE DEVICES EXPERT GROUP
---
EISA PORTABLE PROJECTOR 2023-2024
XGIMI MoGo 2 Pro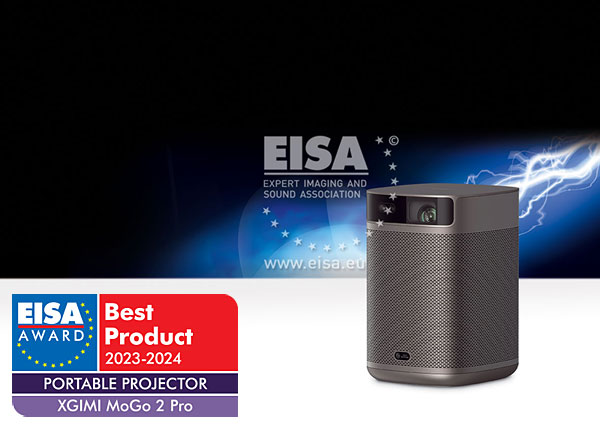 This compact Full HD DLP projector is a triumph of both brightness and intelligent operation, with the MoGo 2 Pro's 400 ISO Lumens output overcoming even ambient daylight. Its rich images, up to 120in, achieve D65 colour temperature and 90% of the DCI-P3 gamut. They are rock-solid too as XGIMI's excellent 'Intelligent Screen Alignment' scans 10,000 data points to automatically straighten and focus the pictures while avoiding obstacles, even from off-axis positions, and without interrupting your show. Sources can be connected over HDMI and USB, and there's Android TV 11.0 to provide thousands of apps, Google Assistant and Chromecast. The projector's stereo speaker array also packs a punch, making it the all-round solution for those who want to take their entertainment anywhere.
---
More EISA Awards 2023-2024:
Photography Expert Group
EISA CAMERA OF THE YEAR 2023-2024
Nikon Z 8
EISA ADVANCED FULL-FRAME CAMERA 2023-2024
Sony Alpha 7R V
EISA FULL-FRAME CAMERA 2023-2024
Canon EOS R6 Mark II
EISA CONTENT CREATOR CAMERA 2023-2024
Sony ZV-E1
EISA APS-C CAMERA 2023-2024
Fujifilm X-H2
EISA BEST BUY CAMERA 2023-2024
Canon EOS R8
EISA VIDEO CAMERA 2023-2024
Panasonic Lumix S5IIX
EISA LENS OF THE YEAR 2023-2024
Sony FE 20-70mm F4 G
EISA WIDEANGLE ZOOM LENS 2023-2024
TAMRON 20-40mm F/2.8 Di III VXD
EISA STANDARD PRIME LENS 2023-2024
Sony FE 50mm F1.4 GM
EISA PORTRAIT LENS 2023-2024
Nikon NIKKOR Z 85mm f/1.2 S
EISA TELEPHOTO LENS 2023-2024
Canon RF 135mm F1.8L IS USM
EISA SUPER-TELEPHOTO LENS 2023-2024
Nikon NIKKOR Z 400mm f/4.5 VR S
EISA TELEPHOTO ZOOM LENS 2023-2024
TAMRON 50-400mm F/4.5-6.3 Di III VC VXD
EISA SUPER-TELEPHOTO ZOOM LENS 2023-2024
SIGMA 60-600mm F4.5-6.3 DG DN OS | Sports
EISA MACRO LENS 2023-2024
OM System M.Zuiko Digital ED 90mm F3.5 Macro IS Pro
Combined Award with Mobile Expert Group
EISA MULTIMEDIA SMARTPHONE 2023-2024
Sony Xperia 1 V
Hi-Fi Expert Group
EISA STANDMOUNT LOUDSPEAKERS 2023-2024
MoFi SourcePoint 8
EISA FLOORSTANDING LOUDSPEAKERS 2023-2024
Bowers & Wilkins 703 S3
EISA PREMIUM FLOORSTANDING LOUDSPEAKERS 2023-2024
Perlisten R7t
EISA HIGH-END LOUDSPEAKERS 2023-2024
Wilson Audio Alexia V
EISA WIRELESS BOOKSHELF LOUDSPEAKERS 2023-2024
KEF LSX II
EISA WIRELESS ON-WALL LOUDSPEAKERS 2023-2024
System Audio Silverback 1
EISA WIRELESS FLOORSTANDING LOUDSPEAKERS 2023-2024
Dynaudio Focus 50
EISA HEADPHONES 2023-2024
Meze Audio 109 PRO
EISA STREAMER 2023-2024
iFi Audio NEO Stream
EISA DAC 2023-2024
Ferrum Audio WANDLA
EISA DIGITAL PLAYER 2023-2024
Volumio Rivo
EISA HIGH-END CD PLAYER 2023-2024
Hegel Viking
EISA TURNTABLE 2023-2024
Thorens TD 204
EISA VINYL SYSTEM 2023-2024
Pro-Ject T2 W
EISA INTEGRATED AMPLIFIER 2023-2024
NAD C 3050
EISA BEST VALUE STREAMING AMPLIFIER 2023-2024
SVS Prime Wireless Pro SoundBase
EISA COMPACT STREAMING AMPLIFIER 2023-2024
Bluesound POWERNODE EDGE
EISA STREAMING RECEIVER 2023-2024
Yamaha R-N2000A
EISA HIGH-END INTEGRATED AMPLIFIER 2023-2024
Musical Fidelity Nu-Vista 800.2
EISA HIGH-END STREAMING AMPLIFIER 2023-2024
Hegel H600
EISA HIGH-END HEADPHONE SOLUTION 2023-2024
dCS Lina System
EISA HIGH-END HEADPHONES 2023-2024
Yamaha YH-5000SE
Combined Award with Home Theatre Audio Group
EISA LOUDSPEAKER SERIES 2023-2024
KEF R Series
EISA POWERED STANDMOUNT LOUDSPEAKERS 2023-2024
Klipsch The Sevens
Combined Award with Mobile Devices Expert Group
EISA PREMIUM WIRELESS HEADPHONES 2023-2024
T+A Solitaire T
EISA MOBILE DAC 2023-2024
iFi Audio GO pod
Mobile Devices Expert Group
EISA BEST BUY SMARTPHONE 2023-2024
HONOR 90
EISA CONSUMER SMARTPHONE 2023-2024
OPPO Reno10 Pro
EISA SMARTWATCH 2023-2024
HONOR Watch GS 3
EISA PREMIUM PORTABLE SPEAKER 2023-2024
Bang & Olufsen Beosound A5
EISA PREMIUM SMARTWATCH 2023-2024
Huawei Watch Ultimate
EISA BEST BUY WIRELESS HEADPHONES 2023-2024
Philips Fidelio L4
EISA IN-EAR HEADPHONES 2023-2024
Philips Fidelio T2
EISA MOBILE DAC 2023-2024
iFi Audio GO pod
EISA BEST BUY PORTABLE SPEAKER 2023-2024
Pure Woodland
Combined Award with Photography Expert Group
EISA MULTIMEDIA SMARTPHONE 2023-2024
Sony Xperia 1 V
Combined Award with Mobile Devices Expert Group
EISA PORTABLE PROJECTOR 2023-2024
XGIMI MoGo 2 Pro
Combined Award with Hi-Fi Expert Group
EISA PREMIUM WIRELESS HEADPHONES 2023-2024
T+A Solitaire T
In-Car Electronics Expert Group
EISA IN-CAR HEAD UNIT 2023-2024
Alpine HDS-990 Status
EISA IN-CAR AMPLIFIER 2023-2024
Ground Zero GZUA 6SQ
EISA IN-CAR DSP AMPLIFIER 2023-2024
Mosconi Gladen One 8|10 DSP
EISA IN-CAR SOUND PROCESSOR 2023-2024
ESX QE812SP
EISA IN-CAR DSP SOFTWARE 2023-2024
Audison bit Drive
EISA IN-CAR SPEAKER SYSTEM 2023-2024
Ground Zero GZPC 165.3SQ-ACT
EISA IN-CAR SUBWOOFER 2023-2024
Morel Ultimo PowerSlim PS12D
EISA IN-CAR OEM PREMIUM AUDIO SYSTEM 2023-2024
Maserati GranTurismo with Sonus faber High Premium Audio System
EISA IN-CAR INTEGRATION 2023-2024
Helix Compose Platform
EISA MOTORCYCLE AUDIO COMPONENT 2023-2024
Rockford Fosgate HD9813RG-STAGE3

SPONSORED VIDEO

SPONSORED VIDEO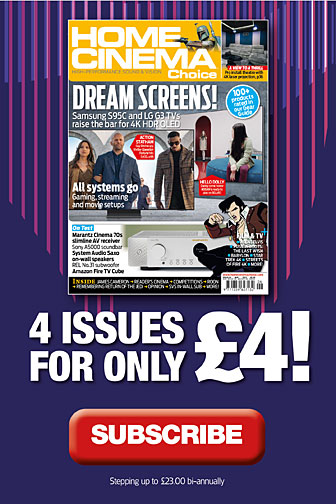 Home Cinema Choice #332

is on sale now, featuring: Samsung's 8K flagship; Anthem AVM 90 processor; B&W 800 Series Diamond; LG smart projector; Hollywood box office bombs; Hitchcock 4K; and more
Want to see your home cinema system featured in the pages of HCC? Click
here
for more info.