EISA 2016-2017 Awards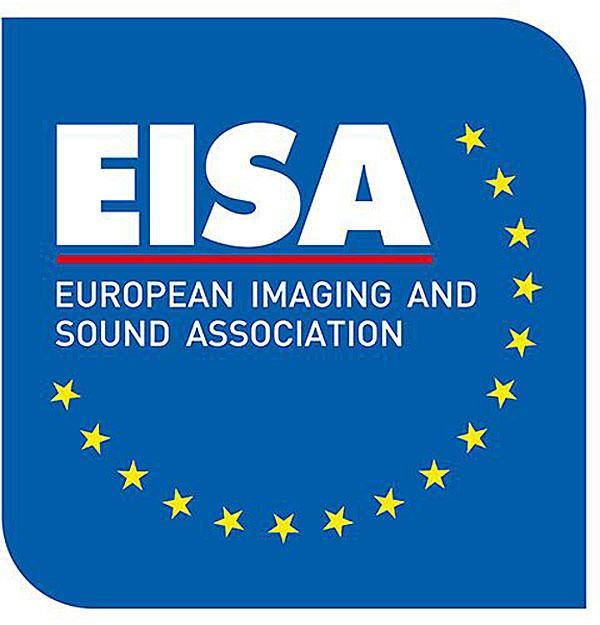 The European Imaging and Sound Association celebrates the year's most desirable AV hardware
We've rounded up the awards from Home Theatre Display/Video Panel and Home Theatre Audio, covering everything from 4K/HDR TVs to Ultra HD Blu-ray players, multichannel speaker packages, home cinema projectors, 
AV receivers and more. Chosen after a lengthy judging process throughout the Summer, during which 
the member magazines covene and whittle down a shortlist, these can be considered the cream of 
the consumer electronics crop.
For more about EISA, visit www.eisa.eu
EUROPEAN TV 2016-2017
Samsung UE55KS9000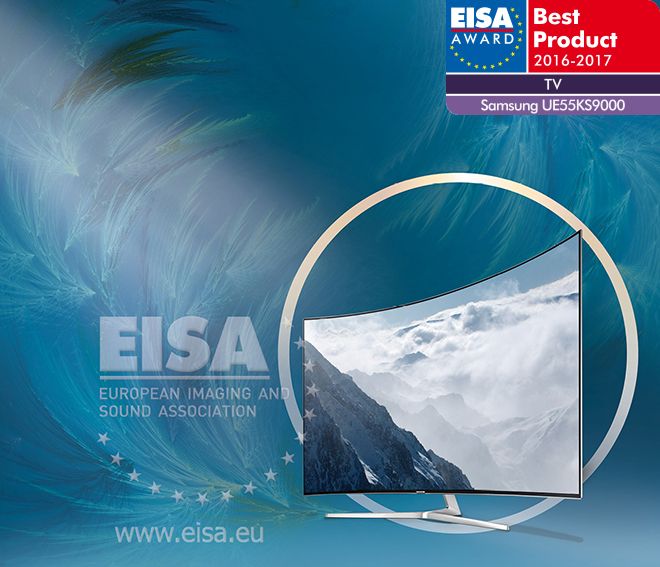 This 55in TV combines breathtaking design with a superior performance. Certified by the Ultra HD Alliance as meeting the technological demands of premium HDR (High Dynamic Range) images, Samsung's UE55KS9000 employs a Quantum Dot 10-bit panel and edge LED illumination to craft rich, subtly-blended colours, dazzling peak whites and a robust black level. It's a perfect partner for HDR, 4K and HD sources. Equally striking are the ultra-thin bezel and curved body, while excellent usability comes via Samsung's Tizen-based interface and the external One Connect Mini box to manage inputs effectively. It's an accomplished all-rounder..
EUROPEAN HOME THEATRE TV 2016-2017
Panasonic TX-65DX902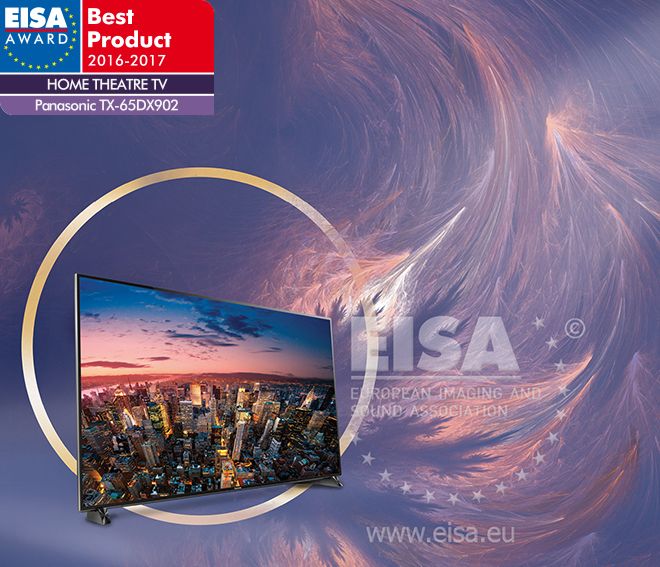 The Ultra HD era brings not only four times the number of pixels of Full HD, but improved colours and image dynamism with HDR. Panasonic's flagship TX-65DX900E TV showcases these new features with real skill. With HDR sources, the local dimming backlight guarantees exceptional brightness and deep blacks, the panel is capable of a wide colour range, and the 65in screen offers an immersive visual experience – vivid, sometimes dazzling, sometimes dark, always close to reality. And, importantly, this LCD giant is an astonishing performer with Full HD and even standard-definition content, offering an upscaled picture quality that's unspoiled by artefacts. This TV is an ideal centrepiece for a premium movie room, complemented by impactful audio.
EUROPEAN HIGH-END TV 2016-2017
LG SIGNATURE OLED65G6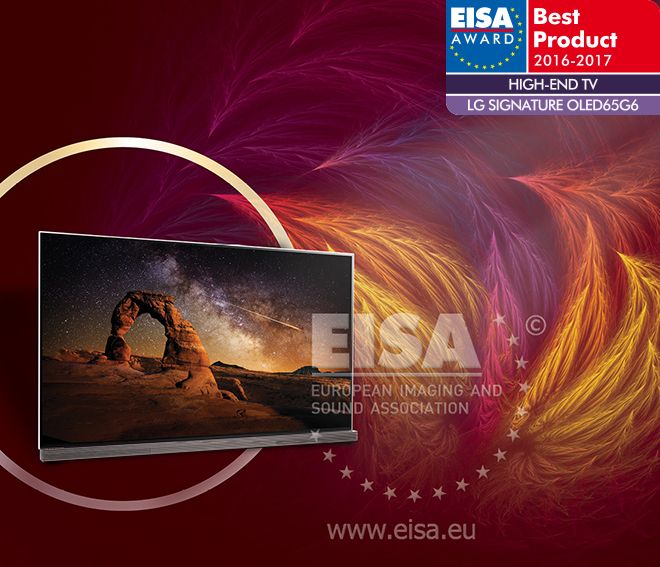 For reference-grade picture performance look no further than this 65in OLED TV. Employing LG's self-emissive panel technology, and supporting premium Dolby Vision HDR content as well as Ultra HD Blu-ray and 4K streaming, the Signature OLED65G6 TV is truly state-of-the-art. Image quality is exemplary, with an enormous contrast range made possible by the screen's unrivalled black level, plus natural, bright colours and silky-smooth motion. A further benefit of OLED is that it allows for a display panel thickness of just 2.57mm, ensuring this TV looks remarkable even when it's switched off. It's partnered here with a slim stand that integrates a powerful sound system, and can be detached to cater for wall-mounting. It is a worthy winner of EISA's High-End TV accolade.
EUROPEAN SMART TV 2016-2017
LG UH770V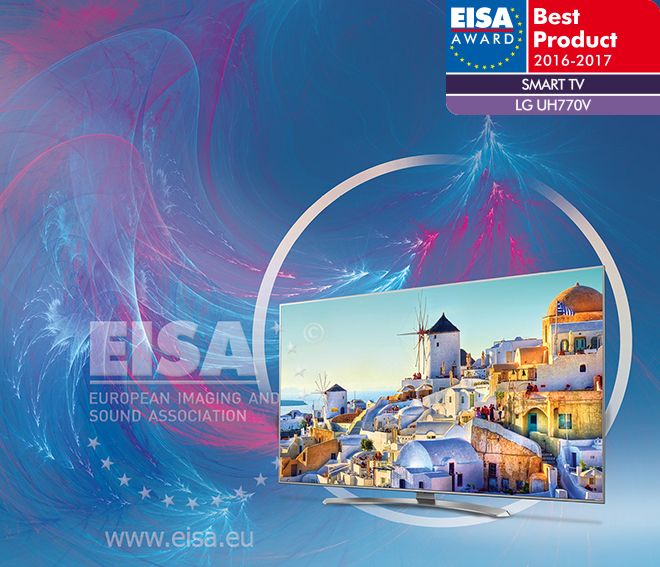 At the heart of this Ultra HD TV, available in sizes from 49in to 65in, beats the third generation of LG's webOS smart TV system, with new features – including Magic Mobile smartphone connection via the LG TV Plus app and a redesigned remote control – making the user experience better than ever. The colourful icon-based menu bar means content is easy to access from a variety of sources, and day-to-day operation is intuitive and fun. Furthermore, LG's Magic Sound Tuning feature ensures the performance of the onboard 20W stereo speaker system is tailored to the viewer's environment, and with support for both HDR 10 and Dolby Vision video formats, the UH770V matches smart skills with enjoyable images.
EUROPEAN HOME THEATRE PROJECTOR 2016-2017
BenQ W2000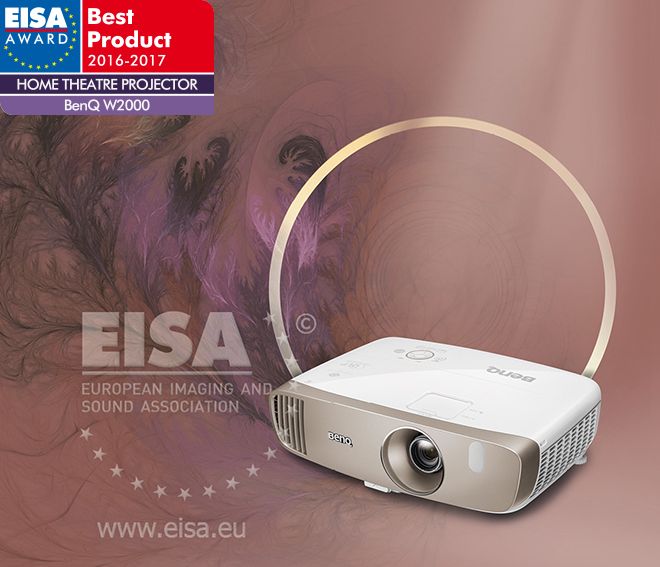 BenQ's W2000 proves that cinematic images can be achieved at an affordable price – this Full HD DLP projector offers razor-sharp pictures bursting with detail, and can throw a 100in image from a mere 2.5m away. A high luminance, plus an expansive contrast performance make it suited to use both in a blacked-out room and a well-lit environment. A Rec.709 preset, and professional calibration support guarantee lifelike, vibrant colours and natural skin tones usually the preserve of projectors twice the price – the W2000 is therefore ready for all your 2D (and 3D) entertainment. And if you need the most flexible installation solution it offers an optional wireless HD transmission kit for a cable-free connection. It's a brilliant bigscreen option..
EUROPEAN BEST BUY LARGESCREEN TV 2016-2017
Philips 65PUS7601
There's a wealth of technology at work in Philips' well-priced 65PUS7601 that ensure its performance matches the ambitions of its 65in screen size. The sophisticated direct LED backlight system uses 128-segment local dimming, delivering stable, deep blacks and detailed shadows to the sharp Ultra HD image. Adjustable Perfect Natural Motion settings let the user tune the picture to their tastes, and the 10-bit panel supports HDR sources. The result is convincing largescale movie and TV playback. Add in Philips' three-sided Ambilight, Android smart TV system, advanced remote control and punchy sound quality and you have an impressive TV.
EUROPEAN ULTRA HD PLAYER 2016-2017
Panasonic DMP-UB900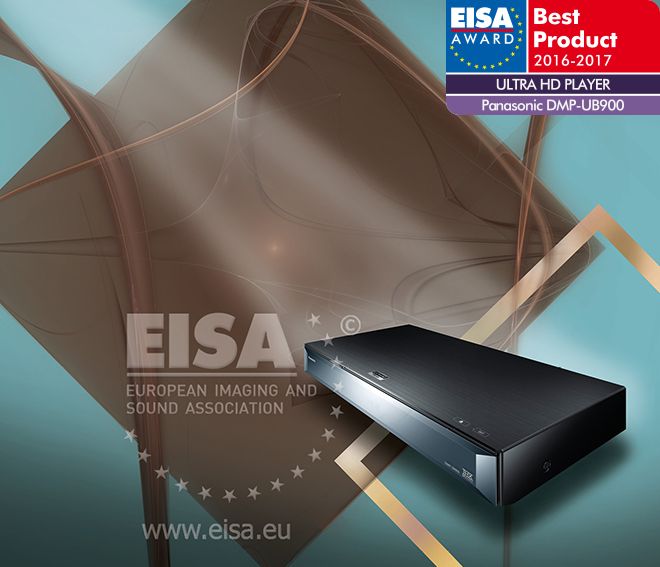 The world's first Ultra HD Blu-ray player brings an instant upgrade to your AV experience. Its 4K HDR images are a clear improvement over Full HD BD, overflowing with detail, smooth colour gradations and quite extraordinary dynamics. But that's not all the Panasonic DMP-UB900 has up its sleeve – peerless upscaling of 1080p discs, super-fast loading and a well-equipped DLNA client make this the Swiss knife of Blu-ray players, handling every job that's thrown at it in a masterly no-fuss manner. Premium sound quality is assured by its high grade audio parts and THX certification for 4K picture and sound sources. It's the Ultra HD capability that's the headline here – combine this player with an HDR 4K display and you'll be grinning from ear to ear.
EUROPEAN HT SPEAKER SYSTEM 2016-2017
DALI OPTICON 5.1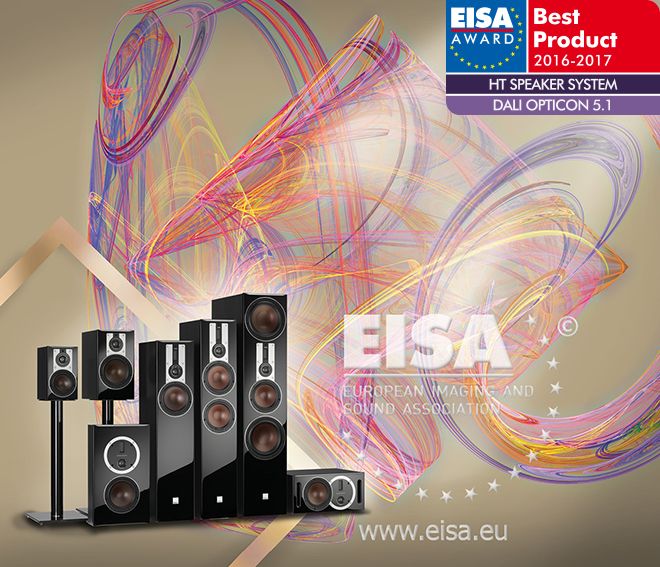 Ideally suited for medium-to-larger-sized rooms, this accomplished system is as assured pumping out music as it is firing movie surround soundtracks around the room. Replacing DALI's IKON range, the OPTICON 5.1 speaker system, including the SUB K-14 F subwoofer, aims to be accessible to a wide audience without compromising on performance. And it doesn't disappoint – featuring paper/wood fibre driver technology handed down from the flagship EPICON range, combined with Soft Magnetic Compound motors and DALI's hybrid tweeter module, it manages to deliver a perfect mix of refinement and muscle. The result is a deep, atmospheric bed of surround sound, peppered with crisp effects that pan seamlessly around your home theatre room. Throw in the beautiful build and gorgeous styling and you've got the perfect package.
EUROPEAN HT RECEIVER 2016-2017
Denon AVR-X2300W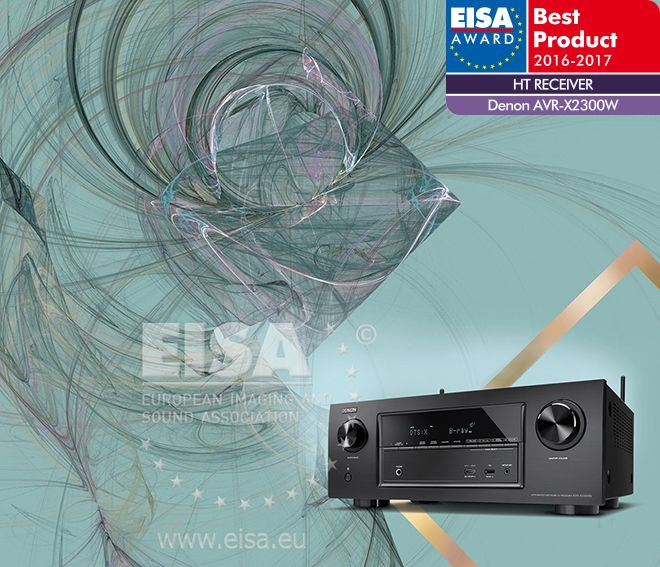 The AVR-X2300W is about as fine an example of a well-priced 7.2 AV receiver as you could hope to find. A well-built and stylish-looking receiver, it supports UHD Blu-ray passthrough via its HDMI 2.0a connectivity, and will connect to numerous sources via Wi-Fi, Bluetooth and its traditional AV inputs. Integration into a home theatre is easy, thanks to an informative, user-friendly setup wizard. But it's the sound performance that really impresses. This is an AV receiver that's as comfortable handling low-level subtleties as it is room-filling dynamics, and Dolby Atmos decoding is on hand to bring the 3D surround experience from premium cinemas to your home, while DTS:X will arrive as a software update in the near future.
EUROPEAN SOUNDBASE 2016-2017
Canton DM 55
The smallest of three models in Canton's soundbase range, the Bluetooth-enabled DM 55 boasts opulent construction – available in lacquered black, silver or white – and a thick glass slab for providing a robust platform on which to place your TV. With six drivers at its disposal – two tweeters, two midrange and a pair of woofers – driven by a 200W amplifier, it delivers a far larger soundstage than it has any right to. With unerring agility and attack it's able to deliver roaring spaceships, crackling lightsabres and bombastic explosions with real bite and punch. It's equally adept when it comes to showing a touch more finesse, handling finely-detailed effects with surprising sensitivity. It's a great partner for a home theatre TV.
EUROPEAN SOUNDBAR 2016-2017
Yamaha YSP-5600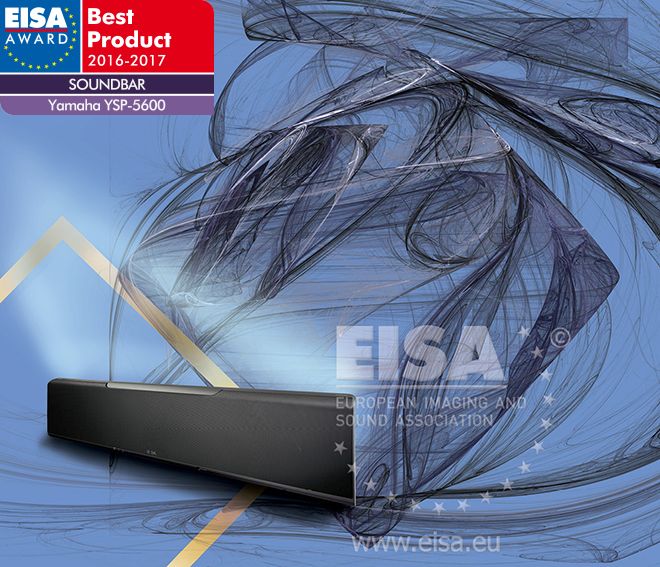 By providing Dolby Atmos support (and DTS:X via a future firmware update), 4K-capable HDMI connectivity and automated room EQ, the gorgeously styled YSP-5600 is a fully-featured soundbar. No fewer than 46 drivers behind its robust black metal mesh are used for directing soundbeams to create full 7.1.2 audio, delivering a layered, three-dimensional soundfield that is unbelievably huge. It makes every movie an engrossing experience, and as part of Yamaha's MusicCast multiroom system, it can be used to stream music and TV audio throughout the house. Calling this just a soundbar is perhaps unfair on the rest of the field – the YSP-5600 has a unique set of skills that make it a class apart.
EUROPEAN HT HIGH END 2016-2017
Trinnov Audio Altitude32
Serious home cinema enthusiasts seeking the very best experience need look no further than Trinnov Audio's Altitude32. Able to output up to 32 discrete channels, this is no ordinary home cinema processor. Advanced, fully-customisable room optimisation and equalisation enables it to tailor its sound to the specific speaker layout and characteristics of a home theatre, and it will map any Dolby Atmos, DTS:X or Auro-3D native feed without breaking into a sweat. The outcome is a reference-class performance, with the Altitude32 bringing astonishing clarity and definition, scale and presence, to movie soundtracks. Software-based architecture means it is ready for future updates, and despite its state-of-the-art feature set, operation is always easy with networked control from a PC, smartphone or tablet.
EUROPEAN BEST VALUE HT SPEAKER SYSTEM 2016-2017
Monitor Audio Bronze 5.1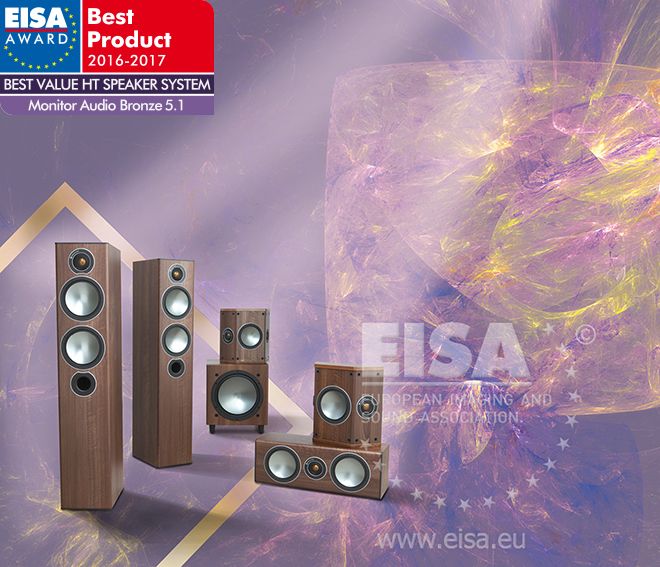 As entry-level speaker ranges go, you'll have to go a long way to find a more beautiful and better bolted together series than Monitor Audio's Bronze. The secret behind its success is revealed in the company's custom one-piece C-CAM cones, employed for the first time in the Bronze series and which use their entire surface to radiate sound. The defining characteristic of the Bronze 6, Centre and FX speakers is their sublime high-frequency reproduction, which bursts with detail and texture. Dialogue, meanwhile, is solid and focused, the speakers handle dynamic shifts with consummate ease, and Monitor Audio's W10 subwoofer anchors the performance with slamming subterranean rumble. It's a thrilling multichannel ensemble.
EUROPEAN AV ACCESSORY 2016-2017
SPIN remote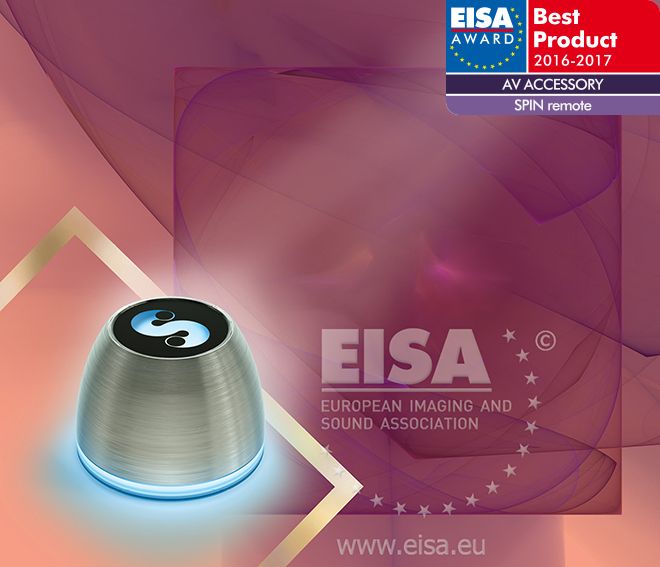 Home entertainment enthusiasts are used to controlling multiple devices with multiple remotes, often leading to a frustrating experience. SPIN remote flips the control concept on its head with a revolutionary new design that favours simplicity over complexity. This sleek silver dome is packed with sensors so that it can detect motion, rotation, orientation and touch, allowing the user to take control using a series of gestures and movements. Via an intuitive smartphone app, different functions can be assigned to the controller depending on how it is held, making operation of your devices – TV, speaker system, smart lighting – way more fun than it has any right to be.
EUROPEAN ACTION CAMCORDER 2016-2017
Olympus TG-Tracker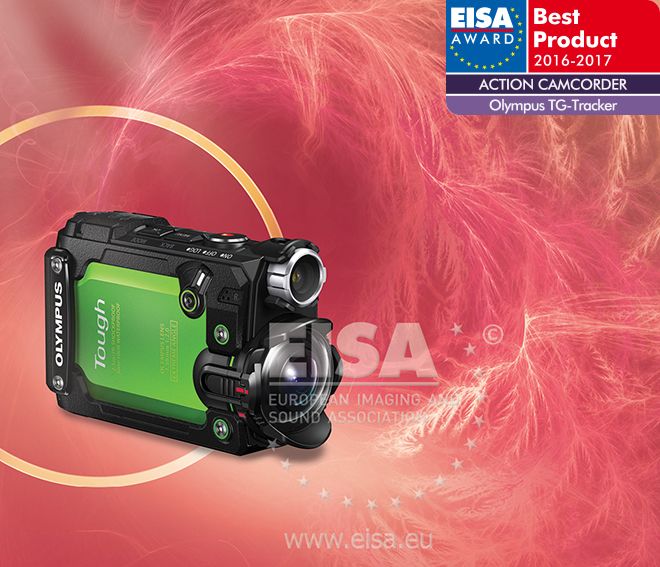 The TG-Tracker combines the legacy of Olympus' popular Tough series compact cameras with the versatility of action cameras to give a new kind of tool for the adventurous photographer. Offering 4K video recording with a 204-degree angle of view, as well as 8-million-pixel still photos, the TG-Tracker specialises in tracking direction, position, air pressure, temperature and acceleration through the roughest trips. The TG-Tracker is shock proof, dust proof, waterproof, freeze proof and crushproof, records quality stereo sound, and can communicate via Wi-Fi or HDMI. Retaining Olympus' acclaimed imaging technology, the TG-Tracker weighs only 180g.
EUROPEAN PHOTO & VIDEO CAMERA 2016-2017
Sony α7S II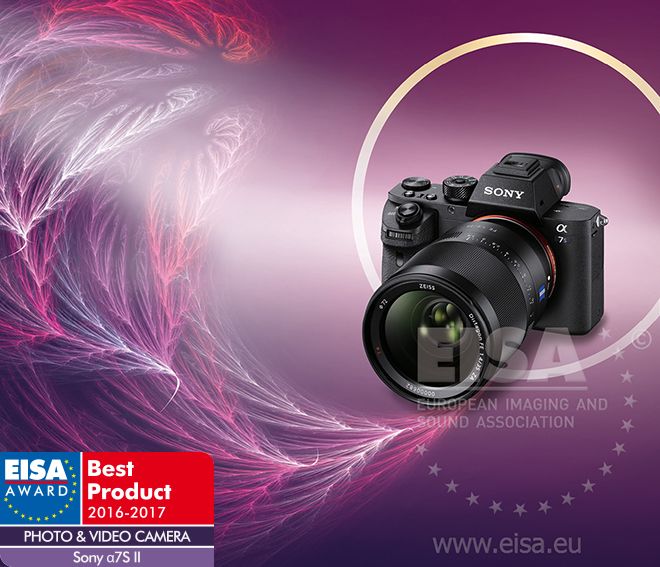 With the α7S II Sony provides professionals with the right tool to create top quality video and excellent still images in every shooting situation. Its 12.2-million-pixel full-frame Exmor CMOS sensor masters high sensitivity shooting, with a maximum sensitivity of ISO 409600. In addition its high dynamic range, 5-axis image stabilisation, and internal recording of 4K movies in full-frame format with full pixel readout ensure that the professional videographer won't have make any compromise regarding image quality. The camera's Fast Intelligent AF excels in speed and accuracy and guarantees stunning images with excellent sharpness even in the dark.
And the rest of the awards...
Expert Group Hi-Fi
EUROPEAN HIGH-END LOUDSPEAKER 2016-2017
Bowers & Wilkins 802 D3
EUROPEAN LOUDSPEAKER 2016-2017
ELAC Debut F6
EUROPEAN COMPACT AUDIO SYSTEM 2016-2017
Naim Audio Mu-so Qb
EUROPEAN TURNTABLE 2016-2017
Pro-Ject The Classic
EUROPEAN STEREO SYSTEM 2016-2017
Marantz CD6006 & PM6006
EUROPEAN NETWORK MEDIA PLAYER 2016-2017
Bluesound NODE 2
EUROPEAN HIGH-END DAC 2016-2017
Hegel HD30
EUROPEAN HIGH-END HEADPHONES 2016-2017
AKG N90Q
EUROPEAN MULTIROOM SYSTEM 2016-2017
Sonos PLAY:5
EUROPEAN USB DAC/HEADPHONE AMPLIFIER 2016-2017
Chord Mojo
(Combined with Mobile Expert Group)
Expert Group Photo
EUROPEAN DSLR CAMERA 2016-2017
Canon EOS 80D
EUROPEAN PROSUMER DSLR CAMERA 2016-2017
Nikon D500
EUROPEAN PROFESSIONAL DSLR CAMERA 2016-2017
Canon EOS-1D X Mark II
EUROPEAN CONSUMER COMPACT SYSTEM CAMERA 2016-2017
Olympus OM-D E-M10 Mark II
EUROPEAN PROSUMER COMPACT SYSTEM CAMERA 2016-2017
Sony α6300
EUROPEAN PROFESSIONAL COMPACT SYSTEM CAMERA 2016-2017
Fujifilm X-Pro2
EUROPEAN PREMIUM COMPACT CAMERA 2016-2017
Sony Cyber-shot RX1R II
EUROPEAN TRAVEL COMPACT CAMERA 2016-2017
Panasonic Lumix DMC-TZ100
EUROPEAN DSLR LENS 2016-2017
Tamron SP 85mm F1.8 Di VC USD
EUROPEAN PROFESSIONAL DSLR LENS 2016-2017
Canon EF 35mm F1.4L II USM
EUROPEAN DSLR ZOOM LENS 2016-2017
Sigma 50-100mm F1.8 DC HSM Art
EUROPEAN PROFESSIONAL COMPACT SYSTEM LENS 2016-2017
Sony FE 85mm F1.4 GM
EUROPEAN COMPACT SYSTEM ZOOM LENS 2016-2017
Fujinon XF100-400mm F4.5-5.6 R LM OIS WR
EUROPEAN PHOTO INNOVATION 2016-2017
Panasonic DUAL I.S. System
EUROPEAN PHOTO SOFTWARE 2016-2017
DxO OpticsPro 11
EUROPEAN PHOTO PRINTER 2016-2017
Canon imagePROGRAF PRO-1000
EUROPEAN SMARTPHONE CAMERA 2016-2017
Samsung Galaxy S7 / S7 edge
(Combined with Mobile Expert Group)
EUROPEAN PHOTO & VIDEO CAMERA 2016-2017
Sony α7S II
(Combined with HT Video Expert Group)
EUROPEAN ACTION CAMCORDER 2016-2017
Olympus TG-Tracker
(Combined with HT Video Expert Group)
Expert Group Mobile Devices
EUROPEAN ADVANCED SMARTPHONE 2016-2017
HTC 10
EUROPEAN CONSUMER SMARTPHONE 2016-2017
Huawei P9
EUROPEAN MOBILE HEADPHONES 2016-2017
JBL Reflect Mini BT
EUROPEAN MOBILE SPEAKER 2016-2017
JBL Charge 3
EUROPEAN WEARABLE DEVICE 2016-2017
Garmin fēnix 3 HR
EUROPEAN BUDGET SMARTPHONE 2016-2017
Coolpad Torino
EUROPEAN VR HEADSET 2016-2017
HTC Vive
EUROPEAN MOBILE INNOVATION 2016-2017
LG G5
Expert Group In Car-Electronics
EUROPEAN IN-CAR HEAD UNIT 2016-2017
Kenwood DDX5016DAB
EUROPEAN IN-CAR HD PLAYER 2016-2017
Sony RSX-GS9
EUROPEAN IN-CAR SMART UPGRADE 2016-2017
Match M 5DSP
EUROPEAN IN-CAR SUBWOOFER 2016-2017
Hertz Mille Legend ML 2500.3
EUROPEAN IN-CAR PROCESSOR 2016-2017
Audison bit One HD
EUROPEAN IN-CAR HIGH-END COMPONENT 2016-2017
Ground Zero GZPA Reference 4PURE
EUROPEAN IN-CAR INTEGRATION 2016-2017
Mosconi GLADEN DSP 8TO12 AEROSPACE
EUROPEAN IN-CAR INNOVATION 2016-2017
Clarion Full Digital Sound