EISA 2014-2015 Awards
We've rounded up the awards from Home Theatre Display/Video Panel and Home Theatre Audio, covering everything from flatscreen TVs to Blu-ray players, speakers, projectors and 
AV receivers. Chosen after a lengthy judging process throughout the Summer, during which 
the member magazines covene and whittle down a shortlist, these can be considered the cream of 
the consumer electronics crop.
To find out more about EISA, visit www.eisa.eu
European Full HD TV 2014-2015
Samsung UE55H7000
Samsung's UE55H7000 offers a best-in-class Full HD performance for those not yet ready to step up to Ultra Hi-Def, with accurate colours, high contrast – thanks to its Micro Dimming Pro technology – and smooth, detailed motion. Images are sharp and cinematic, and wide-ranging calibration options allow them to be tailored to your preferences. In use, the Smart Touch Control makes it easy to interact with the Samsung's menus, Smart TV platform and other features, while the Quad Core processor ensures fast operation. Wireless connectivity brings multiple benefits too, including home networking, mobile device screen mirroring and internet access. A great all-round offering is completed by Samsung's discreet Floating Canvas Design, which keeps your eyes focused only on the picture.
EUROPEAN SMART TV 2014-2015
LG 55LB870V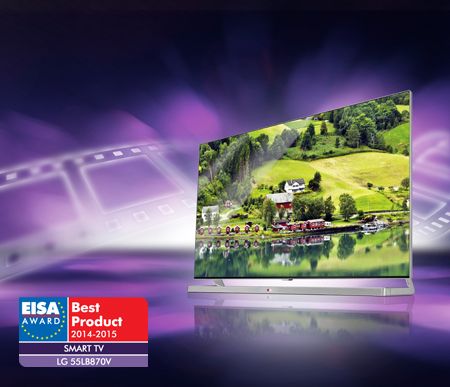 With its webOS technology, it's safe to say that LG has this year redefined the concept of Smart TV, offering the user a simple, powerful, fast and – most importantly – enjoyable connected experience. This new customisable interface allows access to all content, be it internet apps, home media, external devices or broadcast TV, as well as the TV's settings – all delivered at lightning-fast speed. Control, via the redesigned Magic Remote, is highly intuitive, and the 55LB870V's interactive setup is a welcome innovation. Picture quality on this 55-inch TV is excellent, with detailed Full HD images and a wide viewing angle, while the overall design, with its ultra slim bezel, is as smart as its feature set.
EUROPEAN 4K ULTRA HD TV 2014-2015
SONY KD-65X9005B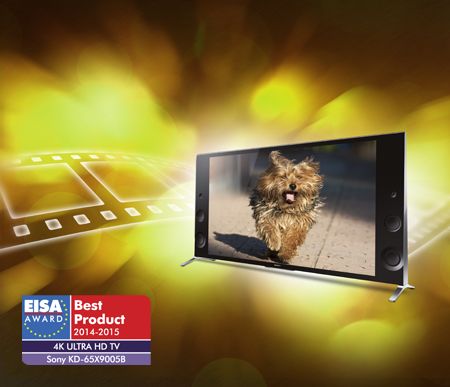 Size, sound and Ultra HD resolution, all in one amazing package – Sony's KD-65X9005B is perfect for those seeking high-end home entertainment thrills. Whether you're viewing your own pictures and videos, upscaling Blu-rays and TV broadcasts or streaming native 4K material, this 65-inch LED screen impresses, particularly with the control given over its upscaling engine. Sony's unique Triluminos technology offers a wide range of natural and realistic colours, while X-tended Dynamic Range processing enables superb contrast. HDMI 2.0 support, an on-board HEVC decoder and HDCP 2.2 compatibility make it ready for all foreseeable 4K content. And then there's the audio. The 'Wedge' cabinet design and revamped Magnetic Fluid speakers combine to provide authentic bass and crisp, high frequencies – no other TV sounds as good. And if you want even more bass, Sony's wireless SWF-BR100 subwoofer is an option.
EUROPEAN HIGH-END TV 2014-2015
LG 77EC980V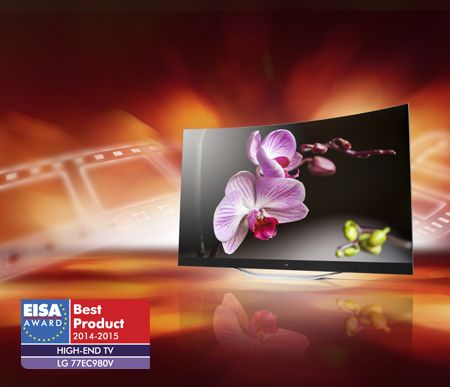 With the 77EC980V, LG has aimed for the very best in performance and design – and succeeded. Mixing a curved form factor, proprietary WRGB OLED panel and Ultra HD resolution, this 77-inch high-end display offers consistently impressive images. OLED's self-emissive technology is key, ensuring astonishing, deep black levels, high peak brightness, and fast, clear motion. LG's Colour Refiner processing, meanwhile, expertly handles colours, and upscaled HD images are razor-sharp. Pictures can be viewed from a wide angle with little reduction in clarity or colour fidelity. Beyond its first-rate performance, the TV features everything LG currently has to offer, including its webOS smart platform, passive 3D, a full range of future-proof connections and a stylish, minimalist bezel design. In short, this is a reference-grade display.
EUROPEAN HT PROJECTOR 2014-2015
Epson EH-TW9200W
For film fans, a home cinema projector provides the ultimate experience, and Epson's EH-TW9200W combines exemplary large-screen visuals with easy setup and usability. This Full HD LCD model combines a 2,400 Lumens light output and dynamic 600,000:1 contrast ratio to create immersive images (including 3D), packed with detail and brightness, and its native motion performance can be further improved via the on-board Frame Interpolation system. Installation is aided by a 2.1x optical zoom, versatile vertical and horizontal lens shift controls, while a wireless HD transmitter allows users to view HD content without having to plug in other devices. Very quiet in operation, and with a smart-looking chassis, the Epson is a great addition to any cinema room.
EUROPEAN CAMCORDER 2014-2015
Sony FDR-AX100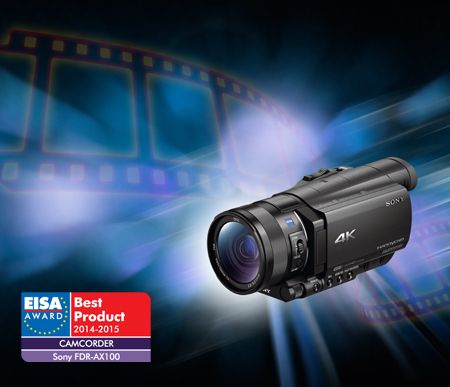 Owners of 4K/Ultra HD TVs can create their own 4K content with Sony's feature-packed camcorder. Employing a compact and lightweight design, but offering high-quality components, it provides filmmakers with a state-of-the-art creative tool. The Carl Zeiss Vario-Sonnar T* lens is joined by a 1-inch Exmor R CMOS sensor and provides 12x optical zoom. Several recording modes, three ND Filter Functions and easy-to-use adjustments that you usually would expect from a professional device give the user full control, while the pro-grade BIONZ X processor enables recording with 4K at 25fps, Full HD at 50fps in XAVCS format and capturing slow-motion footage at 100 fps. Meanwhile, the OLED viewfinder, Wi-Fi/NFC connection, SteadyShot image stabilisation and scene selection modes make the FDR-AX100E a pleasure to use. Short of 4K content? Not any more…
EUROPEAN BLU-RAY PLAYER 2014-2015
Panasonic DMP-BDT700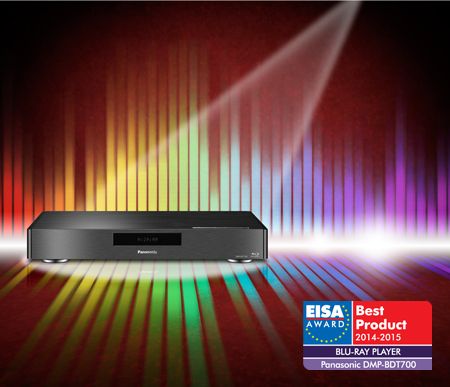 Panasonic's range-topping Blu-ray player, the DMP-BDT700, focuses on bringing top-quality video – and audio – to a home theatre setup. For the latter, its improved UniPhier chipset separates processing of audio and video signals, with the video path able to be switched off entirely. The result is audiophile sound, delivered through discrete 7.1-channel analogue outputs and 192kHz/32-bit DACs, or via digital outputs. Picture and audio quality can be adjusted via in-depth tuning options – including colour and gamma settings – in a simple-to-use interface. Full HD Blu-ray images showcase impressive detail, and the DMP-BDT700 can upscale them to THX-certified 4K resolution. Additional features of this elegantly-designed player include external media playback from USB, SD card and a home network (with support for hi-res FLAC and WAV files), plus access to Panasonic's content-rich Viera Connect platform. Overall, this is a modern, forward-thinking disc player.
EUROPEAN PHOTO & VIDEO CAMERA 2014-2015
Panasonic LUMIX DMC-GH4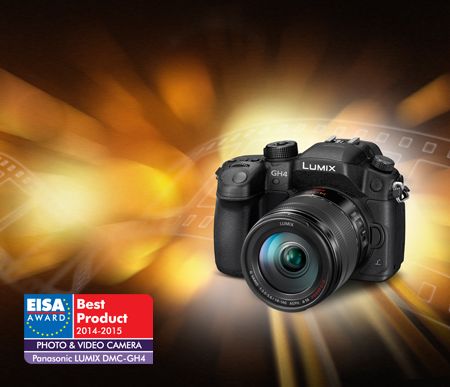 The Panasonic LUMIX DMC-GH4 is one of the most feature-heavy cameras on the market. The 16-megapixel Live MOS sensor captures high-quality still images and provides professional 4K video-recording capabilities. It allows users to shoot slow or fast-motion footage using a frame rate of between 2fps and 96fps. Audio can be recorded and monitored using an external microphone, and by using the optional interface it is possible to output high-quality, uncompressed 4K footage via micro-HDMI. The GH4 features a sharp OLED live viewfinder, and a bright 3-inch monitor, and the weather-sealed magnesium-alloy body was designed to withstand professional use.
EUROPEAN LIFESTYLE CAMCORDER 2014-2015
Canon LEGRIA mini X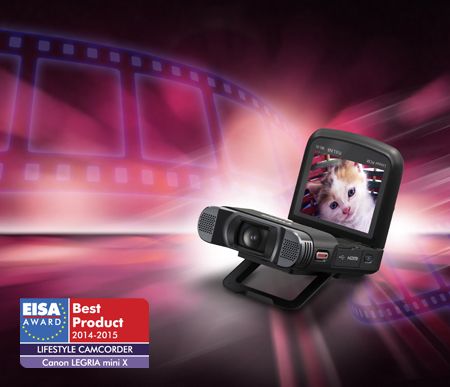 The second generation of this small‐scale camera takes Canon's original innovative concept even further. The LEGRIA mini X is multi‐talented, with the rotating touchscreen display ideal for taking video 'selfies', the adjustable stand allowing the camcorder to be placed on any surface, and the ultra‐wide‐angle 170‐degree lens capturing all the action. Full HD video (25p or 50i) is delivered by Canon's F/2.8 lens and 1/2.3-type, 12.8-megapixel CMOS sensor in both MP4 and AVCHD codecs, together with uncompressed stereo LPCM audio from the internal microphone. Generous connectivity includes a 3.5mm jack for an external mic, headphone terminal, plus mini HDMI, mini USB and Wi‐Fi, allowing easy transfer of files. And with the latter, the LEGRIA mini X can be operated wirelessly from a smart device. Genuinely flexible, this is a perfect partner for your everyday adventures.
EUROPEAN HT RECEIVER 2014-2015
Pioneer VSX-924
A home theatre receiver that offers excellent value, Pioneer's VSX-924 is packed with up-to-date technologies, providing enthusiasts with HDMI 2.0/4K compatibility with 18Gbps bitrates and 4:4:4 colour sampling. This potent video stage is matched by Pioneer's signature sound. Advanced Energy Direct amplification (7 x 105W) and audiophile D/A circuitry – including a sophisticated ESS SABRE DAC – ensure multichannel movie soundtracks are rich and detailed. For music fans, the VSX-924 supports numerous file formats, even DSD, and connective options include both AirPlay and Bluetooth, plus full DLNA 1.5 compatibility. Meanwhile, the iControlAV5 app for tablet PCs and smartphones (iOS and Android) streamlines operation. An inspired product that delivers masses of high-end entertainment at a truly affordable price.
EUROPEAN HT SOUNDBAR 2014-2015
Focal Dimension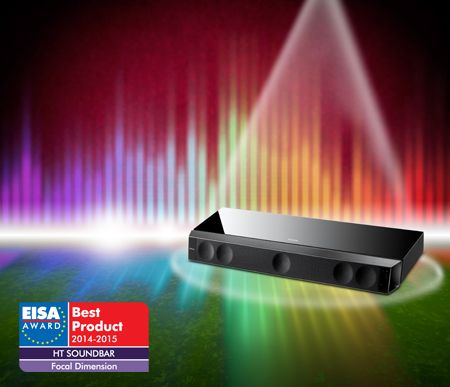 When designing its premium HDMI 2.0-equipped soundbar, Focal naturally began with the drivers, producing a full-range wide-dispersion speaker just 3.6cm deep. The Dimension soundbar includes five of these ultra-thin drivers coupled to a 6 x 75W class D amplifier. Low frequencies up to 200Hz are mono reproduced by all the speakers except the center channel, with a bass reflex port tuned to 65Hz. The additional sixth amp can be used to power the optional external dual-driver subwoofer that integrates with the soundbar to form a soundbase design, and brings an even more impactful bass ideal for movie soundtracks and big orchestral pieces. Advanced DSP optimises the Dimension's performance to the listening environment, with phase and delay controls helping to control the 5.1 audio. And when you don't fancy a movie, the Dimension can also function as a direct music player via its AUX input and optional Bluetooth aptX connection.
EUROPEAN HT SOUNDBASE 2014-2015
LG LAB540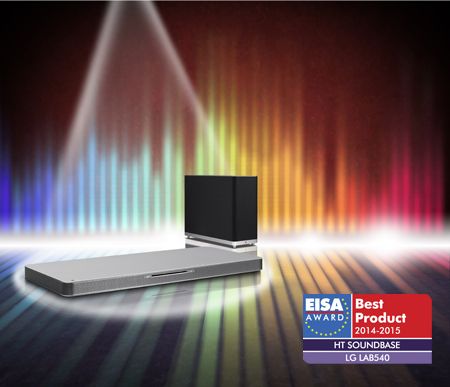 Not only is LG's LAB540 a slim soundbase speaker that fits neatly beneath a TV, it is also a complete home theatre 4.1 system, offering a 3D-compatible Blu-ray player, Smart TV functionality and audio playback. This king of convergence packs four speakers (40W per channel) into its main unit, joined by a wireless 160W subwoofer to ensure a deep, bass-rich performance.
An HDMI port and an optical audio input are provided for external connections, while networking with mobile devices is possible via DLNA, Wi-Fi, Wi-Fi Direct and Bluetooth. Analogue sources can also be connected via the 3.5mm jack, and drives and other mobile devices are supported through the USB port. With audio compatibility extending to popular formats such as AAC, FLAC and DTS-HD Master Audio, convenient control via LG's dedicated app and headphone listening courtesy of the Private Sound feature, the LAB540 is a remarkable all-in-one solution.
EUROPEAN HT SOLUTION 2014-2015
Philips Fidelio E5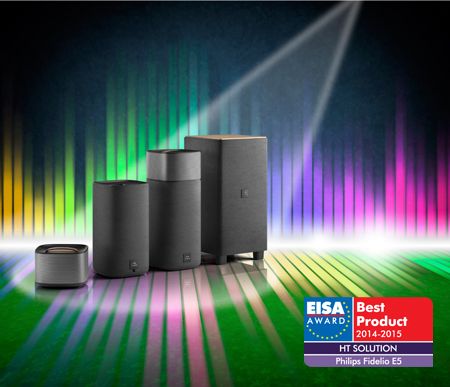 With its detachable wireless speakers, the Philips Fidelio E5 goes a step beyond a traditional home theatre solution, offering consumers the ability to switch effortlessly between normal stereo and a 4.1-channel surround experience. Switching is simple – just a matter of removing the two rear speakers from the top of the stereo cabinets and placing them in the surround positions. When reverting to two-channel playback, the speakers re-charge their batteries. The inclusion of aptX Bluetooth streaming, Dolby Digital/Pro-Logic II decoding and dual HDMI inputs transforms the Fidelio E5 into a versatile home theatre hub, and the performance from its soft dome tweeters, full-range drivers and separate wireless subwoofer is as accomplished with music as it is with movie and TV material. And not only does the E5 sound good – it's also beautifully made.
EUROPEAN HT HIGH END 2014-2015
Yamaha CX-A5000/MX-A5000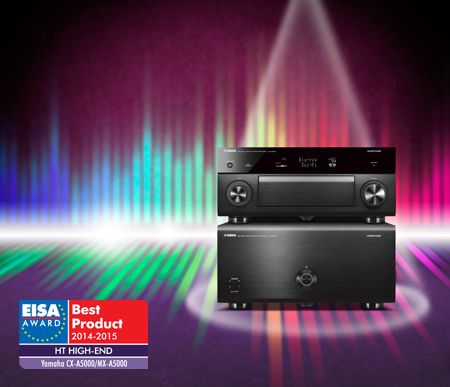 Yamaha's flagship AV pre-/power amplifier combination from its AVENTAGE range features an 11.2-channel, 4K-compatible processor that offers state-of-the-art connectivity and all the features the serious home theatre fan could want, plus a heavyweight 11 x 150W power amp. The two separates, both of which employ rigid vibration-damped chassis, hook up via balanced XLR or cinch connections. In tandem they are exhilarating and able to enliven even the dullest-sounding speakers. The CX-A5000's parametric equaliser produces superb room correction, including extensive bass management, with all eleven channels individually assignable to suit a variety of configurations. Meanwhile, the MX-A5000 utilises its discrete amps to deliver astonishing levels of power. Overall, Yamaha's CX-A5000/MX-A5000 pairing makes a superb choice for a high-end home theatre.
European Loudspeaker System 2014-2015
Bowers & Wilkins 683 S2 Theatre
Ever since the first 600-series loudspeakers were launched in 1995, B&W's most popular range has continued to be defined by its application of innovative technologies. The new 600 Series is no exception with all its models benefiting from the latest generation of woven Kevlar bass/mid cones that saw their debut some 20 years ago. In the slim 683 S2 floorstanders these Kevlar units are supplemented by a pair of aluminium bass drivers while the entire range of 683 S2, smaller 686 S2 wall-mountable surrounds and impressive HTM61 S2 centre speaker all feature B&W's latest decoupled double-dome aluminium tweeter. While the 683 S2 floorstanders would grace any high quality stereo set-up, in combination with the 686 S2, HTM61 S2 and ASW610XP subwoofer they make for a glorious multichannel speaker system.
EUROPEAN ON-WALL LOUDSPEAKER SYSTEM 2014-2015
DALI RUBICON LCR
Part of the Danish brand's five-strong RUBICON series, this full-range on-wall speaker features a version of the high frequency module first heard in the company's EPICON line. This sees a 29mm soft dome tweeter allied to a 17x45mm ribbon tweeter, just 1mm thick, this hybrid module being 'rotatable' when used as centre-channel in a bid to disperse sound around the room and so avoid the traditional listening sweet-spot. A 16.5cm wood fibre cone takes on bass duties while two hidden bass-reflex ports running up the rear of the cabinet boost lower frequencies. A stylish and flexible speaker (it can also be used on a stand or shelf), the RUBICON LCR is a persuasive one-stop solution for both stereo and multichannel sound.
And the rest of the awards...
Expert Group Hi-Fi
EUROPEAN STEREO SYSTEM 2014-2015
Marantz SA8005/PM8005
EUROPEAN DIGITAL SOURCE 2014-2015
Sony HAP-Z1ES
EUROPEAN HI-FI HEADPHONE 2014-2015
OPPO PM-1
EUROPEAN HIGH-END AUDIO 2014-2015
KEF Reference 5
EUROPEAN HIGH-END AUDIO SOLUTION 2014-2015
Avantgarde Acoustic ZERO 1
EUROPEAN USB DAC 2014-2015
ASUS Essence III
EUROPEAN ANALOGUE SOURCE 2014-2015
Pro-Ject Xtension 9 Evolution Superpack
EUROPEAN COMPACT HI-FI SYSTEM 2014-2015
JBL Authentics L16
EUROPEAN MULTIROOM SYSTEM 2014-2015
Samsung M7
EUROPEAN HI-FI ACCESSORY 2014-2015
iFi nano iDSD
Expert Group Photo
EUROPEAN CONSUMER DSLR CAMERA 2014-2015
Canon EOS 1200D
EUROPEAN ADVANCED DSLR CAMERA 2014-2015. PENTAX K-3
EUROPEAN PROFESSIONAL DSLR CAMERA 2014-2015
Nikon D4s
EUROPEAN CONSUMER COMPACT SYSTEM CAMERA 2014-2015
Olympus OM-D E-M10
EUROPEAN ADVANCED COMPACT SYSTEM CAMERA 2014-2015
Fujifilm X-T1
EUROPEAN PROFESSIONAL COMPACT SYSTEM CAMERA 2014-2015
Sony Alpha 7R
EUROPEAN COMPACT CAMERA 2014-2015
Sony Cyber-shot RX100 III
EUROPEAN ADVANCED COMPACT CAMERA 2014-2015
Panasonic LUMIX DMC-FZ1000
EUROPEAN TRAVEL COMPACT CAMERA 2014-2015
Panasonic LUMIX DMC-TZ60
EUROPEAN CONNECTED CAMERA 2014-2015
Samsung NX30
EUROPEAN DSLR LENS 2014-2015
Sigma 50mm F1.4 DG HSM [A]
EUROPEAN DSLR ZOOM LENS 2014-2015
Tamron 16-300mm F3.5-6.3 Di II VC PZD
EUROPEAN DSLR TELEPHOTO ZOOM LENS 2014-2015
Tamron SP 150-600 mm F5-6.3 VC USD
EUROPEAN COMPACT SYSTEM LENS 2014-2015
Fujinon XF56mmF1.2 R
EUROPEAN COMPACT SYSTEM ZOOM LENS 2014-2015
Olympus M.ZUIKO DIGITAL ED 12-40mm F2.8
EUROPEAN PHOTO ACCESSORY 2014-2015
Manfrotto MT055CXPro4
EUROPEAN SMARTPHONE CAMERA 2014-2015
Samsung Galaxy K zoom
Expert Group Mobile Devices
EUROPEAN ADVANCED SMARTPHONE 2014-2015
LG G3
EUROPEAN CONSUMER SMARTPHONE 2014-2015
Huawei Ascend P7
EUROPEAN HEADPHONE 2014-2015
AKG K845BT
EUROPEAN TABLET 2014-2015
Sony Xperia Z2 Tablet
EUROPEAN MOBILE AUDIO SYSTEM 2014-2015
Harman Kardon Esquire Mini
EUROPEAN SMARTPHONE CAMERA 2014-2015
Samsung Galaxy K zoom
Expert Group In Car-Electronics
EUROPEAN IN-CAR HD MEDIA PLAYER 2014-2015
Audison bit Play HD
EUROPEAN IN-CAR NAVI-MEDIA SYSTEM 2014-2015
Pioneer AVIC-F60DAB
EUROPEAN IN-CAR AMPLIFIER 2014-2015
MOSCONI GLADEN D2 100.4 DSP
EUROPEAN IN-CAR SPEAKER SYSTEM 2014-2015
Rainbow GL-C6.2
EUROPEAN IN-CAR SUBWOOFER 2014-2015
Morel ULTIMO 10 Titanium
EUROPEAN IN-CAR PREMIUM UPGRADE 2014-2015
Alpine X800D-ML
EUROPEAN IN-CAR INTEGRATION 2014-2015
Audison AP8.9 bit
EUROPEAN IN-CAR HIGH-END COMPONENT 2014-2015
Ground Zero GZPC 163SQ-LTD

SPONSORED VIDEO

SPONSORED VIDEO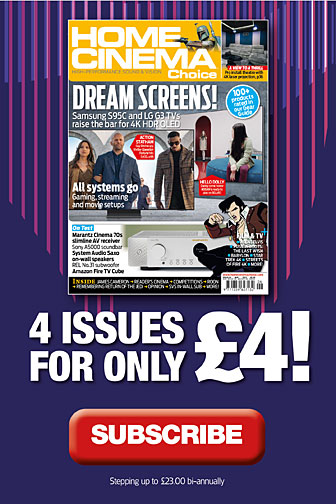 Home Cinema Choice #332

is on sale now, featuring: Samsung's 8K flagship; Anthem AVM 90 processor; B&W 800 Series Diamond; LG smart projector; Hollywood box office bombs; Hitchcock 4K; and more
Want to see your home cinema system featured in the pages of HCC? Click
here
for more info.