Yamaha RX-A3010 review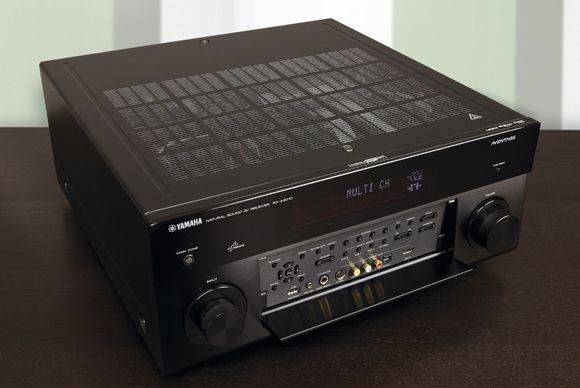 Top of the line 9.2-channel Aventage AVR sets new standards for advanced DSP
The Aventage range represents the current high-end in AVR design from Yamaha. Combining bomb-proof build quality with brilliant DSP, they are arguably the most exciting new home theatre arrivals from the brand since the launch of the outrageously over-specified RX-Z11 THX battle-cruiser back in 2008.
Top of the line is the £2,000 Aventage RX-A3010 auditioned here. This 9.2-channel champ is a sumptuous beast with enviable reserves of power. Ostensibly, it can call on 150W-per-channel (into 8Ohms), more than enough to tame the rowdiest Hollywood movie. In practice, of course, you'll never get close to using that much juice, but it's good to have it in reserve.
Aside from the familiar pleasures of living-room cinema, the RX-A3010 promises audiophile grade two-channel performance, comprehensive home networking, USB connectivity and even Bluetooth convenience (via an optional dock). Basically, whatever you listen to and wherever you keep it (be it on a mobile, disc or NAS), Yamaha's flagship AVR is equipped to cope.
Get connected
Design-wise, the receiver is conventional but striking. Volume and input dials straddle a pull-down fascia flap on an aluminium front panel. Here you'll find a comprehensive bank of quick connections, including USB, HDMI and digital audio. There are even S-Video and composite legacy inputs should you ever want to hook up that old Sega Megadrive.
Back-panel connectivity is outstanding, with no fewer than seven HDMI inputs and two HDMI outs, which can be driven simultaneously should you feel the need to watch a movie in two different rooms. There's also a quartet of phono AV, component video and stereo audio slugs, plus seven digital audio options, a full set of multichannel audio inputs (most likely to accommodate a Super Audio CD player) and matching pre-outs. I doubt you'll find anything significant that you can't plug in.
All the HDMIs are, naturally, 3D compliant, and every video connection, no matter how low-resolution and skanky the source, can be up-converted for delivery over HDMI. Video processing is handled by a Vida processor from the silicon experts at HQV.
Additional control options come in the form of two 12V triggers (to sync connected kit, such as a Yamaha sub, for example), and an RS-232 terminal for pro integrators. The RX-A3010 is both Control4 and Crestron certified, and offers a browser-based web control interface when networked, so custom installers should find it a snap to bring under system management.
There's one more operational nicety: the RX-A3010 allows input selection while in HDMI Standby mode, so you can use it as a dumb switcher for sources without even needing to power it up.
Taking control

Two remote controls are supplied. The main zapper (pictured, right) is, inevitably, a little daunting, but on the plus side it's backlit. A simpler, credit-card style controller is also bundled for general use. There's a free Yamaha AV Controller app for iOS and Android if you're averse to buttons altogether.
When it comes to channel configuration, there's no shortage of options. The Aventage supports up to nine loudspeakers and two subwoofers, with provision for more if you supply additional amplification. When not running all channels discretely, you can bi-amp the front stereo pair, or run multiroom stereo to three other locations.
Basic installation is aided by the brand's improved YPAO (Yamaha Parametric room Acoustic Optimiser) calibration system. Just plug in the supplied mic and follow the onscreen prompts for single or multiple room measurements. While there's plenty of provision for manual tailoring of levels and distances, the YPAO does such a cracking job, you'll probably not need to bother. Calibration can be checked against a high-res image of your speaker layout. In my listening room, the YPAO correctly identified all speakers and their distances.
Input assignment is generally straightforward, with the exception of probably one of the most important sources for UK users – Sky.With any HDMI input, the RX-A3010 automatically defaults to whatever audio is piggybacked. Unfortunately, Sky does not deliver multichannel sound via HDMI; instead, you're required to lace up a separate digital audio feed from the satellite receiver. Getting the AVR to recognise this will almost certainly result in some head-scratching, as Yamaha has turned what should be an obvious audio select solution into a bit of an Easter Egg hunt.
What you actually need to do is select Option from the main remote. This calls up a secondary menu, which at first glance appears to offer little help in de-selecting that HDMI audio. But scroll down past the bottom of the visible window, to reveal a solitary, hidden Audio Select control. It's this which allows you to make the digital audio input the primary sound source for your Sky HDMI feed, which in turn brings with it Dolby Digital 5.1 goodness.
The route to this adjustment isn't even clear in the supplied manual; you'll need to fish around in the small print. My advice to Yamaha is at the very least to move the Audio Select option into the visible window of the Option screen – is Volume Trim really more important? Of course not!
In true Yammy tradition, there's provision for additional height/presence speakers front and rear. However, realising that for many of us adding additional speakers is akin to filing for divorce, virtual sound processing is on hand to achieve much the same effect. This VPS (Virtual Presence Speaker) processing can create an almost holographic 3D audio bubble.
Signal processing has long been a Yamaha strength, and the RX-A3010 marks an evolution of the brand's Cinema DSP tech. Thanks to a higher capacity chipset, more data can be stored and crunched than ever before. Not only does this mean better precision for acoustic measurements, it also allows Cinema DSP HD3 processing to extend the height/width of any virtual soundfield.
Performance
For this audition, I ran the RX-A3010 in a fairly standard 7.2 configuration. The optional VPS system was then engaged, as part of the general DSP suite, to create additional ambience.
There's a wide variety of signal processing flavours on offer, grouped by genre (Movie Theatre, Classical Entertainment, Live/Club). For example, Movie Theatre comes with six treatments (Standard, Spectacle, Sci-Fi, Adventure, Drama and Mono) are all of which alter the soundfield, making it wider, tighter etc.
Not that the RX-A3010 needs DSP devilry to excite. This AVR offers wide, pinpoint imaging, a tuneful mid-range and thumping depth. Cliff Martinez's pulsating synthi-pop DTS-HD MA soundtrack from Drive (Blu-ray), is delivered with mesmerising power. The AVR has a mellow, honeyed character. Contrary to what you might expect, it's not at all clinical. This tonality may well be down to the fact that the RX-A3010 has been UK-tuned, extremely unusual for a big Japanese AVR.
The process, which involves hundreds of hours of listening tests, followed by live trials in UK demo rooms and then engineering revisions based on the results, was focused on the AVR's two-channel performance. And this model is astonishingly good with stereo sources; there's a musicality here which recalls Yamaha's A-S500 stereo amp. But the process has influenced the entire character of the receiver.
That said, the RX-A3010 is evolution rather than revolution. Beneath the lid are no big surprises. Aside from some changes to the analogue circuitry – including a bulked up power transformer – there's not much here that breaks the mould.
What is notable is a refinement in construction, to better minimise interference and vibration. This AVR is artful – literally. There's a centralized fifth foot on the bottom to dampen vibration from the power transformer. Yamaha calls this an Anti Resonance Technology (A.R.T.) Wedge, and it's apparently related to a similar technology utilised on the brand's guitar line.
There's also a symmetrical power amp layout and H-shape frame with double-bottom construction. Both conspire to aid rigidity.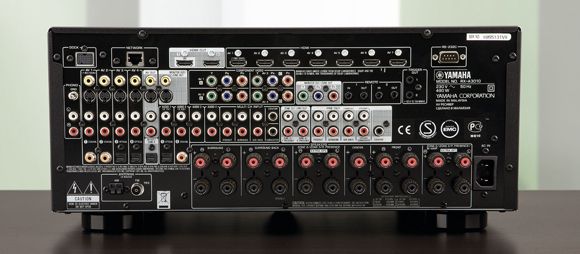 Network control
It goes without saying that any receiver now covers all the required audio formats for Blu-ray. What also defines an AVR these days is networking prowess, and with the RX-A3010 compliancy is wide from both local USB and across a LAN.
My RX-A3010 successfully played MP3, M4A, WMA, WAV and FLAC 96/24 files, with album art when provided (there's no support for video). For the most part, the unit's proprietary MP3 Enhancer works well, adding weight to tracks that otherwise sound perilously thin. It's a little indiscriminate in that it can make some tunes sound overtly thumpy, but used on the right material it's definitely welcome. Employ it on a case by case basis.
Of course, there's also an FM tuner, but it's difficult to imagine it'll get much use given that there's internet radio onboard. Offering huge choice, convenient playback and often better quality than FM, 'net radio is a game-changer when it comes to causal listening. The channel choice is unfeasibly huge, but thankfully you can bookmark services of interest.
Unfortunately, there are a couple of glaring omissions from the feature spread: Apple AirPlay and Spotify. But the RX-A3010 does counter with Napster. Your view on this will depend on personal allegiances.
Obviously with such huge power reserves, the RX-A3010 could prove somewhat expensive to run. To counter that, the brand has built in an automatic Power Off mode which can put the AVR to sleep in four, eight or 12 hours. In HDMI Standby mode, it sips just 2.7W.
Conclusion
It's hard not to fall just a little bit in love with Yamaha's RX-A3010. Ideally positioned to embrace network audio, but equally well equipped for Blu-ray and two-channel, it's an AVR with guaranteed longevity. Personally I would have liked to see AirPlay, not to mention THX post processing, but these omissions aren't deal-breakers.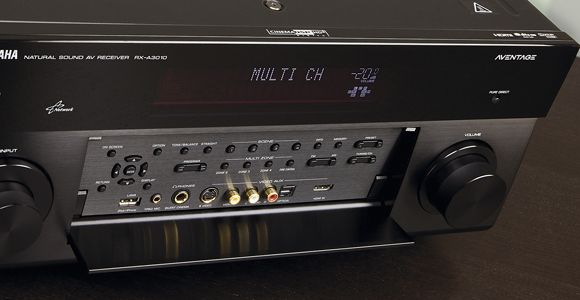 ---
HCC VERDICT
Yamaha RX-A3010
Price: £2,000 Approx
Highs: Superior build; entertaining height/rear DSP signal processing; nuanced multichannel performance; nifty network audio functionality
Lows: Unnecessarily obtuse audio selection mode; no AirPlay; no THX certification
Performance: 5/5
Design: 5/5
Features: 4/5
Overall: 5/5
---
Analysis
GUI: Navigation is via a vertical icon bar which allows quick access to the various settings and sub-menus
Power consumption: When ticking over waiting for action, we measured a consumption of 65W. Switch it HDMI Standby mode and it drops to 3W
Killer feature: Yamaha's DSP expertise means the RX-A3010 has sound modes worth experimenting with
---
Specifications
Dolby Digital TrueHD: yes
DTS-HD Master Audio: yes
THX: no
Multichannel audio: yes 9 x 150W
Multichannel input: yes 7.1 phono analogue inputs
Multiroom: yes three additional zones, with composite and component video option
Connections: 8 x HDMI v1.4 inputs; 2 x HDMI v1.4 outputs; 4 x component inputs; 1 x output; 4 x composite video inputs; 4 x S-Video inputs; 7 x digital audio inputs (4 x optical and 3 x coaxial)
Video upscaling: yes to 1080p
Dimensions: 435(w) x 192(h) x 467(d)mm
Weight: 19.9kg
Features: Ethernet jack; Optional Bluetooth and iPod docks; DLNA support for WAV, MP3, WMA, M4A, FLAC 96/24; internet radio; USB port for portable audio players and flash drives; YPAO Reflected Sound Control sound optimisation with angle measurement via microphone; SCENE PLUS with 12 SCENE choices plus Zone SCENE; CINEMA DSP HD3; Dolby TrueHD, DTS-HD Master Audio decoding; HQV Vida video processing; 2 x 12V trigger; RS232

SPONSORED VIDEO

SPONSORED VIDEO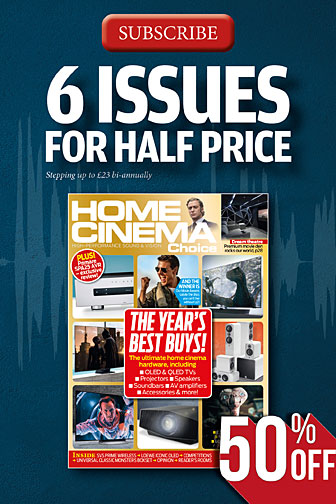 Home Cinema Choice #332

is on sale now, featuring: Samsung's 8K flagship; Anthem AVM 90 processor; B&W 800 Series Diamond; LG smart projector; Hollywood box office bombs; Hitchcock 4K; and more
Want to see your home cinema system featured in the pages of HCC? Click
here
for more info.