Venom Ultra HD Blu-ray review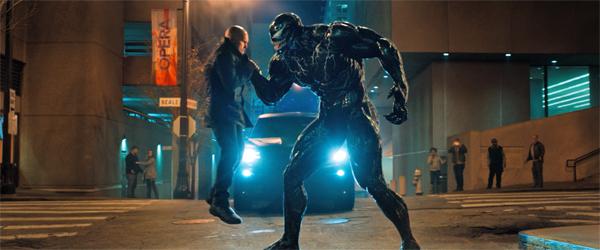 If you've seen
Spider-Man 3
then you'll be familiar with Venom, but if not, he's a head-eating alien symbiote that takes over journalist Eddie Brock. Due to various rights issues this new film doesn't include
Spider-Man
, so instead you get a Venom origin story that concentrates on Brock and his relationship with the symbiote – basically 'one man and his parasite'.
Tom Hardy plays Brock as a man with a split personality, although in this case one of the personalities can turn into a giant monster. Hardy also voices Venom, and the interaction between them provides many of the film's best moments. However, the schizophrenic nature of the lead character also applies to the overall tone of the film.
Venom switches from dark comedy to comic book movie to gritty drama, but since it can't commit to one particular genre the result is unsatisfying. The plot is weak, the supporting cast largely forgettable, and the action set-pieces uninspired. Despite all this the film was a huge hit around the world, and an end-credits scene sets up the inevitable sequel.
Picture: Venom melds with Ultra HD Blu-ray to deliver a 4K disc that goes a long way towards making up for the film's shortcomings.
The image is presented in 2.40:1, and although the film was shot using 3.4K and even 8K cameras, the post-production involved a 2K digital intermediate. However there is a definite improvement in resolution when compared to the 1080p Blu-ray encode, and while the difference isn't huge, computer screens, close-ups and city shots all deliver more fine detail.
Overall this is a first-class transfer and thanks to the film's digital capture, the image is sharp, clean, and free of any unwanted artefacts. The HDR grade includes Dolby Vision, and while the deliberately gritty photography doesn't really lend itself to flashy pyrotechnics, the overall look of the image remains suitably dynamic.
Much of the action takes place at night, and the city lights reflect off the wet streets with a pleasing realism. The same is true of Venom himself, and the alien's shiny black skin and contrasting white veins really pop off the screen. The greater latitude offered by HDR also retains more detail in the shadows, while blacks are deep and free of crush.
The daytime scenes are also nicely rendered, with bright objects and clouds delivered without any loss of detail in the highlights. The film doesn't really go for big primary colours, but there is a subtlety and depth to the palette that isn't present on the 1080p disc. Venom is a great example of just how good a 2K upscale can actually look.
Picture rating: 4.5/5
Audio: The film's superb Dolby Atmos soundtrack is about as subtle as Eddie Brock's pumped-up alter-ego. It makes full use of the immersive possibilities of today's object-based audio formats, with the additional channels allowing for more precise steering of effects, whether that's simple ambient noise in a restaurant or bullets ricocheting around you.
In one memorable action scene Eddie escapes on a motorbike and is chased by a number of SUVs. This sequence not only employs all the channels, but also delivers some delicious bass as vehicles smash into each other. In fact, the mix makes prodigious use of low-frequency effects, whether that's to hammer home the size and strength of Venom, or to give added impact to a climactic punch-up.
There's a pleasing clarity and width to the audio, with the music effectively spread across the front soundstage and mid-range and higher frequencies nicely rendered. Dialogue always remains clear and focused, even when Hardy is in full mumble mode. The sound designers also cleverly use the overhead channels to put you inside Eddie's head when Venom is talking to him.
Audio rating: 5/5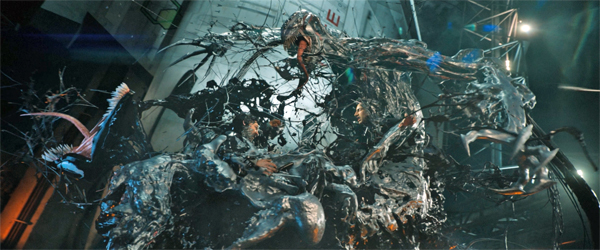 Extras: The only extra on the 4K disc is a sneak peek at the superior Spider-Man: Into the Spider-Verse, which is also tacked on to the end of the film to pad out its relatively short running time (the film itself only clocks in at around 95 minutes, but a mid-credits scene and the …Spider-Verse push up the running time to around 110 minutes). All other extras are on the Full HD disc, and although the packaging makes a big deal about the 'Venom Mode' it's really just a glorified trivia track.
There are six featurettes that run about an hour in total and do a good job of explaining the history of Venom, as well as covering the film's production and effects. Rounding out a solid set of extras are three short deleted and extended scenes, a number of Pre-Vis sequences, and a pair of music videos (one from Venom and one from Spider-Man: Into the Spider-Verse).
Extras rating: 3.5/5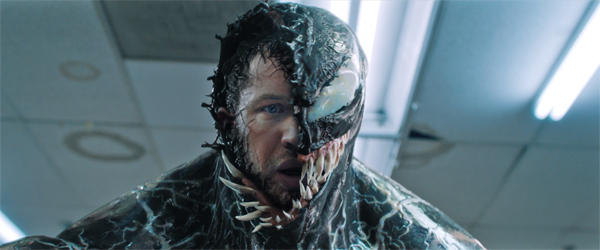 We say: Despite a tone as schizophrenic as its lead character and some mediocre comic book action, this 4K disc is saved by excellent picture and sound.
Venom, Sony Pictures, Ultra HD Blu-ray & All-region BD, £30
HCC VERDICT: 4/5
Click

here

to see what's inside Home Cinema Choice 306.

Reviews of Optoma and Epson 4K projectors, Philips' OLED934 TV, and Arendal's entry-level subwoofer; a roundup of classic movies on UHD Blu-ray; our annual gift guide; and a whole lot more...
Want to see your home cinema system featured in the pages of HCC? Click
here
for more info.