Sony STR-DA5700ES review
Sony lays claim to the upper end of the AV receiver market with this imaginatively specified flagship.
The STR-DA5700ES is an important product for Sony's home entertainment division. Not only does it represent a concerted effort to retake ground lost at the upper end of the AV market, it comes with refinements that we've not seen before, and some bold new ideas. This is Sony reinventing home theatre for the network era.
The unit itself inherits familiar ES family genes. It has that characteristic fascia ledge used to balance way too many buttons, and sports no fewer than four knobs and two disguised input wells. Hidden behind one are phono AV inputs, USB and a calibration mic input, while in the other resides an HDMI input. Minimal it is not.
But the receiver's fresh thinking is immediately obvious on the back panel. This is the first AVR to offer a 10/100 Ethernet switch - a bank of four ports makes it wonderfully simple to extend your LAN to neighbouring networked devices. This means that in addition to getting the AVR online, you can connect a Smart TV, Blu-ray and games console via the STR-DA5700ES. This is highly convenient. I usually run a 4- or 8-port switch in rooms with connected hardware, and this saves the bother. Those with high-speed Gigabit networks may be disappointed that this is a 10/100 switch, but for most this won't be an issue.
The switch is offered in lieu of Wi-Fi, which is built into the cheaper STR-DN1030. High-end audio sensitivities preclude adding wireless here - but in my book a switch is infinitely preferable. Of course, you'll need to ensure it remains active when the AVR is shutdown, by toggling the appropriate menu setting, or all your connected kit will lose 'net access.
Also new on this model is a 96kHz/24-bit two-channel PC USB input for those who favour laptops and PCs as a sound source. More conventionally, there are five HDMI inputs, plus two outputs – ideal if you want to drive both a screen and a projector. A button to switch between them sits on the remote. You can route to either individually, or send signals to both simultaneously.
Other sockets include a quartet of optical digital audio inputs (compatible with 32, 44.1, 48, 88.2 and 92kHz), plus one output, and three coaxial ins (compatible with 192kHz). All video sources can be upscaled and output via HDMI at 1080p (but you can't down-route from HDMI to component). Two subwoofer feeds are provided.
The STR-DA5700ES also sports an RS232C port for service and control, an IR remote in/out and two 12V triggers. It comes with two remotes - a routine zapper and a simplified alternative.
Is this really an AVR?
Using the STR-DA5700ES feels quite unlike any Sony AVR before it. Indeed, you quickly forget you're using an AV receiver at all. Sony has designed a user interface which breaks ground in ways that its rivals haven't yet achieved, yet always seems logical and intuitive to use.
Highly graphical, the new UI navigates via vertical tabs, labelled Watch, Listen, Favourites, Easy Automation, Sound Effects and Settings. Click Watch and you're taken to your video sources, select Listen and you're shown audio. All are depicted with hi-res icons. These divisions seamlessly integrate local connected hardware, network content and online services. It takes no time at all to acclimatise and I soon forgot I was rummaging around a hunk of hi-fi. It's more akin to driving a Smart TV.
This is emphasised by the fact that the AVR assimilates nearly all the key Sony Entertainment Network streaming video services. YouTube, DailyMotion, LOVEFiLM and a host of other channels are all on tap - although the BBC iPlayer is conspicuous by its absence.
The receiver's graphical polish is also put to good use during the setup process, where Sony's latest auto-calibration system, DCAC, makes short work of measuring and optimising a listening room. It took only a few chirps to measure the distance of all my speakers and apply its proprietary room-optimising algorithms. The end result is a lithe, musical receiver with taut, deep bass.
As befits a next-gen entertainment hub, Sony's STR-DA5700ES can render video and audio content across a LAN and from local USB - most AV receivers embrace audio but draw the line at video content. Bizarrely, its file support is better than that available on the brand's Bravia TVs. The AVR identified all my NAS devices (yes, I have more than one) and PCs, and I was soon watching MKV-wrapped TV played across the network. The unit was equally at home with MOV, MP4 and (some) AVI files.
It also does a surprisingly good job of enhancing the quality of compressed audio from these files, thanks to its post-processing modes.
Audio support is equally broad: WAV, FLAC, AAC, MP3 and WMA all play across a network. This promiscuity is mirrored by the AVR's USB media reader. However, the STR-DA5700ES can't see or display album art from either local or network sources - a shame given how visual the rest of the GUI is.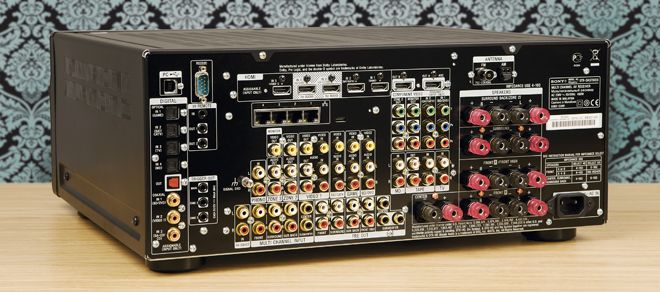 Movie rocker
Sonically, the STR-DA5700ES is a knockout. For the most part, the receiver was used in A.F.D Auto mode (Auto Format Direct), which doesn't impart any processing to content - and the result was exquisite imaging with multichannel content, not only across the front soundstage, but to the side and rear.
Somewhat uniquely at this price point, Sony's AVR is only a seven-channel design – it can be configured as 5.1 with two front height channels or, more classically, two rear backs. It is possible to run a 9.2 configuration by connecting the Pre Out Surround Back or Pre Out Front Height jacks to an external power amp.
I auditioned with four speakers to the rear. Height processing comes in the form of Dolby Pro-Logic IIz and DTS Neo:X, but my room just doesn't have the ceiling height for either to be effective. Anyone thinking of building a cinema room these days should certainly factor extra headroom into the equation. This is an idea that's not going to go away.
Transient delivery is sensational. Battle Without Honor or Humanity (Blu-ray) is a classic test of dynamics and this Sony wasn't found wanting. The Kill Bill theme was delivered with whip-crack attack; sledgehammer riffs kept tight for maximum damage.
Onboard power is rated at 120W per channel. This translates to plenty of gas in the tank, and at no point did the AVR feel as though it was running on empty. Of course, not many of us have the luxury of unleashing an AVR at full volume - it can be pretty antisocial, not to mention structurally dangerous. This is where a piece of Sony wizardry - sound optimisation - comes into its own. Essentially, it maintains the weight and dynamics of a soundtrack when it's played at lower than reference volumes. I've previously seen a sound optimiser on the brand's cheaper STR-DN1030 AV receiver, but was left unimpressed. The implementation here sounds completely different, and it works astonishingly well. Shave 10dB off your playback volume and (after a brief period of psycho-acoustical adjustment) it rebalances the entire soundstage. For late night, or social listening, it's a must-have.
Indeed, there are many excellent post-processing modes onboard this receiver, most notably HD D.C.S (Digital Cinema Sound). Based on studio-measured soundstage data, it aims to recreate the ambience of real-world theatres, and is available in three flavours: Dynamic, Theatre and Studio. The former is designed to create the impression of a large cinema, while Theatre brings in the ambience of a dubbing stage. Studio reduces local reflections and lifts dialogue. All are interesting, but I found myself favouring Theatre time and again.
Transformers: Dark of the Moon, played from a Sky+HD box in 5.1, gained scale and weight with HD D.C.S. engaged. The receiver played the movie as if it was a heavy metal concert - once you start to pick out the electric guitar licks lurking within the soundmix, the STR-DA7500ES will have you involuntarily air-guitaring whenever the Autobots kick ass.
Sky's transmission also transpires to be a good test of the amp's seven-channel DSP modes. Although the satcaster's broadcast is limited to 5.1, the movie was mixed in 7.1 and all the cues seem eager to be pulled out. The result is the sonic equivalent of upscaling.
Of course, the STR-DA5700ES really comes alive with Blu-ray and lossless audio. Running through Korean actioner War of the Arrows (Blu-ray), with its enveloping DTS-HD MA mix, reveals just how subtle its staging can be. While this amp relishes the opportunity to rip the air between each speaker apart, it's also at home with more atmospheric fare.
Other key soundfield treats prove to be the Berlin Philharmonic Hall and two True Concert Mapping modes. This is distinctly sophisticated sound processing.
Conclusion
Brands have been striving to reinvent the AVR for some time, with limited success. AirPlay and Spotify have been routinely tasked with handling the image makeover. But with the STR-DA5700ES Sony has refreshed the sector without recourse to either. Not only does this receiver sound fabulous, it embraces online content with more conviction than any AVR before it. The user interface is slick, the feature spread adventurous (and relevant), and most importantly, it sounds extraordinary. In the arena of high-end home cinema, this has just become the gladiator to beat. Unless you really need nine channels of amplification, of course...
---
HCC VERDICT
STR-DA5700ES
Price: £2,000 Approx
www.sony.co.uk
Highs: Integrated 4-port network switch; lean, muscular character; IPTV services; broad file support; superior post-processing DSP modes
Lows: Fussy design; runs hot; seven-channel only
Performance: 5/5
Design: 4/5
Features: 5/5
Overall: 5/5

SPONSORED VIDEO

SPONSORED VIDEO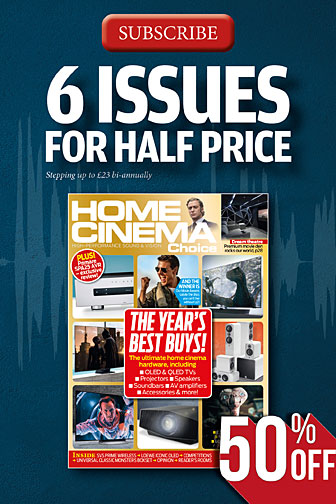 Home Cinema Choice #332

is on sale now, featuring: Samsung's 8K flagship; Anthem AVM 90 processor; B&W 800 Series Diamond; LG smart projector; Hollywood box office bombs; Hitchcock 4K; and more
Want to see your home cinema system featured in the pages of HCC? Click
here
for more info.