Pioneer SC-LX89 review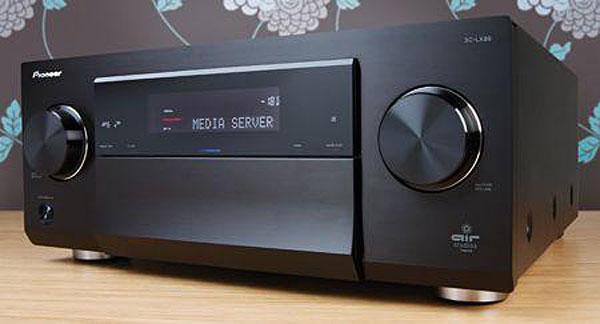 Pioneer is back on track with the DTS:X-ready SC-LX89, but it's a complex beast
With Dolby Atmos and DTS:X in its armoury, the Pioneer SC-LX89 is currently the brand's best-dressed AV receiver. No stone has been left unturned when it comes to advanced functionality. But is there more to this badass box than high-tech feature overload?
Yes, actually. And it's how it sounds. The SC-LX89 has serious performance chops. Up and running, you won't be able to tear yourself away from its sonic embrace.
Its predecessor, the SC-LX88, was respectable enough, but later rivals showed it up as something of a perfunctory listen. It just didn't quicken my pulse in the way a hefty home cinema amp should. This update is immeasurably more exciting. The more I used it, the more I wanted to use it. Whatever was amiss with the SC-LX88 has been put right here.
Choose your weapon
It's a versatile nine-channel design, with pre-outs for an 11-channel setup if you're lucky enough to have the space. The sheer variety of speaker configurations available is head-spinning. Out of the box, you can opt for Atmos 5.2.4 or 7.2.2, or 7.2 with second room stereo or bi-amped fronts – in fact, there are no fewer than 15 pattern presets to choose from, catering for every predilection. And if you can't accommodate a forest of speakers, the receiver also brags Virtual Speaker processing, to theoretically widen or extend the soundstage. This proved not as exciting as I hoped, as the phantom enclosures can't be used when the receiver is natively decoding multichannel sources. A compliant DSP mode is required.
Muscle, as usual, comes provided by a Direct Energy HD Class D amplifier. Pioneer quotes 220W-per-channel into 6 Ohms, and declares an ability to drive all channels simultaneously up to 850W. Hyperbole perhaps, but there's plenty of heft here. In my typically-sized home theatre room, the SC-LX89 had slam to spare.
Build quality is deliciously high, with an insulated dual-chassis design and anti-resonance (so-called 3D spaceframe) construction. A low-jitter 192kHz/32-bit ESS Sabre32 Ultra DAC (the ES9016) services all channels from deep within.
The SC-LX89 lays claim to HDCP 2.2 compatibility, but there's devil (and a modicum of idiocy) in the detail. Only HDMI inputs 1 and 2 are compatible with next-generation 4K content devices. HDMIs 3, 4, 5, 6 and 7 are not HDCP 2.2 compatible. And to make matters more infuriating, there's no logic to the input labelling. While the DVD input (HDMI 1) supports HDCP 2.2 there's no chance you'll ever need or be able to buy an HDCP 2.2-compliant DVD player. However, the Satellite input (labelled HDMI 2) isn't, even though this would certainly be HDCP 2.2 in a 4K home cinema system. From a user's point of view this is distinctly unintuitive, and my inner AV geek is irritated by the logic fail.
Similarly, there are seven HDMI inputs on the rear of the receiver, with an eighth on the front. Bizarrely though, the front input is labelled 5, while the back run skips from 4 to 6. A small point, but one which contributes to an air of casual user impenetrability.
Ease-of-use is a major reason why mainstream buyers have fallen out of love with AV receivers, yet the SC-LX89 makes no attempt to court newbies. You will need to get nose-deep into the instruction manual PDF if you want to drive it properly – on more than one occasion I was left scratching my head (and I've been using Pioneer AVRs for decades). Make no mistake, this is a complicated beast to tame. I think Pioneer could do with taking a leaf out of the Denon and Marantz usability book.
There is a highly graphical iControlAV5 app available for iOS and Android, but this merely presents the menus in a more attractive way. This app remains the quickest way to rename inputs, though.
Despite my grumbling, Pioneer has made some welcome changes to its user interface with the SC-LX89. Still dour of appearance (all greys, blacks and blues) there are now dedicated clusters for Network and Bluetooth, MCACC Pro calibration and System Setup. There's even an option to access receiver menus via a web browser. Wider system control is available through RS232 or a pair of 12V triggers – good news for custom installers.
Delving deeper
MCACC Pro calibration is nothing if not thorough, offering a deep interrogation of your acoustic environment and setup, including speaker phase and group delay characteristics. Once calibration is finished, you can take a much closer look at what the process has decided, from level and distance to standing wave correction and channel EQ. There's an adjustable X-Curve (to temper soundtrack brightness) and six memory slots to save subtle variations, perhaps to cater for different content or setups.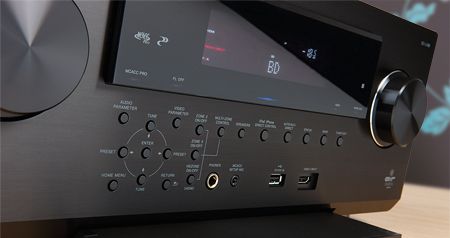 There's no doubt that MCACC Pro is extraordinarily clever; it seems to tweak the soundfield with a far more knowledgeable hand than many rival systems. It doesn't strip the life or energy from the box, like some manage. Of course, you can choose to manually set up the entire system, too.
In addition to its eight inputs, the amp has three HDMI outputs. The main two feed panel and projector, while a third delivers HD video to a second zone. Legacy connections include component and composite AV, twin digital coaxial and digital optical audio inputs, a phono (MM) turntable input and a USB-DAC (B type) for native playback of DSD sources. In addition to Ethernet, there's support for Wi-Fi, Bluetooth and AirPlay. Curiously, switching between Wi-Fi and wired caused the receiver to undertake a major reset which made the UI unavailable for an age (actually about a minute).
Once online, the Network button cycles through any connected DLNA media servers, as well offering Spotify Connect and 'net radio access. Over a network the SC-LX89 can play DSD 2.8MHz/5.6MHz content, while file support extends to MP3, WMA, WAV and AAC.
Something in the AIR
While THX post-processing may be AWOL, the SC-LX89 has been tuned and certified by London's AIR Studios, and claims improvements to the power supply and components over last year's range-topper. In use, it is tonally rich, with superb timbre-matching between channels, as managed by Pioneer's Full Band Phase Control. Even if you don't have matching speakers in the round, the receiver does a great job of unifying drivers.
The AVR has no problem with the shock and awe test offered by Unbroken. The opening sequence, in which American bombers are pounded by anti-aircraft fire as they take part in a raid over Japan, before being engaged by Zeros, is gratifyingly dramatic. As the bomb bay doors open, it's as if the sides of my listening room have peeled back; there's a sudden sense of open space before the detonations begin.

Violent transients are clearly the SC-LX89's bread and butter; big thunderous jolts rock the room, flak booming all around – above (it's an Atmos mix, after all), to the rear, across the L/C/R. After the bomber has dropped its payload, an aftershock ripples from the LFE. When a Zero strafes left to right, it flies closer and with far more menace than on Pioneer's previous AVR. The LX89 immerses you deeper in the action, providing a far more exhilarating ride. It's a smooth-mover, too: balancing dialogue, effects and score with considerable elan.
Straight from the retailer there's Dolby Surround (TrueHD and Atmos) and DTS Neo decoding available. The receiver is also ready for the DTS:X/DTS Neural: X firmware update as and when it lands – while Denon has pledged a release date, Pioneer wouldn't commit when I asked them. I doubt it can be that far off, though. Auro-3D isn't an option.
There are other DSP modes, of course, dubbed Action, Drama, Advanced Game, Sports, Classical, Rock/Pop, plus a couple of Eco options. These are actually not as contrived as you might imagine. The Action setting certainly didn't add any unwanted artefacts to Unbroken's dog fight, and maybe it even opened the airspace up a tad. It's difficult to tell for sure when you're cowering in the corner of the room, trying to avoid shrapnel.
The receiver also sounds spot-on with two-channel sources – an onboard audio upscaler will take any content and apply Hi-bit32 processing for 176.4kHz/192kHz 32-bit playback, thereby making full use of that Sabre DAC. Similarly, Hi-Bit24 upscaling works with multichannel Dolby Digital content. Playing Gravity in its non-music iteration (Blu-ray, DD5.1) proves a unique multichannel experience, with chatter breaking through from my room's rear right, and then emerging from points across the front soundstage. The Pioneer creates a sense of isolation and immersion that's extraordinary.
There's a bewildering selection of audio enhancements available, most of which work seamlessly in the background. To derive better audio from Bluetooth streams, you're offered an iteration of Pioneer's long-standing Auto Sound Retriever. Dubbed AIR, it claims to improve cadence and improve the S/N ratio of streamed tunes. There's also the brand's PQLS system on hand, which works with compatible Pioneer Blu-ray players to minimise jitter across HDMI. Even during the most innocuous of tasks it appears there's some level of science at play.
Video signal enhancements are available, too (which I generally choose to ignore), plus upscaling. When used with a 4K display, the AVR can up-rez 1080p content to 2160/60 with 4:4:4: colour. My advice, as always, is to see whether this results in an improvement over letting your screen do the work; don't automatically think it will.
Sonically rewarding
Pioneer has rekindled its musical mojo with the SC-LX89. This a bodacious, powerful performer boasting all manner of brilliant audio-moulding technology, all wrapped up in an elegant chassis. This isn't an unqualified recommendation, though. The fact that only two inputs are HDCP 2.2-capable could prove a significant deterrent to those looking to invest in a hub receiver with some degree of future expandability. And it's not an easy machine to master, either – you'll need time to learn exactly what the AVR can do, and how to do it.
Yet the sonic rewards are unquestionable when it's dialled in. Dynamic and powerful, yet capable of subtle nuance, this a proper heart-thumper of a home cinema receiver, not to mention a cracking two-channel listen with hi-res music sources. The SC-LX89 is one to audition sooner rather than later.

SPONSORED VIDEO

SPONSORED VIDEO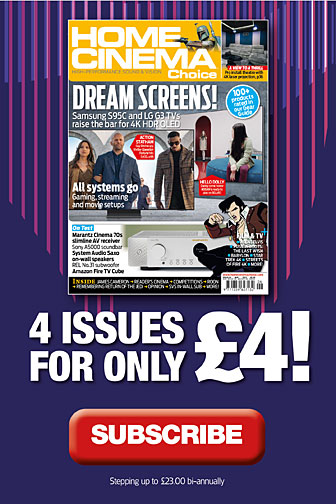 Home Cinema Choice #332

is on sale now, featuring: Samsung's 8K flagship; Anthem AVM 90 processor; B&W 800 Series Diamond; LG smart projector; Hollywood box office bombs; Hitchcock 4K; and more
Want to see your home cinema system featured in the pages of HCC? Click
here
for more info.