NAD Masters Series M17/M27 review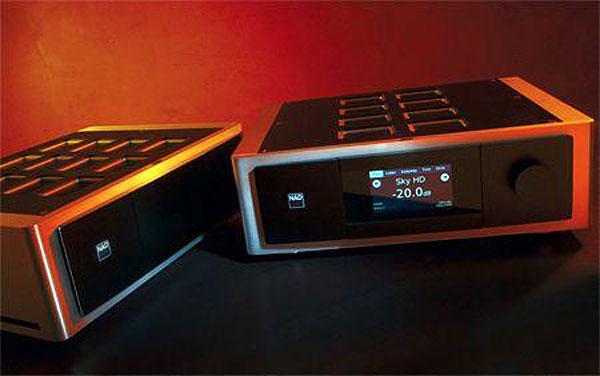 Sublime processor and power amp pairing makes a compelling case for investing in AV separates
For many years, the general perception of the Canadian brand NAD might best have been summed up as 'workmanlike.' Behind that rather prosaic grey livery, the engineering was solid, reliable and normally very effective but rarely did it cause a huge amount of excitement. This isn't to say there haven't been some great NAD products – there have been several, including the predecessors to the models on test here – but the brand was about worth rather than superficial excitement.
All of that seems to have gone out of the window of late. Even when NAD products are still grey, there is enough impressively radical technology to raise eyebrows and move NAD into a number of new categories, including streaming amps and USB DACs. And in the case of the Masters Series components, NAD has really gone to town. Wrapped in all new casework, NAD's flagship components are a technical tour de force that come dressed in a sharp suit. Many of the models in the range have a stereo focus but the M17 processor and M27 multichannel power amp are a no-holds- barred assault on high-end home cinema.
Small companies (or at least 'smaller', as NAD is hardly a three-men-in-a-garage outfit) and AV are not always the happiest bedfellows. The rapid pace of AV development can catch boutique brands on the hop. There are, therefore, some caveats to be considered here. Most obviously, the M17 processor is currently devoid of HDCP 2.2 support, HDMI 2.0 connections or Dolby Atmos (and, indeed, DTS:X) playback.
In a product that costs £4,500, this might initially sound inexcusable. However, the spec of the M17 as tested is not the final word in what purchasers can expect. In the top layer of the packaging is a letter explaining that your M17 can be returned to your dealer to be updated to HDMI 2.0 and HDCP 2.2 functionality when such an update is available.
The reason NAD can promise this with any degree of optimism about it actually happening is that the Master Series products are assembled around a process that NAD calls Modular Design Construction (MDC). This means that the software and connectivity of the M17 can be adjusted to meet future requirements (a VM300 MDC Video Module is what's promised). You are spending a fair amount of money on the M17 but hopefully it will see you good for a while.
Neither is the current spec of the M17 exactly minimalist. The NAD is a seven-channel processor with support for the usual retinue of surround formats barring Atmos, and has a healthy selection of connectivity – both modern and legacy – including six HDMI inputs and a pair of outputs. Audyssey's idiot-proof MultEQ system (Pro iteration) is fitted for setup and equalisation, and the NAD ties all of this functionality together via a full-colour front-panel touchscreen that manages to show plenty of information at once without looking cluttered or fussy.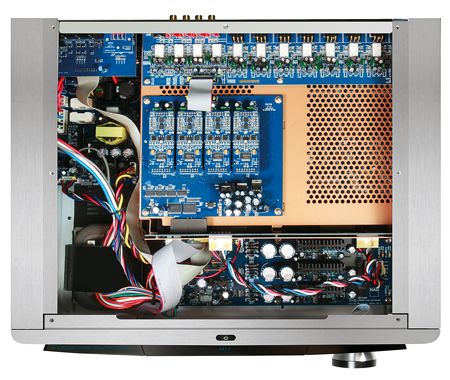 Beautiful build quality
There's no Wi-Fi here, but an Ethernet connection is offered. Get the M17 on your network and you can use NAD's smartphone/tablet AVR Remote control app. Note, however, that no home networking talents are offered. System builders are catered for by 12V trigger, IR and RS232 hookups, while AV preset modes allow speaker level and tone control settings to be saved for later recall.
Output to amplification is via either XLR or phono connections. You could, of course, use any power amp, but NAD's style-matched M27 is the obvious choice. Its specification is less flexible than that of the M17 processor but equally, the requirements of a power amp are rather more fixed. And the specs aren't likely to disappoint. The M27 is a seven-channel design, claiming a hefty 180W per channel with all channels driven and with minimal THD. Under dynamic measurements, the M27 should swing 300W into those seven channels, which in turn means that there aren't many speakers you can connect to it that will provide it with any real challenge.
The numbers don't tell the whole story of the Masters equipment. It is only in the flesh that they start to make real sense. First up, they are beautifully built. The casework is totally inert, impressively tactile and if anything feels more expensive than the asking price. Seriously: the volume knob on the M17 is a thing of absolute wonder. The weighting, resistance in the hand and the absolute smoothness with which it operates is a little piece of unbridled joy. I found myself walking up to adjust the volume by hand. Not that using the remote is much less of an event. NAD supplies the M17 with a handset made almost entirely out of metal that sits in your palm like an aluminium ingot and makes every other remote you own feel entirely insubstantial.
As I've espoused before, the very concept of a separate processor and power amplifier is a potential money-saver, too. You have to expect that, even with its life-span being extended by the modular design, the M17 will have a point where it is obsolete, but for as long as AV requires an amplifier – even if it needed to be augmented with extra channels – the M27 is a fine example of the genre and will be well up to the task of partnering another processor in the future, while at the same time a one-box solution typically has to be junked in its entirety.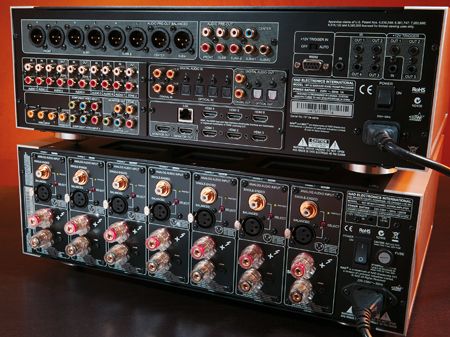 No scares here
Setup is impressively straightforward. The boxes the NADs arrive in are large but the units themselves aren't actually that cumbersome. The menus are easy to navigate and the layout of the back panel is very logical. If you can setup a normal AV receiver, nothing here is going to frighten you off.
I began with the M17/M27 combi connected to the quintet of Elipson Planet M speakers that live with me full time. And what surprised me was that even with the diminutive Elipsons, the NADs begin to show what they are about. Bolted to the M27, the little Planets seem to gain in size, scale and authority. This is more than a powerful amp; it is a seriously accomplished one, too.
No one will buy the Masters Series to tickle a style-conscious sub/sat package, however, so I quickly reset my room with the Sonus faber Venere system. And with a few grand of Italian loveliness in place, the NAD duo really strutted its stuff.
With my current favourite demo sequence – the rain-soaked climax of Rush - there was an effortlessness to the way that these slabs of silicon moved effects around and then provided any volume level I could possibly want. The layers of sound in the DTS-HD MA mix were beautifully defined and easy to distinguish, but combined to create a delightful, believable whole. The M17 can put sonic details exactly where they need to be.
One of the more interesting aspects of this partnership is that despite the tremendous power and processing ability, it is remarkably self-effacing. During a spirited rendition of the final plane-hurling silliness of Into the Storm, I realised that almost all of my notes applied to the speakers rather than the NADs, but their influence is there nonetheless. Taking them away and listening back to the same scene via my integrated AVR, I discovered that the way that the wind effects are all encompassing but never overpower dialogue is something the NAD duo was nailing.
Neither is this ability limited to action and explosion-filled sequences. The brooding soundscapes of David Fincher's thriller Gone Girl allow this system to illustrate just how masterly it can fill a space with the soundmix's background details and Trent Reznor's unnerving but rather brilliant score. Even at low levels, the sound pulses with energy and sheer life. The Masters Series is capable of incredible delicacy, backed up with the ability to instantly deliver huge dynamic punches when you need them, making watching movies, well, a whole lot of fun.
The M27 amplifier makes for an interesting comparison to the Parasound Halo A21 and A31 duo. The NAD lacks some of the almost liquid smoothness that the larger American amps have, but it hits back with a speed and sheer energy that gives it a more immediately upfront and lifelike presentation. For sustained power delivery, the big Parasounds will eventually win the day, but the M27 puts up more of a fight than the specs might suggest, given that it packs seven channels into one box rather than splitting five over two.
Where their extra energy gives another welcome boost is with music material. With the multichannel audio-only Blu-ray of Pink Floyd's The Endless River, the NADs present the wide and lush prog rock performances with tremendous room-filling scale, but also a speed and nimbleness that is often lacking in powerful AV products. If anything, the M17 and M27 are even more impressive in stereo than they are with movies. With the M17 taking a digital signal from a Naim ND5XS streamer, the resulting performance is something that I could happily live with from here to eternity. This package has the sense of timing and rhythmic ability that makes music an event.
In fact, making media an event is a strapline that suits NAD's Masters Series down to the ground. My time with the M17 and M27 coincided with the opening double-length episode of Fortitude on Sky Atlantic. The result was genuinely cinematic, and I found that even much more mundane broadcast material was injected with a sense of purpose and excitement. At late-night listening levels those impressive dynamics ensure that soundtracks still have a reasonable space between loud and quiet passages.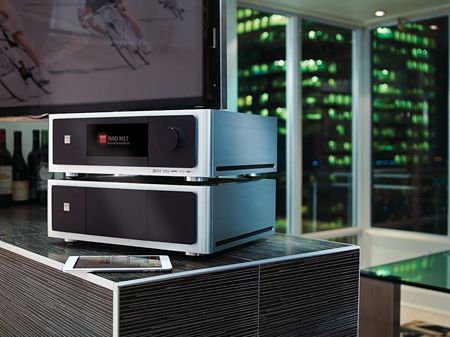 The £8,000 question
There is no point trying to pretend that these units are anything other than a big sack of cash. You could buy an immensely talented integrated AVR and some serious speakers, and still have a number with three zeros on the end left over in change.
The arguments about two-box solutions representing a canny purchase are true to a point, but won't be realised until the next update to NAD's MDC comes around. While I am sure that the Canadian audio guru will come good in that regard for the M17, at the moment the specification has a few holes in it.
Yet having spent some quality time with these two grey and silver brutes, I can honestly say that none of these things bother me in the slightest. If you can afford the Masters Series, you are going to be treated to a pair of components that look good, are superlatively built and deliver a sonic performance that is consistently and unfailingly brilliant, be it with Blu-ray, broadcast or plain old two-channel music. Badge-hunters may need convincing, but I don't. These products embody all the NAD virtues I have come to expect and are immensely covetable.
Specification
M17 (Processor)
Dolby Atmos: No (but possible upgrade in future). Dolby TrueHD, plus ProLogic IIx
DTS-HD Master Audio: Yes
THX: No
Multichannel input: No
Multiroom: Yes. Three additional zones
AV inputs: 8 x digital audio (4 x optical and 4 x coaxial); 3 x composite video
HDMI: 6 x inputs; 2 x outputs (v1.4)
Video upscaling: Yes. To 1080p
Component video: 3 inputs; 1 x output
Dimensions: 435(w) x 156(h) x 386(d)mm
Weight: 10.9kg
Also features: Modular Design Construction (MDC) with future HDMI/HDCP 2.2 upgrade (free); Audyssey MultEQ setup; Audyssey Dynamic EQ; stereo-to-surround EARS (Enhanced Ambient Recovery System); NAD control app; Ethernet; 3 x 12V trigger outputs; 4 x IR outputs; RS232; choice of XLR and phono outputs; full-colour touchscreen
---
M27 (power amp)
Power output (claimed): 7 x 180W (all channels driven)
Connections: 1 x XLR and 1 x phono input per channel
Dimensions: 435(w) x 156(h) x 380(d)mm
Weight: 14.1kg
Also features: nCore amplifier technology;  NAD PowerDrive and SoftClipping; 0.5W standby power rating

SPONSORED VIDEO

SPONSORED VIDEO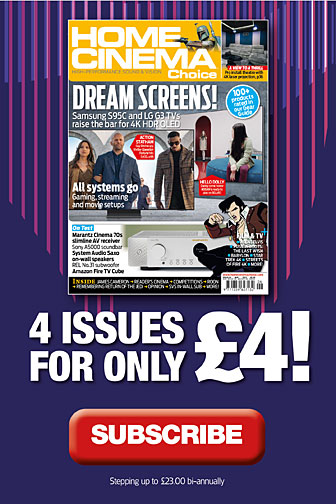 Home Cinema Choice #332

is on sale now, featuring: Samsung's 8K flagship; Anthem AVM 90 processor; B&W 800 Series Diamond; LG smart projector; Hollywood box office bombs; Hitchcock 4K; and more
Want to see your home cinema system featured in the pages of HCC? Click
here
for more info.