Injustice: Gods Among Us review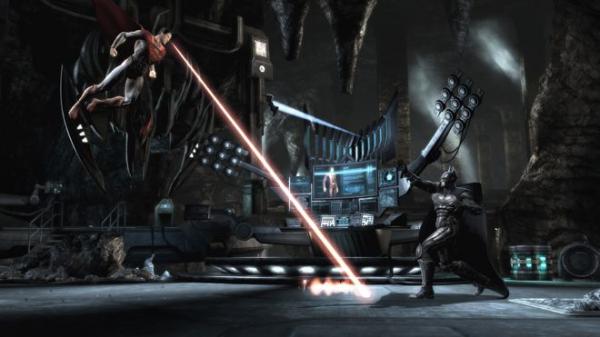 We're holding our for a hero 'til the end of the night...
Is it a bird? Is it a plane? No, it's Superman – and he wants to kick your ass in this latest beat 'em up from the developer responsible for 2011's Mortal Kombat reboot. And, clearly buoyed by the outlandish combat opportunities provided by having players take control of a bevy of DC Comics' superheroes including Superman, Batman, Wonder Woman, Green Arrow and Flash, NeatherRealm Studios has developed what may well be the best one-on-one brawler ever crafted outside of Japan.
Like the studio's earlier Mortal Kombat game, Injustice: Gods Among Us goes out of its way to be completely accessible to beat 'em up novices and deliver a surprisingly deep campaign mode to ensure that the single-player experience is just as much fun as multiplayer battles. Indeed, the gameplay is incredibly easy to pick up, and before you know it you'll be pulling off complex combos and wacky special moves (watching the Batmobile roar onto screen and run over an opponent never gets dull).
Injustice… also makes a pretty heroic impression when played in a home cinema environment. The hi-def graphics are razor-sharp, beautifully detailed and silky smooth in motion, while the expansive soundstage positively thrives on a diet of punishing punches, enormous explosions and inventive atmospheric effects.
Injustice: Gods Among Us, Warner Bros. interactive, Xbox 360/PS3/Wii U, £40 Approx
HCC VERDICT: 4.5/5
Click

here

to see what's inside Home Cinema Choice 301.

Philips' 55OLED854 Ultra HD OLED TV; a sneak peek at a premium Steinway Lyngdorf home cinema install; demo-tastic Blu-rays you can't live without; and a whole lot more...
Want to see your home cinema system featured in the pages of HCC? Click
here
for more info.