HDBaseT: The wired evolution of home entertainment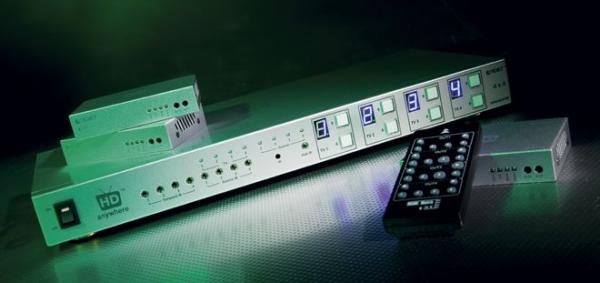 Will this new tech really change the way you move sound and vision around your house?
Home cinema is changing. Sure, screens are getting larger and more pixel-packed, and there's a plethora of streaming options available – both in terms of content and hardware – but there's also evolution happening at a more fundamental level, and it has the potential to change everything. Called HDBaseT, it represents an entirely new way of moving sound, vision and data around your house. But, of course, there's more to it than that...
You won't need past life regression therapy to recall what a pain routing video around the home used to be. In the days of analogue, tortuous RF-based networks offered limited and often compromised AV signal distribution; video senders that promised wireless convenience were, more often than not, even worse. The shift to digital and hi-def may have massively improved the situation but equally has brought its own complications. Long runs of HDMI are unwieldy at best and distances are limited (need more than 20m? Forget it) even with repeaters. Wireless HDMI transmitters are surprisingly effective, but again have limitations in terms of reach and are something of a one-trick pony. A different solution entirely was required: HD over 100m of Cat6? That'll do nicely.
Of course, running hi-def AV over network cable isn't particularly new. The custom install community has been pouring HD video, audio and two-way IR and RS232 control gubbins over dual-cable UTP for yonks, but HDBaseT is a different cat altogether. Adrian Ickeringill, general manager of Wyrestorm, describes it simply as 'an installer's dream. You're getting more for less and you're getting it faster, easier and more reliable.' He enthuses: 'HDBaseT is tailor-made for Smart TVs and next-generation Ultra HD displays. It's even resistant to electromagnetic interference.' Sounds almost too good to be true, doesn't it?
HDBaseT origins
HDBaseT first broke cover at CES in 2009. Based on semiconductor technology developed by Valens, it appeared to promise much at the time but just how it would ultimately manifest was unclear. Perhaps one misconception worth clearing up is that HDBaseT is not a replacement for HDMI - it's better thought of as transmission carriage for multiple types of signal, one that just happens to be suitable for deployment over long distances.
The HDBaseT Alliance, formed to coordinate product development of the standard, was given early credence by LG, Samsung and Sony Pictures Entertainment, although it has to be said that CE brands in general have been surprisingly slow to wake up to its potential. Today the technology is largely being dominated by a trio of UK-based brands: Wyrestorm, CYP and HD Anywhere.
HDBaseT is commonly described as offering 5Play convergence – that's to say you can use it to simultaneously carry HD video, audio, internet, power and control data over a single Cat5e/6 cable. As the system utilises standard network RJ45 connectivity, installation is straightforward. If you've ever laid down a home Ethernet network, then you'll be in familiar territory.
What's more, the bandwidth of the system is seriously impressive. HDBaseT can handle uncompressed video and audio up to 10.2 Gbps, and is completely compatible with 3D and multichannel audio; indeed it's simpatico with v1.4a of the HDMI spec. And yes, that does mean you can (theoretically, we haven't tried it yet) pipe 4K from pillar to post. This single wire can even be used to simultaneously deliver up to 25.5W of electrical power (the IEEE 802.3at-2009 PoE standard); this Power over Ethernet (PoE) functionality means that many HDBaseT receiving units don't even need to be plugged into a power supply to work. And did we mention that there's also capacity for a 100Mbps network connection? A fat pipe indeed…
Not that all HDBaseT is created equal. There are two flavours, Lite and Full. The Lite version utilises a stripped-down Valens chipset which delivers a more limited feature set: HD video (but not 4K), multichannel audio, control signals and less power, effective over a shorter distance of (only) 70m. For jobs where networking support isn't important and distance isn't an issue, a Lite hardware package should do fine and be cheaper than its bells and whistles equivalent.
It's worth pointing out that for HDBT hardware to work it has to negotiate HDCP with any connected display. If this fails you'll see a green screen or digital snow. For example, one system HCC evaluated failed to function with a Pioneer Kuro plasma because of just such an HDCP handshake issue, and this is not a screen you can expect to see any firmware updates for anytime soon. HDBT also relies on EDID data to determine exactly what level of video resolution or audio format can be supported.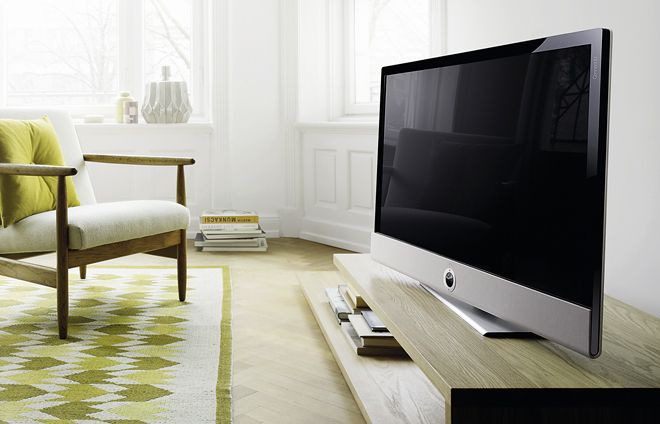 Hardware in a nutshell
Okay, so we've established that Cat5e/6 cable is the conduit for everything, but what else do you need to get started with HDBaseT? Typically a standard installation involves a matrix switch and a receiving unit. Once the preserve of the professional installer, and both expensive and challenging to install, the price of such gadgetry has been driven downwards of late. For example, the latest 4x2 HDBaseT matrix from HD Anywhere, which comprises both a transmitter and receiver, sells for just £500. This puts it firmly within the grasp of enthusiasts.
While commonplace HDBaseT systems employ switching and receiving hardware, a number of other executions have also started to appear. Epson and Panasonic have introduced projectors with HDBaseT built-in (so no receiver unit is required). The system can be used to mainline HD video and power straight direct. This kind of integrated HDBT is a trend to look out for; embedded receivers are seen as one part of the game-changing nature of the tech. The HDBaseT Alliance itself was demonstrating a TV with an embedded receiver at the ISE show earlier this year.
Hardly surprising, then, that HDBaseT is now a red-hot topic with the custom install crowd. Reducing the number of cables to be pulled on a multiroom job is a significant time-saver, after all. The technology also throws a business lifeline to all those satellite and aerial installers who have seen a massive drop in dish demand following the completion of the digital switchover.
Chris Pinder is managing director of HD Connectivity, a company which has been fast tracking HDBaseT hardware under its HD Anywhere marque. He tells us the main attendees to his training courses are now erstwhile aerial installers: 'Many are scrabbling around at the moment, wondering what to do next, unsure of whether to jump onboard with solar or become electricians,' he says. 'HDBaseT networking is a logical next step.'
Phil Davis, sales and marketing director at HDBaseT supplier CYP, agrees: 'We're also seeing established satellite and aerial installers moving into AV distribution, attracted by the simplicity of the system. This is a pivotal development for the industry. One of our HDBaseT products allows you to take a Sky box, and run it to three rooms in a house with full IR control, for just £400. It's a perfect fit.'
HD Anywhere believes HDBaseT has a very real future in the consumer market. 'I want to produce products that are affordable,' says Pinder. 'That's the reason we've produced the 4x2 at a competitive price point. Having HDBaseT built into consumer displays will really help drive that idea further.'
But Pinder tells us that he's disappointed that household consumer electronics brands have yet to put HDBT onto their roadmaps; he believes they're missing a trick. 'Loewe is currently the only TV manufacturer contemplating HDBaseT for its TVs,' he reveals. 'They're doing that because the custom install business for them is turning into a really important channel, so they'll listen to what we're saying.' By way of comparison, he says Panasonic doesn't share the same vision, seeing HDBaseT more applicable to its commercial display division, where it solves practical problems in larger venues where it's often difficult to get to an HD signal to the projector. 'Unfortunately, they don't see any need to do it on consumer TVs…'
What can HDBaseT do for you?
So how would you use HDBaseT in your own home? Well, unlike traditional multiroom cabling options, the technology has few constraints. Let's consider a typical home configuration: your main living room has a Sky+ HD box, Blu-ray player and an all-singing and dancing media player. These flow to a flatscreen via that stonking big AV amplifier – but what you really want to do is be able to watch all three sources on your bedroom telly as well. All you need to achieve this is a basic HDBaseT matrix and receiver – for example the HD Anywhere 4x2. This matrix has 4-in, 1-out HDMI inputs, plus two HDBaseT RJ45 jacks which work with Cat5e or Cat6 cable.
All you need do to crack this multiroom nut is run a single cable direct to your bedroom set. This then inputs into a small HDBaseT receiver, which has an HDMI and Ethernet output. As the system delivers Power over Ethernet, your receiver doesn't need a local power source. Just run an HDMI from the receiver straight into the TV. Any one of your living room sources can be selected by remote, because IR blasters allow zappers to function in the second room. Signal latency is extremely low, so remote lag is generally not an issue. Pretty funky, eh? Now for added spice, let's assume your bedroom TV has Smart functionality. That's no problem either, as the Ethernet output from the receiver can deliver a network connection as well.
Of course, our imaginary second system doesn't need to be subservient to the source system. You can use exactly the same single-wire feed to fuel a full-blown theatre. As the Cat cable can carry 1080p video and multichannel audio, there's no reason why this can't act as the sole source input for an AV receiver in your secondary location. And as network access can be routed concurrently, this secondary home cinema can have full access to internet radio, or content stored on networked devices.
There are configurational caveats though: if you are routing a Blu-ray player into a secondary room to feed a home cinema system, this impacts on what's happening on the matrix's HDMI output. If the BD player is delivering a DTS-HD Master Audio bitstream to an AVR via the HDBaseT receiver, and the matrix HDMI output is feeding a TV, that TV will not convey any audio. Optimise the matrix/HDMI output to feed the local TV, and the receiver-delivered audio will then be stereo only.
Obviously the bigger the matrix, the more rooms you can drive with content – and they all work in the same way. A 4x4 matrix will take four different sources to four different locations using a single wire to each, while an 8x8 doubles that. These larger matrices are more expensive and not intended for consumer use. Pro-installers will deploy them in commercial projects, perhaps wiring up a college campus, fitting out a hotel hospitality area or routing video to signage displays in a shopping mall (eight 100m cable lengths can be multi-hopped to cover a massive distance).
Educating the masses
Everyone in the industry knows that there's a considerable amount of education to be done before this nascent technology has any hope of clicking with the mainstream. 'When it comes to the consumer side of things there's a massive amount that needs to be done,' admits HD Connectivity's Chris Pinder. 'Even Sonos still has that issue now, trying to get across to the uninitiated in a concise way exactly what its proposition can do. It's even tougher with HDBaseT. HD networking for the home? Many won't even understand what you're talking about. This is where I get really disappointed with the likes of BT. The BT Home Hub could be an amazing single-box solution had it incorporated HDBaseT as well as Wi-Fi – everything you need from one device! But the telcos aren't anywhere near to getting it.' For the time being, it seems, HDBaseT is likely to remain a secret of the home networking cognoscenti. But that doesn't make it any less revolutionary.
---
HDBaseT gizmos we've got our eye on
Wyrestorm HDBaseT AMP-001-010 amplifier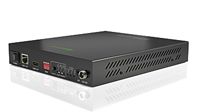 Most HDBaseT kit comes in matrix/receiver configurations, yet the Wyrestorm AMP-001-010 is the world's first HDBaseT audio amplifier, and it shows just how the technology could transform even the most staid of AV components. A diminutive stereo amplifier, optimised to deliver audio as part of a multizone home entertainment system, it retails for £675 – and combines networked AV, local audio input and 50W of Class D amplification.
The AMP-001-010 extracts stereo audio direct from the HDBT signal and amplifies it locally. Spring-clip terminals hookup stereo speakers, and there's a dedicated subwoofer output plus an HDMI feed for the display. This effectively enables you to install a superior screen and sound system in a second room, using nothing but a single wire from your source matrix. The HDMI output offered by the amp is also ARC compliant, and so allows TV audio to route back. Personal audio can also be input via a 3.5mm jack, and if you need more muscle, pre-outs are provided.
CYP PU-424HBTE 4x4 matrix switcher
The PU-424HBTE from CYP is a versatile 4x4 HDBaseT matrix which offers not one but two simultaneous local HDMI outputs, one to feed a flatscreen and a second to route into an AV receiver, projector or second screen. Designed for the pro-install market, it's a full 5Play package (HD video, multichannel audio, networking, PoE and two-way control), and can support four HDBT streams over RJ45.
It partners with the brand's PU-507-RX receiver, which can take advantage of Power over Ethernet, so no local supply is required, or alternatively the PU-507-WPRX wall plate. As with the majority of HDBaseT matrices out there, the kit can be fully integrated into a more sophisticated control system, be it RTI, Crestron, AMX or Control4. It retails for £3,450.
Panasonic Digital Link Solid Shine projectors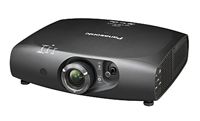 Panasonic has released a quartet of hybrid DLP LED/laser projectors featuring HDBaseT connectivity. The Solid Shine series comprises four 3D-capable models each offering around 20,000 hours of maintenance-free life. The Full HD PT-RZ370 (£3,250) and WXGA PT-RW330 (£2,500) are typically intended for commercial use in boardrooms and lecture halls, while the Full HD PT-RZ470 (£3,650) and WXGA PT-RW430 (£2,920) are light cannons designed for events and exhibitions. Oddly, Panasonic has renamed HDBaseT as Digital Link for these PJs, but they're fully compatible with other HDBaseT products.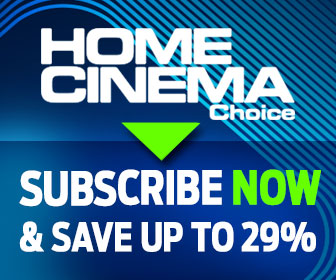 Home Cinema Choice #316 is on sale now

, featuring: Samsung Neo QLED TV; Monitor Audio Atmos system; battle of the SVODs; disaster movies on Blu-ray; BenQ UST projector; disc reviews; opinion; and more.
Want to see your home cinema system featured in the pages of HCC? Click
here
for more info.