Cruising at Altitude with Trinnov Audio's state-of-the-art home cinema processor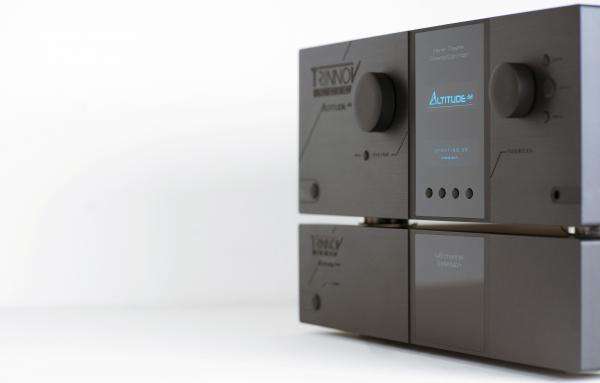 Not every AV enthusiast will have heard of French company
Trinnov
, because as a purveyor of high-spec amplifiers and processors, its wares are typically found in dedicated cinemas, rather than living room setups. But the brand has a lengthy history, and frequently occupies the leading edge in technological innovation. What Trinnov is up to now, you might find on the mid-range AV receiver of the future.
For example, in the most recent software update to its Altitude processor range, and amongst upgrades to its calibration platform and HDMI 2.0 interface, it introduced an 'Object Viewer for Dolby Atmos', the first of its kind in the domestic market. As the name suggests, this lets owners view a three-dimensional representation of the location of each sound object in an Atmos mix, in real-time, through the processor's GUI. It's geek heaven.
Although founding members of the Trinnov team had been researching immersive audio as far back as 2001, the company was formed in 2003, its name drawing on its expertise in 3D audio (Tri-) and associated innovation (-innov). The team now manufactures a line of reference processors and amps, but is also passionate about room and speaker placement solutions for integrators to address the 'significant compromise' arising from non-consensual approaches to 3D audio delivery.
Milestones along the way of its development are its 'Optimizer' professional room correction solutions, and digital cinema processors for the multiplex. And last year it became the first company to integrate the new DTS:X Pro platform into home cinema hardware.
DTS:X Pro can be thought of as DTS:X writ large. While DTS:X caps out at a maximum of 11 channels (typically a 7.1.4 system), DTS:X Pro can handle up to 30. No doubt for most film fans that's a pipe dream, but in a dedicated largescale room, the appeal is obvious.
Operation Invasion Invision
Trinnov's UK distributor is Bracknell-based Invision, a specialist in smart home integration and residential AV. To get the full DTS:X Pro experience offered by Trinnov's £30,000 Altitude32 processor, I found myself at its reference home theatre. Outside sits a cable-managed rack housing the amps and processor, inside it's all plush carpet, subtle recessed lighting and distinctly comfortable bespoke seating.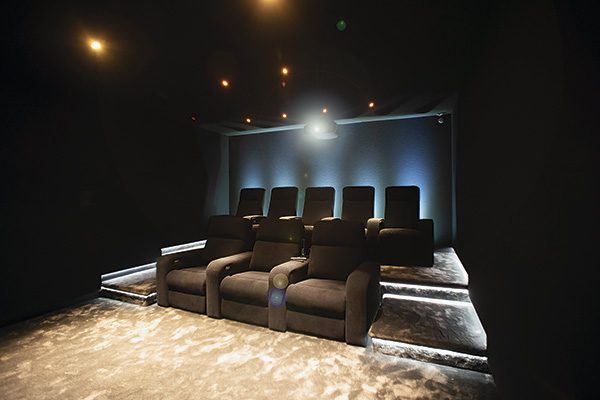 There I met Tom Garrett, from Trinnov, who explains that his company's customers come from far and wide. As head of sales for the EMEA region, he's on regular sorties to the Middle East (think Saudi royalty) and luxury yachts in the ports of the Mediterranean. I felt slightly guilty for dragging him to an AV demo off the M4.
Tom also reveals high-end audiovisual companies like Trinnov and its distributors are presently going gangbusters, despite the COVID-19 pandemic.
After all, those with the money to invest are deciding, probably rightly, that they'll be spending more time at home, and require more comprehensive entertainment options at their fingertips.
Channel tunnel
While not quite maxing out at the DTS:X Pro specification, Invision's home cinema demo room features an 11.4.8 immersive audio system, fitted out with loudspeakers from Procella Audio.
The inventory runs to three P815 screen channels, three P6 screen height channels, eight P6V surrounds and wides and five P5B height channels, one of which is a central 'voice-of-God' (VOG) for Auro-3D and DTS:X Pro sources. At the front are two Procella P18 subwoofers, and at the rear tow P15FP subs, all powered by Procella DA5000D power amplifiers. The screen channels are also run off Procella amplification, with the others driven by Trinnov's own Amplitude8 models. A Sony VPL-VW870ES projector is the chosen beamer and the impressive floating screen at the front of the room is a Screen Innovations Zero Edge model with Maestro 1.1 gain material.
The Trinnov Altitude32 processor (the big brother to the 16-channel Altitude16 reviewed here) is manna from heaven for the home cinema enthusiast but, given it comes with a 167-page manual and is effectively a PC on steroids, the chances are that most customers will rely on an experienced integrator to walk them through or conduct the setup. It's a 14.5kg unit housed in a gun-metal grey steel chassis and has the looks to sit happily on display if you want. Although most users will control it via tablet or phone app, there is a volume control to the left of the display on the front faceplate and menu controls to the right.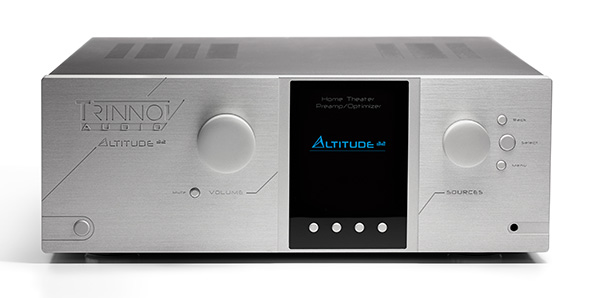 As well as its newly arrived DTS:X Pro support, the Altitude32 can decode Dolby Atmos with 32 discretely rendered channels and Auro-3D supporting the full 13.1 layout. You also get IMAX Enhanced certification and the unit is upgradable for future 3D audio decoders as and when they arrive. Futureproofing is a big part of the Trinnov playbook; it's recently begun a collaboration with Taiwan's Cypress Technology to develop HDMI 2.1 boards for its Altitude line, which will enable existing owners to keep up with the changing tech landscape without having to replace their processor entirely.
On the move
Perhaps even more important than the inclusion of DTS:X Pro is Trinnov's proprietary and patented Loudspeaker Remapping, which electronically compensates for less-than-ideal real-world speaker placements. Because of the measurement capabilities of its sci-fi-styled four-element 3D calibration microphone, Trinnov says each speaker's placement in a room can be precisely localised based on its distance, azimuth and elevation. Its processor 'knows' the intended placement of sounds within a movie soundtrack, says the brand, '…since we decoded it' – the Altitude can then remap any audio object or cue in a given room by creating a phantom image of where that sound should really be within the soundstage.
Trinnov also employs an 'intermediate' bass management system within the preamp, allowing manipulation of individually specified crossover frequencies for each channel, while also enabling low frequencies to be routed from, say, a smaller speaker to its most capable neighbouring speaker.
The manufacturer selects its global distributors, like Invision UK, based on their qualification to service both residential and pro customers. Trinnov sees no distinction between a high-end residential client and one who requires a full DCI-compliant system as found in a professional cinema. Consequently, the Altitude32 facilitates connection to pro-grade equipment via both analogue and digital multipin AES DB25 connectors.
Before getting stuck in with native Dolby Atmos and DTS:X demos, Ian Mulry from Invision used a 5.1/7.1 DTS demo disc to illustrate the Altitude's ability to scale up limited-channel sources to fill the entire array with DTS Neural:X processing.
The precision-mixed animated short Locked Up kicked off with a densely filled jungle ambience, as a fly buzzed around a pond before a baby frog lodged itself inside a milk bottle. Not only was the soundscape both real and three-dimensional, there was a clear and remarkably accurate placement of individual audio effects. When the frog in the bottle fell off the ledge and into the pond, it was as if the splash took place right in my lap. The Trinnov had intelligently up-resolved the mix not only to breathe new life into it, but actually add new layers. And with all those speakers in play, it sounded fantastic.
An underwater sequence from BBC's Enchanted Kingdom showcased a rich and full-bodied dialogue delivery, with Idris Elba's resonant voice set against an orchestral score moving effortlessly around the room. It seemed to fill the ceiling channels completely organically. When you're unable to identify any speaker or subwoofer location in the room, the true effects of reference immersive audio become apparent: you are literally sitting at the centre of a lifelike and holographic sphere.
The 4K UHD Blu-ray of Aquaman, and its trident-thwacking Dolby Atmos track, proved to be a perfect software match for this Altitude system's sonic acrobatics. The tidal storm near the start, as the ocean overwhelms and submerges the New England coast, was heralded by a deep and unsettling growl from the subwoofers that penetrated the floor and drilled into my seat. And the sheer power and scale of the wave moving overhead and to the sides knew no limits as the full potential of the Altitude32 came into its own.
The processor meted out the same treatment with the DTS:X disc of Apollo 13; the Saturn V launch sequence saw white-hot exhaust from the afterburners blast around the room both above and behind. James Horner's signature score, meanwhile, remained lyrical and musical and, after the crew remove their gloves in the weightless zone of earth's orbit, the Trinnov exhibited subtlety and an absolute command of the recalibrated dynamics.
Aspirational AV
There must always be products to which we can aspire, and Trinnov's Altitude32 is surely one of them. As a processor it's up there with the very best in the category and is one of the first to straddle that intentionally hard border between residential and professional cinema. And there's good news for those put off by its price tag – the Altitude16, a relative snip at £13,000, is also DTS:X Pro savvy, and equally ready for further updates...

SPONSORED VIDEO

SPONSORED VIDEO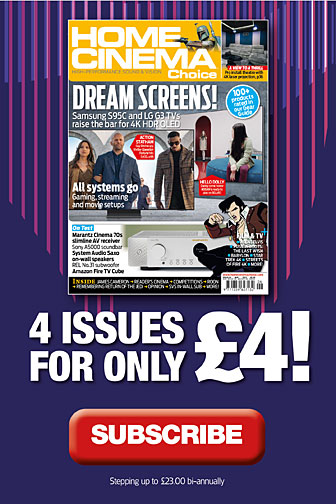 Home Cinema Choice #332

is on sale now, featuring: Samsung's 8K flagship; Anthem AVM 90 processor; B&W 800 Series Diamond; LG smart projector; Hollywood box office bombs; Hitchcock 4K; and more
Want to see your home cinema system featured in the pages of HCC? Click
here
for more info.