Denon AVR-X5200W review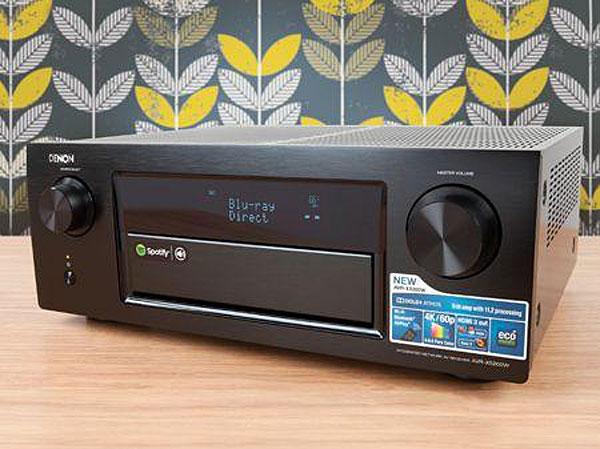 Cutting-edge AV receiver boasts impressive Atmos and Auro-3D talents
Full 7.2.4 Dolby Atmos processing, nine channels of amplification, networking, Bluetooth, AirPlay, Spotify Connect and an Auro-3D upgrade to boot. Denon's AVR-X5200W has certainly been an exciting AV receiver to live with. And excitement... well, that's what home cinema is all about.
I'll admit I was itching to get this Denon in. Having gone to the trouble of establishing a 7.2.4 speaker system complete with ceiling-mounted height speakers in anticipation of Dolby Atmos delights, the first AVR I tested was Pioneer's SC-LX88, but its nine-channel processing limit meant two of my speakers had to remain unprovoked.
The AVR-X5200W, on the other hand, offers 11-channel processing to enable a domestic Atmos speaker ensemble with four height speakers atop a traditional seven-channel layout. It's not all plain multichannel sailing though. Like the Pioneer, the Denon has nine channels of power (140W), despite offering connectivity for up to 13 speakers (allowing you to switch from, say, Atmos 7.2.4 to Audyssey DSX height channels on the fly).
Channel assignment and external power amps are required for the complete experience and those 13 speakers can be arranged in some mindbogglingly diverse configurations. With the main five speakers set, you get to choose combinations of rear-backs, one-to-four ceiling speakers, front and rear heights, centre height and front-width. Very complex.
Then, as if to add a layer of enthusiast-level aggro to proceedings, Auro-3D was added to the Denon's 'can do' list via a (€150) firmware update. This next-gen audio standard uses a completely different overhead speaker arrangement to Atmos, including front and rear stereo height speakers and a central 'voice of God' channel. For most people it will be an installation/setup choice between Atmos and Auro-3D, as being able to switch between them easily would require more speakers than I could count. As Atmos comes as standard while Auro-3D costs extra (and has no BD software yet) I have an idea what most users will go for.
Stepping back from the speaker arrangement madness, the AVR-X5200W looks sumptuous, is solidly built, and at least makes other areas of your AV life less complicated courtesy of DLNA networking and integrated Wi-Fi and Bluetooth.
Audyssey's MultEQ XT32 room EQ system is also there to help. This uses a rather lengthy eight-point measurement system. Denon includes a flat-packed cardboard mic stand, allowing you to position the mic at ear-height in the listening positions. If you employ an Audyssey Pro installer to fettle your AVR, you also get Sub EQ HT equalisation for two woofers and an increase to a ridiculously lengthy 32-point EQ measurement. I assume Audyssey Pro installers charge by the hour.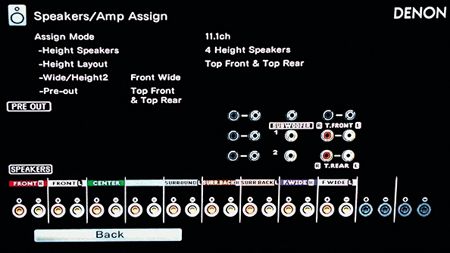 Sonic after-care
A sideline of Dolby's Atmos initiative is the new Dolby Surround feature. This post-processing reduces user options but self-selects the best option for your chosen speaker setup. Thus if you have height channels connected, for instance, the Dolby Surround mode will default to Dolby Pro-Logic IIz in the absence of an Atmos bitstream. The best part of Dolby Surround is its ability to 'upscale' non-Atmos material and map some information to your Atmos speakers. This gives a solid 3D sound effect with even Dolby Digital 5.1 material.
It's something of a 'virtual height' system and works well. If you have gone to the effort of setting up Atmos speakers, Dolby Surround will be your friend no matter how many channels the incoming stream has.
For the audio DSP engine Denon has opted for a new SHARC unit promising 10GFlops of processing power. Which is a lot, apparently. Meanwhile, DenonLink AL24+ offers advanced player-to-AVR clock timing synchronisation to deliver near jitter-free data transfer for improved two-channel audio. For music fans there is also 24-bit/192kHz high-resolution support across a wide range of formats.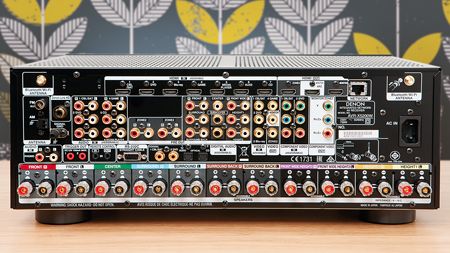 Let the wizard guide you...
Get into the GUI and you'll find the route to audio nirvana has a couple of options. The first is to run the setup wizard; the second is to go it alone in manual setup mode. The latter option requires an adventurous spirit. Even starting with the wizard is not as comfortably obvious as you might like, particularly if you are interested in the 13.2 speaker support option. Assigning the nine onboard amps and four pre-outs is limited to a few options rather than being freely assignable, and the terminal labelling could do with a re-think.
Denon's smart device app is pretty good but no use for setup, and the GUI has its more confusing moments, too. There is a setting for 11.1-channel sound and another for Atmos 11.1, with slightly different terminal configurations for height channels. Go figure. Let's just say it's not exactly 'plug and play' on the speaker front – networking features, often the nemesis of earlier AVRs, are, conversely, a doddle to set up and use. The app worked seamlessly, DLNA streaming was as simple as AirPlay, and Spotify Connect Premium at 320kbps rocked.
Even with some two-channel '70s rock I could immediately hear the AVR-X5200W is something a bit special, sonically. The sheer air and space around instruments is breath-taking. The overall balance is fast and detailed with razor-sharp transients and plenty of punch in the low frequencies.
Switch to a good film soundtrack and the Denon comfortably earns its crust. Playing Gravity (I wish the Atmos re-release would hurry up) results in a soundstage the size of a small universe, yet crafted with a precision and clarity that's inspired. In fact, the AVR-X5200W comprehensively outgunned the Pioneer SC-LX88 in my room –
and I liked the Pioneer, too.
But the headline act for me is Dolby Atmos in 7.2.4 configuration. I achieved this by running the seven main channels from the Denon and the four ceiling speakers using pre-outs connected to a five-channel power amp. The result with an Atmos-encoded track was jaw-dropping – Dolby's demo disc is clearly set up to wow, and it does.
The excellent clarity and spatial separation noticeable in stereo is mapped into three dimensions that pack the room with clear details and super-taught effects. Deep LFE moments become physical events, while the top-end detail dances a fine line between crystal precision and glassy edginess. The fabulous Leaf clip is nearly as real and tangible as I remember it in the Atmos theatre in Dolby HQ. And while The Expendables 3 isn't as skillfully mixed in Atmos, it still brings out the Denon's good nature. Its 11.2-channel steering dumped me cleanly and accurately in the midst of the action; there was nothing else to do but hold on and enjoy the ride.
Quiet scenes impress too. With Atmos the Denon has an uncanny ability to place effects in free space, with an ambience and nuance that feels very real indeed. Denon's AVR-X5200W is therefore a triumph of cutting-edge features and multichannel performance, even if the path to reaching this state of sonic enlightenment is a bit arduous. Channel assignment limitations and a challenging GUI aside, this is first-rate.
Specification
Dolby True HD: Yes. Plus Dolby Atmos & Dolby Surround
DTS-HD Master Audio: Yes. Plus Neo: X
THX: No
Multichannel input: Yes. 7.1 channel
Multichannel output: Yes. 11.2-channel processing
Claimed power output: 9 x 140W (into 8 ohms)
Multiroom: Yes. Zones 2 & 3
HDMI: 8 x inputs; 3 x outputs
Component video: 3 x inputs; 1 x output
AV inputs: 5 x composite; 5 x digital audio (2 x optical, 2 x coaxial, 1 x Denon HD Link)
Video upscaling: Yes. To 4K
Dimensions: 434(w) x 393(d) x 167(h)mm
Weight: 14.2kg
Also featuring: Auro-3D via paid upgrade; Audyssey MultEQ XT32 room EQ; ISF video calibration; control app; Denon Link AL24+; Ethernet; built-in Wi-Fi; network streaming; Airplay; Bluetooth aptX; Spotify Connect; universal remote

SPONSORED VIDEO

SPONSORED VIDEO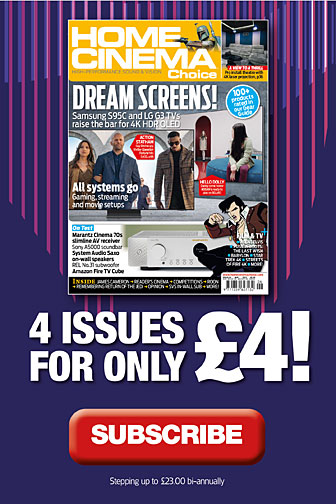 Home Cinema Choice #332

is on sale now, featuring: Samsung's 8K flagship; Anthem AVM 90 processor; B&W 800 Series Diamond; LG smart projector; Hollywood box office bombs; Hitchcock 4K; and more
Want to see your home cinema system featured in the pages of HCC? Click
here
for more info.