Denon AVR-4520 review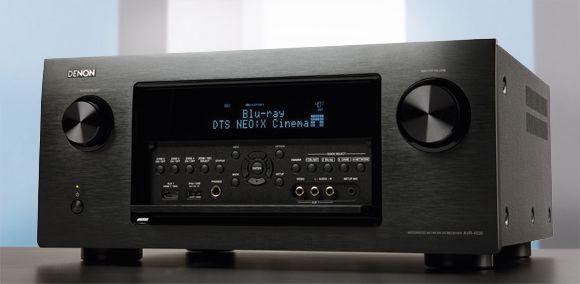 Simply put, this is the brand's best AV receiver yet. It's made us go a bit wobbly...
Somewhat dispensing with the preamble, Denon's AVR-4520 takes the AV receiver market by the scruff of the fascia and gives it a good shake. This flagship model does cost a significant chunk of money but it is one of the most flexible, well-featured and cleverly thought-out AVRs ever made. Add to this a stunning sound quality that strikes the perfect balance between detail and dynamics, and you have a product that will absolutely delight movie and music fans. We love it.
The only problem with the AVR-4520 is what peach of a feature to explain first. Personally speaking, it is its ability to output genuine 11-channel surround sound via DTS Neo:X processing. Having used everything from an old Yamaha Z11 to 'paired' AVRs to run Neo:X 11.1 previously, finally being able to achieve this with little fuss is a revelation. Other nine-channel AVRs, like Pioneer's SC-LX86, have disappointed by not outputting 11.1 audio even with the addition of a stereo power amp. The Denon can – its nine channels of amplification handling 7.1 plus height and its phono line-level outputs feeding a stereo amp for the width channels.
As the editor frequently reminds me, not everyone wants a double-figure speaker count. (He frequently injects the words 'nutter' into these tirades, too). Yet the Denon has other tricks up its capacitors for 5.1 or 7.1 stalwarts. You can assign the powered output channels to other zones and, along with the third HDMI output, create a very serious system in another room as well. This powered AV zone can be controlled over network via the Denon Remote App, getting around the need for IR magic eyes to drive it.
Connectivity includes seven 3D/UHD-capable HDMI inputs. There's an on-board 4K scaling engine should a UHD panel or projector be on your shopping list in the future.
The new GUI will overlay all sources, including native or upscaled 4K video, and keeping track of what's going on across the HDMI inputs is no longer an issue with Denon's InstaPrevue feature. Click the dedicated button on the remote and a row of small picture-in-picture panels pop up as an overlay along the bottom of the screen. These show live content from the other HDMI inputs, allowing you to simply scroll through and click to select the source you fancy watching next. 
I thought this was a bit gimmicky at first, but after a week I realised I was swapping between inputs using this feature exclusively.
Network savvy
Just as useful are Denon's new networking features. Not only is there a four-port Ethernet switch on the rear panel, saving you the hassle and cost of a network switch behind the AV rack, the AVR-4520 can wake out of standby via network command from, for example, an Airplay device. Simply pick a song on your iPhone/iPad/PC with iTunes, pick the Denon AVR from the output list and press play. The Denon wakes up, automatically selects the Airplay input and boogies on down to your tune within seconds. Needless to say, its networking abilities extend to DLNA 1.5, decoding of audio sources up to 192kHz/24-bit FLAC, gapless playback, photo streaming, Last FM and Flickr from the network home screen.
For computer music audiophiles, Denon's AVR range now supports Apple Lossless direct streaming, making for a significant sonic upgrade over previous versions that converted the music to Airplay 48kHz first. And, thanks to an update that went live during the review, the AVR-4520 also now comes complete with Spotify access, allowing you to log into premium services including the high-quality 320kbps streaming.
If you have a new Denon BD player, such as the DBP-3313UD, you can also use Denon's latest version of its jitter-reducing DenonLink HD connection. Unlike previous incarnations, which are not compatible, the new link carries a clock sync signal, rather than the audio signal, and the audio connection remains in the HDMI cable.
So do all these new features and complexity make the AVR-4520 a nightmare to set up and use? Not at all. It comes with a new, very clean-looking GUI and from the first time you power it up everything is handled by a dedicated 'wizard'. This breaks setup down to absolute basics (but can be skipped through for advanced users) and culminates in running Denon's implementation of Audyssey MultEQ XT32 with Low Frequency Correction.
Build quality is substantial, including some of the best speaker terminals available on any receiver, and the new display and ultra-smooth fascia make this Denon's best-looking AVR 
to date. And just to ice the cake, Denon has engineered in some future-proofing by massively over-specifying the main processor, which now features no less than three 32-bit SHARC DSP devices.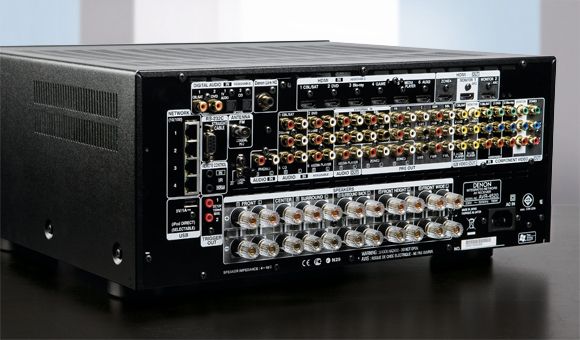 Explosive performance
The first Blu-ray to test with had to be The Expendables 2 for its DTS Neo:X optimised 
mix - 11.2-channel surround sound and the Denon picked up the baton and ran with it. 
The opening sequence is an absolute barrage of effects coming at you from every conceivable nook, cranny and corner of 
the room. A truly immersive and three-dimensional experience that the AVR-4520 delivers with stupendous clarity and power.
Back down on planet sanity, running the Denon in standard 7.1 mode reveals even more about its sonic balance. While older Denon AVRs boasted something of a gung-ho sound ideal for action flicks, the last couple of years has seen a lighter, more refined and composed balance across its range, even if they didn't have the chutzpah of their forebears. The new AVR-3313 still falls into the latter category but the AVR-4520 is quite different altogether. Not only does it manage to retain the clarity, insight and detailing of the AVR-3313, it adds a potent dynamic edge and renders basslines with 
a real physical punch. Here, Denon has nailed 
a best-of-both-worlds scenario; it's perfect for action and drama, kids' animation and horror, movies and music.
With Underworld: Awakening the sound of Kate Beckinsale being frozen is crisply detailed all around the room, with each effect coming out of an inky black silence. Skip forward and the escape scene is the usual feast of gun battles and fights that the Denon infuses with adrenaline. Fast-forward again to the scenes in the city and the AVR-4520 shows off its ability to extract and present information from the disc in the most revealing way; the ambient sounds of the city are enveloping and realistic, doors slamming sound like real doors slamming, and each effect has a very specific position in the room. The presentation is superb.
Switching to a DVD shows the scaler doing an admirable job of making SD appeal like HD. Simon Pegg in Hot Fuzz appears suitably harrowed when given the news he is being transferred to the country, as the Denon sharpens up the outlines and his facial features nicely. In the village shootout scene, fast-moving camera pans scroll smoothly. Even blown up onto a 120in projector screen there are very few artefacts, or any blockiness surrounding bright objects on dark backgrounds or vice versa. Moreover, the vanilla Dolby Digital sound packs a real punch from the AVR-4520 even if it lacks the sheer transparency of TrueHD material.
Operationally, the new Denon Remote App is quite nice with a cool and stylish blue-black theme. The home page offers top-line source selection and a big volume control, while selecting onboard sources, such as the FM tuner or 'net radio, flips to a dedicated control screen. In many respects you can see why Denon's new physical remote control, and many remotes supplied with networked AVRs for that matter, are becoming pared down devices with less buttons and certainly no fancy touchscreen panels. A remote control app is the way forward, and once you're familiar with Denon's Remote App you might as well put the supplied handset in a drawer (although the operation, look and feel of the Denon App isn't the best in the business).
For music lovers the AVR-4520 is an accomplished beast, and its ability to handle 192kHz/24-bit will appeal to those with high-resolution aspirations. Oddly, on the missing list is an asynchronous USB input 
for connecting a laptop or similar computer device directly to the AVR-4520's DACs. 
You could argue that you can achieve a similar outcome over a network, but I still feel you should have the option to simply hook up 
a computer to play music. Still, feed it a decent disc source – especially the matching DBT-3313UD using DenonLink HD – and you get 
a very polished audiophile sound indeed. 
High notes with that combination have a breathy open quality, much more akin to affluent dedicated stereo equipment than 
a home cinema-flavoured AVR.
Triumphant return
After ignoring the premium level of cinema receivers in its last range (which topped out 
at the AVR-3312), Denon has returned to the £2,000 (and beyond) category with an absolute star. The AVR-4520 is a gorgeous, multi-talented machine that never stops impressing. Buy with confidence.
---
HCC VERDICT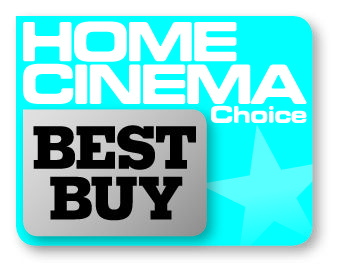 Denon AVR-4520
Price: £2,300
www.denon.co.uk
Highs: Superbly balanced sound; 11-channel DTS Neo:X output; Ethernet switching; excellent features and setup wizard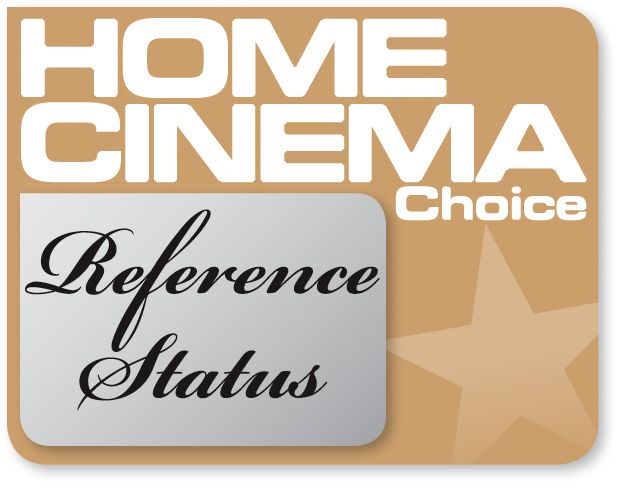 Lows: No asynchronous USB input; control app lacks pizazz compared to some
Performance: 5/5
Design: 5/5
Features: 5/5
Overall: 5/5

SPONSORED VIDEO

SPONSORED VIDEO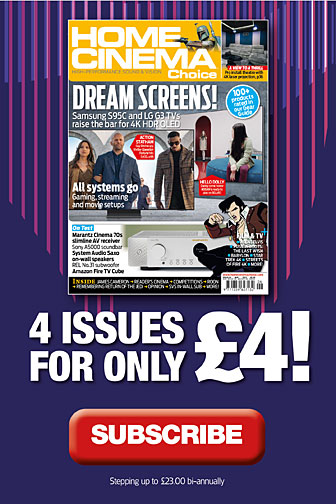 Home Cinema Choice #332

is on sale now, featuring: Samsung's 8K flagship; Anthem AVM 90 processor; B&W 800 Series Diamond; LG smart projector; Hollywood box office bombs; Hitchcock 4K; and more
Want to see your home cinema system featured in the pages of HCC? Click
here
for more info.