Datasat LS10 review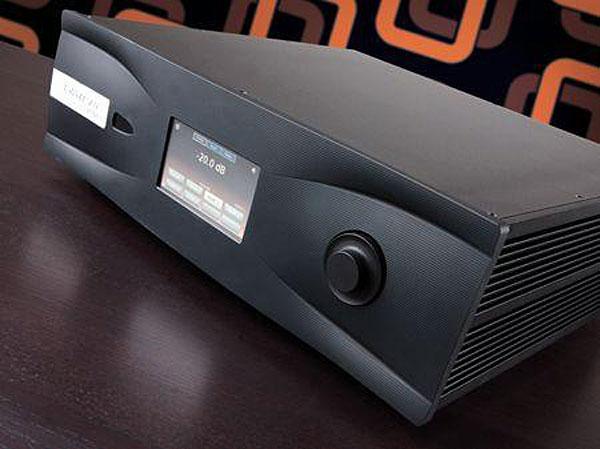 This AV processor proves that investing in high-end hardware brings significant rewards...
The Datasat LS10 is a stripped-down and frill-free 'lite' version of the company's flagship RS20i, aimed squarely at the custom install market. Those looking for fancy GUI interfaces, easy-to-access user options and wow-factor remote controls can look away now. If you are seeking seamless performance, pro-quality


processing and even Auro-3D, then read on.
It's a 13.2-channel AV processor which comes to market at an eye-watering £10,000 for the vanilla DTS-HD/Dolby TrueHD version. If you want the Auro-3D ability, it's an update at a further £3,000. Ouch. And this is the more affordable model in the brand's line-up, forgoing such fun as the DIRAC Live room EQ found on its over-engineered bigger brother. Dolby Atmos is currently absent, too; Datasat tells me it is working on an upgrade path for Dolby's next-gen platform, and it should be available later this year.
What you do get in the LS10 right now is core audio processing that most local cinemas would be proud of, compatibility with the lossless Dolby and DTS formats (and Neo:X) and control via a Virtual Network Client (VNC) on a PC or smart device. The LS10 is all about performance and delivering the cleanest, most accurate audio processing available. Widgets taken for granted on even the most basic AVR are consigned to the bin if they are not performance-critical.
If looks could kill...
The Datasat has the looks to back up its high-end, straight-down-the-line ethos. It's dark and moody with a satin-black finish. Swage lines on the chunky fascia draw the eye to the bold central colour display. As you can tell from the lack of hardware buttons and knobs on the front, this is a touchscreen interface, which is colourful and responsive and can run fully-customised options and background wallpaper.
The back is arguably a whole lot more exciting too, particularly if you have a penchant for balanced analogue audio. No less than 15 XLR outputs are included. At its maximum the LS10 will run 13-channel processing with twin subwoofers. For the enthusiast, that could be a full 7.1+6-channel Auro-3D set up. Sadly, for those running a lesser number of speakers there is not much in the way of multiroom ability with the spare outputs.
Actually connecting the LS10 into my system was relatively easy, as it sat on top of my Denon AVP-A1HDA and the connections duly moved across. I love the fit and feel of XLR and the cables lock into place firmly. If you are considering long cable runs to your power amp(s) – five metres or more – XLRs also allow you to run fully-balanced cables to ensure best signal integrity and shielding from interference.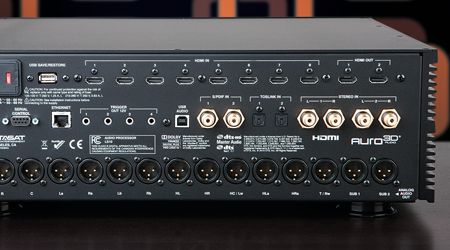 Digital delivery
Anyone worried by all my talk of no-frills specification, don't panic – the LS10 does proffer eight HDMI inputs and two outputs (v1.4), all supporting 4K (at 24p) and 3D. There's is also a raft of S/PDIF digital connections, USB options including USB 2.0 asynchronous input to the built-in DAC, and an Ethernet port for network control. Unsurprisingly, there is an array of 12V triggers, a remote control port and an RS232 serial connector to integrate with a custom install control system. Hooked up to a display, don't expect an onscreen interface; the LS10 relies on its own front-panel display so as not to contaminate the pure video path.
What is also missing is a microphone input. This threw me to start with as the Datasat LS10 boasts a 10-band parametric EQ system for every channel. The supplied remote control is an appallingly uninspiring plastic affair that is designed as an item to use only if your touchscreen device is in another room – and it does not give access to the setup menus. And after much prodding of the touchscreen display I soon realised that the interface wasn't going to help with setup either.
Achieving even a most basic install requires a network connection and a PC/laptop/smart device running a VNC application. That is actually a lot simpler than it sounds and transpired to be flexible and robust. The interface replicates a typical AVR GUI, with options for speaker size, crossover, level, delays and input assign. It works best on a tablet, which saves booting up a laptop and gives you enough real estate to see the control properly.
Room EQ is a lot less straightforward. While the EQ controls are comprehensive, the only way to achieve an accurate balance in-room is to tweak the filters while running a completely separate real time audio (RTA) analyser. Handily, being an audio geek, I had just a system to hand. So, with a calibrated DBA RTA mic, Roland Quad Capture USB interface and TrueRTA software running on the laptop, I got the LS10 to generate a pink noise tone for analysis to each channel. By manually looking at the measured frequency plot you can then adjust each of the LS10's 10 EQ filters, across frequency, gain or cut and Q, and witness the effects on the sweep plot in real time.
That is potentially 150 filters 'to do' for a full 15-channel system. Given that adjusting any filter will have an impact on adjacent filters, particularly if each has a wide Q, then the time required to properly set up the LS10's room EQ will be measured in hours rather than minutes. If you love tweaking, the LS10 offers near infinite fettling opportunity. If you want to watch a movie, it's probably time to call in your Datasat installer.
Frankly, if you are in the market for a £10,000 processor (plus matching amps, speakers and video kit), then getting someone in to do the job properly isn't going to add too many beans to the overall hill.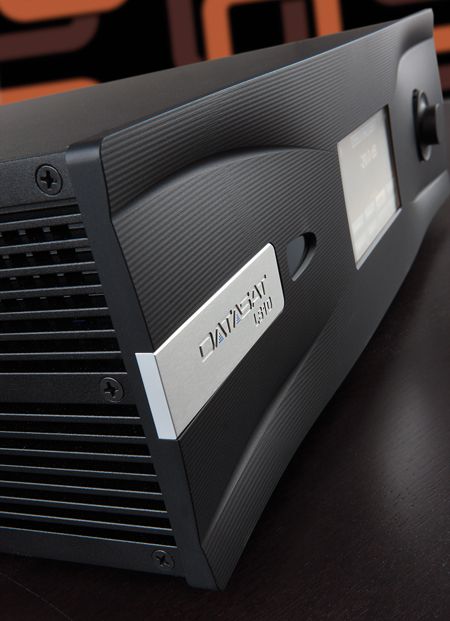 To boldly go where I've gone before
Once fully calibrated, the first soundtrack you hear through a new piece of equipment is arguably the most important. Your ears are fresh, your mind is open and your brain has not had time to engage its own mental DSP. So for the LS10 I returned to one of my all-time favourites, the crisp Dolby TrueHD soundtrack for 2009's Star Trek. And if there is such a thing as love at first listen, then you are all invited to my Datasat LS10 wedding.
This sonic slab makes the opening sequence of JJ Abrams' sci-fi an utterly breathtaking experience, delivering seemingly endless scale and dynamics while remaining supremely well-balanced. Dialogue is articulate and intelligible, but at an optimum level relative to the chaos of the USS Kelvin being attacked. Effects are simply huge.
The sheer clarity and transparency of its sound through quieter passages impresses equally. Star Trek's expertly-recorded mix creates a proper field of silence from which the score, dialogue and effects leap forth. With the LS10, it's as if the sound has been cleaned up and separated into its individual components before being carefully presented to you. Every creak and groan of the ship's hull is tangible and real, and it is incredibly difficult to pin-point the speakers. Ironically, considering the LS10 doesn't yet do Dolby Atmos, I found myself making very positive comparisons with the best demonstrations I have had heard of object-based processing. The myriad, divergent soundscapes of Cloud Atlas (Blu-ray) were delightfully staged.
I aired on the side of subtlety in the EQ department, and found that the differences between EQ and no EQ were themselves subtle. Of course, you can go mad with the EQ but, as with any parametric equaliser, you simply can't iron out node-based peaks and troughs by adding or reducing energy. For adjusting the odd speaker balance anomaly or room-damping issue at specific frequencies, Datasat's system works a treat, however.
My love affair with the LS10 lasted the distance, too. Its smooth balance and unbelievably clean, gorgeously separated sound makes for properly fatigue-free listening. Over the few weeks I lived with it, never once did I find the presentation grating or have need to back off the volume. This was never more evident than with two-channel music fed from a PC into the USB 2.0 input. While a session with a new AVR or processor often involves stringing together a familiar list of test tracks to see how 'it' sounds, the LS10's ability to sonically disappear from the mix means you end up listening to the music instead. And then more music.
With movies too, after each film I often found myself checking the clock to see if I could squeeze in another (albeit a bombastic one) before bed. A lot of big AVRs and fancy processors have impressed me with their scale and dynamic prowess, their detail and resolution, or their stunning ability with a particular genre of movie. Yet I can think of only two that are captivating with any movie due to their impeachable neutrality and sheer transparency – Datasat's LS10 and Anthem's long-established D2v.
Listening pleasure
The LS10's frugal feature count, manual setup and current lack of Dolby Atmos decoding (not to mention HDMI v1.4 specification) is not going to appeal to those who want it all and want it now. Compared to a current top-range AV receiver at a fifth of the price, it is almost barren of bonus goodies. Yet what your £10,000 does get you is unrivalled processing and a sound that will continue to impress, with movies and music, long into the future. It's fit for the finest of cinema installs. Planning one of those? Then audition one of these.
Specification
Dolby TrueHD: Yes. And Dolby Digital Plus
DTS-HD Master Audio: Yes. And Neo:X
THX: No
Multichannel input: No
Multichannel output: Yes. 15 x balanced XLR
Multiroom: Yes. 1 zone
AV inputs: 4 x digital audio (2 x optical and 2 x coaxial)
HDMI: 8-in, 2-out, v1.4
Video upscaling: No
Component video: No
Dimensions: 442(w) x 434(d) x 147(h)mm
Weight: 15.4kg
Also featuring: Manual parametric EQ; VNC control; touchscreen display; remote control; 12V triggers; RS232; USB 2.0 input; rack-mount kit available; Auro-3D upgrade available; twin subwoofer outputs

SPONSORED VIDEO

SPONSORED VIDEO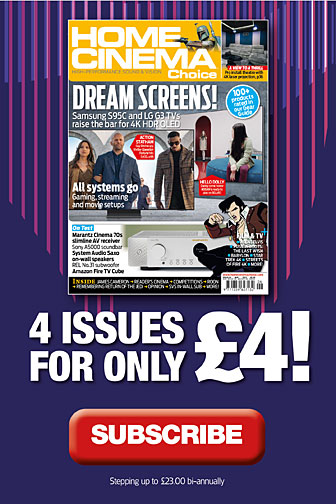 Home Cinema Choice #332

is on sale now, featuring: Samsung's 8K flagship; Anthem AVM 90 processor; B&W 800 Series Diamond; LG smart projector; Hollywood box office bombs; Hitchcock 4K; and more
Want to see your home cinema system featured in the pages of HCC? Click
here
for more info.