Bargain Blu-ray!

The Panasonic DMP-BDT230, Pioneer BDP-150 and Sony BDP-S5100 fight it out in our Blu-ray grouptest
Hi-def disc-spinners have become smaller, smarter and cheaper, making them great for adding to second-room screens. Mark Craven auditions a trio of big-brand offerings…
---
Enter the middleman
Sitting below Panasonic's DMP-BDT330, this straightforward player still has a lot going for it
Panasonic has unleashed a quartet of Blu-ray players in 2013, and the DMP-BDT230 reviewed here sits in the middle, below the £200 DMP-BDT330 and above the £110 DMP-BDT130 and the £75 DMP-BD79.
As you step down the range, the differences between the products are slight, but potential buyers should take note of the following: this player doesn't offer the 4K upscaling or twin HDMI outputs of its dearer sibling. It sports a black finish, rather than silver, and its disc tray isn't hidden by a transparent pull down flap. It is therefore oh-so-slightly less stylish.
Beyond the styling and those missing tech ticks, there's nothing to separate the DMP-BDT230 from the DMP-BDT330, so I think this deck could be the better option for the budget-conscious. I can't envisage the 4K upscaling chippery ever being employed, and the diminutive nature of the player itself means the silver or black styling will make little aesthetic difference wherever the deck is sited. It's only the single HDMI output that stands out, as it makes the DMP-BDT230 unsuitable for anyone using an older, 3D-ignorant AV receiver.
Business as usual
The above differences aside, the DMP-BDT230 proves an identical user experience to the DMP-BDT330. This means you get the same reasonably fast disc-loading times and neatly-styled hi-res user interface (with the latter also proving simple to whizz around via the supplied remote control). Yet you also get the same irritating setup foible, whereby the Panasonic player outputs the lossy core audio of a Dolby TrueHD or DTS-HD Master Audio mix by default. Changing this only requires a quick fiddle in the Sound settings menu, but I wonder whether casual users will ever bother.
As a multimedia hub, the DMP-BDT230 includes support for FLAC and MKV, though the latter is only an option via USB. (The presence of an SD card slot is unique in this grouptest, and is handy for viewing digital camera snaps without recourse to your PC). Browsing content isn't the most inspiring experience either, as the menu system employed is noticeably older than the front-end UI. It is, however, idiot-proof.
The same is true of the Viera Connect hub, which uses big icons and a forwards/backwards control to let you delve deeper. Annoyingly, though, during my audition I became unable to access the app portal due to the player's insistence it needed a firmware update, with it then reporting that no update was available. Odd.
AV performance is, as with practically all Blu-ray players these days, hard to fault. At no point during my audition did the Panasonic falter. A stereoscopic Blu-ray platter of The Three Musketeers (2011) was delivered with tantalising depth and a natural colour palette, and detailing is solid – the intricate fabrics of the movie's period costumes come to the fore. Sonically, the disc's DTS-HD 5.1 mix was output without fuss, and a run-through of some test patterns from Spears & Munsil's HD Benchmark Blu-ray didn't throw up any hideous artefacts.
Easily recommended
Overall, the Panasonic deck is easily recommended as a budget Blu-ray player. Even in this black guise its form factor is very appealing and the UI is the slickest of our tested trio. Discs are handled with care and it's quiet in operation. However, the Viera Connect hub does feel like a bolted-on feature rather than something that's truly integrated – and, unlike the competition here, Super Audio CD playback isn't offered.
---
HCC VERDICT
Panasonic DMP-BDT230
Price: £140 Approx
www.panasonic.co.uk
Highs: Straightforward DLNA interface; neat design and solid build; fuss-free BD playback
Lows: No SACD playback; Viera Connect portal feels a little old and 'bolted-on'; firmware update niggle
Performance: 4.5/5
Design: 4/5
Features: 4/5
Overall: 4/5
---

Old-school offering
The BDP-150 looks like a Blu-ray player from a couple of years ago. And sometimes feels like it
Pioneer's BDP-150 offers something a little different than its rival Sony and Panasonic models, but comes in at a similar price tag. It won't be your wallet that makes the buying choice for you, rather the Pioneer's way of doing things.
Most obviously, it comes from a different school of design. Where the Panasonic DMP-BDT230 and Sony BDP-S5100 are adorned with natty angles and svelte dimensions, the BDP-150 feels more mature. It's styled like all players used to be – full-width, square-edged and quite tall. Personally, I like this approach, and the brushed black fascia, centrally-mounted disc tray and chunky buttonry are certainly appealing. However, if you're planning on sneaking this deck into a second room – your bedroom perhaps – you will probably find yourself wishing it was a bit more discreet.
Equally important is the BDP-150's attitude towards extra-curricular entertainment.It's billed as a network player thanks to its DLNA compatibility and USB playback (and file support extends to FLAC and WMA), but it lacks any kind of Smart hub beyond the provision of YouTube, Netflix and Picasa. The first two are useful, the latter... well, if anyone has ever used this app, please write in and tell us.
Accessing these services, or files stored on your own network, is achieved via the deck's rear-mounted Ethernet jack. Unlike the others here, Wi-Fi is not built in. Pioneer will sell you its AS-WL300 dongle but it retails for £50. So adding that onto the BDP-150's asking price makes it seem immediately like less of a bargain. When Pioneer launches new players later this year, I expect this irritation to have been rectified.
Connectivity includes a lone HDMI output, a coaxial digital output, composite video (why?) and stereo analogue outs should you want to make use of the player's 192kHz/24-bit DAC. There are also two USBs – use the front port for quick media playback and the rear for the Wi-Fi dongle.
The user interface is a no-nonsense affair, offering little of the Panasonic's visual panache or the quirkiness of Sony's option-laden XrossMediaBar. As such, it's slightly easier to get to grips with, using tidy fonts and a simple left-to-right system. The Home Media menu provides access to your digital files, while Web Contents takes you to the aforementioned trio of apps. Note that there is no web browser, unlike the Panasonic and Sony rivals.
SACD delight
As well as 3D Blu-ray support, the BDP-150 also offers Super Audio CD playback, like its Sony BDP-S5100 grouptest contender. With my venerable copy of David Bridie's Act of Choice (5.1), output as DSD to my Yamaha RX-V673 AVR, the Pioneer really shows the aural benefits of the lossless format, with low frequencies delivered with impressive weight and a clarity and airiness to the vocals and percussion. I found it very easy to listen to.
Movie performance is equally sublime. Like the Panasonic player, the Pioneer offers a raft of picture adjustment tools that frankly are best ignored – I found the Standard mode to be perfectly agreeable. Images come through packed with detail, sharpness and believable colours. And it has a smoothness that perhaps edges out the competition.
Straight-up AV
In summary, Pioneer's BDP-150 is a perfect choice for those who favour straight-up AV performance and a 'traditional' styling over 'net-connected smarts and easy installation. However, at this end of the market, I worry for Pioneer's sake that such consumers may be few and far between.
---
HCC VERDICT
Pioneer BDP-150
Price: £150 Approx
www.pioneer.co.uk
Highs: Impressive SACD and Blu-ray performance; simple interface
Lows: No built-in Wi-Fi; Smart services limited to Netflix, YouTube and Picasa; cheap-feeling remote control; might be a bit big for some environments
Performance: 5/5
Design: 3.5/5
Features: 3/5
Overall: 4/5
---

A sense of style
Sony's deck marries a 'look at me! design to some useful Smart talents
The BDP-S5100 isn't Sony's top-of-the-pile Blu-ray spinner. That accolade resides with last year's BDP-S790, which is being continued for 2013. Yet the deck tested here brings some new additions – notably the 'sense of quartz' design and Triluminos Colour branding.
The latter claims to produce a colour enhancement when the deck is used in conjunction with a Triluminos display – Sony's W9 series TV, in other words. In reality this means it is X.V.Color capable. The 'sense of quartz' design, meanwhile, is Sony's way of saying the top of its BD player rises up into a peak, creating eye-catching angles, and making you wonder whether it's safe to put a cup of tea on top of it. Which it is.
Build quality is the least impressive of our trio, with a wobbly disc tray and an HDMI input that, for some reason, just didn't feel like a smooth fit for my cabling. The remote control is stumpy, but gloriously intuitive.
Connections wise, the BDP-S5100 offers a single HDMI hookup, a coaxial digital audio output, USB and Ethernet jacks. Wi-Fi is built in and worked without hiccup.
The 4K upscaling found on the BDP-S790 has gone AWOL, as has the Skype compatibility. However, Super Audio CD playback has been retained, making this player a comparable rival to the Pioneer BDP-140. Like the Pioneer, though, the Sony is by no means an audiophile solution – DVD-Audio discs are eschewed, as are multichannel phono outputs. But I'd rather have SACD playback than not.
Simple setup
With installation requiring nothing more than an HDMI cable into my AVR, setting up the Sony takes mere seconds. A step-by-step guide lets you choose to activate the player's Quick Start mode (the option of faster bootup times at the expense of increased power consumption in standby mode), jump onto your home network and set the language. Then you're done.
The Sony's UI feels a bit outdated. Navigation of the XrossMediaBar system remains simple, but it's practically the same environment as that on my three-year-old BDP-S570. Furthermore, the way Smart services are integrated is a bit confusing, as you can either select from the home screen or from the dedicated SEN (Sony Entertainment Network) hub. The latter is more graphically appealing, but slower in operation.
Media playback is hampered a tad by the utilitarian interface – I preferred the Panasonic's dedicated sub-menu section. Furthermore, I had to delete and update my Windows 7 server before the Sony would finally play ball.
On-demand content is decent. LoveFilm, Netflix and YouTube are joined by BBC iPlayer and Demand Five, and there are other apps, such as Crackle, worth exploring. PPV films and music can be snaffled from Sony's own ...Unlimited services.
Ridley Scott's Robin Hood on Blu-ray loaded quickly and I was soon gorging on the Sony's razor-sharp presentation of medieval England. Visuals are smooth and life-like. It's natural colour palette seems a little punchier than its rivals, although shadow details are maintained during dark scenes. My 3D Musketeers platter again proved engrossing.
As with the Pioneer, the BDP-S5100 can handle SACDs, and while its performance is solid, my David Bridie disc didn't come through with quite the same weight and range as on the BDP-150. Clarity was superb, though.
A fine Blu-ray player, then, but build quality and usability could be improved – and the dinky design is a 'love it or hate it' affair..
---
HCC VERDICT
Sony BDP-S5100
Price: £140 Approx
www.sony.co.uk
Highs: SACD compatibility; intuitive remote control; plenty of VOD content including Sony's PPV service
Lows: User interface could be simplified; uninspiring build quality; styling won't suit everyone; utilitarian DLNA portal
Performance: 4.5/5
Design: 3/5
Features: 4.5/5
Overall: 4/5
---
Final standings
If you're looking to spend around £150 on a Blu-ray player it's likely you're either building a budget home cinema setup, or wanting to add hi-def disc playback to another HD screen somewhere in your house. All three of the models tested here are more than up to either task, although there are differences between them that could sway you one way or another – choosing a clear-cut winner has proven tricky. So we haven't bothered...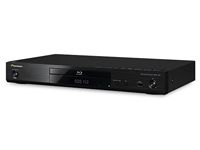 For some people, Pioneer's BDP-150 will be the preferred option. The deck's user interface, while far from glamorous, is the most intuitive, and the chunky styling will appeal to mature AV fans. However, while it looks like a serious machine, build quality is less reassuring, and the supplied handset feels dangerously shoddy. More importantly, it lacks some must-have Smart features and isn't Wi-Fi-capable. On the other hand, its AV performance, particularly with Super Audio CDs, stands out here.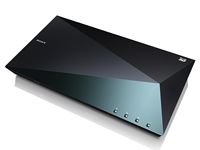 Sony's deck is the smallest of the lot, and that could stand in its favour. Tucking it away in a bedroom or kitchen, where you're unlikely to have plenty of rack space, will be a doddle – and built-in Wi-Fi adds installation.
Its SACD compatibility is also a boon at this price point, and the Smart hub is well-stocked. However, its build quality isn't great and the user interface is overwrought. Browsing your home media is a dull affair.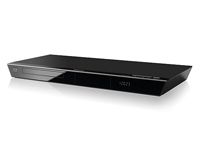 Panasonic's DMP-BDT330 ignores SACD and that may strike it from your shopping list immediately, although for many buyers armed with only 150 notes it won't be an issue. Meanwhile, the Viera Connect portal (accessible via built-in Wi-Fi) offers a decent (but not outstanding) selection of content, but could do with a visual refresh, quicker operation and better integration into the otherwise slick user interface. Yet design-wise, the Panasonic is our favourite, with a svelte form factor that will be easy to accommodate and a robust feel. And its AV performance is hard to fault.
So, three affordable Blu-ray decks that are difficult to separate. The choice is yours...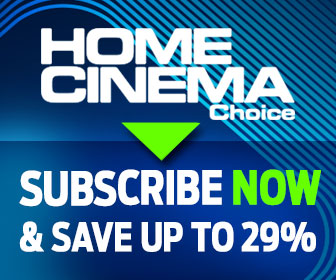 Home Cinema Choice #316 is on sale now

, featuring: Samsung Neo QLED TV; Monitor Audio Atmos system; battle of the SVODs; disaster movies on Blu-ray; BenQ UST projector; disc reviews; opinion; and more.
Want to see your home cinema system featured in the pages of HCC? Click
here
for more info.