Virgin Media powered by Tivo review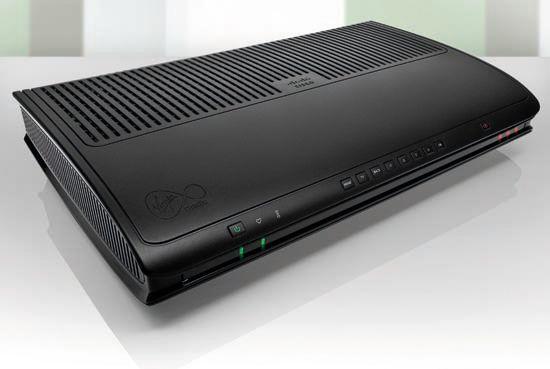 Virgin Media has brought TiVo back to the UK in its latest set-top box. Mark Craven goes goggle-eyed with excitement
I love my Sony PlayStation 3. So much so that a while ago, I decided that if my house was burning down, it would be the first thing I'd save (after the cat, of course). The rest of my AV gear, including flatscreen TV, receiver, speaker system, Xbox 360 and regular Blu-ray player could melt in a gloss-black pyre. As far I was concerned, my BD-deck-cum-games-console-cum-media jukebox was more precious. Yet now, with Virgin Media's new TiVo-powered set-top box plumbed into my system, the PS3's position as hardware numero uno is looking increasingly precarious.
In fact, I'm happy to admit that Virgin Media's flagship cable box has radically altered the way I watch TV. Where I once wasted hours of my week trudging around the EPG and VOD menus looking for interesting programmes, I now sit smugly, while my set-top box does all the hard work, bringing me juicy content like an obedient dog retrieving a stick. This is extraordinarily cool.
But first, back to basics. Virgin Media powered by TiVo (its full title), is the new, top-of-the-range service offered by the UK cablecaster. It's available to anyone living within a Virgin Media cable area, which the company claims is around half the UK's homes, but as detailed in HCC #194, can be a bit of a postcode lottery (check Virgin Media's website to see if your address is covered.)
Getting the box isn't cheap. Pricing for new customers is £200, plus installation, and you need to subscribe to VM's TV XL package. Existing customers can get one for £150. VM has been taking pre-orders for a few months now, too, so there could be a delay getting one installed.
A 500GB box was announced just before we went to press, available to all VM TV (not just XL) subscribers, and at a cost of just £50.
Style upgrade
VM TiVo offers many improvements over V+HD, but I'll start on the outside. Gone is the double-decker bus form factor, replaced with a slim, elegantly curved unit and a far less chunky remote control. It's also quieter in use. While V+HD whirred and clicked so much it was like having two mice playing ping pong in your living room, VM TiVo is assassin-quiet.
Under the hood, things are different, too. The HDD has been increased to 1TB, which equates to storage space for around 400 hours of standard-def TV and 100 hours of hi-def. The implementation of the three tuners has also been tweaked.
With V+HD you could record two channels while watching a third, but now you can record three channels at once, while watching a recording. Even better, the tuners can be used for multiple buffering of live TV, allowing you to switch between three channels and pause/rewind/fast-forward each of them. It's trickplay TV on steroids.
Various recording options include prioritising shows to avoid clashes, adding repeats to Series Links, extending recordings of live shows that run over time, and activating recordings remotely via your phone or the web.
Lurking inside the Cisco-made box is also a dedicated modem, meaning the VM TiVo box can suck on net-delivered content without impacting on your home's own broadband feed.
So far, so good. But it's not the hardware changes that make VM TiVo as cool as a dead polar bear, it's the all-new GUI and software. You see, Virgin Media TV XL customers have long had the best catch-up TV and VOD offerings available, but under the old V+HD regime actually finding what you wanted to watch was sometimes a bit of a chore. Too much choice made it hard to actually choose. Sensibly, VM has realised this, and called upon legendary US PVR brand TiVo to overhaul its system. So now, just like the original, much-revered TiVo service, your cable box learns your viewing likes and dislikes and brings content to you.
Of course, it doesn't do this by magic. You have to put in some groundwork by rating content under a simple Thumbs Up/Thumbs Down system. Once you've begun 'thumbing' programmes, VM TiVo then gets to work, firstly, by recording shows that it thinks you will enjoy to the hard drive (but never at the expense of one of your own scheduled recordings) and by highlighting programmes in the home menu's 'discovery' bar. If it suggests something you don't like, just thumb it down and it (almost certainly) won't do it again.
Even if you can't be bothered to thumb content, VM TiVo will make suggestions based on shows you have chosen to record.
After a few weeks, my box seems to have a got a good grip on what I enjoy. There have been a few bumps along the way (just because I like Red Dwarf doesn't mean I like Doctor Who, okay?) but generally, everything VM TiVo has recorded has been up my street. And it's helped me keep up with what's on TV.
For instance, I only discovered a new series of Russell Howard's Good News had started on BBC Three because it appeared on my hard drive one morning. As someone who never reads a TV guide (face it, who does these days?), this is very useful.
In fact, so innately clever is VM's version of 'push' TV that I've actually been late to work because I've felt compelled to check My Suggestions before I leave the house.
Search me
Working alongside the Thumbs Up/Down system is a new powerful search and browse function that uses extensive metadata to help find the content you want; type in Jason Statham and it will point you towards anything the muscles from, er, Chesterfield is in, whether it's available on VOD, or on a forthcoming broadcast.
If you want, you can then set up a 'Wishlist' search, so VM TiVo will continually hunt for Statham material from now on – and automatically record it, too.
And it's not just actors and directors you can set wishlists for: I've got a 'pork' keyword search set up, so VM TiVo is now recording cookery programmes which feature my favourite meat.
Sad, but true.
The search function is also linked to another feature making its first appearance on the VM platform, YouTube. The video upload site is one of a small selection of apps currently available including eBay, Twitter and Weather. These reside in a dedicated Apps menu, but YouTube access pops up all over the VM TiVo interface, serving up clips related to what you're watching.
Apps scheduled to appear in the future include Facebook, Flickr and Picasa. There are other new features and improvements that I simply don't have space to explain, but one that does deserve special mention is the backwards EPG, which lets you go back in time, sort of.
Why would you want to see what was on TV last Wednesday? Because anything which features a circled 'C' logo on the EPG is available to watch via catchup. Neat.
Picture quality is subjectively identical to the V+HD service – ie. perfectly fine. It varies depending on what channel you're watching, naturally, but turn to any native HD content on the growing number of hi-def channels and your're rewarded with sharp, stable pictures.I have also noticed fewer instances of the box momentarily freezing up than I did with V+HD.
Work in progress
Of course, VM TiVo isn't 100 per cent perfect. During my audition process I encountered a couple of minor niggles and one major one... Firstly, while the GUI is sleek, colourful, quick and beautifully hi-res, some of the sub menus aren't as lavishly decorated.
For instance, the Wishlist Search portion looks like it's been designed in another century, with much larger fonts and a text-only interface. I hope VM can polish these up, but seeing as it's using third-party software, that may be harder than it should be. The official company line at the moment is: 'TiVo is an evolving service so expect new updates and enhancements as it evolves.'
Secondly, I noticed some metadata on on-demand content failing to correspond to the actual programme. This isn't a major gripe, but reading the description of an episode of hit comedy Not Going Out and being served up an entirely different episode altogether, isn't ideal. Thirdly, the operating system takes some getting used to, especially if you've been a V+HD owner. Personally, I love it, and like the multiple ways you can choose to navigate yourself to the same area. On the other hand, my wife has, on occasion, threatened to throw the remote control down the toilet when she's been unable to do something in the way she was used to.
Lastly – and this is the real gripe – the BBC's Red Button service has gone AWOL. For some people this will mean nothing, as the teletext service has been stripped so thin it's barely worth bothering with, but sports fans will know it's where the Beeb frequently houses additional sports coverage, including F1 Grand Prix pre-qualifying rounds, Wimbledon, Open Golf and international football tournaments. And, although we would expect this service to appear shortly (it's still present on VM's other set-top boxes), we haven't yet managed to get confirmation.
Despite these grumbles, I'm still happy to award the VM TiVo box the full five stars. It's an unrivalled piece of home entertainment hardware. Sky may broadcast a more satisfying range of content in terms of 3D, sports and movies, but Virgin Media outmuscles it both in terms of VOD/catchup material and usability.
The TiVo-driven interface makes watching TV fun again, and the triple tuner/1TB HDD combo is a timeshifters' dream.
Ultimate upgrade
If you already have V+HD, you should be upgrading to this (or perhaps the more affordable 500GB version) as soon as possible. And if you live in a Virgin Media cable area, but aren't currently a subscriber, I'd give it serious thought.
After all, there aren't many lumps of metal and plastic around that give you a warm, fuzzy feeling, but this one does...
---
HCC VERDICT
Virgin Media powered by Tivo
Price: £200 (plus install and contract)
Highs: Triple tuner 1TB PVR is best in class; innovative search/wishlist/suggestions features
Lows: Complex user interface takes time to learn; no BBC 'Red Button' at present
Performance: 5/5
Design: 4/5
Features: 5/5
Overall: 5/5
---
Specifications
Tuner: yes 3 x DVB-C
HDD: yes 1 TB
HDMI: yes 1 x output
Digital audio: yes 1 x optical output
Scart: yes 1 output
Dimensions: 370(w) x 65(h) x 240(d)mm
Weight: NA
Features: Thumbs Up/Thumbs Down 'smart PVR' functionality; 14-day (forwards) and 7-day backwards EPG; extensive VOD/CatchUp; apps including YouTube, eBay and Twitter; search and browse; Series link; pause, rewind live TV; buffering of up to three tuners

SPONSORED VIDEO

SPONSORED VIDEO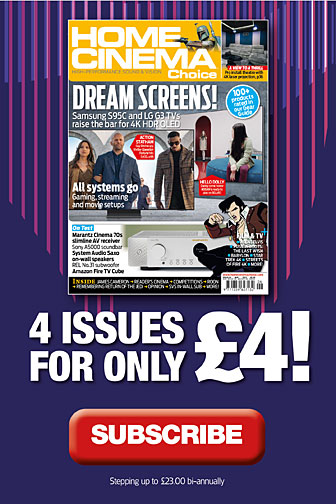 Home Cinema Choice #332

is on sale now, featuring: Samsung's 8K flagship; Anthem AVM 90 processor; B&W 800 Series Diamond; LG smart projector; Hollywood box office bombs; Hitchcock 4K; and more
Want to see your home cinema system featured in the pages of HCC? Click
here
for more info.