Samsung HW-MS650 review
Samsung has engineered a startlingly effective performance from its latest three-channel soundbar
Samsung's HW-MS650 soundbar arrives as the first of the brand's 2017 audio lineup. It hopes to build upon the good work of
last year's exemplary HW-K950
, and again boasts development at Samsung's state-of-the-art Audio Design Lab, which opened in 2016 with staff poached from luminary brands such as Harman, B&O and Gibson, plus Hollywood's film industry.
So, the HW-MS650 is a bit special then? You bet.
Headlining the burgeoning list of tech to make your head fuzzy is Samsung's patent Distortion Cancelling technology. This adapts the audio signal in real time, based on comparing the known limitations and characteristics of the drivers with each component of the original audio signal. Okay, that is actually a one-sentence summary of a 20-page presentation, but you get the idea.
The upshot is that with a high-volume explosion that would otherwise make drivers flap like flags in a breeze, the HW-MS650 aims to attenuate the troublesome frequencies on the fly, in real time, before distortion occurs. The same frequencies in subsequent dialogue would be untouched because it's not of high enough volume to send the drivers into distortion.
Apply that to the full frequency spectrum and you can see there is a whole lot of clever processing maths going on. The only similar sort of technology I am aware of in domestic loudspeakers is Devaliet's SAM in its Phantom range of speakers… and they are upwards of £3,000 a pair. This is a £600 soundbar.
The result of all this digital trickery, says Samsung, is much lower measured and audible distortion, particularly down in lower registers where the HW-MS650s array of 2in x 4.3in drivers would otherwise struggle. This delivers cleaner and deeper bass and, the logic goes, eliminates the need for a subwoofer.

Behind the soundbar's fixed-on grille is a truncated blue display that scrolls text three characters at a time, plus three speaker channels (left, centre, right). Each channel gets one of Samsung's bespoke tweeters and a pair of midbass drivers. Analogue crossovers, always an area of distortion, have been dispensed with. The HW-MS650 has one 20W power amplifier for each driver – all nine of them – and fully active crossovers.
The tweeter is the same one developed for the flagship HW-K950 soundbar, a wide-frequency range unit that operates down to 700Hz. This aims to keep the bulk of dialogue range frequencies coming coherently from a single driver, and offers significantly wider dispersion than a traditional dome. The result should be a wider soundstage that spreads the sweet-spot around – the rest of the family no longer have to be in the cheap seats.
The soundbar's connection panel is housed in a deep rear-panel recess so plugs don't stick out or cause issues with close to wall mounting. A right-angle figure-8 mains lead is supplied, and there's also a figure-8 mains power output socket. This allows you to hook up your TV power without another cable trailing down the wall. Handy.
The one input/one output HDMI stage might be a bit limiting for those with an older TV but as most soundbars are hooked up to TV via an optical cable, the majority of buyers won't complain. Both sockets support 4K/HDR passthrough and HDCP 2.2, offer ARC, and are mounted on the side of the recess to accommodate cables with the chunkiest of plugs.
Alongside the single optical digital port is a 3.5mm analogue input and a bespoke socket for Samsung's wireless subwoofer dongle. So, yes, there is a subwoofer available… Samsung says you don't 'need' one with the MS650 but you might 'want' one for the full home cinema effect. The sub in question is the SWA-W700, priced at £600.
Other talents of the HW-MS650 are Wi-Fi connectivity, music streaming (and multiroom) and two-way Bluetooth. The Bluetooth output allows you to hook up a pair of wireless headphones and listen to any source, including networked audio, connected to the soundbar.
For the full five-channel surround sound movie experience, leveraging the MS650's onboard Dolby Digital decoder, you can add the optional SWA-9000S wireless speaker kit (£250).
The WiFi/WPS and Samsung's Speaker Add buttons are recessed on the underside of the soundbar. Ideal if you are using the supplied wall mount kit. Not so convenient if you have the MS650 on an AV stand. Thankfully they won't be used too often.
Controlling the MS650 is by its rather funky remote, any Samsung TV remote, Samsung's Multiroom app or, in case of emergencies, four buttons on the side of the soundbar. The app has had a major overhaul since I used with it with the HW-K950 last year and is now even slicker. Alongside multiroom streaming, library and playlist management and music services including Spotify Connect, it adds seven-band EQ to the basic suite of soundbar controls.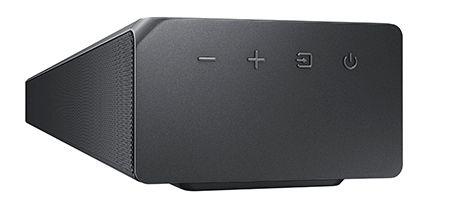 If you are looking for a little extra pizzazz alongside the standard sound settings, you get several DSP virtual surround modes and Samsung's Smart Mode. This analyses the audio stream, adapting dialogue balance and levels, ambient effects and even the music relative to the content.
Add in a basic wall bracket, clips to hook the MS650 onto a Samsung TV stand and a neat cable holder to keep coiled cables in the rear recess, and HW-MS650 is good to go.
It's quite a fetching looking piece of AV hardware, too. Solid, not too big and wrapped in dark-coloured brushed metal. If you have a curved TV, there's the HW-MS6500, which is the same unit in a curved cabinet
to match.
The horizontal soundbar orientation still seems odd to me. Wall-mounted, it sticks out over 14cm. If it was vertically orientated it would look deeper on the wall but stick out far less and offer much larger baffle space to accommodate larger drivers. It seems the horizontal tradition of soundbars is not something even Samsung's Audio Design Lab is going to challenge.
Samsung HW-MS650 performance
The HW-MS650 doesn't sound like a soundbar. There is none of the cabinet resonances you usually get with slim soundbars and none of the colouration and filtering usually associated with multiple small drivers. Moreover, there is no hint of the bandwidth limiting you normally get with small drivers in a low-volume enclosure. It's weird, in a really good way.
Playing music, in particular, the MS650 actually sounds much more like a good pair of stereo speakers –pushed slightly too close together – rather than a soundbar. With the Smart Mode engaged there is a crispness and resolution that will startle you if you are coming from an inexpensive soundbar or just plain old TV sound. The bass delivery is, frankly, amazing. It has a depth and lushness that could show a thing or two to decent audiophile standmount loudspeakers.
That has a very positive effect on dialogue, hitting that rare combination of being both rich and articulate. Watching E4 on broadcast TV offers a myriad of presenters and eclectic content with accents from all over the world. This didn't faze the HW-MS650 at all and, inevitably, the review process kept turning into me watching yet another programme blissfully forgetting the soundbar was there.
While the sheer clarity and lack of colouration is mighty impressive, the MS650's bass is definitely its killer feature. At normal listening levels it allows the sound bar to deliver near full-range sound without having to find room for a subwoofer in your living room.
Such was the bass output I set up my test mic and RTA software to measure the HW-MS650's in-room response. Despite being up against the wall beneath the TV, its -6dB point was 38Hz and there was still plenty of output (-10dB) at 32Hz. I've tested dedicated active subs that don't go as low as that.

But before we get too excited here, and subwoofer manufacturers start flogging themselves with redundant 15in drivers, that frequency response is at limited maximum volume. Turn up the power and the clever Distortion Cancelling tech limits driver excursion and backs down the signal at these low frequencies before the drivers get flappy and uncontrolled.
Game of Thrones sounded rock-solid and fulsome with plenty of detail in the ambient effects. With Tyrion Lannister standing on the battlements awaiting the sea attack from Stannis Baratheon's fleet, you can hear with vivid realism the crackle of torches, the creak of bows and nervous men swaying in the sea breeze. As the scene cuts to the ships, the HW-MS650 iterates the creaking timbers with solid, deep bass effects.
With volume set to 80/100 at this point, you'd expect the ensuing wild-fire explosion to be a cacophony of ruffled drivers and distortion. Not so. While the explosion isn't going to blow you off the sofa, it remains composed and beefy enough to underline the effect, if not make a true cinematic-level subsonic experience. You can't over-drive or damage this soundbar through giving it too much welly. On the downside, if you like it loud and want those deep frequencies at high levels, that add-on wireless subwoofer is going to be required after all.
Switching off the Smart Mode seems to compress the soundstage rather than significantly effecting the frequency response. The whole scene is just as detailed but somewhat smaller with less projection into the room. Trying material from music to movies, the Smart Mode had a dramatic and positive effect on the sound – I simply would not turn it off.
A romp through some of the DSP and surround modes was the usual fun but short-lived affair.. Yes, they all change the soundfield but none of them delivered anything like the crisp, detailed and supremely natural sound of Smart Mode.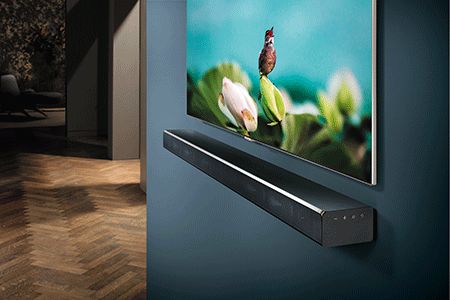 The seven-band EQ system works well and I ended up adding bass to make the sound even bolder… all without the speaker going into meltdown when the volume went up.
Samsung's Multiroom App demonstrates one surprising strength of the HW-MS650; it is sublimely good with music. It compares very favourably with dedicated amp and stereo speaker packages around the same price – which for a soundbar stuck to the wall under your TV is outstanding.
There is a very slight 'cuppiness' to vocals as a result of being up against a wall though, and while the top end is extremely well extended it can get a frisky at very high volume when deep bass is attenuated by the Distortion Cancelling technology. If that sounds like audiophile rhetoric more suited to our sister mag Hi-Fi Choice, it is only because the HW-MS650 sounds so much like a good pair of stereo speakers in the first place.
This rather less expensive model makes an interesting comparison with the premium, Atmos-enabled, multi-box HW-K950. They are very different beasts. With movies, the HW-MS650 doesn't have the scale of the HW-K950's Atmos system or its impressively immersive surround sound vista – with Fast and Furious 7 (Blu-ray), the mountain-road rescue sequence just doesn't have the same room-filling feel. Yet the MS650 is more refined, more of a polished performer and certainly a whole lot simpler. Okay, six hundred quid is still a considerable price, but in terms of sheer performance per pound, the HW-MS650 is outstanding value for money.

Samsung's newest soundbar is supremely articulate with day-to-day TV, turns in a genuine hi-fi performance with music and gives movies plenty of richness and clout. It is simple to set up and use and comes with a completely optional yet equally outstanding app. All that combines to make the MS650 probably the best everyday soundbar you can buy.

Specification
Drive units: 6 x oval midbass drivers (2in x 4.3in); 3 x Wide Range tweeters Amplification: 9 x 20W Connections: HDMI input; HDMI output (ARC); optical digital audio input; 3.5mm aux input; TV mains power output Dolby TrueHD/DTS-HD MA: No/No (downmixes both) Separate sub: No.Optional wireless sub available Remote control: Yes Dimensions: 1060(w) x 78(h) x 130(d)mm Weight: 6.2kg Features: Two-way Bluetooth; Wi-Fi; Distortion Cancelling; Excursion Limiter; Smart Sound Mode; DSP modes; Samsung Multiroom app control with streaming music and seven-band EQ; compatible with SWA-9000S; AAC, MP3, FLAC, WAV, OGG, ALAC; 4K/HDR passthrough; HDCP 2.2

SPONSORED VIDEO

SPONSORED VIDEO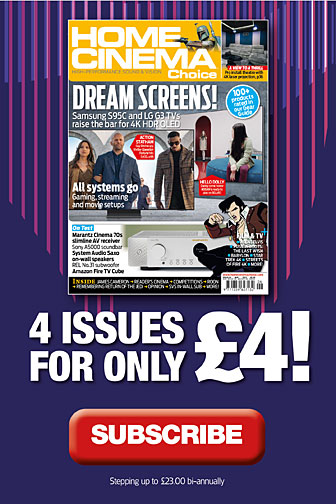 Home Cinema Choice #332

is on sale now, featuring: Samsung's 8K flagship; Anthem AVM 90 processor; B&W 800 Series Diamond; LG smart projector; Hollywood box office bombs; Hitchcock 4K; and more
Want to see your home cinema system featured in the pages of HCC? Click
here
for more info.