Quadral Signo Avantgarde 5.1 review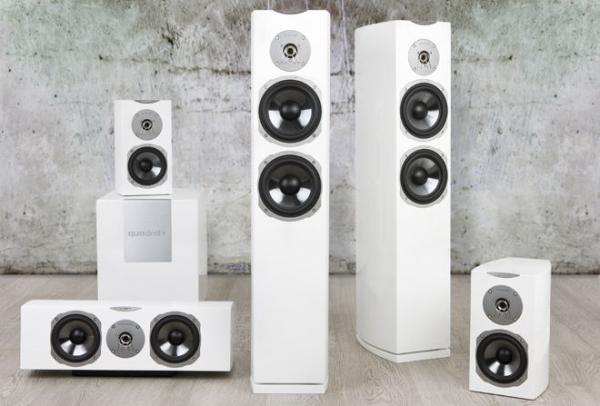 German-engineered speakers impress with their technical innovations and detailed performance
Regular readers will know that as well as home cinema, I also have a passion for automotive audio and cars in general. In that field, while many admire the exotic Italian offerings from the likes of Lamborghini and Ferrari, there's a similar passion for the German marques. BMW, Mercedes-Benz, Porsche – all are praised for their sheer engineering innovation. And if these speakers are anything to go by, the same national stereotypes could apply equally to home cinema. Quadral may not be as desirable a brand as, say, Italy's Zingali, but I like its attitude. It makes well-built speakers with some neat technical tricks.
Quadral started back in 1972. It first became famous for some huge and very high-fidelity speakers called Titan (part of the Aurum sub-brand) and now has ten different lines of loudspeakers, addressing pretty much every urge and performance bracket. These, the Signo Avantgarde, while quietly bearing evidence of serious skull-sweat, are priced at the top level of what might be described as a mid-market product. The system reviewed here retails for £3,300.
Driven to distraction
The front speakers in this 5.1 package, the Signo Avantgarde 70s, are the second-biggest in the range, below the 80s. They have two sizes of driver – a pair of 6.5in units and a tweeter. The Signo Avantgarde 10 Base centre channel speaker also packs three drivers; the same tweeter and two 5.25ins. The standmount Signo Avantgarde 20 bears a single 5.25in to go with its HF driver.
So far, so 'normal'. But a closer inspection of the specifications reveals that the passive crossovers inside the speakers are a bit fabulous. Each speaker with more than two transducers in it has two crossover points. This means, for instance, that one of the drivers in the Signo Avantgarde 70 is focused on just 300Hz and down, while the other gets fed a 300Hz to 2,600Hz passband.
This explains why Quadral refers to the Signo Avantgarde 70 floorstander, and its centre channel brethren, as three-way designs (the bigger floorstander, the 80, has an extra, different-sized mid-range driver so is more obviously a three-way speaker). I did, however, have to phone the distributors to clarify the point, as the brand's website is far from packed with detail. Quadral talks about its technologies in hushed terms and gives nothing away, leaving the ordinary consumer with little understanding of the research and development that's gone into these cabinets. A pity.
For instance, Quadral says nothing whatsoever about the front baffle of these towers leaning back a few degrees. After unpacking and installing, I was fretting that my floor had finally collapsed after nearly 20 years of home cinema onslaught. But no, this is time-phase alignment by way of cabinet construction, positioning the tweeter a little further back, so as to 'appear' sonically the same distance from the listeners' ears for greater coherency.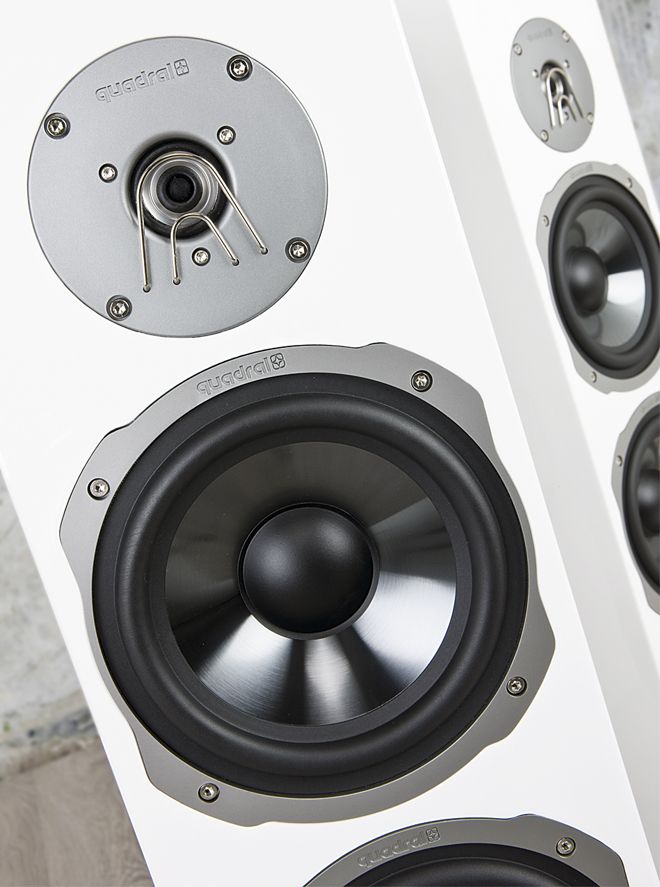 In a bind
The enclosures bear twin sets of binding posts to their rears that feel a little raw-cut and hard-edged but are perfect for biting on bare cables as well as grudgingly accepting my fitted banana plugs. They arrive with stripped-end speaker wire jumpers. The tweeter alone is fed via one set and both the midbass and mid-range drivers are on the other set, should you decide to bi-wire or bi-amp.
The speakers are nicely styled. Here, in their white finish (black is also an option) they present an aura of ice-cool charm, with the chrome name-plate perched on top of the front baffle adding a touch of class.
Sing along with Sting
I played some music that I know every note of, a Sting DTS 5.1 CD, and quickly recognised this system was of a high quality. Super-fast transients – the sounds that smear on lesser speakers – are all in order here. The very first and hardest part of any ping, clunk, thud or bang got me between the eyes with superb precision.
I then moved on to Disney's Wreck-It Ralph on Blu-ray, which has a DTS-HD MA soundmix that I adore, and the Quadrals showed off their detailing. Moments like Ralph going to his bed on a pile of broken bricks, raining down a barrage of blows into the pile to create a nest, were absurdly clean and crisp.
The quirky-looking tweeter is particularly impressive, providing effortless high frequencies with plenty of energy. A ring-radiator design, and proprietary to Quadral, each has a hard ring of Titanium, held at the inner and outer edges on a fabric suspension, with a fibre nose in the middle that – like the squares of foam stuck onto the faces of M&K Sound's S150 MkIIs – serves to control the output by physical absorption.
The cones of the rest of the system are described as being Titanium-Polypropylene. While the latter is cheap, the former isn't and however the two are actually blended together, it works. The snap, attack, clarity and grip of these drivers is superb, and the created soundfield is just wonderfully coherent; hanging in space, not coming form the speakers at all. Slam and scale in the midband made loud knocking and vocal sounds really leap out. These speakers are masterful right where our ears work best.
Low-frequency limits
Enough of the cartoons. Next in my player was The Dark Knight Rises, even though the Bane character is just annoying. And here is where I found that in my room, with this system, the Qube 10 subwoofer that forms the .1 of this array was just not able to keep up with the rest.
A 10in woofer powered by a 200W amp, the Qube 10 certainly looks great with its metallic face-plate but compared to the other speakers is a bit primitive. It sports a classic downward-firing design, with the enclosure's feet raising it off the floor so it can be used as a boundary to pressurise against its cone, and is ported via a simple slot in the rear. This is really Stone Age bass tech and the amp panel, other than a fully sweepable phase knob, offers little to excite.
It turned out to be the weak link. Despite having a creditable performance, aided by a soft clipping and limiting circuit, even on a mild setting I felt it reached its limits. With this array, I imagine Quadral's bigger (12in) and more powerful (500W) subwoofer would be a better choice.
Overall, though, I'm still deeply impressed by the Quadral set (although I would also warn against driving them too hard, as the sound became a little harsh when I went full steam ahead on the volume knob). Music performance and fidelity is first-rate – these will be perfect for jazz fans and those who like complex soundtracks packed with detail; if you go to Planet Pandora, for instance, James Cameron's all-encompassing jungle will be seriously scary. Lovers of crisp sound quality, impressive potency and superb design and engineering should apply.
---
HCC VERDICT
Quadral Signo Avantgarde 5.1
Price: £3,300 Approx
www.quadralgb-ie.co.uk
Highs: Fabulous placement; clarity with vocals and effects; excellent dynamics; beautiful design and rugged build
Lows: The Qube 10 subwoofer is just not as sophisticated as the rest of the array
Performance: 4.5/5
Design: 4.5/5
Features: 4.5/5
Overall: 4.5/5

SPONSORED VIDEO

SPONSORED VIDEO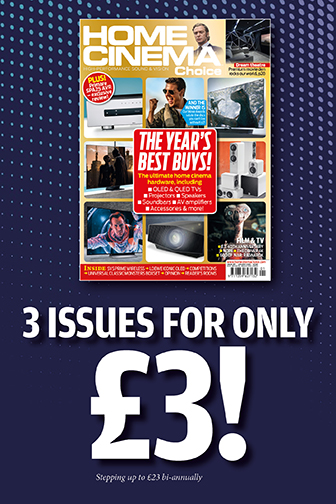 Home Cinema Choice #332

is on sale now, featuring: Samsung's 8K flagship; Anthem AVM 90 processor; B&W 800 Series Diamond; LG smart projector; Hollywood box office bombs; Hitchcock 4K; and more
Want to see your home cinema system featured in the pages of HCC? Click
here
for more info.