Panasonic TH-85VX200 review
Big is always best
Bigscreen addict John Archer gives over his entire office to spend quality time with Panasonic's 85in 3D plasma
So here's my dilemma. Do I get that brand new, fully loaded Audi Q7 I've had my eye on for so long, do I book the family into a luxury villa at the Maldives Hilton for, ooh, a couple of months or so, or do I buy Panasonic's TH-85VX200 plasma screen?
Except that, of course, there isn't really any decision here at all. For unfortunately all three options I've just described – even, scarily, the 85VX200 – cost a cool £42,000 or so, meaning they're little more than pipe dreams for me and the vast majority of people reading this article.
However, when you get to the sort of status symbol price worn like a badge of honour by the 85VX200, you're not talking about a product aimed at 'normal' folk. Instead, you're talking about people like Roman Abramovich installing four 85VX200s on a yacht (we kid you not).
We know that many of you just love to indulge in the sort of home cinema fantasies represented by the 85VX200. And we also know that if you really want to get a handle on exactly where a particular AV brand is going in technological terms, you really need to check out its very biggest screens. So when the opportunity arose to get an 85VX200 delivered to my test room, it really seemed churlish to say no.Plus, of course, having an 85VX200 at my place when the weekly 'lad's Xbox night' came around wasn't an entirely unpleasant prospect...
Long-term readers may remember that a few years ago I persuaded Panasonic to install its 103in plasma screen in my house for a bit – an installation marathon involving four people, lots of swearing/head shaking, and a crane. Thankfully, getting the 85in in was rather less of a palaver. It still needed two guys with a long-wheelbase lorry and a tail lift - and there were some concerned looks at the rather steep slope running down from my converted garage to the also inclined street below.
After all, once an 85in plasma screen in a flight case starts rolling downhill, neither cars nor my neighbours' houses will be much use in the way of stopping it.
Fortunately, though, after a little careful van manouvering, the huge flight case had been trundled into my test room, and the screen had been unpacked – without a crane in sight.
The relative ease of installation versus the 103in screen isn't just down to the 85VX200's smaller size. For the 85VX200 I tested came fixed to a nifty, purpose-made floor mount, complete with hydraulic lifting system. The base of this floorstand even formed part of the flight case, with the rest of the flight case just detaching from it. At no point did anyone have to lift the screen off the ground. Very clever.
Not surprisingly, the hydraulic stands (around £8K from German manufacturer MediaScreen) are apparently proving popular with people buying 85VX200s. Especially given the potential problems with trying to hang 118kg of plasma display on a typical internal wall! It's partly, even mostly, because of it's installation difficulties that the 85VX200 ships through Panasonic's 'Professional', custom install channel rather than its consumer one.
So it you're lucky enough to be able to buy one, you need to approach your nearest custom installation firm to see if they have experience with this sort of installation, and tell them to approach UK distributor AWE Europe Ltd. Attentive readers may have noticed that I haven't yet used the word 'TV' in this feature. Why? Because the 85VX200 isn't a TV.
It has no tuners. Instead, predictably for such an expensive product shipped through non-consumer channels, you're expected to add all external sources yourself.
It's worth adding, too, that the 85VX200 doesn't go big on multimedia support, carrying no USB jacks as standard, and not supporting Panasonic's VieraConnect online TV system.
The 85VX200's most eye-catching feature – after its price and size, of course! – has to be its 3D capabilities. After all, bigger always seems better where 3D is concerned.
Also, the 85VX200's freedom from pricing concerns has allowed it to carry two promising improvements over Panasonic's consumer 3D models. First up is an ultra-high speed plasma drive engine, which Panasonic claims boosts the plasma cycle speed by up to 75 per cent. The other innovation is Motion Vector Prediction processing, designed to get the jump on motion in and out of a 3D image as well as across it, further boosting the 85VX200's 3D response time.
The main point behind all of this is to suppress the double-ghosting crosstalk noise so common with active 3D TVs. And you know what? It actually works.
The 85VX200's 3D pictures really do suffer less with crosstalk than any other full HD 3D images I've seen, allowing you to revel in the detail of the full HD 3D Blu-rays of Avatar and Resident Evil: Afterlife.
Not having a nasty 3D glitch shoved in your face every few seconds also helps to create the sense of immersion that's really 3D's point.
And the 85VX200's 3D strengths don't end there, either. The screen manages to deliver 3D with higher brightness levels and richer colour saturations than Panasonic's consumer models – possibly because the 85VX200's 'Pro' classification means it doesn't have to abide by such stringent power consumption rules.
For those of you who still doubt even the potential of 3D in the home, it's hard to see how you wouldn't be convinced after a few minutes with the 85VX200.
Happily the screen is also terrific in 2D mode. The detailing inherent to good quality HD looks even better when pumped onto a full HD 85in screen – especially when it's presented free of processing noise or any other obvious interference. Without the dimming effect of Panasonic's 3D glasses, moreover, it's even easier to appreciate just how dynamic and vibrant the 85VX200's pictures really are.
Experience suggests that standard-definition struggles to translate well onto screens bigger than 50in. But the high-grade video processor installed in the 85VX200 manages to upscale standard-definition pictures without exaggerating noise or losing a grasp on colour tones, meaning they're really not hard to watch at all.
So is the 85VX200 perfect? Actually no. Its most aggravating/stupid problem is Panasonic's 3D glasses. Despite being second-generation affairs, their lenses are far too narrow, allowing too much light between your eyes and the lenses and making it tough to position them at the right angle between your eyes and the screen. I found myself having to either push the glasses right to the end of my nose, or permanently tilt my head down. Neither of which makes for comfortable 3D viewing. But this is where universal 3D goggles start to earn their keep.
Other issues find 50Hz pictures suffering marginal colour lag if you don't employ Panasonic's (thankfully pretty good) Intelligent Frame Creation processing engine, and a little low-level speckling in dark scenes. Though you won't often see this unless you're sat closer to the screen than you ought to be.
Finally, it seems rather mean-spirited of Panasonic to only include a single pair of 3D glasses with the 85VX200.
But despite this list of flaws and irritations, the five days I've spent with 85VX200 have arguably been the most AV fun I've ever had. Even so, I can't say I ended up entirely convinced that an 85in screen can really justify 42 grand. Still, if money's no object and a projection system just isn't practical, then the 85VX200 might just be the best £42,000 you've ever spent!
HCC VERDICT
Highs: Class-leading 3D and 2D hi-def images; clean standard-definition pictures
Lows: Supplying only one pair of 3D goggles seems a bit tight
Performance: 5/5
Design: 4/5
Features: 3/5
Overall: 4/5
Specifications
HD Ready: yes including 1080p/24
Tuner: no this is a screen only
Component video: yes one input (rear)
HDMI/DVI: yes four, v1.4
PC input: yes one D-Sub
Resolution: 1,920 x 1,080
Sound: no speakers included
Brightness (claimed): NA
Contrast ratio (claimed): 5,000,000:1
Dimensions (off stand): 2015(w) x 1195(h) x 99(d)mm
Weight: 118kg
Also featuring: '600Hz', fast decay plasma cell technology; motion vector prediction for 3D; ultra-high speed drive mechanism; 30-bit colour processing; full colour management and white balance adjustment; endorsed by the ISF; 3D transmitter built in and one pair of 3D glasses included in the price

SPONSORED VIDEO

SPONSORED VIDEO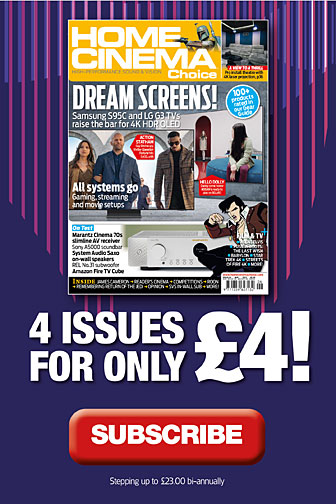 Home Cinema Choice #332

is on sale now, featuring: Samsung's 8K flagship; Anthem AVM 90 processor; B&W 800 Series Diamond; LG smart projector; Hollywood box office bombs; Hitchcock 4K; and more
Want to see your home cinema system featured in the pages of HCC? Click
here
for more info.