Orbitsound One (P70) review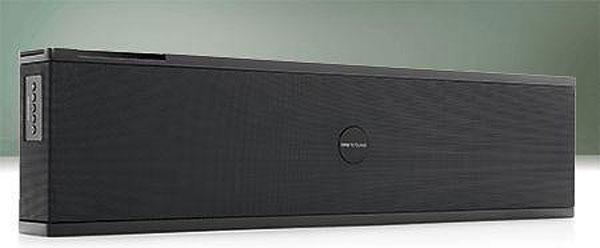 Brit-designed soundbar with integrated subwoofer and spacious presentation

British audio brand Orbitsound has a narrow focus – the One (P70) soundbar here is joined by only two other 'bars, plus a wireless Bluetooth speaker, in its hardware stable. But when it comes to sonics, it aims to be anything but narrow. Instead, Orbitsound is on a mission to kill the sweet spot...
To achieve this, all its products feature proprietary airSOUND technology, a mashup of driver configuration and signal processing. In essence, the idea here is to use a front, centrally-located channel to deliver the key detailed' sounds of a stereo mix, and employ side-firing drivers to back this up with spatial information mined from the source (predominantly, we're told, upper-mid and high frequencies).
The outcome, says Orbitsound, is that off-axis listeners aren't forced to suffer the effects of time delay and unbalanced imaging that occurs with directional stereo speakers and soundbars. For the latter, typically installed in living room environments with plenty of unconventional listening positions (armchairs in the corner, for instance), it's an idea that certainly appeals.
In mid-orbit
The One is the newest addition to the Orbitsound TV audio lineup. Priced at £300, it undercuts the flagship BAR A70 model by some £200, sharing the same price point as the more compact, and now slightly elderly, BAR M9.
Like the M9, the One is a single-box solution, with no additional subwoofer, nor the means of adding one via a subwoofer output. It still claims a 2.1 performance, however, by virtue of an integrated 5.25in bass driver. This works in tandem with a quartet of 2in drivers – two mounted centrally, and one side-firing at either end. There's an onboard amplifier of unspecified power.
Connectivity is a little sparse. As well as no subwoofer output, there's no HDMI socketry. You feed the One via optical digital audio, 3.5mm aux or Bluetooth.
While Orbitsound's BAR A70 throws together shiny black trim, speaker grilles and curved edges, this more affordable option is also more traditional. It's a 70cm-rectangle, with its body mainly adorned by its grille(s), except for edging. It stands 7.7cm high when laid flat, and is also fairly heavy, making you feel like you're getting a lot for your £300.
In addition to optical/3.5mm cables, the One is bundled with a petite, rubber-finished learning remote that's quite directional and has somewhat annoying 'clicky' buttons. Controls include bass and treble adjustment, but Bluetooth pairing has to be done via a button on the soundbar's body.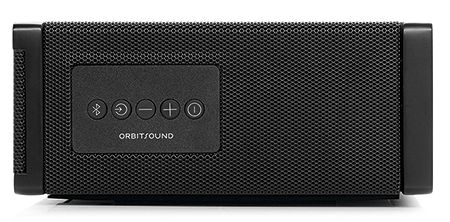 One clever aspect of the One is its ability to be positioned either laid flat (on a TV stand, for instance), or vertically (wall-mounted or maybe on a shelf as a music speaker). This is nothing new, of course, yet the flippable display window is something I've not come across before. The window straddles both the top-right of the One when it's installed horizontally, and the top-left when positioned vertically (you obviously have flipped the 'bar to make sure its central driver is facing up, rather than down). A key press combination on the bar's control panel tells the display window to flip itself, too, so volume/EQ indicators don't look like they're going down when they're actually going up. The Orbitsound logo can also be turned 180 degrees, so the lettering isn't upside down.
This attention to detail for wall-mounters is welcome, but the considerable depth of the One, plus its generally boxy demeanour, perhaps doesn't make it the ideal partner for today's modern, svelte flatscreens.
Sonic spread
So, does airSOUND work? Yes, actually. Parked beneath my TV, the One succeeds in sounding mostly uniform from off-axis positions, its output seeming to trail you around the room, seeping into corners. More importantly, it manages to create a soundscape that's removed from the confines of its cabinet.
Fed the playful soundmix of Fantastic Beasts and Where to Find Them (UHD Blu-ray) in PCM via optical input from an Oppo BD deck, the One sounds rather good. The film's near-incessant orchestral score is crisply defined, with plucky string details and sudden brass stabs. Critically, it doesn't sound like it's emanating from the Orbitsound One at all, instead hanging in space, matching the onscreen action. Certainly helping out here is a second central driver that actually fires upwards (or outwards, if the One is used on its side).
While there's no sense of a sweet spot, you still get to enjoy soundfield pans and image placement. The swirling DTS-HD Master Audio ident on The Expendables 2 Blu-ray zips around the front soundstage (and, yes, it's all front – there's no virtual rear effect here) and threatens to fly out my living room door. When the film begins and Sly Stallone's armoured vehicles roll through town, there are rumbling wheels shunting left and right. There's a noticeable two-channel effect in play.

The One generally keeps itself together when you raise the volume dial, but I was surprised how easily I hit the end-stop on the LED display. It transpires that, when using the optical input, there's an Optical Volume Boost mode to unlock additional volume steps. Setting this requires going to max volume, and then holding the '+' key for three seconds. Doing this is essential to give yourself more headroom. The setting remains in place unless you reset.
That hidden 5.25in bass driver imparts depth and expands the One's soundstage. Orbitsound rates the frequency response down to 58Hz (-3dB), so don't expect authentic sub-bass thrills. It works reasonably well with hard-hitting movie moments. There are bruising explosions and muffled thuds littering The Expendables 2's opening sequence, and the One digs them out.
At the other end of the frequency range, it's the One's handling of delicate details and crackling FX that really catches the ear. There's a believability to everything from empty shell-casings falling to the floor to something as mundane as Newt Scamander fiddling with the latch on his suitcase. This all works to open up a soundfield and draw you in to a movie. The top-end can sound a bit raw at very high volumes, though.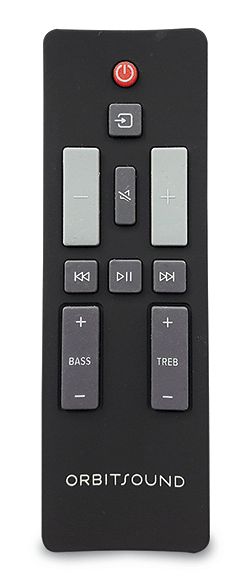 As for dialogue, voices – both male and female – are certainly well-projected and not overwhelmed by other elements, but exhibited a slightly chesty presentation that I couldn't over-ride. Of course, the tools at your disposal are limited to just bass and treble control – there are no preset EQs to call upon.
Nor is the One the smoothest of listens when it comes to music. Its 2in drivers seem to favour attack and vigour over subtlety, something that is more apparent when you switch out of film mode. This works well at times – the energy of the rocking, rolling metal anthem Mjød by Norwegian troupe Kvelertak is head-bangingly infectious, and it sounds good with upbeat, pop-infused fare, too. Yet it can leave you hankering for something with more poise and nuance in the mid-range. When Ed Sheeran croons about driving down those country lanes back home, I don't feel the desperate urge to join him.
That said, I can't see anyone being disappointed with the One's overall delivery on a day-to-day basis. If you want genuine hi-fi refinement, up your budget and shop elsewhere.
Spacious presentation
For the money, Orbitsound's One offers a substantial performance, with a particular ear for crisp effects, a spacious presentation and scale-setting bass. It's a strong challenger to key rivals at this price, such as Cambridge's TV5 v2 and Q Acoustics' M3, and offers something a little different. Just remember to unlock that optical volume...
Specification
Drive units: 2 x 2in Orbitsound Mk4 side-firing drivers; 2 x 2in Orbitsound Mk4 central drivers; 1 x 5.25in bass driver Amplification (claimed): None given Connections: Optical digital audio input; 3.5mm stereo jack; Bluetooth
Dolby TrueHD/DTS-HD MA: No/No Separate sub: No Remote control: Yes Dimensions: 700(w) x 77(h) x 173(d)mm Weight: 5.1kg
Features: airSOUND driver/signal processing technology; bass and treble adjustment; dual mounting positions with switchable logo/display; upfiring central driver; 58Hz-17.5kHz claimed frequency response; 180Hz crossover; VESA mount support (bolts supplied)

SPONSORED VIDEO

SPONSORED VIDEO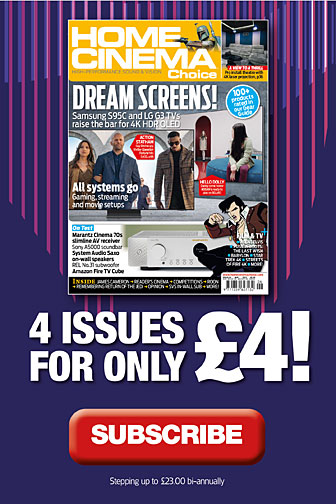 Home Cinema Choice #332

is on sale now, featuring: Samsung's 8K flagship; Anthem AVM 90 processor; B&W 800 Series Diamond; LG smart projector; Hollywood box office bombs; Hitchcock 4K; and more
Want to see your home cinema system featured in the pages of HCC? Click
here
for more info.