Oppo UDP-205 review (Ultra HD 4K Blu-ray)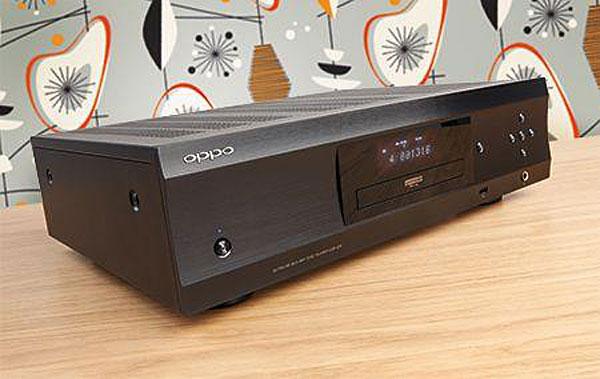 This universal solider lives up to the hype. Don't buy it to just watch movies

George Lucas famously declared that sound was 50 per cent of the movie-going experience. Much the same could be said of Oppo's flagship UDP-205 Blu-ray player – this is just as much a high-end music machine as it is a cutting-edge UHD disc spinner, aimed at those who won't compromise when it comes to system sources.
Like the BDP-105D before it, this Oppo is a do-it-all media player with integrated high-end DAC. However, this time around we've traded Darbee Visual Presence processing (Oppo says there's no 4K algorithm yet available from Darbee) for genuine 4K playback and upgrades beneath the bonnet.
There's little the UDP-205 won't spin or play. In addition to 4K Blu-rays and their 1080p trailer park cousins, it's compatible with Super Audio CDs and DVD-Audio discs, plus DVD, CD and all manner of high-res audio files.
Naturally, the player supports HDR 10-encoded Blu-ray discs from out-of-the-box, and Oppo has released a firmware update (UDP20XEU-46-0622, not available at the time of review) for Dolby Vision support, which is finally beginning to appear on some UHD platters. This is either going to be great news if you have a TV that supports Dolby Vision, or irrelevant if you've bought one which doesn't.
A unique proposition
In addition to its universal ethos, the UDP-205 has connective talents, processing tricks and construction niceties that separate it from the sub-£1,000 competition. Put simply, there's nothing on the market quite like it.
At 10kg, the UDP-205 is even heavier than its predecessor, a result of an all-new double-layered chassis design and heavy feet for additional isolation. Temperature control comes from heatsinks and ventilation grilles rather than an in-built fan. The front fascia sports an undulating brushed aluminium finish. You half expect to find Tony Stark inside.
A glance at the rear panel confirms the Oppo's versatility. Uniquely for a 4K Blu-ray player, it offers both balanced and unbalanced stereo analogue outputs, as well as a full bank of 7.1 analogue outs. The latter are principally for music-only multichannel audio use; I suspect a shift to object-based audio systems like Dolby Atmos and DTS:X has largely removed their appeal when it comes to use in conjunction with video content.
Of the two HDMI outputs, one is a primary v2.0 terminal and the other an audio-only v1.4 connection, as is customary on first-wave 4K players. There's also an HDMI input, allowing the Oppo to be used as a system hub, but it's important to note that this doesn't accept HDR sources, which rather limits its attraction if you want to route through a PlayStation 4 or Xbox One S.
The audiophile features that separate the UDP-205 from its more affordable UDP-203 stablemate include an asynchronous USB-B input, which claims to reach 768kHz PCM and DSD512. And, unlike the single AKM solution of the UDP-203, this model actually employs two top-of-the-line 32-bit ESS Sabre ES9038PRO DACs, one assigned to the stereo audio output, the other to those multichannel outs. The player also incorporates a headphone amplifier, good enough to drive high-quality cans, that connects directly to the stereo-handling DAC. This is touted by Oppo as a big step up on the headphone amp in 2013's BDP-105D.
Want more connectivity? No problem. There are both optical and coaxial digital outputs (I suppose someone might partner this with a soundbar); a trio USB inputs (one front-mounted); Ethernet for a wired network connection; and dual-band Wi-Fi. Furthermore, reflecting where this player is likely to end up, there are 12V trigger and RS-232 options for control system integration.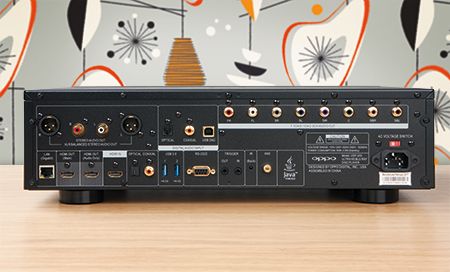 The supplied IR remote is much like every other Oppo doofer. It's large with big buttons, which at least helps when mucking about in a dark room. One button of interest is the HDR key, which allows you to cycle through Auto, Forced, Off and Strip Metadata functions. The Forced output enables HDR, regardless of whether the display can handle it or not. In Off mode, all HDR is converted to SDR/BT709. Strip Metadata retains BT2020 colour info, but removes HDR metadata from a signal. Oppo suggests its use in projector-based systems, as it will enable owners not to run their PJ's lamp in high power mode (a typical result of feeding an HDR signal), while preserving a wide colour gamut.
Don't look for a Netflix button on the remote: the player offers no integrated support for third-party streaming services. It's here that it loses ground to both Panasonic's DMP-UB900 and Sony's UBP-X800. The absence of integrated music services is a sore point given the audiocentric positioning. As for the likes of Netflix, BBC iPlayer and YouTube, I guess you could always plug an Amazon Fire TV media streamer into that HDMI input.
Speed demon
As well as its MediaTek SoC, produced in collaboration with Oppo, the UDP-205 features a bespoke disc loader, and it's a blinder. The tray is reassuringly sturdy in operation, and a heavily-authored movie test disc flits from tray to menu screen in just 34 seconds.
With a 4K platter in place, you can relax and enjoy the Oppo's outstanding picture quality. At times, 4K HDR images are achingly gorgeous. When Alice breaches the Umbrella Corporation headquarters (Resident Evil: Afterlife, Ultra HD Blu-ray), dispensing legions of black-clad troopers, the onscreen refinement takes several re-watches to digest. The Alice-ensemble open fire, anything and everything made of glass shatters or explodes; gun-mounted torches glint with peaky intensity; and the concrete floor erupts under fire – you can almost taste the masonry dust. Suddenly the whole of Shibuya disappears into a gleaming HDR white hole, at the centre of a highly detailed Tokyo cityscape. You'll want to hit Pause and drink in the detail.
With the UHD format comes plenty of user tweaking, more so than with its 1080p forebear. The player's output resolution will typically be set to Auto, however a Custom setting allows you to tinker with resolution and frame-rate. There's also a Source Direct mode.
Colour space and bit-depth are adjustable between 4:2:0, 4:2:2 and 4:4:4, and 8-, 10-, or 12-bit. This should ensure no display incompatibilities. If you experience banding issues, selecting 10-bit or lower will most likely sort it. During my audition, no picture anomalies were noted, and test patterns confirm the Oppo offers a full resolution output, with high-frequency detail intact and unqualified colour gamut.
Brightness, contrast, hue, saturation and sharpness settings can be assigned to three playback modes, while a Target Luminance function allows you to optimise the UDP-205's HDR to SDR conversion. The idea is to set the output to best match your TV or projector. This is presented as an adjustable scale, with a default of 300 nits, and an upper register of 1,600.
Standard Blu-rays are upscaled to 2160p when the machine is in Auto mode. Source Direct leaves them in 1080p, letting your display take over the process. Upscales tend to look smoother. The lavish costumes in Gods of Egypt (Blu-ray), with their gold braids and ridiculous bling, gain a better-than-costume-jewellery sheen. When Horus and Set have their first spat in their battle to be crowned King of the Green Screen, my display sparkles with detail.
Switching to audio, the UDP-205 lives up to its billing. This is a blisteringly precise CD player, able to offer extreme levels of articulation and transparency. Its audio performance over HDMI is deliciously good, and even better via the dedicated stereo output.
File support is comprehensive. The UDP-205 plays DSD up to 11.2MHz as well as multichannel DSD 64/128 (the latter converted to PCM), plus 192kHz/24-bit ALAC, AIFF, Ape, FLAC and WAV.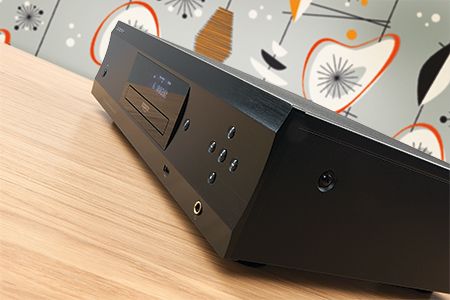 Users are granted management of no less than seven filters for the ES9038 Sabre DAC. A clear play to attract audiophiles, there's much fun to be had experimenting. The default is Mini Phase Fast, which is deemed by Oppo engineers as the best all-round option.
At times, the player sounds clinical, even dry (I think it's fair to be ultra pedantic on home cinema sources selling for £1,400), but suddenly there will be a collusion of content and decoding that connects in the way only real high-end audio does – ELP's Greg Lake opining 'Still... You turn me on' from Brain Salad Surgery (24-bit/96kHz, DVD-Audio) provides one such joyous moment. Similarly, Steven Wilson's spectacular remix of Hawkwind's Warrior On The Edge of Time (CD/DVD boxset) is positively gargantuan, and the original stereo master of Assault and Battery/The Golden Void is particularly immense. The latter track is a surging prog rock classic, but can be reduced to a trippy hash if you're unlucky. Thankfully the Oppo's DAC finds precision amidst the haze. There's flute and cow bell, raging synth and miscellaneous electronica. Hi-hats sound distressed but you can't journey to The Edge of Time and not expect a little distortion. Tortuous feedback induces Roundhouse flashbacks. This is all a good thing in my book.
Indisputably excellent
If you're looking for the ultimate UHD Blu-ray player, then the UDP-205 is indisputably it. No other deck offers quite so much, or executes it as well. Its video performance is fabulous – but then so is that from most of the competition. The key reason to spring for this over Oppo's own UDP-203, or more affordable alternatives from Panasonic and Sony, is its audiophile versatility. That high-performance DAC and dedicated stereo output are a major attraction – although let's not undervalue its class-leading build quality, either. The UDP-205 is a formidable battleship of a Blu-ray player. To use one is to want one.
Specification
Ultra HD: Yes HDR: Yes. HDR 10 and Dolby Vision (via firmware) Upscaling: Yes. To 2160p Multiregion: No. Region B BD/R2 DVD (Ultra HD discs are region-free) HDMI: Yes. 2 x HDMI outputs (Main v2.0/Audio only v1.4); 1 x HDMI v2.0 input Multichannel analogue: Yes. 7.1 analogue output (plus balanced XLR and phono stereo output) Digital audio: Yes. Coaxial and optical input; coaxial and optical output Ethernet: Yes Built in Wi-Fi: Yes. Dual-band SACD/DVD-A: Yes/Yes Dimensions: 430(w) x 123(h) x 311(d)mm Weight: 10kg
Features: USB x 3; HDR-to-SDR converter; variable bit-depth and colour sub-sampling; DLNA media playback; iOS and Android app control; headphone output; ESS Sabre ES9038PRO DACs; hi-res file compatibility incl. multichannel DSD

SPONSORED VIDEO

SPONSORED VIDEO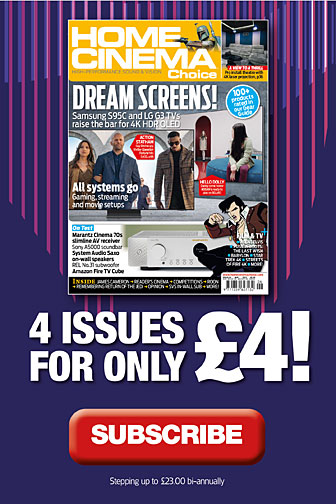 Home Cinema Choice #332

is on sale now, featuring: Samsung's 8K flagship; Anthem AVM 90 processor; B&W 800 Series Diamond; LG smart projector; Hollywood box office bombs; Hitchcock 4K; and more
Want to see your home cinema system featured in the pages of HCC? Click
here
for more info.