Onkyo TX-NR5008 review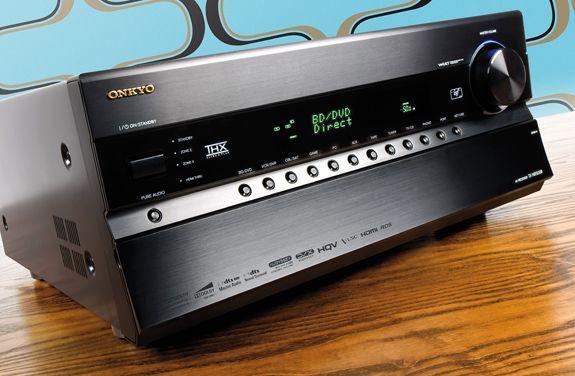 Return of the War Machine
Onkyo has updated its flagship AV receiver for the 3D generation. Steve May looks for refinement amid the metal mayhem
When Europe's biggest AVR brand unveils a new flagship, it's time to take your head out of the popcorn bucket and pay attention. Not only has it outsold pretty much every other brand in the UK (and Germany) since 2009, but the Japanese marque has also consistently been first to market new AV receiver technology.
As I write it sounds as if cars are being lobbed into each corner of my viewing room. Onkyo's latest heavyweight, the TX-NR5008, is in full flight. The heavy metal objects landing around me are Iron Drones, dropping down to square-off against Shellhead and War Machine, for their climatic face-off in Iron Man 2 on BD.
What follows is 360˚ of bedlam, with ordnance panned every which way. The big NR5008 handles the DTS-HD Master Audio multichannel mix with thrilling precision.
The wife complains that it sounds as if the house is being demolished. Welcome to home cinema sound on a devilishly large scale.
Feeling familiar
If you're looking for a radical form factor to usher in 2011, then you won't find it here. The TX-NR5008 is a cookie-cutter battleship, indistinguishable from last season's TX-NR5007. Unlike rival Marantz, which has applied an entirely new design aesthetic to its latest AV receiver range, there's no fresh ground being trod here.
Connections are extensive. There are eight HDMI inputs (including one under the fascia flap for a quickie console or camera hook-up), all of which are 3D capable (one of the key differences between this model and last year's NR5007 iteration). Also new is a PC VGA/mini-jack audio input that helpfully outputs over HDMI, and with a view to family friendly integration, you get HDMI pass-through for those who want to play a disc without utilising the AVR.
A pair of HDMI outputs is provided to feed both a display and a projector, simultaneously if you like. Other niceties include Onkyo's Universal Port jack for iPod and peripheral accessories, Ethernet and USB (one on the rear, another under the fascia flap). Basically, if you need a connection, it's probably there.
Setting up shop
Room calibration is achieved via a small supplied pyramid mic, using Audyssey 2EQ algorithms. In my experience, these systems tend to have unpredictable results, but are usually worth a shot. The AVR pulses out test tones so that the room response can be analysed. The number crunching employed here is actually very good.
The Audyssey system ironed out some lumpy mid-bass introduced by my listening room to give a better overall balance. I still felt the urge to tweak (the LFE output was too low for starters), but generally I felt the calibration effort provided a good starting point.
Codec support is class leading. In addition to Dolby TrueHD and DTS-HD Master Audio, there's Dolby Pro-Logic IIz, which creates a seven-channel soundstage from any stereo source. There is also plenty of DSP, plus extra height/width processing options in the form of Audyssey DSX and Dolby Pro-logic IIz.
Personally, I can't get too het up over height channels – at least not hard-wired ones. I suspect for the vast majority, they are just too problematic to implement; the front heights need to be placed about 100cm above the main stereo pair to be effective. My listening room just doesn't have that kind of ceiling height (users of smaller stand-mount L/C/Rs might have more options). Unless it's possible to extend the soundfield virtually, I'm not inclined to experiment.
Audyssey's DSX width processing is more intriguing. It's based on the premise that an extremely wide front soundstage with two rears is more immersive and realistic than you'll get from a conventional 7.1 system with four surrounds.
Whatever configuration you prefer, there are plenty of options you can deploy. With the NR5008 sporting nine channels of amplification, you can even have your cake and eat it, running extra height and width plus side and rear back channels (9.2). For the bulk of my audition I ran the receiver in a 7.2 format.
The NR5008 is undeniably versatile. If you don't want to fill your living room with loudspeakers, you could choose to run 5.1 multichannel in your main room and stereo in two other zones. I'm not sure that too many UK enthusiasts have needed multiroom audio from an AVR (our homes are just not as big as those in the US) and looking ahead, wireless solutions such as Air Play seem a far more sensible option if the concept floats your boat. Curiously, Air Play is not part of this Onkyo's arsenal.Are we seeing the brand slip behind some of its rivals for the first time in years, when it comes to introducing technical innovations?
THX and beyond
Half the fun of any listening session with the NR5008 involves juggling sound modes. Of course, there is the usual selection of DSPs available, the best of which are Orchestra (which emphasises the surround channels and adds extra reverb), Unplugged (which does the reverse and stresses front stereo) and All Channel Stereo (basically a full-on party mix).
The unit is THX Ultra2 certified, and courtesy of a dedicated THX chipset offers re-equalisation, bass management, adaptive de-correlation and timbre matching to pretty much anything that makes a noise. THX post-processing used to be fairly straightforward, but now it comes in a bewildering array of flavours. I remain a fan of the standard THX Ultra Cinema mode, and find THX Surround EX (aka Dolby Surround EX) a great processing embellishment for 5.1 TV material, like Fringe (Sky One HD).
Included as part of the Audyssey suite is Dynamic EQ with Dynamic Volume. This seeks to maintain bass response and dialogue intelligibility at lower volume levels, and evens out variances in source volume.
THX appears to have an equivalent, THX Loudness Plus, but it's actually a somewhat different proposition, having been designed to protect the integrity of the soundfield when listening at less than reference levels, by goosing the surround channels and frequency response in a way that keeps the spatial cues and depth of the mix intact. This is not a Night mode. Unless you're very fortunate and have a totally isolated cinema, I'd wager it's unlikely you'll be listening at Reference level too often, so it's worth switching this on as standard.
One of the big surprises offered by this Big Onk is Neural post processing, of which there are two variants: Neural Digital Music and Neural Surround. The former is designed to take two-channel compressed audio and expand it out to whatever multichannel configuration you're running. Neural Surround does much the same for uncompressed sources. Developed by THX and now owned by DTS, Neural Surround also allows broadcasters to transmit high-quality multichannel via low-bitrate, two channel.
Putting aside its role as an encode/decode tool, I found it astonishingly effective doing post-processing duties on two-channel source material.
The stereo track Seraphim, by Digitonal (a Studio Masters release by Linn Records) gained space and scale using Neural Surround processing. A FLAC 970kbps 24bit/44.1kHz recording, the needle-sharp electronica curled gorgeously around my listening position.
Obviously, not everything works as well. Beethoven's Fifth (Studio Masters Linn Records) just didn't need to be posted about the room in the same way. The AVR preferred this FLAC (2496kbps 24bit/96kHz) recording in its original stereo format, and I agreed. Similarly, the title cut from Steve Steven's Flamenco.A.Go.Go. (DTS DVD-Audio) ended up having half the band dumped in the rear channel. But the mode scores more hits than misses and is well worth playing with.
Controls and networking
Navigating the NR5008 is not massively intuitive, but to save you digging into the Setup menu every five minutes (which snatches you away from any source selected), there is now a simple Home overlay which offers basic video, audio and listening control.
The NR5008 offers a good selection of networking audio tools. You can pull your MP3s from networked NAS devices, PCs and USB media, or stream audio from the internet. A range of music formats are supported, including FLAC, AAC, MP3, WAV, WMA and Ogg Vorbis.
The 'net radio option comes pre-loaded with subscription services Last FM and Napster, while VTuner internet radio makes Japanese rockhouse Someya Junkie Station just a few clicks away. You can add other 'net radio aggregators by accessing the NR5008 via a browser.
Moving around the receiver's net/USB environment feels a little shoddy. You can't call up the Home overlay over the net playback screen; it flips away to a blue-screen. And occasionally, for no apparent reason, the transport keys became non-responsive when playing back a track. Still, hooking up my iPod to the front USB allowed the NR5008 to perform a neat trick: displaying album art. However, while the AVR found all my networked music servers, disappointingly, it was unable to display album art from them.
This is a receiver that rewards high-quality sources. A Studio Master recording of Subbuteo, by Admiral Fallow (Linn Records), brought the Glaswegian indie rockers stomping into my living room. The 24bit FLAC recording, played from USB Flash drive, offers three-dimensional vocals and raw, nuanced guitar.
The NR5008 will also accept a DSD stream from a Super Audio CD player over HDMI. I hooked the AVR to Sony's BDP-S570 and was amazed at just how precise the imaging was. Emi Fujita's melodious vocal work on the SACD Camomile Best Audio (Leafage) had a tangible sense of air and space, while her unplugged version of Walking in the Air reveals just how refined the AVR can sound when not wound to the wick.
Shining star
An effective update on an already well-regarded AV receiver design, the TX-NR5008 does almost everything with élan. As a movie machine, it's a West End theatre capable of throwing a sonic envelope wide and loud; but it's also a sophisticated musician, at home with hi-res source material. While integration of new media sources could be a little more seamless, it's well worth an audition.
---
HCC VERDICT
Onkyo TX-NR5008
Price: £2,400 Approx
Highs: Extensive codec support; network streaming for audio; ample connections
Lows: Can sound coarse at very high volume; net functions need further integration
Performance: 4/5
Design: 4/5
Features: 5/5
Overall: 4/5
---
Specifications
Dolby Digital TrueHD: yes
DTS-HD Master Audio: yes
THX: yes THX Ultra2 with THX Loudness Plus
Multichannel audio: yes 9x 140W
Multichannel input: yes 7.1 phonos
Multiroom: yes Zone 2 and 3
AV inputs: yes five composite and S-video inputs; seven digital audio inputs (4x optical and 3x coaxial)
HDMI input/output: yes eight inputs and two out v1.4a (supports 3D video and Audio Return Channel)
Video upscaling: yes to 1080p (HQV Reon)
Component input/output: yes 3-in, 1-out
Dimensions: 435(w) x 198.5(h) x 463.5(d)mm
Weight: 25kg
Features: ISFccc calibration; iPod support with album artwork display; Ethernet jack; DLNA support; Audyssey MultEQ XT32 with microphone; 2x USB inputs; Neural Surround; 'net Radio (VTuner, Last FM, Napster); 192K/24bit DACs; Audyssey Dynamic Volume; Audyssey Dynamic EQ; Audyssey DSX; Onkyo Game Surround Modes; Dolby PLIIz/PLIIx; 2x 12V triggers; SACD DSD bitstream compatibility

SPONSORED VIDEO

SPONSORED VIDEO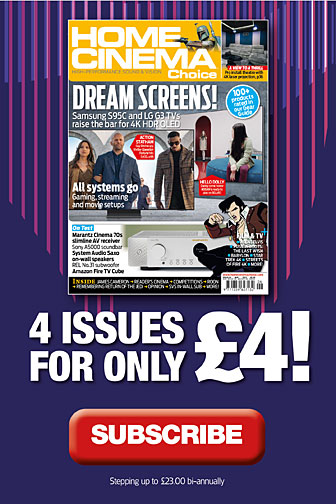 Home Cinema Choice #332

is on sale now, featuring: Samsung's 8K flagship; Anthem AVM 90 processor; B&W 800 Series Diamond; LG smart projector; Hollywood box office bombs; Hitchcock 4K; and more
Want to see your home cinema system featured in the pages of HCC? Click
here
for more info.