Onkyo TX-NR1009 review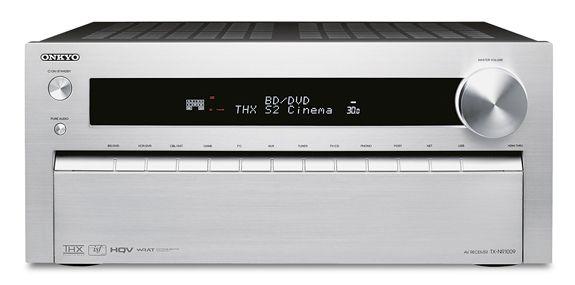 Danny Phillips falls under the spell of this mid-range magician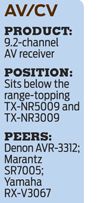 The bigger brother of the TX-NR709 (reviewed in HCC 202), Onkyo's TX-NR1009 boasts a bulkier frame, greater muscle and a fuller spec sheet – including a claimed 9 x 180W power output (into 6Ohms) and DTS Neo:X, the latest audio mode to deliver extra front height and width channels.
Of course, the TX-NR1009 is much more than a mere amp – it's a fully fledged audio epicentre, as comfortable streaming tunes over a home network as it is belting out Blu-ray blockbusters. You'll find DLNA functionality lining up alongside internet radio and Spotify access. Annoyingly, to access these wirelessly you'll need to invest in Onkyo's UWF-1 WLAN adapter – I expect built-in Wi-Fi to surface on future models.
Setting up and using the TX-NR1009 is a scary prospect at first, but three things ease the fear – the thoughtfully arranged remote, classy onscreen menus and Audyssey's thorough MultEQ auto calibration. Once you've got to grips with these, operation is plain sailing. The DLNA and web content menus are basic yet easy to follow, although a search mode would make it easier to browse large libraries. It happily played MP3, WMA, FLAC, WAV, Ogg Vorbis and AAC content, and, although there's no AirPlay support it does embrace the Windows equivalent, Play To.
The TX-NR1009's way with movie soundtracks borders on the magical. It's a muscular performer with a wide dynamic range, and responsive enough to shift from quiet to deafening in the blink of an eye. But behind it all is a smoothness – a characteristic of Onkyo AVR's since last year's re-tune – that makes even the most belligerent of noises easy on the ear. I like it, although I know some preferred the older sound.
The Hoth battle in The Empire Strikes Back offers a dizzying display of fiery effects and whip-smart steering, as rebel fighters zip around AT-AT legs and circumnavigate the listener. The soundstage is spacious, but there's no vagueness about the FX placement – it's precise and purposeful. When it all quietens down, you can revel in the Onkyo's presentation of fine high-frequency detail, particularly the eerie background ambience when Skywalker arrives on Dagobah. Dialogue enjoys admirable levels of depth and clarity.
When added to the feature list and smart design, this performance merely confirms that Onkyo has yet another enticing model on its hands. The problem is, of course, that you can get the same brand's 7.2 TX-NR809 for £300 less. Do you really need those extra channels?
---
HCC VERDICT
Onkyo TX-NR1009
Price: £1,300 Approx
Highs: Excellent AV performance; good-looking; net-savvy
Lows: Needs a music search function; Wi-Fi costs extra; who needs Audyssey, DTS and Dolby height options?
Performance: 5/5
Design: 4/5
Features: 4/5
Overall: 4/5
---
Specifications
Dolby Digital TrueHD: yes
DTS-HD Master Audio: yes
THX: yes Select2 Plus
Multichannel audio: yes 9 x 180W
Multichannel input: yes
Multiroom: yes Powered Zones 2 and 3
AV inputs: yes 5 x composite inputs; 6 x analogue stereo; 6 x digital audio inputs (3 x optical and 3 x coaxial)
HDMI: yes 8-in, 2-out, all v1.4
Video upscaling: yes Up to 3,840 x 2,160
Component input/output: yes 2-in, 1-out
Dimensions: 435(w) x 198.5(h) x 435.5(d)mm
Weight: 18.5kg
Features: HQV Vida VHD1900 video processor; Marvell Qdeo upscaling to 4K; Spotify, vTuner, Napster, Last.fm; DLNA & Windows 7-certified; Audyssey DSX, Dolby Pro Logic IIz & DTS Neo:X expanded surround modes; Audyssey MultEQ XT auto calibration; MP3, WMA, FLAC, WAV, Ogg Vorbis, AAC and LPCM support; 2 x sub pre-outs; 2 x USB ports with direct digital iPod support; Music Optimizer; Direct and Pure Audio modes; Phase Locked Loop jitter cleaning circuit; TI Burr-Brown 192kHz/24-bit DACs for all channels; ISF video calibration; bi-amping capability; Onkyo Universal Port for iPod dock or DAB radio module