Marantz UD7007 / AV8801 / MM8807 review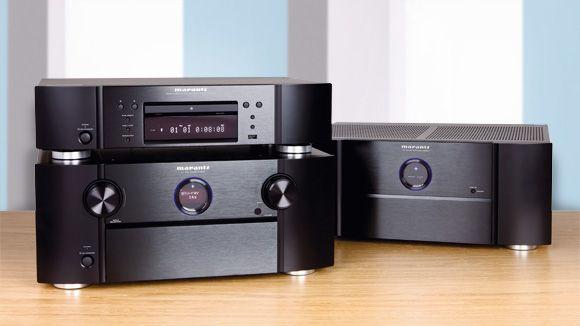 Separating processing and power brings benefits - and Marantz will even sell you a matching player
Marantz's new flagship AV amplifier/processor duo sets sail on the HCC test bench with the new UD7007 universal player at the helm. While other brands, such as Pioneer and even Marantz's sibling Denon, have opted for an integrated battleship AV receiver to top their range, Marantz is going for a fleet approach; the AV8801 AV processor frigate and the MM8807 amp destroyer. It's all about performance. The system has been designed to deliver the sonic goods with more accuracy and firepower than a standard player/AVR combo can achieve.
This plan of dividing to conquer comes straight from Marantz's illustrious hi-fi heritage. In the rarefied atmosphere of high-fidelity, where geeks pursue the n'th degree of audio precision by means both physical and meta-physical, the benefits of splitting the pre-amplifier and power amplifiers into separate units are well established. Apply that to home cinema and you can see that inside any AV processor are micro-current signals, high-speed digital DSP and sensitive video circuits. If you place power stages big enough to wake Frankenstein's monster in the same box, chances are there will be some serious interference.
A better solution is to place the delicate circuits and high-voltage rails in their own separate metal enclosures, which Faraday tells us will stop any RF-born interference between the two. Marantz has taken the concept to its ultimate degree by over-engineering the boxes with copper chassis and braced panels, and then coupling them together with interference-rejecting balanced audio connections. The result is an enormous pair of boxes, sucking electricity from two wall sockets and taking up an acre of shelf space. Still, one must suffer for one's art.
Thankfully, that is about as hi-fi tweaky as the Marantz system gets. Rather than strip back on niceties (which is a very hi-fi thing to do) the AV8801 is right up there with top-spec AVRs in terms of features and functionality.
It's a true 11.2-channel processor, capable of delivering height and width channels in addition to seven normal channels and two subwoofers. There is full-fat Audyssey MultEQ XT32 room correction, upscaling to 4K for all video sources, AirPlay and a built-in four-port Ethernet network switch. There is a handy two-plus-one HDMI output, 192kHz/24-bit and FLAC audio compatibility, integrated Spotify, DLNA, MHL and iPod connectivity.
In fact I am starting to get a feeling of déjà vu. Drill down to some of the more brand-specific niceties, like the look of the menus or unique features, and things get very familiar indeed. The GUI is crisp and clean with logical and easy to navigate menus, and the excellent InstaPrevue feature lets you pop up a row of live sources on screen so you can select input by content rather than input name. Hmmm, so where have we seen this before…? Ah yes, Denon's AVR-4520 flagship receiver.
Features like InstaPrevue and the look of the GUI indicate rather close collusion between these sibling brands and the Marantz control app is absolutely identical to the Denon app, albeit in white and gold rather than Denon's blue and black. I get the feeling that Marantz engineers were more than peeking over the shoulder of the Denon team on this one. That's certainly no bad thing, as the AVR-4520 is stunningly well-featured and the AV8801 delivers pretty much the same user experience and flexibility.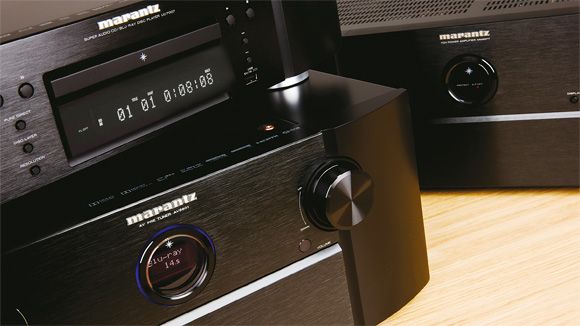 Power ranger
The MM8807 power amp shares exactly the same copper-bottomed chassis as the processor and weighs about as much as a small Death Star. Inside is pure Marantz engineering, with seven 'current feedback' discrete amplifiers offering a solid 150W apiece. The front panel simply offers a power button, which will have you hollering 'Mwahahaaaa' like an Austin Powers villain as you unleash over a kilowatt (well, that's what I did), and a button to disable the infuriating automatic power-off system.
You may have noticed something of a numeric miss-match here. The processor supports up to 11 main channels while the MM8807 is limited to seven outputs. Okay, so as tested we are stuck with seven channels but here's an idea: given that the MM8807 is relatively inexpensive in terms of bang-per-buck (about £1.60 per Watt, in fact) you could add a second MM8007. Not only would that give you the required additional four channels, it would allow bi-amping of the key left, right and centre channels for peak performance, too. Just a thought.
Frustratingly the AV8801 does not offer freely-assignable XLR outputs so we had to use splitter cables to test bi-amping the front channels, but it was well worth it in terms of added headroom and extra grip.
Now on to the UD7007 universal disc player. From the moment you press eject, and the rubberised draw glides out as if on air suspension, the Marantz shouts quality. It also shouts Denon DBT-3313UD, because it uses exactly the same disc mechanism. I would stake my meagre reputation on it using a whole lot of the same electronic gizzards inside, too, as it even replicated a peculiar HDMI syncing issue I had with the Denon driving my unique multiple display test setup. And again, the Denon tie-up is no bad thing. The Denon is a cracking machine and the Marantz UD7007's feature count reads like a what's what of source-equipment goodness.
It is safe to say that I like the Marantz system a lot, but like all such dream systems there are a couple of monsters lurking in the shadows. Despite the beefy internal construction, I remain unimpressed with the exterior. The plastic side cheeks to the fascia feel a bit down-market and the top cover of the MM8077, in particular, has all the structural integrity of a biscuit tin.
The UD7007 and AV8801 have clearly emerged from different factories, as the displays are a slightly different dot pitch and slightly different shade of blue. XLR cables slip nicely into the processor and power amp, while those on the player required Vaseline and a hammer, and are probably never coming out again, they are so tightly wedged. The remotes are a bit lacklustre too; rather cramped, with an LCD display too small to be of any use for the AV8801 and, with the Marantz logo at the bottom, all too easy to pick up the wrong way around. And, despite Marantz being famed for its silver and gold finishes, this system is available in, as Henry Ford would say, any colour you like – as long as it's black. Meh.
Setting up the processor is a breeze thanks to a very slick and easy to use setup wizard… hijacked from the Denon AVR-4520. It leads you through connections, network setup, video settings and auto EQ in a step-by-step manner than can be quickly skipped through if you know your HDMIs from your banana plugs. The setup concludes by running Audyssey's MultEQ XT32, including Dynamic EQ, Dynamic Volume and Low Frequency Control. I recommend going the whole hog and measuring the full eight different points around the seating position to get the best balance. This is now much quicker than it was with early implementations of MultEQ XT, barely enough time to get a cork out now.
Once the wizard announces that its work is done you can still nip back into the menus to have a tweak, rename inputs and generally see what's going on. The GUI itself is more efficient than it is a work of art and, like many GUIs these days, gives you an explanatory sentence for each highlighted feature. Well, that's the idea, but in the AV8801's case it's somewhat undermined by a rather literal approach to the explanation. For example, highlight Audyssey LFC with the option to switch it on or off, and the explanatory sentence offers: 'Turns Audyssey LFC on or off'. No word on what LFC actually means, what it does or why you might want it on or indeed off. These descriptors need a re-writeacross the GUI and my rates are very favourable...
Scale and dynamism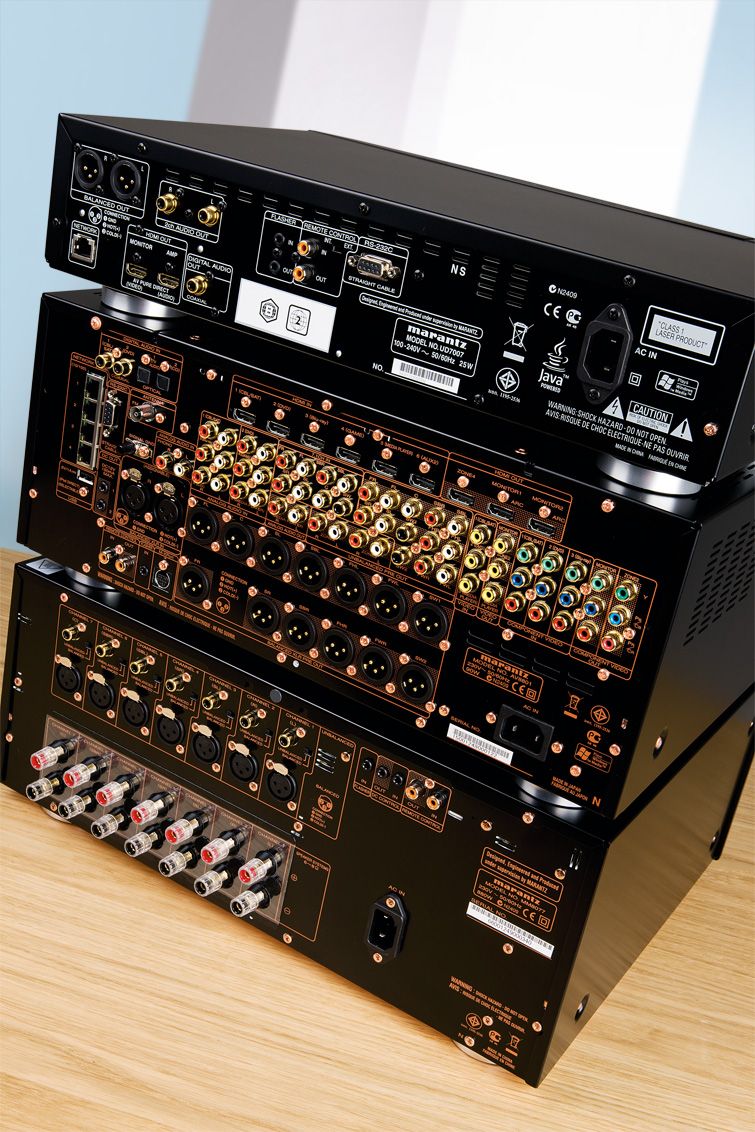 If in the last year or so I have described an AV receiver as sounding potent or powerful then I need to retract that statement. Put bluntly, the Marantz system delivers a scale and dynamic punch that single-box AV receivers can only dream of. The opening sequence to Star Trek (the 2009 movie, not the TV series with the wobbly sets) has the battle with the Romulan mining vessel crashing through my room with lasers and photon torpedoes bouncing off every wall. The explosions are absolutely massive and, with floorstanding speakers set to large and both subs set to stun, I sensed a very real danger of structural damage. By the time Kirk (Snr) is charging the USS Kelvin on collision course, I was scrabbling around the sofa hoping to find a seat belt.
The overall sound is rich, hefty and big – really big – with amazing solidity in the low-frequency reproduction. Dialogue is produced very much as part of the mix, not actually leaping out of the speaker but well articulated and superbly integrated with the overall soundstage, and the top-end is clean and smooth with good detailing of high-frequency effects. I never felt in danger of the sound getting shouty or acerbic, and this smooth balance just begs you to go large with the volume dial (or what I call the happy knob). Even with the volume at hooligan levels, the Marantz hangs the sound together brilliantly, generating 110dB peaks in my room without any sign of strain or fatigue. Only the 12in bass unit in one of my large main speakers hitting its end stops indicated it was time to back down a bit.
Interestingly, turn off the Audyssey EQ and the eminently rich and smooth balance becomes a little bit too mellifluous for its own good. Dialogue shrinks back into the centre speaker and the overall soundstage turns into something akin to a fresh pancake; warm and sweet yet rather flat. So leave it on – Audyssey EQ absolutely nails the perfect balance of power and passion for the Marantz system, allowing sparkle and clarity to shine through its power-house sound.
In performance terms, the UD7007 is right up there with the best Blu-ray players of the current crop, with a razor-sharp hi-def image, authentic colours and silk-smooth scrolling. 3D playback proved faultless and the picture adjustment options give you plenty of flexibility to tune the image to your display and personal taste. For CDs and Super Audio CD playback the UD7007's balanced XLR outputs deliver the sort of warm and inviting audiophile performance one might reasonably expect from a dedicated high-end CD player. Sure, it lacks the latest Smart features of the big-brand machines but you don't spend £1,000 on a Blu-ray deck to faff about on Twitter, and is easily recommended as a standalone purchase.
Awesome threesome
But why go separate on your separates? This Marantz trio is dying to be used as a homogeneous whole. A system for grown-ups, it has a mature and sophisticated presentation that just wont fatigue even after extended listening. Moreover, the system is better featured than most AVR-based setups, thanks to its true 11-channel output, and is about as future-proof as you could wish for. Personally I would be rather less than grown up and buy a second MM8807, yet as it stands in seven-channel guise this flagship array is a sure-fire winner.
---
HCC VERDICT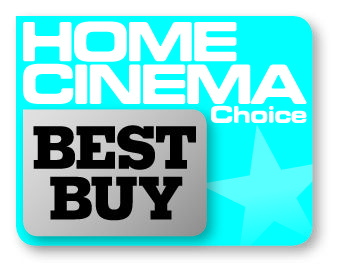 Marantz AV8801/MM8807/UD7007
Price: £2,500/£1,700/£1,000 Approx 
www.marantz.co.uk
Highs: Massively potent, refined sound; packed with features; great BD, CD, SACD playback
Lows: Not cheap; minor cosmetic niggles; demands serious speaker package
Performance: 5/5
Design: 4/5
Features: 5/5
Overall: 5/5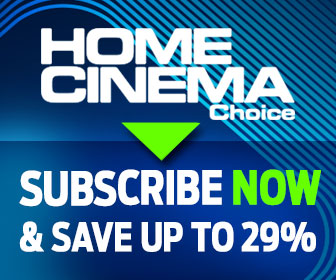 Home Cinema Choice #323

is on sale now, featuring: Panasonic JZ2000 4K OLED TV; LG SP11RA Dolby Atmos soundbar; Philips 806 OLED TV; Neill Blomkamp interview; hi-fi meets home cinema install; and more
Want to see your home cinema system featured in the pages of HCC? Click
here
for more info.