LG's WebOS TV aims to kickstart new era of Smart
'People should be inspired by their TV - find it playful and engaging'
It's a curious fact that even the smartest TVs can seem inscrutably dumb. So much so that many buyers fail to even get them online. Even if you're tech savvy, Smart TVs often seem little more than utilitarian devices.
Until now, that is. This year LG has introduced a new type of Smart using the freshly baked webOS platform. Sold with the mantra 'Making TV simple again,' these screens are anything but simple beneath the hood. To learn more, HCC travelled to LG's Silicon Valley Lab in Santa Clara.
By its own admission, the Korean giant has found it difficult to recruit local software developer talent in Seoul. Even an idea to mandate English in order to attract talent floundered. But demonstrably it has now solved the problem following the acquisition of the webOS software division from Hewlett Packard. Originally a mobile platform devised by Palm, LG had been working with HP to evolve a TV-centric iteration when the opportunity arose to acquire webOS outright. The company swooped. Now, from a purpose-built facility in the heartland of America's software community, it's humanising the Smart TV experience.
'Silicon Valley is a great place to find great, diverse talent,' says Ohad Ben-Yoseph, Director of Business Development. 'We have people working here from all parts of the world who bring their expertise and their backgrounds into the software and product development process – US and Canada, Korea, Singapore, Ireland, France, Germany, Netherlands… we have a very diverse team. LG sells TVs worldwide. We want to have a global input into what is the right product.'
California dreamin'
Certainly LG has never produced anything quite like webOS before; there's something distinctly Apple about its simplicity and elegance. 'I think we have a very Silicon Valley way of approaching development that has been perfected over the years. Such as failing fast, fast prototyping,' notes Ben-Yoseph. 'We have a lot of engineers here; our UX [User Experience] team is bigger than you'll find in most companies.'
Perhaps this explains the inherent humour in webOS, which uses cartoony cut scenes and language typically absent from run-of-the-mill consumer electronics. LG's Colin Zhao, director of product development, agrees: 'Yes, we take an irreverent approach to creating products…' As HCC tours the building, we notice that all the meeting rooms are named after classic video games – Pitfall, Galaga, Zelda and Breakout amongst others.
In use, it quickly becomes apparent that an LG webOS model isn't another flat TV with internet connectivity grafted onto it. The operating system seems woven into the fabric of the panel, from the uniform use of fonts to the tightly-knit app launcher.
So where did LG take its inspiration from? 'Back in the day TV was simple and enjoyable, you just turned it on and relaxed. We wanted to recreate that experience for modern users,' answers Zhao.
'What we've seen in the past is manufacturers taking a smartphone user interface and blowing it up to fit a TV. The problem is a phone is a productivity device, the user isn't really engaged with it. We felt people should be inspired by their TV, find it playful and engaging.'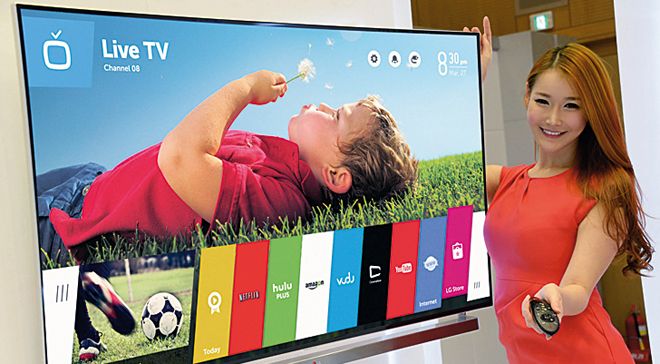 Source switching
To fine-tune webOS, the Silicon Valley team conducts endless consumer research sessions, filming viewers interacting with various prototypes. They discovered several ways to significantly improve the user experience. 'The first was switching between physical and online sources,' reveals Zhao. 'The TV is a big switcher. The most popular button used on the remote is the input button, so we made that much better. Content discovery is also key. Because there is so much to discover, the challenge was to make it enjoyable. Finally, there was the challenge of connections and setup. How could we take something that looks as cold and clunky as Windows 95, and turn it into something we have an emotional bond with?'
The solution was a simplified Home screen that offers every type of source, from tuner, IPTV and local sources, as well as a history of recent activity, all accessed via a horizontal bar of coloured slides. For the first time, viewers can effectively treat Netflix or YouTube as just another channel, hopping between them without having to exit and then relaunch apps.
'We've invested a lot of time and money into perfecting the switch,' confides Jim Sirraco, webOS product teamster. 'Everyone has sources, everyone has content. Switching should be the easiest, fastest thing you can do. On webOS we can switch back and forth between live TV and a 4K Netflix stream instantly. Similarly, if you want to switch from Netflix to YouTube and them back again, it'll pick up exactly where you left off.'
Typically around four apps stay active in memory, but this can vary depending on how memory-intensive the resource is. 'The more recently you've used the app, the greater priority is given to keeping that alive, as it's likely to be the one you want to switch back and forth between. But even if the app isn't running anymore, it will still show you what you were last watching on it.'
Tuned for UK
Darren Petersen, senior content and services manager for LG UK, confirms that elements of the UI and launcher have been specifically tailored for UK users. 'We've customised the LG Store, which offers content recommendations as well as apps, to put an emphasis on catch-up as well as VOD movies. Users can also customise the launcher to put their most-used services first, be it Blinkbox or YouTube.'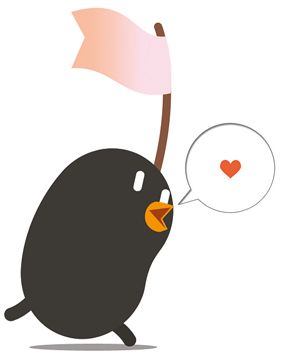 The brand has also made it significantly simpler for developers to create new webOS apps. 'As webOS is built on common web standards, it's really attractive to developers,' says Petersen. Importantly, the platform isn't intrinsically processor-dependant. 'webOS is going to be on 70 per cent of our UK TV lineup this year, from mass-market to high-end models. Of course, in those different devices there are different chipsets, but you'll not see a massive difference between them in terms of performance.'
In the short term, webOS will only appear on TVs. 'This year, media devices like Blu-ray players, soundbases and so on will be running the 2013 LG Smart platform. I simply can't comment on what's coming next…' says Petersen.
The personality of webOS is embodied by a mascot called Bean Bird, who greets people when they first power up their TV. 'He was the idea of our artistic director,' confides product manager Danielle Zimmerman. 'First time setup is something people really struggle with. The worst thing when you bring home a TV is when you take it out of the box and are faced with a lot of static menus. Users don't know what they have to do and what they can skip over. Bean Bird is a way to simplify the process.'
While the genus of LG's dumpy mascot may be unknown, he does have a secret. 'Bean Bird wasn't always called Bean Bird. He was originally called Fat Bird,' reveals Zimmerman. 'But that name didn't pass the PR test...'
Where to find LG's webOS?
LG has certainly made a effort to bring its new webOS platform to a wide range of its TVs. The revamped Smart system can be found on screens ranging in size from 32in to 84in, across 4K and Full HD sets.
4K models: 84UB980V, 79UB980V and 65UB980V; 65UB950V and 55UB950V; 55UB850V and 49UB8650V.
Full HD models: 65LB730V, 55LB730V, 50LB730V, 47LB730V and 42LB730V; 55LB700V, 47LB700V and 42LB700V; 70LB650V, 60LB650V, 55LB60V, 50LB650V, 47LB650V, 42LB650V, 39LB650V and 32LB650V; 55LB630V, 47LB630V and 42LB630V.
The webOS platform is also available on some Full HD sets specific to the retailer John Lewis: 60JL9000, 55JL9000, and 49JL9000. These are the equivalents of LG's 870V models available in Europe.

SPONSORED VIDEO

SPONSORED VIDEO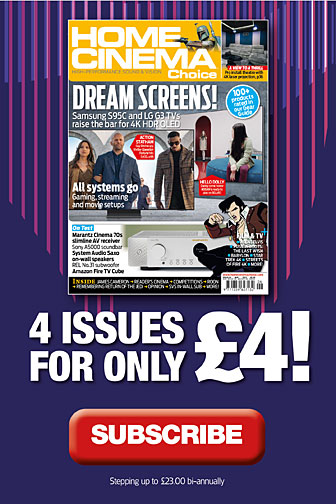 Home Cinema Choice #332

is on sale now, featuring: Samsung's 8K flagship; Anthem AVM 90 processor; B&W 800 Series Diamond; LG smart projector; Hollywood box office bombs; Hitchcock 4K; and more
Want to see your home cinema system featured in the pages of HCC? Click
here
for more info.