LG Nano 55LW980T review
LG's debut Nano technology TV promises unrivalled LED pictures. John Archer discovers if that's the case
Passive effective has finally arrived
LG's debut Nano technology TV promises unrivalled LED pictures. John Archer discovers if that's the case
While it's now established that passive 3D technology is a great, family-friendly alternative to active 3D where 42in and possibly 47in screen sizes are concerned, I personally have had my doubts that LG's new 3D approach works on bigger screens.
My concern, based on experience of the brand's debut 3D TV, the 55LW650T, has been that the application of passive 3D's polarising filter over the front of such a large screen results in visible horizontal line structure and jagged edges.
I also felt from my first head-to-head experience of 55in active and passive 3D TVs that such large screen sizes made passive 3D's slight loss of resolution more noticeable.
HCC has long been aware of my feelings. So it was with some surprise that I learned the magazine was sending me the 55LW980T rather than the 'safer' 47in version. However, it seems LG was merely being confident in submitting the 55in model, believing that it's got what it takes to win us over to the bigscreen passive cause.
Much of this bravado will stem from the fact that this is the first sighting of LG's Nano Full LED technology in the UK, an innovation that marries locally controlled rear-mounted LEDs (which ought to deliver superior pictures to the Edge LED competition) to a proprietary ultra-thin light dispersion filter. This is flagship engineering that LG has been previewing for a while, so it's good to see it finally arrive.
Of course, the 'Nano' 55LW980T wasn't originally intended to be a passive 3D TV at all. Initially, before LG realised it ran counter to its passive 3D marketing strategy, the Nano sets were going to be LG's only 2011 LCD models to carry active 3D. But at some point the passive change was made and the decision has proved a master stroke.
Fully loaded
To kick off, the screen's design is a vision of premium excellence from head to toe. The sheet of glass that sits across both the screen and black bezel gives it a suitably opulent finish, especially with the way it continues beyond the black bezel edge for a few millimetres. Also impressive is how slim the set's rear is.
The 55LW980T is fully loaded when it comes to connections, too. The increasingly de rigueur four HDMIs are here and naturally these are v1.4 for full 3D compatibility.
Also of note is how much effort the 55LW980T puts in where multimedia is concerned. There's wi-fi, for a start, courtesy of a USB adaptor that comes included with the TV. This, or a LAN port if you'd rather, provides access either to files stored on a DLNA-ready PC, or to LG's extremely fast-growing Smart TV online platform. There's also a D-Sub PC input for direct computer screen porting, and two USBs for either playing back a wide variety of video, photo and music file formats from USB storage devices, or for recording from the integrated Freeview HD tuner to USB HDDs.
The direct LED lighting system in the 55LW980T is, as mentioned, bolstered by local dimming, where separate clusters of the LED lights can be individually controlled. The benefits of this are that it allows the TV to have areas of near complete blackness and areas of extreme brightness on screen simultaneously, bolstering its contrast performance.
The 55LW980T has 288 separate areas of light control, which should prove enough to minimise the potential downside of local dimming whereby you can see haloes of light around bright objects. Toshiba, of course, has a screen with 512 areas of control, but isn't planning on bringing it to the UK. Spoilsport.
The local dimming also has the advantage of being driven by LG's most powerful processing engine yet, a system which claims to deliver a 'virtual' 1000Hz motion performance.
LG was one of the first brands to understand the benefits of adding extensive calibration toolkits to its TVs. So it's no surprise to find the flagship 55WL980T bagging the endorsement of the independent Imaging Science Foundation (ISF), and being endowed with a decent colour management system, gamma controls and extensive white balance adjustments.
Many of the processing-related features, particularly the noise reduction and edge enhancement tools, are best left off for most of the time. But using the TruMotion system on a light setting does little harm. LG's 2011 TVs have seen the brand's Smart TV online service blossom remarkably fast. Video services include the Blinkbox TV and movie library, Autocar, a '3D Zone' of streamable 3D content, an ITN news feed, YouTube, the BBC iPlayer, AceTrax, the HIT Entertainment channel, Box Office 365, the Cartoon Network, iConcerts and Daily Motion.
Also prodigious is the number of smaller 'apps' available, all of which are accessed via a slick 'shop shelf' visualisation. Most of these smaller game and infotainment apps are largely pointless, but you can stumble across the occasional treat if you look hard enough. Finally, the 55LW980T inevitably supports social networking, via Twitter and Facebook apps.
Plumbing the depths
As a fan of direct LED technology, I was really excited to find out what the 55LW980T's pictures could do. But actually, my first feeling was of slight disappointment.
The reason for this is that the 55LW980T can't produce quite the same black level depths I've witnessed on other direct LED TVs. Even with the set's backlight levels reduced quite sharply and local dimming on, there's still a residual hint of grey to dark scenes. The local dimming engine doesn't start off well either, because the TV's default setting creates some clumsy 'haloing' around bright objects if they appear against dark backgrounds.
Thankfully, though, after a little experimentation with the different local dimming 'strength' options and the set's backlight setting, I finally ended up with more than satisfactory black level depth and haloing so subtle it was hardly ever visible.
From here on in the news is nearly all very good. Colours, for instance, are stunningly vivid and punchy, but also enjoy a huge tonal range, plus the sort of extreme subtlety of tone and blend that you only get with potent processing engines.
What's more, after a little work, these boisterous colours are able to coexist very happily indeed with decently rich blacks to create a fearsome contrast performance. It's reassuring to note, too, during the nighttime scenes in Jane Foster's lab in the recently released Thor Blu-ray, that the 55LW980T is unusually good at retaining shadow detail during dark scenes, so that they appear to have as much depth (even in 2D mode) as bright scenes.
Fine detail levels with HD content are extremely high, leaving the picture looking crisp and textured. And the set is scarcely blighted at all by LCD's common motion blurring.
In fact, even though you don't immediately take it in, the 55LW980T's superb handling of motion is possibly its single greatest achievement. When it comes to motion processing, the trick is to do your work invisibly, so that motion just looks fluid and sharp, without the image looking processed or 'forced'. And in this respect the 55LW980T works brilliantly, even without engaging its TruMotion system.
With what's arguably LG's finest standard-def upscaling performance rounding out the 55LW980T's 2D efforts, it was with trepidation that I checked out its 3D capabilities. But my doubts were quickly laid to rest. As soon as I'd donned a pair of 3D glasses (of the seven pairs included free with the 55LW980T), I found myself seriously taken by how bright, clear and immediate 3D images look.
This impression is mostly down to the fact that the passive glasses remove hardly any brightness and colour from 3D images, unlike their active shutter counterparts. This also helps dark 3D scenes retain more detail, and thus depth, than is common with active TVs.
There's also much less crosstalk than you still get with many active TVs. I can't quite concur with LG's claim that passive 3D is crosstalk free, but I did find that it rarely appears – and that's a godsend. Indeed, it's probably because of this, together with the 55LW980T's retained 3D brightness and motion clarity, that its 3D images can look sharper than those of many supposedly active 3D TVs.
I also discovered that I could watch the 55LW980T's 3D pictures for noticeably longer than those of active 3D TVs without feeling tired. This doesn't mean that passive's 'problems' have disappeared. You can still make out traces of horizontal lines across very bright images, and bright edges do generally look jagged, most notably if there's a very shallow curve to an edge. The image descends into a crosstalk frenzy, too, if you watch it from more than around 13˚ above or below the screen, and there's still a small degree of source detail lost with passive 3D.
Won over
However, the sort of problems I'm describing reduce the further you move from the screen, so if your room is large, their impact will be minimal. More importantly, it seems to me as if the outstanding quality of the 55LW980T's core TV engine means that the strengths of its 3D efforts are much more in the ascendancy than its weaknesses, and it's this more than anything else that's finally got me onboard with big-screen passive 3D.
In fact, with some unexpectedly potent audio joining the huge and excellent 2D and 3D pictures, I have no hesitation in declaring the 55LW980T not only the best flat TV LG has ever made but one of the best 3D TVs yet from anyone. And it doesn't use Active Shutter tech – I think I need a lie down.
HCC VERDICT
Highs; Good design and build; massive feature count; good online service; excellent 2D and 3D pictures
Lows: Limited vertical viewing angle for 3D; occasional 3D crosstalk
Performance: 5/5
Design: 5/5
Features: 5/5
Overall: 5/5
Specifications
3D: yes
Full HD: yes 1080p/24
Tuner: yes Freeview HD
Component video: yes 1 x input
HDMI: yes 4 x v1.4
PC input: yes 1 x D-Sub
Resolution: 1920 x 1080
Sound: 2 x 10W RMS
Brightness: 450cd/m2
Contrast ratio: 10,000,000:1
Dimensions (off stand): 1265(w) x 760(h) x 27.5(d)mm
Weight: 23.8kg
Also featuring: Passive 3D playback with 7 pairs of glasses thrown in; pseudo 1000Hz processing; USB media playback; noise reduction system; DLNA streaming support; Smart TV online service;
ISF Approved


SPONSORED VIDEO

SPONSORED VIDEO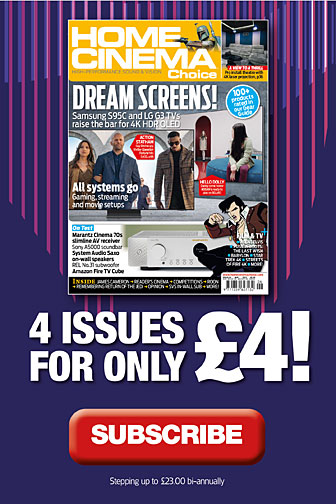 Home Cinema Choice #332

is on sale now, featuring: Samsung's 8K flagship; Anthem AVM 90 processor; B&W 800 Series Diamond; LG smart projector; Hollywood box office bombs; Hitchcock 4K; and more
Want to see your home cinema system featured in the pages of HCC? Click
here
for more info.