LG LAB540 soundbase review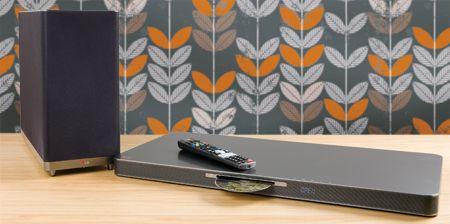 A few years ago the idea of a speakerbase was just a twinkle in the eye of a Bose engineer. But since the American audio brand, with its Bose Solo TV, popularised the notion of a soundbar that sits under your TV, rather than in front of it, and therefore provides greater cabinet space for larger drivers, plenty of other companies have had a pop, including high-end marques like Speakercraft and Canton and mass-market corps such as Panasonic, Sony and LG.
The latter's debut entrant to the market was the LAP340, which it dubbed a 'soundplate'. Offering basic features (optical digital audio input and Bluetooth) and a 4.1 speaker array, it was disappointingly average considering the £350 price. For 2014, the Korean company has gone back to the drawing board, thrown the drawing board out of the window, and conceived the LAB540. This retails for £150 more than its predecessor, but a glance at the spec sheet suggests it also offers a whole lot more.
Jack of all trades
The LAB540 is, again, described by LG as a soundplate, only this time around it incorporates a 3D-capable Blu-ray player, plus Ethernet- or Wi-Fi-powered access to LG's Smart TV portal, and media streaming over a home network or from USB. Oh, and it also comes armed with a wireless subwoofer.
Connectivity is greatly improved, too. Naturally, considering it's a disc spinner, it offers an HDMI output. Yet there's also an HDMI input as well as optical digital audio, making it possible to hookup two external components.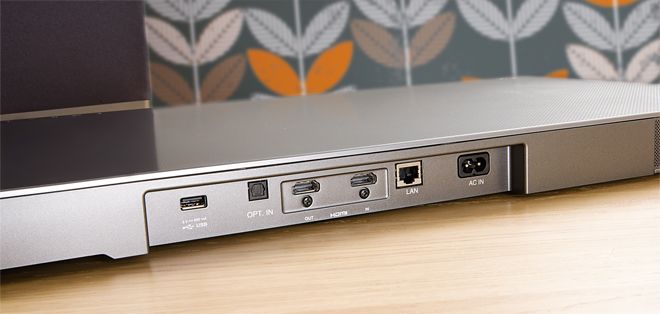 Style-wise the LG LAB540 is just about right. The main speaker/disc playing unit is very neat and tidy, a slim-line box with a silver-effect trim, front metallic grille and dimpled top plate. Connections are well-spaced out around the back (although I'd prefer the USB input to be front-mounted) and there's a front display that throws up nicely legible reminders of what mode/input the unit is set to.
The soundplate is not particularly heavy, and therefore doesn't feel particularly robust. LG's literature suggests it can accommodate any screen up to 38kg, but I still wasn't comfortable with the idea of heaving my lighter-than-38kg Panasonic plasma on top to find out. Nor is it the deepest of soundbases, so some larger desktop TV stands might look a bit ungainly.
The subwoofer is weightier and aesthetically unobtrusive. It stands vertically, with feet to lift it from the ground and give its port space to breath, and can be placed anywhere within reach of a power point. Wireless connection is faultless – the sub had melded brains with the main unit before I'd even got to the relevant page in the manual.
Hooked up to a display, the LAB540 greets you with LG's traditional AV home menu, with natty icons offering gateways to Smart Share (for finding content on disc, USB or networked devices); Premium (a curated selection of welcome apps, including Now TV, Spotify, iPlayer, Amazon Instant Video, Netflix and YouTube); LG Smart World (a portal of other apps, not much to see here...); My Apps (where you can build your own library up to 500MB); Input (for choosing between optical in, USB, Bluetooth and HDMI); and Settings.
In this latter one, you'll discover a DRC (Dynamic Range Control) option that is set to Auto as default, rather than Off, and the option to upscale video over the HDMI output to 4K.
Zipping around the menus with the rather spongy-buttoned handset is quick, to a point. The Settings menu is well-oiled, but as soon as you get into the app side of things operation can slow to a grind while the LAB540 knocks on the server's front door. Also, I discovered that if you accidentally press the Home button when you are already on the Home screen, the LAB540 panics and shows you a blank white screen. And on some occasions when switching inputs or powering up with a disc in the slot, I was greeted by a blacked-out display. Annoying.
Control is also available by LG's AV Remote app. Using this allows you to employ the Private Sound Mode, whereby audio is sent via Wi-Fi to your Smart device – the idea being you can then listen with headphones. Clever.
Listen up!
The audio performance of the LAB540 is a mixed bag, impressing in some aspects, and frustrating in others.
On the positive side, the wireless subwoofer makes quite an impact, particular in the upper bass echelons of music material and film soundtracks. With Iron Maiden: Somewhere Back In Time Live (Sky Arts HD), Steve Harris' frantic, galloping basslines and Nicko McBrain's thumping drum beats hang together well, with the woofer keeping speed with a nice, punchy tone. This same weight ensures that musical moments of broadcast TV, such as Masterchef's near-constant background tunes, sound far more fulsome than on a traditional telly.
Yet while the woofer patrols a good chunk of the frequency range (LG doesn't specify a crossover point) you'll find its shortcomings with genuine LFE. The opening to Gravity is accompanied by an omnipotent bass thrum that sinks rather low. Where a specialist sub, such as the SVS SB-2000 I tested, carries this off with panache, LG's model can't impart the same level of room-bothering fear, nor offer the same control. It sounds a bit unruly; making a general low-level growl rather than fluid, deep notes. I found I had to reduce the sub's output when watching BDs at anything approaching an exciting volume level.
In fact, being careful with the volume control was vital while living with the LG. It does its best work at low levels, where its unflustered amps can keep things sounding well-behaved. Yet step up a notch and cracks start to appear, particularly at high frequencies. Cymbals and hi-hats in music sound splashy and bereft of bite, and higher pitched vocals, such as Aerosmith's Steve Tyler on Rocks (CD) lack body. There's a lack of integration between LG's sub and four-channel main speaker that's easy to detect, leaving things disjointed. And this counts against it with movie soundtracks, too. The less-than-stellar tweeter performance means Foley effects are short on impact, and overburdened by the mid-range.
Therefore, the LAB540 is much more enjoyable when there's not a lot going on – the majority of TV shows, where the emphasis is solidly on the mid-range, cause it no problems. In that regard I suppose it nails the raison d'etre of a soundbar.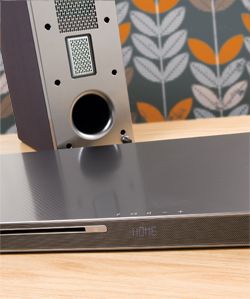 It offers a decent stereo spread, too, with front-stage pans coming across well. Yet despite labelling two of its channels as surround left/right (the output of which can be individually adjusted) the LG's soundfield is very much in front of you. With the early space debris sequence in Gravity, what I know is a reference-grade mix on a fully-fledged 5.1 array becomes much less emotionally satisfying. The LAB540 conveys the dynamism of the soundmix as Sandra Bullock's hapless astronaut ping-pongs around the screen, but without any sense of envelopment. Furthermore, with no centre channel to tweak, you can only attempt to raise the dialogue level by adjusting both front channels separately, and this is the sort of thing you won't want to do more than once. And while it's possible to tame the mid-range slightly by avoiding the Cinema preset and sticking with Standard, it's still not well balanced.
Features first
Not a rave review, then, but LG's LAB540 does have its merits. It's a true convergence product, offering a simple upgrade path over TV audio and adding Blu-ray playback, home networking and VOD to the party. Operation
is simple (minus the odd hiccup), the app controller is useful, and installation (helped by the wireless sub) is lemon squeezy. However, there are better soundbases available for less money, so if audio performance is your key concern, there are rival products to audition.

SPONSORED VIDEO

SPONSORED VIDEO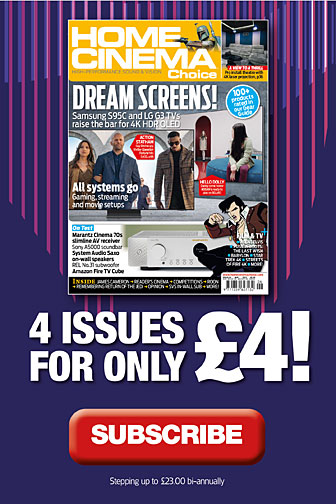 Home Cinema Choice #332

is on sale now, featuring: Samsung's 8K flagship; Anthem AVM 90 processor; B&W 800 Series Diamond; LG smart projector; Hollywood box office bombs; Hitchcock 4K; and more
Want to see your home cinema system featured in the pages of HCC? Click
here
for more info.