Kreisel Sound Quattro Series 7.2 review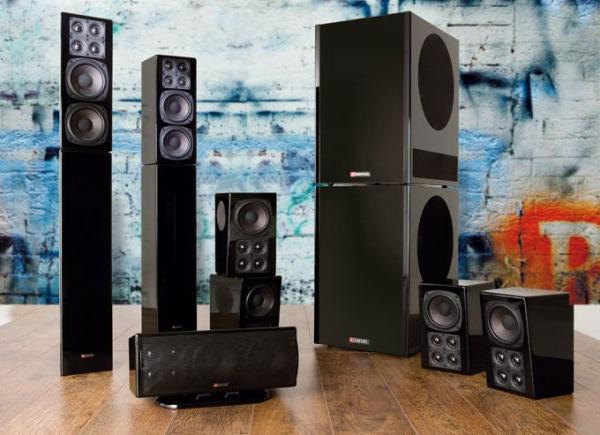 A speaker designer of note tends to have an area they're best at, be it high-end tweeters, like Bowers & Wilkins' vapour-deposited Diamond contraptions, or heart-stopping bass drivers, like pretty much anything proffered by Velodyne or REL. Yet some excel in all areas – and their products deserve attention.
I was impressed recently by a set of Aurum speakers from Quadral that seemed to address all the frequencies in equal levels of engineering excellence, but that system was beyond twice the price of what we're reviewing here. This Quattro array from Kreisel Sound, the company helmed by Ken Kreisel (the K in the original M&K) and distributed in the UK by L Sound, is the latest and most advanced iteration of the man's very own take on speaker design. And it is probably unique in home audio. A system of absolute excellence that covers all your home cinema needs, from slicing highs of great accuracy to bass that makes you believe a Bugatti 'space car' has just crashed through your living room. More on that later.

This seven-channel array comprises mostly compact enclosures, plus two very large subwoofers, although the brand does suggest you consider a 7.4 system, or even bigger. Indeed, this product line was designed with the immersive hecticity of 11-channel audio in mind, with dedicated 'height' speakers part of the catalogue.
It's got more drivers than Tiger Woods
Set up, the first thing you'll notice are the clusters of soft dome tweeters in each loudspeaker's front face, alongside one or two 5.25in paper cone drivers. The fronts in this package are the left- and right-delineated Quattro KK-Q125s. These can be used with optional £500 stands (as in our photography) designed to hold that amount of tweeter energy, and they utilise two of those midbass drivers. The centre (Quattro KK-125C) is essentially the same speaker but horizontal, and equipped with a shallow plate stand.

To the sides, we've used the Quattro KK-Q125 TriFX surrounds and for rears, the Quattro KK-Q85s (distributor L Sound sells the speakers separately, so you can build your own preferred array). The latter are an asymmetrical trapezoidal shape, designed to be wall-mounted above your listening position.

The TriFX cabinets feature a 3in driver on each flank, as well as the full complement of drivers (a 5.25in mid plus four tweeters) to the fore. Depending upon the jumper position, you can choose between the trademarked TriFX mode, which is a side radiation-plus-front output to give dipolar surround with focus as well; classic dipole mode with the front drivers silenced; or direct front mode with the side drivers silenced. However, I feel you would really buy these to make use of all their talents and thus stick with TriFX. I did.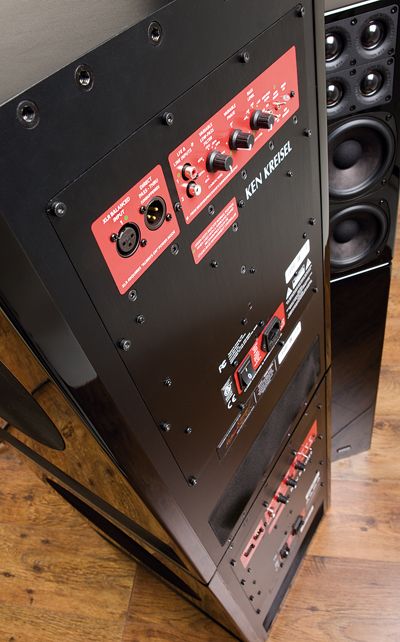 It's worth stressing that the four-tweeter array is not just an ASBO-cluster to make it +12dB, or four times louder. Rather, the aim is to shape the high-frequency output, as well as the synergy of the four, and to cross them over lower down than a normal tweeter array to improve coherency. Each is given its own slightly different signal from the complex interior passive crossover system of capacitors, inductance coils and resistors. This ensures the most-perceived-detail zone of frequencies, the highs most likely to bounce off walls and confuse the soundstage, are marshalled – the sound is aimed into the listening area, reducing energy arriving at a room's walls, increasing focus and perceived detail. It works, and is a pro-audio approach also shared by IMAX.

The subs, called DXD-1202, are prodigious and retail for £2,500-a-piece. Our two were bolted together with meaty fixings and chunks of shapely steel, and four rubber coupling pads.Each has a side-firing 12in driver and another one mounted vertically, adding up to the cone area of one 18in woofer. Each gets a solid 375W RMS from its own Class D amp, to end up with 750W in total. In a stack of two (the 'duo' arrangement recommended by Kreisel Sound) their drivers are in two opposing pairs, since the second sub goes atop the first, on its head. The two connect via an XLR cord.
Sci-fi stunners
I spun up Elysium on Blu-ray. A grubby sci-fi, oddly with some swordplay thrown in, it begins on a dirty Earth where everything looks like a Brazilian favela. You can smell it, so good is the sound design and grimy cinematography. This array impressed immediately with its layered presentation. We see our protagonist as a child with his sweetheart, making promises about escaping to the Elysium habitat where the wealthy live, and the sound of children playing is overlaid by a close-miked voiceover. It is complex and busy but the Kreisel Sound array delivers it all.

From there, the sci-fi vehicles soon arrive. Stumpy jet-equipped craft that look rusty and make a lot of big sounds, especially when they crash. At this point, my room shook hard but completely distortion-free. Missiles are deployed – the sound as the mechanism opens and ejects its load, and the weaponry fires its engines and zooms off, was superbly, absurdly, detailed. Moreover, it was tremendously coherent as they wove around the soundfield, and while the speakers were visibly there, the soundstage in the room didn't seem to be connected. The placement of the missiles was absolute.

Later, when our hero is at his job in a robot factory, the locational cues of the machinery around him proved utterly immersive. But the sheer impact of effects was also impressive. The click of a gun priming, and bullets exploding near a target to rip it all to shreds, cut hard but not so it became uncomfortable or ever broke up.

Bass is controlled, accurate and polite despite the power. When the villain's personal spacecraft is shot down – with an EB symbol on the bodywork and current Veyron livery of paint – my room again throbbed, and I positively felt the crunch of gravel beneath it.

Elysium's best sequence to show off the controlled dispersion and razor-sharp accuracy of this system's tweeters comes towards the end. The swoosh of a longsword being taken from its scabbard moves from the left front channel to the centre speaker, the camera moving with it. It takes supreme imaging to shape this and great attack to make it sound sharp – something that the Q125s tweeter clusters made light work of.

With immense scale and weight as well as detail and impact – plus serious dynamics – this array startles. But then, you do have a fantastic amount of bass power to use and plenty of HF drivers. It is beautifully made and eye-catching to behold, and Ken Kreisel has eschewed front-mounted tufts of foam to tame the highs (as seen on rival MK Sound's superb S-150s) and used the most clever passive tech yet seen in home theatre instead.

Yes, this setup is costly, but in truth it represents amazing value in sheer pro-grade output terms. And if you can hide the monster woofers in a corner, the rest of the package is surprisingly easy to accommodate.
www.lsound.eu
Tel: (+47) 377 11 333
Specification
KK-Q125 LC/RC
Drive Units: 2 x 5.25in paper pulp cone woofers with cast aluminium chassis; 4 x 1in proprietary soft fabric dome tweeters
Enclosure: Two-way, sealed
Frequency Response: 80Hz-25kHz
Sensitivity: N/A
Power Handling: N/A
Dimensions (max): 160(w) x 423(h) x 190(d)mm
Weight: 7.6kg
---
KK-Q125C
Drive Units: 2 x 5.25in woofers; 4 x 1in tweeters
Enclosure: Two-way, sealed
Frequency Response: 80Hz-25kHz
Sensitivity: N/A
Power Handling: N/A
Dimensions (max): 423(w) x 160(h) x 190(d)mm
Weight: 7.6kg
---
KK-Q125 TriFX
Drive Units: 1 x 5.25in woofer; 4 x 1in tweeters; 2 x 3in side-firing drivers
Enclosure: Three-way, sealed
Frequency Response: 80Hz-25kHz
Sensitivity: N/A
Power Handling: N/A
Dimensions (max): 215(w) x 290(h) x 190(d)mm
Weight: 6.5kg
KK-Q85
Drive Units: 1 x 5.25in woofer; 4 x 1in tweeters
Enclosure: Two-way, sealed
Frequency Response: 80Hz-25kHz
Sensitivity: N/A
Power Handling: N/A
Dimensions (max): 215(w) x 290(h) x 190(d)mm
Weight: 6.5kg
---
DXD-1202 subwoofer
Drive Units: 2 x 12in Push-Pull-Pulsar™ long-throw bass drivers
Enclosure: Sealed. 'Back-Sidefire' design (one driver is in the vertical plane, the
other horizontal)
Frequency Response: 10Hz-200Hz
On board power: Dual Class D high-current 375W RMS monoblock amps
Dimensions: 492(w) x 602(h) x 390(d)mm
Weight: 36.6kg
Connections: Stereo phono input; XLR balanced input and passthrough

SPONSORED VIDEO

SPONSORED VIDEO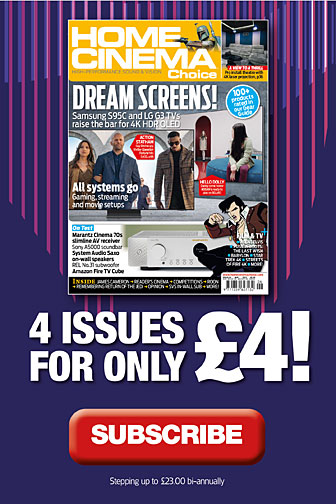 Home Cinema Choice #332

is on sale now, featuring: Samsung's 8K flagship; Anthem AVM 90 processor; B&W 800 Series Diamond; LG smart projector; Hollywood box office bombs; Hitchcock 4K; and more
Want to see your home cinema system featured in the pages of HCC? Click
here
for more info.