KEF R Series review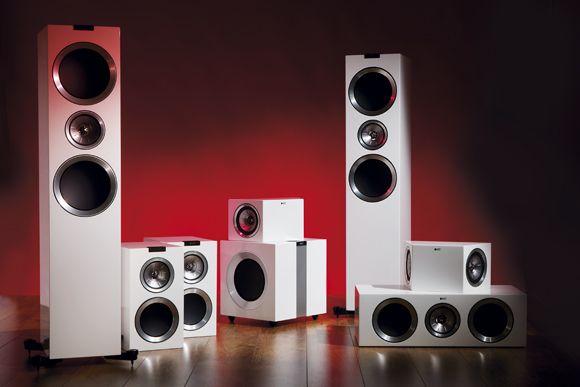 With technology borrowed from the brand's Blade flagship, this 7.1 system is seriously good
In the world of high-end hi-fi, loudspeakers are routinely objects of reverence and desire, no more so than KEF's recent Blade. Styled like a shark's fin and packing exquisite technology, it's the kind of speaker to make grown men weep.
The thing is, though, that at the very top of the loudspeaker tree, the manufacturers tend only to offer them in stereo. There still exists a dichotomy between the two-channel audiophile and those who wish to have Hollywood (or Bollywood) in their living room. Sometimes the latter have to resort to purchasing the finest hi-fi speakers around and using them in their cinema – I once visited a system, part of a million-pound spend, that used Wilson WATT/Puppy cabinets in all directions at over £10,000 a channel.
And, of course, what all speaker companies know is that the true path to corporate survival and growth is to have a big seller. And to do that, it's often a smart idea to have your engineering department design a brilliant cost-no-object product and then work out which salient points of the new item can be made cheaper. With Bowers & Wilkins, it was the Nautilus speaker that led to its less costly models offering a tapering tube behind their tweeter domes. With KEF, the audio engineering unleashed in the Blade speaker is used to startling effect in its new R Series (reviewed here in a 7.1 array, with dipole speakers for the surround channels). With its refinements of already well-received technologies and, actually, a far-from-ludicrous price tag, it makes me feel that some other speaker brands are going to hate KEF.
For the R Series, I can tell you right now, is superb. Even if you don't opt for the lavish white finish...
In search of high fidelity
I get to hear a lot of speakers and, as all of the brands are fighting tooth-and-technology for your budget, there's always a value-for-sound issue. With some it is about just getting loud enough to scare the children. With others, it is about scale and richness and, most importantly, fidelity. The immediacy of the sound, how realistic it is, how well it paints a soundstage and in how many dimensions. And 7.1 surround can mean a lot of potential channel transitions for the elements of a Blu-ray soundtrack.
Of course, it must play music as well as run movies, so in addition to checking out the 7.1 DTS-HD Master Audio mix on The Adventures of Tintin Blu-ray, I also gave this new-look KEF lineup a taste of some multichannel jazz. And it became immediately clear that the driver technology here is something special. KEF's Uni-Q has gone from good to awesome.
The Uni-Q, which is a feature of much of KEF's loudspeakers, including the Reference and Q Series, was always able to make an easily coherent soundstage, as the drivers for the high and lower frequencies are co-incident – a single assembly of a tweeter within the heart of a midbass driver. Once a bit like a grown-up fillet steak compared to a coaxial car speaker's dodgy hamburger, what has happened to the tech now is akin to adding a few shavings of black truffle.
Tangerine dreams
'The Uni-Q here is very, very similar to the Uni-Q we developed for the Blade,' claims KEF's product guru Johan Coorg. The Tangerine waveguide – the shapely array of thin metal fins placed in front of the tweeter to direct energy out more evenly – will be familiar to KEF watchers, but the very shape of the midbass driver and especially its top surround suspension has been newly designed. Now called Z-Flex, it serves to act as a smooth transition from cone to suspension, to the shallow indentation that the Uni-Q sits in, so that the output of that wave-guided tweeter is now perfectly shallow-horn-loaded.
The Tangerine waveguide and Z-Flex rubbery top surround together serve to make Uni-Q sing as never before. That, and the Blade-derived Single Apparent Source technology, where the potent voice-coiled bass drivers are placed symmetrically around the Uni-Q and as close as possible. This adds up to a coherency and ability to precisely locate elements of the soundstage where they are placed by a sound engineer.
The bass drivers in the R Series range (pictured below), be they the 6.5in ones in the bookshelf R300s used here as rears, the 8in units in the R900 towers, or the 9in versions in the R400b subwoofer, are a treat, too. They're like normal drivers with Loki's Mask on; a speaker driver only cartoonishly more so. Massive voice coils, large motor magnets and a multi-layer array of elements, including a very well-vented paper cone supporting a dished aluminium cover.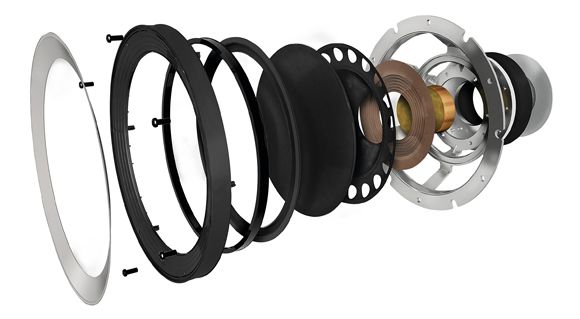 The centre speaker here is the R600c, which uses a similar but smaller version of the R900's driver arrangement. Dinkier versions of the centre, floorstander and bookshelf speakers are available should you want a slice of R Series for less money.
Dipolar technology
The R800ds dipoles turn out to have a neat crossover trick. Like a classic dipole, they fire along your walls and crossover between the high and mid frequencies at 2.5kHz. However, the manual also shows another crossover point of 300Hz for what looks like a simple two-way speaker. Below that frequency, the speaker radiates as a monopole. KEF call this 'two-and-a-half-way.' The reason for the change in radiating pattern is that a dipole struggles to be efficient at low frequencies unless it is very large. Says KEF: 'We flip to a monopole so that the R800ds can deliver some decent LF.'
Around the back of all except the 500W R400b subwoofer and R800ds you get two gold-plated sets of dual binding posts and, instead of an easy-to-lose jumper bar, there is another knurled knob. This is used to connect or detach the two sets from each other so you can bi-wire or bi-amplify the speakers if you wish. This seems to be a marketing fad, as I know few people who bother with two sets of speaker wires affixed to dual binding posts, even product managers demoing their own creations.
I should add now that my audition was conducted at KEF's UK headquarters, because I felt a room larger than my own would be more suitable. A welcome benefit for me is that I didn't have to unbox all eight enclosures. But the report from the HCC photo studio is that it's not too much of a challenge, as long as you set aside time to attach the R900s' plinths...
Warner Music's Legends of Jazz Blu-ray is a handy platter to have around. Especially if you have a terrible crush on Jane Monheit. She has the voice of an angel and the recording is just sublime. With the KEF R Series, You Can't Take That Away From Me came across astonishingly detailed and real; the clarity of her voice, and the delicate edges of the percussion, rare and superb. On another track, John Pizzarelli's playing is fast but I could follow and hear his pitch-perfect voice as distinct from his instrument.
Comic capers
I am just the right age to adore Tintin. I watched the film as a true fan of the original books yet approved of the respect and love Steven Spielberg gave to Hergé's heritage. As such, I'm using it a lot as a demo disc – it helps if you like the movie that accompanies your 7.1 sonics. With the amp's volume dial given a hefty tweak, and KEF's demo room sofa moved back a touch, I got stuck in.
First, I found the clear hear-everything nature, evident with the jazz recording, continued. The high-frequency detailing of the R series is exquisite. There's scale, too; the soundstage hung across the screen, beyond the confines of the front three speakers. Characters' voices were amazingly clear and the bass-end a perfect blend of the speakers' drivers and the subwoofer. It helps, of course, that KEF's room has been acoustically treated. But I'd suggest that's something you should be looking at yourself if you're spending £6,500 on a speaker array.
As the movie opens there are different parts where we get an overlay of a ship-at-sea with creaking rigging. It sounded fabulous – you were there. Then comes a thunderstorm and the fear-inducing dynamism of this system was revealed, with the KEFs tangibly moving some air. Later, Tintin's dog Snowy chases a cat around the room. The soundtrack follows the overwrought 3D image and (minor spoiler alert...) a model ship gets knocked over. In the midst of all the crash, boom and tinkle – which the KEFs serve up every bit of – there is a distinct crrrack as the model's mast breaks. If you have this film, see if your system has this resolution. It may well not…
In another demo-worthy moment, a man (I won't reveal who) arrives at Tintin's door, only to get shot as he stands there. The impact parts your hair as you hear the bullet's path through the hallway and its woodwork, with perfect detail and almost painful edge at times.
A very big piece of that visceral impact is the £1,000 R400b subwoofer. Its pair of 9in bass drivers are bolted back-to-back and their beautiful aluminium pistons are very fast indeed. There's snap and attack from its twin 250W amplifiers, alongside huge cone travel to really extend its depth. Swapping discs for Guy Ritchie's first Sherlock Holmes outing on Blu-ray, and the opening slo-mo fight sequence in foggy Victorian London, showed it to have immense scale. I'd easily recommend this as a standalone product should you not be in need of a whole new speaker array.
As for the R800ds, well, I've been sniffy about dipoles in the past, always preferring direct radiating speakers in a 5.1 setup, but I've had my head somewhat turned here. In the scene at Marlinspike Hall where Snowy gets chased by a Rottweiler, the audio goes right through the soundstage and this KEF system spat out deep growls that travelled all down one side. These quirky-looking dipoles offer both punch and dispersion.
Serious contender
This R Series lineup (good-looking in white, but I'd probably order in black) provides a ridiculously high-end performance and output for the cost. I'd have expected the price tag to be at least half as much again. These are therefore a serious contender for a high-end dedicated cinema room and will give absurd amounts of delight for years while you replace the TV every Winter. They tick all the boxes: scary, pretty, cool, posh, dynamic, delicate...
I love them.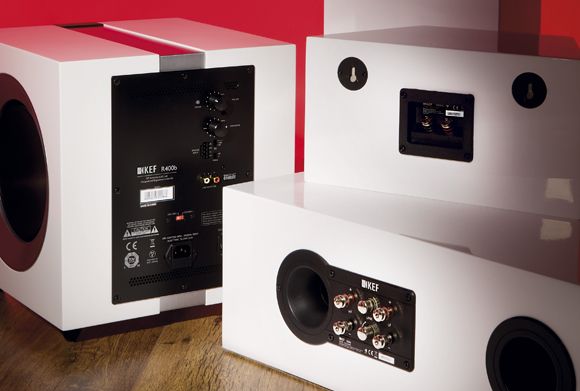 ---
HCC VERDICT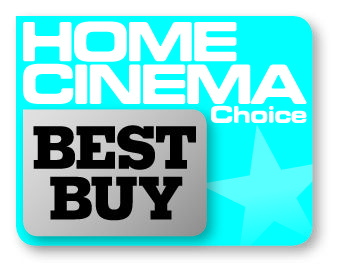 KEF R Series 7.1
Price: £800
www.kef.com
Highs: Superb performance suited to both delicate music and terrifying actioners; awesome build quality; sensibly priced
Lows: You may hanker for rounded edges to the cabinets; attaching the plinths is a bit of a chore
Performance: 5/5
Design: 4/5
Features: 5/5
Overall: 5/5

SPONSORED VIDEO

SPONSORED VIDEO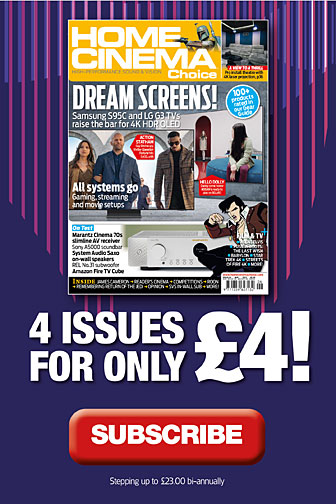 Home Cinema Choice #332

is on sale now, featuring: Samsung's 8K flagship; Anthem AVM 90 processor; B&W 800 Series Diamond; LG smart projector; Hollywood box office bombs; Hitchcock 4K; and more
Want to see your home cinema system featured in the pages of HCC? Click
here
for more info.