KEF E Series E305 review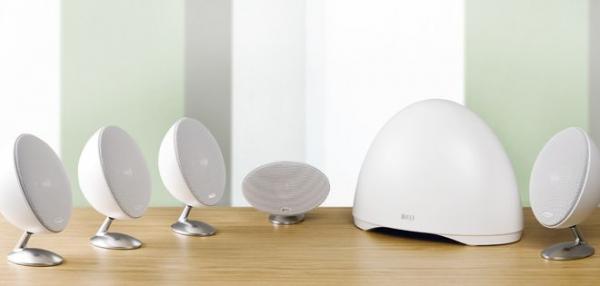 Speaker specialist continues its eggzact sonic science with this rather delicious sub/sat system
One glorious Easter some years back, I got a knock at the door and a parcel was delivered. It was a cool bit of packaging, with the shattered remains of what had once been a chocolate Easter egg, in the shape of KEF's latest 'egg' speaker, inside. As a PR stunt, it had failed utterly. Yet I still ate the chocolate, and my interest was tickled enough to make sure I tracked the KEF system down at the next show I went to.
Back then, it was like someone had been cheeky at KEF, nicked some high-quality transducers and put them in something dinky just to see if they worked (similar to the willfully naughty engineers who made the Golf GTi). And, unlike the PR stunt, it wasn't a failure.
Now, KEF is back with these new 'eggs' (and I duly received an intact chocolate treat – I will point out that while me food critic brother may be bribable with sugary foodstuffs, I am not).
Eggs relaid
Like the humble Golf GTi – another product that has been raved about down the years and has had a slew of extra engineering applied – the KEF egg speaker has got bigger and heavier. These E305 and E305c enclosures are not quite as dinky as once they were, being now a weighty 1.5-litre ovoid cabinet. They're mounted on a smart leg and base assembly, tightened up solidly via an Allen key. Additional floorstands, should you not want to mount these on a shelf, are available for £150 a pair.
The system comes in a matt white or black finish, all assembled in a single carton. Buyers get four E305 eggs in the top layer, then, like a box of chocolates (it's on the brain for some reason) you get another layer with the E305c centre enclosure and the E-2 subwoofer underneath.
In my house, I would probably install the black version. There's nothing wrong with the white finish, but that lovely camel hump subwoofer is just bound to get a rubbery shoe-mark.
The woofer has only one control surface and that is the underside. Alongside the 8in cone, which is a long-travel design, you find a figure-eight double-insulated mains socket, a single phono input socket, a main on/off switch and another smaller one you can use to set for manual or auto-sensing-on/off. There is a simple 0-180 degrees phase flip switch and, lastly, an EQ bass boost switch with three positions. Plus or minus 2dB and one called '0dB' in the middle.
Interestingly, KEF's designers have made the product to work with a nice little perceived equalisation 'hump' at 50Hz in most rooms. This is where a bass boost is often provided on many products meant for mainstream, rather than expert/audiophile, use. So, oddly, the '0dB' setting offers a little 'plus' EQ, and KEF calls the flat, un-EQ'd response, '-2dB' on the switch. Subsequently, the '+2dB' setting provides a pretty big 4dB lift and hump around 50Hz.
If all the above is a tad baffling, worry not. Start at '-2dB' and experiment with the other positions later. I, of course, tried it at max initially, and quickly found I needed it flat (-2dB) as it just sounded smoother that way.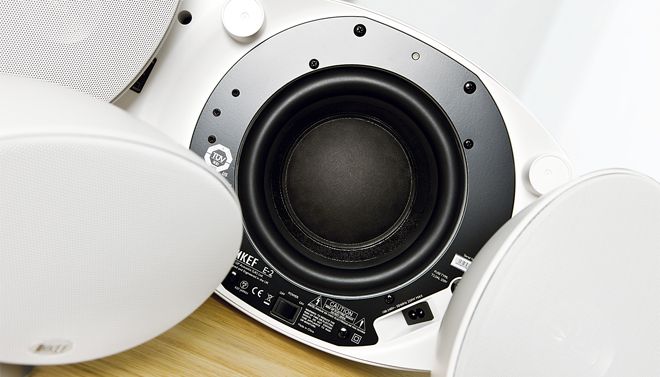 Dripping with technology
The satellites themselves have some really deep smarts. The technology that the R Series floorstanders borrowed from the Reference series has filtered down even further, and the E305 eggs now have the most astonishing drivers in them, with the tangerine segment-shaped waveguide at the front.
A very highly-developed magnet system fills a lot of the space within and gives the midband output some serious grip. Likewise, the vented tweeters and the whole Uni-Q assembly's output, flowing out over the Z-Flex suspension to offer a smooth, horn-esque loading to the whole sound, are a slice of real acoustic engineering. It's a shame that you can't remove the grilles to get a good look. The cabinet design befits the reasonably high (for a sub/sat package) £900 asking price, with internal ribbing and damping employed to strive for an aural accuracy free from unwanted resonances.
The enclosures are utterly easy to set up. Plug your speakers wires into their squeeze posts and a phono in the subwoofer and you're ready – no volume, no crossover to set. And if you want to try a few different angles and speaker positions (and the manual is good here) you'll appreciate their portability.
I began with some music material, and immediately the high-quality tweeters and the classic KEF detail and placement was there. I ended up with the rears a tiny bit boosted for my taste and found the overall coherency superb and the high-frequency handling just fabulous. The -6dB figures for the upper cutoff of the tweeters is a mad 45kHz, with 33kHz at the -3dB figure that the rigorous tend to prefer. This equates to tinkly, engaging highs in the audible band – strings are given edges, cymbals have presence.
I turned to a highly-crafted Blu-ray soundtrack, Disney Pixar's Brave. Entirely recorded off-set (obviously), and with wonderful voice performances from the likes of Billy Connolly and Robbie Coltrane, it's become a personal favourite.
At the film's beginning, we follow the fiery princess as she goes for a wild ride through the forest, practising her archery skills. There's a brilliant scenario of whizzing arrows, big hoof beats of the heavy horse and rousing Scots song with layers of vocals. It is intensely complex and could get congested, yet the E305 system was equal to the challenge. There was, of course, a limit to the sheer scale and weight of that heavy horse, but to achieve that you will need to pay more, and the placement and image creation of Pixar's soundscape was ridiculously impressive for speakers this small.
Box clever
The seamless voice-matching that five identical boxes can do is the best definition of synergy I know, and it's in abundance here. The impact and power these drivers can muster for high frequencies is amazing.
A bear attack early on is genuinely scary. Later, a witch's crow character gets a lot of stick – beaten with a broom and worse – before being issued with a welding mask that gets shut with a clang. With this array, you believe all this, as the range and skill of KEF's modern Uni-Q driver is just bonkers.
The E series is therefore an easy-to-recommend product. It's pretty, and wall-mountable if you wish, so will suit the fashion-conscious. The sub-£1,000 ticket, while hardly 'budget', will ensure a broad appeal. And how it performs, with great coherency and a woofer that's way more sophisticated than it might look on the outside, makes it a perfect match for movie fans.
There's a lot of competition in this market, but you should definitely add these to your audition list. Not as potent as the brand's R Series, but remarkable all the same.
---
HCC VERDICT
KEF E Series E305 system
Price: £900 Approx
www.kef.com
Highs: Lovely accurate soundstage with delicious detail and placement; excellent dynamics; great design
Lows: A line-thru on the subwoofer and an option to buy extra ones would make it even better
Performance: 4.5/5
Design: 4.5/5
Features: 4.5/5
Overall: 4.5/5

SPONSORED VIDEO

SPONSORED VIDEO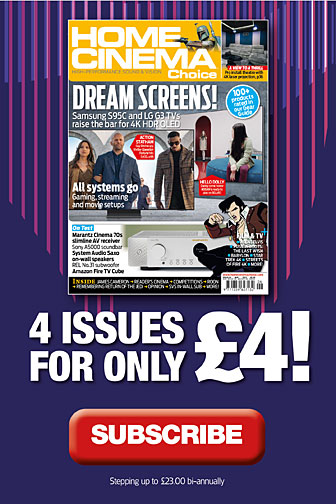 Home Cinema Choice #332

is on sale now, featuring: Samsung's 8K flagship; Anthem AVM 90 processor; B&W 800 Series Diamond; LG smart projector; Hollywood box office bombs; Hitchcock 4K; and more
Want to see your home cinema system featured in the pages of HCC? Click
here
for more info.