Home cinema lighting explained!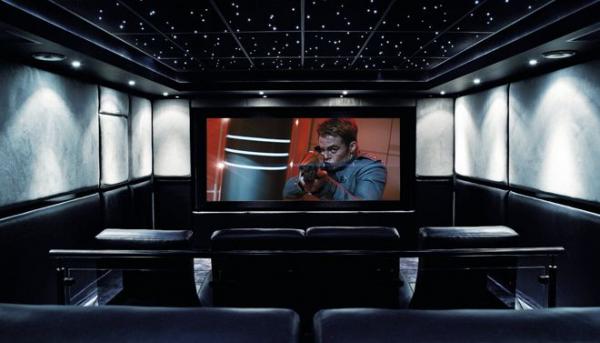 Transform your AV room into a magnificent movie palace with some state-of-the-art illumination
Light and cinema have always enjoyed a symbiotic relationship. Without the former, our flickering home theatres would be little more than gloomy sheds with extravagantly comfortable seating. A well-designed lighting system can really help deliver that 'wow factor' that we want our cinema setups to provide – especially if you want the room to rock even when you're not watching a movie.
Of course the relationship between the two is complex. The dimming of house lights has become a universally recognised trigger for relaxation, in anticipation of a film yet to unspool. And clever lighting provides more than just this addictive psychological fillip; it can also have a fundamental impact on the quality of the viewing experience itself. In much the same way an untamed room can blight even the finest hi-fi equipment, poor lighting can distract from the work of Hollywood's greatest auteurs. Martin Scorsese, James Cameron, Paul W.S. Anderson – none can compete with careless illumination. And as you might imagine, there's far more to lighting control than simply flicking a switch...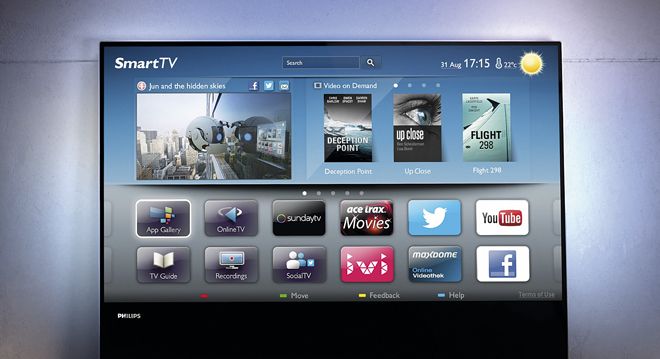 Bias lighting experiments
It's long been known that sympathetic illumination placed behind the screen can improve the subjective contrast performance of a display and reduce eyestrain. It's called bias lighting, and has been a basic tenet of professional video suites for years.
While viewers instinctively feel they should turn off all the lights in a room when watching a Blu-ray it doesn't always follow that this will automatically result in the best experience. Introducing a low level of ambient light into your viewing room will reduce eyestrain, as your pupils will not aggressively dilate so often – this doesn't apply to video projectors, for more obvious reasons. Of course, when it comes to smart lighting design you'll want to avoid reflections, too. The last thing you'll need in a comfortably dimmed room is the glare in the centre of your screen from an unfortunately placed bulb.
LED-lit LCD TVs are a particular beneficiary of bias lighting, as in full blackout conditions LED edge-lights take on the property of a torch, blasting blacks into sullen grey. Without heavy and effective black filtering, an LED TV in total black-out conditions will struggle to deliver convincing contrast. Typically, bias lighting works best with LED TVs, although you can still reap benefits with plasmas.
The trick is to throw the right quality of light behind the panel; as a basic guide, the backlight should be duller than the screen itself, and ideally around 6,500 degrees Kelvin; this reflects the colour grading standard used in broadcast suites.
So what are your options if you want bias lighting? Well, Philips' original Ambilight system addressed bias lighting directly, but that technology quickly evolved into a general-purpose mood light. Bias lighting and multi-coloured behind-screen kits, both fluorescent and LED, are widely available online. The latter are best thought of more as a lighting design embellishment, but can equally be used to reduce eyestrain and they'll certainly add style to your cinema. For a rough idea of the effect, position an angle-poise lamp or similar behind your TV. Wall-mounted screens are a little more challenging, although LED strip lights can usually be affixed to the screen mount itself. And neither these or a behind-screen kit need be expensive – although, as always, be wary of products that seem too good to be true.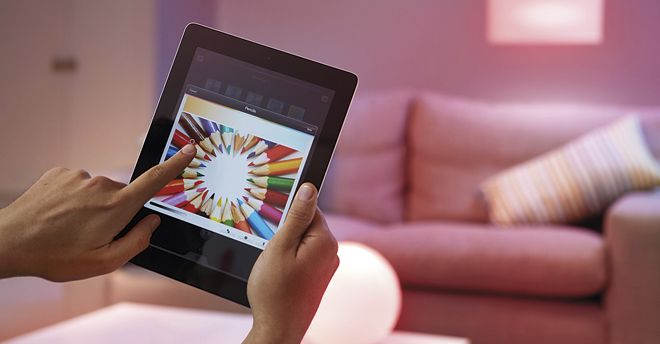 Taking control
While a basic bias lighting setup can better your AV enjoyment, the real fun begins when you ramp up your illumination ambitions and make it personal. And here, Philips (again) is making waves, with its innovative Hue LED lighting system that allows you to tweak and tailor LED bulbs via an app to suit any interior décor or mood. The system uses the ZigBee Light Link open standard, although no one else has launched quite such a high-profile proposition as Hue.
Philips' solution allows a wide variety of control, not just in terms of light levels, but also colours. The Hue app, available for iOS and Android, includes four light themes and allows you to customise the colour output using a colour picker; what could be Hammer Red one day could just as easily be Jaws Blue the next. The system is extremely expandable, officially supporting up to 50 Smart LED bulbs, but theoretically capable of handling even more.
The Hue starter pack is a tad pricey at £180, but includes three screw-mount bulbs and a ZigBee bridge, which connects to a router or a network switch via Ethernet. Additional Smart bulbs sell for £50; each is rated at 8.5W and outputs 600 Lumens, the equivalent of a 50W incandescent. Philips suggests these LED bulbs consume 80 per cent less power than incandescents, so theoretically they'll eventually pay you back.
A recently released addition to the Hue stable is the LED LightStrip. These are 2m long, flexible, and can be cut to size – making them ideal for those who want to get creative. They output 120 Lumens and draw 12W. Pricing is £80 each.
'It's full of stars...'
One creative alternative to regular dichroic and LED lamps – and even more customisable – are fibre optics. Usually seen providing the starfield pattern in the ceilings of unapologetically upmarket home cinemas, they are superb at creating West End theatre ambience. Indeed, the creative options for fibre optics are limited only by budget and ambition. They can be used for highlighting effects in everything from living spaces to hallways, and as there are no bulbs to replace, they work well in a permanent structure, like a ceiling.
Suppliers like Starscape offer off-the-shelf kits which consist of an LED light source, 120 points of light, 'twinkle' wheel and associated hardware, from £183 (for the Orion package). You'll need a bit of DIY nous to fit one, or the phone number of someone who does, but the finished result is sure to impress. Larger packages, for galaxy-sized theatres, are also available.
If you're not fazed by DIY, then plenty can be achieved with the wide range of fibre optics and LED solutions on the market. However, a simpler (although more expensive option) is to engage the services of a custom installer, who will be happy to makeover your room to Tron-esque levels of illumination lunacy. Lighting design itself has evolved into a key aspect of every professional install, with most pro-control and home automation players holding a torch for it.
Ian Child, Principal Engineer at the Yorkshire-based custom install company Wall of Sound, says that 'lighting has become a great way of expanding the scope' of the average custom install. His company started out as a specialist in multi-room audio and home cinema, but now offers networking, lighting and environmental control systems as standard. 'With rapid developments in LED bulbs there are lots of new opportunities to enhance the look and feel of a cinema room.'
Guy Singleton, design director at award-winning install outfit Imagine This, concurs. 'When designing a luxury theatre or media room the lighting is, in our opinion, just as important as the selection of the Blu-ray player,' he tells HCC. 'In fact it can transform the room, with the use of circuits and scenes allowing the correct lighting levels to be recalled time and again. If you think about it, you spend time calibrating your screen to THX/ISF standards with both colour and brightness. It would be nice if you could recreate the exact light levels every time or your calibration becomes worthless. You can do this with a lighting controller and we absolutely insist on this in all of our installations and designs.'
Singleton also implores you not to forget about natural lighting. 'It's still part of lighting control. Window and blind treatments that integrate with the system will help deliver the very best performance. In the very best high-end theatres it would be unusual to have windows but if you do, controlling the light from them is imperative. 'Although lighting is often overlooked and added on as an afterthought, it is simply one of the most important aspects of any cinema.'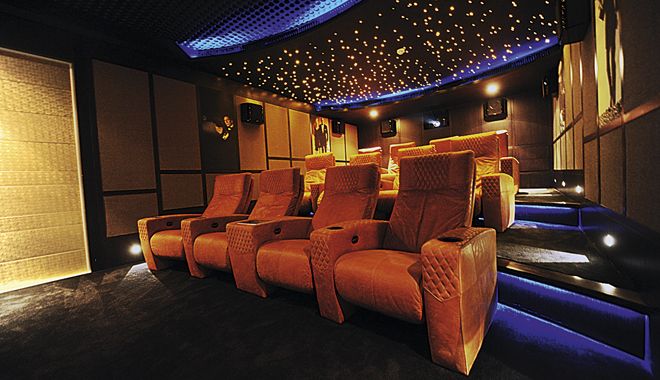 LED on the charge
Still the most commonly used lamp in any dimming system is a 50mm dichroic halogen. It's inexpensive, dims smoothly to a warm glow and effortlessly dispenses eye-pleasing, popcorn-munching ambience. LED has started to gain traction with pro installers, but while this greenest of options may be gentler on power consumption, replicating the pleasing look of halogens is not easy.
Control brand Crestron has released its first range of dimmable LED light fittings under the Luminaries banner. Dubbed CLEDs, they offer a smooth, warm dimming curve, colour temperature and Lumen output very similar to halogen. Not only do they have a projected lifespan of 70,000 hours, they're easily integrated into a wider Crestron home automation system.
Integrating lighting into a larger home cinema installation, or throughout a property, means that you'll get all the embellishments, like dedicated wall switches and multiple control options. Home automation company Control4 offers dimmers and high-end switches that meld lights with energy consumption and security. The brand's Wireless Adaptive Phase Dimmer is compatible with LEDs, incandescents, halogens, electronic low-voltage (solid state) transformers and fluorescents. A customisable keypad and dimmer can be configured with up to seven custom-engraved, LED backlit buttons (because you know you want a button that screams Man Cave). More customisation is possible too, including an ambient light sensor to automatically adjust the brightness of status LEDs and button backlighting.
Although they might not seem natural bedfellows, the ability to deploy sophisticated lighting is part and parcel of the networked revolution now engulfing all aspects of home automation and system control. As the infrastructure to support AV and control becomes standardized and more pervasive, the appeal of controllable lighting becomes irresistible. For installers it's more often than not part of the basic system design, intrinsic to the AV that follows.
At this level, exemplified by the work of CEDIA installers at the higher end of the market, there's really no limit to the cost and scale of a deployment. Guy Singleton reveals that projects undertaken by Imagine This vary in price from £1,000 to £100,000. The end goal, though, is the same: too take the entertainment experience to another level altogether.
---
Rako: The retro-fit lighting option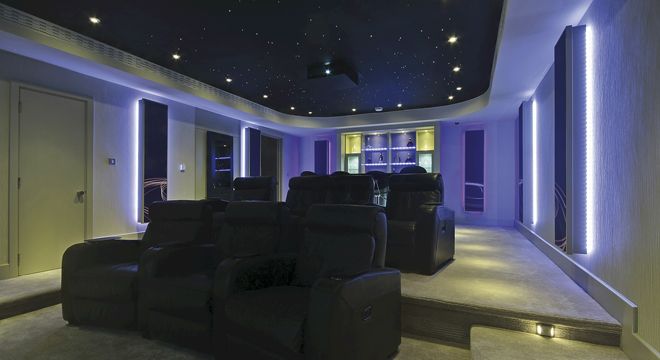 The biggest challenge facing most home cinema fans is how to effectively retro-fit an existing cinema room without re-wiring the entire joint. The solution is an RF wireless lighting system.
Rako's such offering is both ingenious and straightforward. If your theatre room already has the lighting fitments required, then implementing a wireless solution is surprisingly straightforward; your lighting installer should be in and out with a minimum of fuss. If you're converting from a single legacy fitment to scattered downlights, you'll probably need to factor in some chasing and clean-up work.
So what do you actually need to retro-fit a Smart lighting system? The average cinema room would utilise Rako's RTD500-L in-line dimmer, which can handle low-voltage halogen and tungsten loads up to a total of 500W. Rako offers other dimmers for different loads – the RDL250-L handles up to 250W, while the RDL1200-C copes with 1,200W; the latter would be overkill in a domestic cinema, though. The RDL500-L supports a maximum of ten 50W bulbs, which represents a circuit. Your cinema room could have two or three circuits, each individually controllable.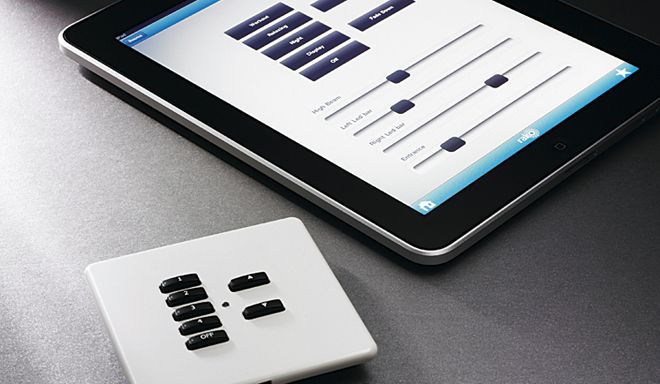 Push the button
Controlling these dimmers would be an RCM-070 keypad. This seven-button controller features four programmable scenes, plus manual dimming. Helpfully, the keypad fits into a standard single gang UK back-box. As the system works wirelessly via RF, no connection to the mains supply is required. Instead, the keypad is powered by a simple coin battery. Matching keypads can be used to control projection screens, too.
To enable Wi-Fi control of the Rako system, you'll need a wireless bridge. This is located next to a router or network switch and provides a Wi-Fi access point for the system, which can then be controlled via an iPad/iOS or Android device. The Rako app replicates the on-wall keypad and allows you to temporarily override any given scene. It's a doddle to use.
Of course, you can extend your Rako system out of the cinema and across the rest of your multiplex. Additional features include a Security Time Clock module, so that when you're out and about, the house still appears occupied, and a presence/daylight sensor.
Naturally, the system can only be installed by a certified electrician. A single-room install may cost around £2,000 or considerably less, depending on the particulars of the job. However, the end result is an intelligent lighting system that's the equivalent of any celebrity crib.
https://www.meethue.com
https://starscape.co.uk
www.wallofsound.co.uk
www.imaginethis.uk.com
www.crestron.eu
www.control4.com
www.rakocontrols.com

SPONSORED VIDEO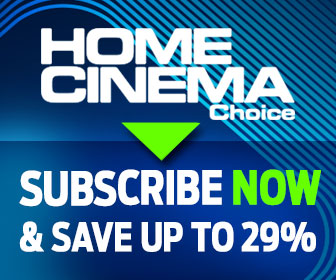 Home Cinema Choice #332

is on sale now, featuring: Samsung's 8K flagship; Anthem AVM 90 processor; B&W 800 Series Diamond; LG smart projector; Hollywood box office bombs; Hitchcock 4K; and more
Want to see your home cinema system featured in the pages of HCC? Click
here
for more info.