Hammer: Volume One – Fear Warning! Blu-ray review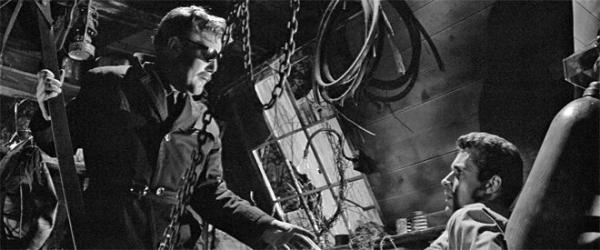 Following a lengthy gap with no new UK releases, fans of Hammer Studios' classic output are currently enjoying a Blu-ray bonanza. First came four solo titles from Studiocanal (Blood from the Mummy's Tomb, Demons of the Mind, Fear in the Night and Scars of Dracula), and now we have the first in a series of four volumes of Hammer boxsets planned by indie label Indicator.
Splitting its selection of four films evenly between the studio's supernatural horrors and psychological thrillers, this boxset kicks off with the twisty black- and-white chiller Maniac (1963) about an American artist who becomes involved with both bar owner Eve and her teenage stepdaughter. An already volatile situation is made even more hairy when Eve's nutty husband is sprung from the local asylum where he has spent the past few years.
Anyone put off by the set's lack of any of the studio's iconic Dracula or Frankenstein films can take solace in The Gorgon (1963), which reunites Hammer stalwarts Peter Cushing and Christopher Lee – albeit both playing against type – in a fascinating twist on the traditional werewolf myth.
Despite a neat twist in its final act, The Curse of the Mummy's Tomb (1964) struggles to do anything really new with the shambling monster. Thankfully, Fred Clark's exuberant turn as a P.T. Barnum-esque showman adds some much needed energy and humour to the production.
Last up is the delightfully bonkers 1964 psycho- thriller Fanatic (aka Die! Die! My Darling!). Coming across like a crazed slice of Southern Gothic transposed to a quaint English village, the film finds a young American woman (Stefanie Powers) being held prisoner by her deceased fiancé's fanatically religious mother (Tallulah Bankhead).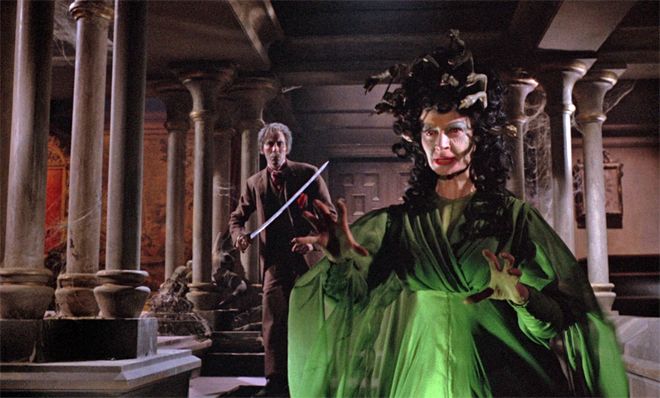 Picture: Maniac's black-and-white 2.35:1 transfer offers accurate greyscale and super contrast, while The Curse of the Mummy's Tomb has no trouble resolving the rich colours and heavy grain inherent in the 2.35:1 Techniscope photography. The Gorgon and Fanatic (framed at 1.66:1 and 1.85:1 respectively) also hold up to close scrutiny in 1080p, with plenty of detail in evidence throughout.
Picture rating: 4/5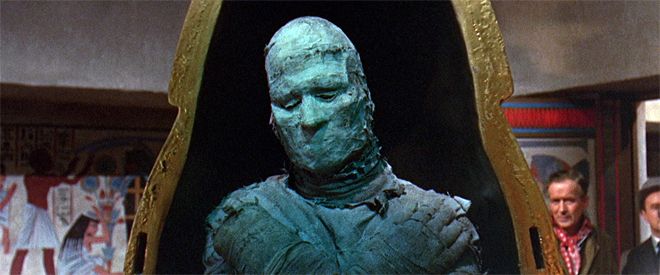 Audio: Each film features an LPCM presentation of the original mono soundtrack. Evidently, these have received just as much attention as the visuals during the clean-up process. Completely free from hiss and distortions, these tracks handle dialogue and Foley effects with ease, while bringing rich tonality to the quartet of lush scores.
Audio rating: 3.5/5
Extras: For the most part the four Blu-rays stick to a specific template for extras that includes a dedicated retrospective featurette, new interviews, video essays about a particular actress, an extensive gallery of stills and posters, and the trailer. On top of all of this, The Curse of the Mummy's Tomb adds the (black-and-white, silent) Super 8 version; The Gorgon receives a commentary by critics Kat Ellinger and Samm Deighan, plus a reproduction of the 1977 comic book adaptation (pictured below); and Fanatic offers the choice of watching it with UK or US opening titles. Each Blu-ray also comes bundled with its own booklet.
Extras rating: 4/5
We say: An impressive hi-def set for a quartet of lesser-known Hammer horrors. Roll on Volume Two…
Hammer: Volume One – Fear Warning!, Indicator, All-region BD, £60
HCC VERDICT: 4/5