Dynaudio Excite 5.2 review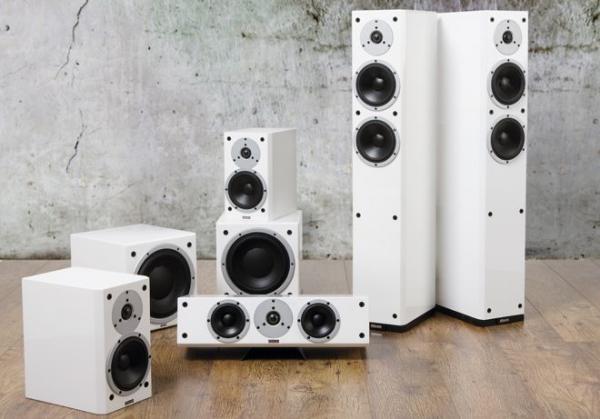 We audition Dynaudio's 'entry-level' Excite speakers with the aid of two subs and some Hobbits
Despite sitting at the entry-level end of Dynaudio's speaker range, the Excite package on test here still adds up to well over £4,000, which gives you a good idea of the Danish brand's audiophile ethos.
The Excite range includes a couple of floorstanders, the X32 and step-up X36; two bookshelf models, the X12 and step-up X16; and the X22 Center. Our system comprises a pair of X32 fronts, a pair of X12s on rear duties and the X22 – topped off (or should that be bottomed off?) by two of Dynaudio's Sub 250 Compact subwoofers.
As you'd expect from a self-proclaimed high-end system, the Excite cabinets' build quality and design is exemplary, easily justifying the price tag. At 920mm tall, the X32 fronts aren't massive by any stretch of the imagination, but unboxing them took more grunting and elbow grease than expected. That's testament to the solid Scandinavian craftsmanship in the enclosures, which tip the scales at just over 17kg each.
Design-wise there's nothing particularly radical or showy about the X32s. Their straight lines and right angles result in a boxy appearance – we've seen more curves on a catwalk – but I like the way the front edges slant inwards towards the black cloth grille. Their slim, compact dimensions could be the clincher when convincing your other half to let them in the living room.
Despite a lack of aesthetic envelope-pushing, they carry themselves with undeniable class. This is largely because they're slathered in a crisp, white piano lacquer finish that oozes contemporary panache, as well as forming a striking contrast with the black grille. But if that's too disco for you, they also come in black piano lacquer and more subdued real wood veneers – Maple, Cherry and Rosewood.
Yank the grille from its plug fixings (as we've done for photography) and you'll uncover dual 5.5in mid/bass drivers and a 1in tweeter, each framed by an eye-catching silver surround.
The X32 is a traditional two-way speaker but Dynaudio says the use of two newly-designed mid/bass drivers – fashioned from Magnesium Silicate Polymer – means they'll dig out deep bass notes and give the sound more punch.
Centre point
The three-way X22 Center is blessed with more of the same sumptuous build quality and clean lines, but it's on the large side. Again the white lacquer and black grille is a stunning combo, but there's practicality behind the panache – on the bottom is an integrated metal plinth that tilts the speaker upwards to the 'ideal dispersion angle'.
The X12's design mirrors that of the X32, right down to the angled front corners, but they're shrunk to a furniture-friendly 285mm height. Again, build quality is superb, and like all the speakers there are chunky binding posts on the back encased in transparent plastic. Behind the grille sits a single 5.5in mid/bass driver and soft dome tweeter.
Dynaudio is keen to stress its preference for traditional rear speakers over dipoles or bipoles (as favoured by THX), which stems from its belief that dipoles aren't suitable in a living room situation. 'Dipoles and bipoles are designed to take advantage of the sound reflected from the rear wall, therefore the room position, the distance to the rear wall and the wall surface itself all have to be taken into account,' says the brand's product manager, Roland Hoffmann.
'On top of that, dipoles have clear limits in their frequency range. So very often dipoles in the actual room end up giving completely diffuse, artificial surround sound, and on some listening positions it just sounds wrong, especially with music.' Food for thought.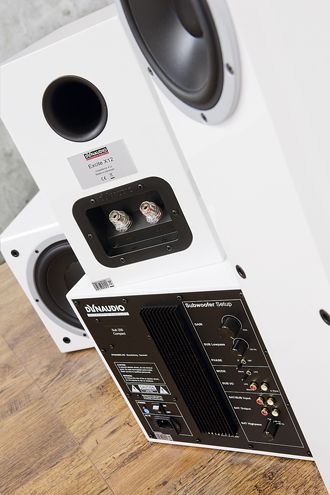 The Sub 250 Compact is Dynaudio's smallest subwoofer and at first glance its cute dimensions don't scream out 'wall-shaking bass' – probably why Dynaudio suggested we audition two of them. But don't let its diminutive size fool you – the 200W amp and 9.5in woofer lurking inside have the potential for some hefty low-end lunacy.
There's plenty to play with on the sub's rear panel. Gain and Sub Lowpass dials let you adjust the volume and crossover frequency respectively, while a pair of switches let you invert phase and select between slave and LFE modes. Sockets include slave in/out for daisy-chaining additional subs, plus L/R phono inputs and output.
If you're going to call your speakers Excite, you need to be pretty sure of their ability to entertain – and that's exactly what they do. Rigged up to my Onkyo AVR, the system delivers a thrilling performance with The Fellowship of the Ring.
It has more than enough muscle to fill a room, lending a greater sense of scale to the majestic Middle-earth soundscapes than you might expect given the speakers' relatively compact dimensions. The X32s and X22 attack effects with relish and bring a silky touch to Howard Shore's sweeping score.
The Excite array is most impressive during the Mines of Moria sequence, but not just the slam-bang bits. It also nails the sense of foreboding dread and tension in the quiet parts, teasing out faint noises and creepy background ambience. When Pippin knocks the dead dwarf down the well, alerting the orcs of their presence in the cave, the clanking armour echoes and reverberates brilliantly around the soundstage, pinging from speaker to speaker with tonal consistency.
Ready to rumble
After the door hits the ground with a tight thump, it all kicks off. The cave troll's bassy footsteps are deep and fulsome but kept in check by the composed Sub 250. Arrows whizz by crisply, swords clash without excessive brightness and there's a convincing metallic jangle as Legolas strangles the troll with the chain.
The soundstage is tight and cohesive, and as the group bustles towards the Bridge of Khazad-dûm accompanied by the soaring, iconic ...Rings theme, you can actually feel your adrenalin levels rising.
This system doesn't seem quite as assured at high volumes, however. When I really cranked my amp up the speakers lost clarity and composure, struggling to cope with particularly forceful sounds. So, when the orcs and goblins scurry away after hearing Balrog growl, the cacophony of shrieking, clanking armour and scratching claws on stone sounds strained and overpowering, making it difficult to pick out individual elements.
But that's the only real negative aspect of its performance – treat the volume dial with restraint and you get nothing but good vibes.
The centre speaker does a fantastic job with dialogue, making Boromir's mumbled 'What is this new devilry?' as easy to hear as Gandalf booming 'YOU SHALL NOT PASS!' moments later. Grand speeches are delivered with gravitas and orc voices have a serrated, growly edge to them, made possible by the X22's assured detail handling. Surround effects are clear and precisely placed, justifying Dynaudio's decision to stick with traditional rears.
I switched to another fanboy favourite, Hellboy II: The Golden Army and was again bewitched by Dynaudio's sonic spell. When the Elemental demolishes a city block, it's conveyed with monstrous power, fleet-footed effects and deep bass as the mega-plant stomps cars to smithereens. Again the creature's screams have a slightly ripe edge with the volume up high, but on the whole it's an absolute blast.
So is this setup worthy of your cash? In terms of build quality, styling and overall performance the answer is a resounding 'yes', although for the money I'd have expected a bit more composure and clarity at high volumes. The similarly-priced THX-certified Jamo D 600 array is more thunderous – but nowhere near as beautiful to look at.
---
HCC VERDICT
Dynaudio Excite 5.2
Price: £4,500 Approx
www.dynaudio.com
Highs: Gorgeous build quality and classy styling; impressive detail, power and dialogue handling
Lows: Loses composure and clarity at high volumes; no magnetic fixings for grilles
Performance: 4/5
Design: 4/5
Features: 4/5
Overall: 4/5

SPONSORED VIDEO

SPONSORED VIDEO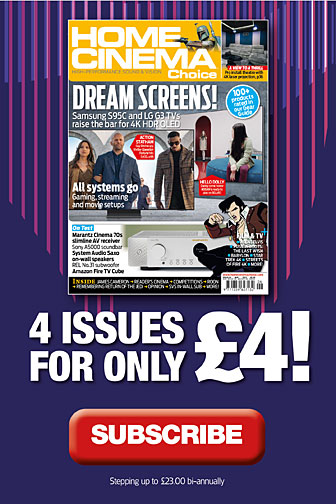 Home Cinema Choice #332

is on sale now, featuring: Samsung's 8K flagship; Anthem AVM 90 processor; B&W 800 Series Diamond; LG smart projector; Hollywood box office bombs; Hitchcock 4K; and more
Want to see your home cinema system featured in the pages of HCC? Click
here
for more info.