Dynaudio Excite 5.1 review

Like Thorin Oakenshield in The Hobbit, Dynaudio's latest Excite speaker range is on a quest. In this case, to unite the armies of high-end and budget audio buyers to defeat the dragon of bad sound quality. These speakers are designed to sound great with any partnering kit, from entry-level amps right up to reference gear.
Dynaudio hopes to achieve this in a couple of ways. Firstly, the sonic characteristics of Dynaudio's tweeters and mid/bass drivers – all of which have been developed and built in-house in Skanderborg, Denmark – allow them to deliver sound quality that's, I'm told, 'virtually independent' of the amplifier used. Secondly, their high impedance (8 ohms) and avoidance of impedance drops means they should work well with medium-powered amps and receivers.
This new incarnation of the Excite range comprises four models – the X34 and top-end X38 floorstanders (£2,000 and £2,850 per pair respectively), the £620 X24 centre speaker and the compact X14 bookshelf (£900 per pair). We're using a pair of X34s, a pair of X14s and the X24, plus the £1,550 Sub 600 woofer.
The speakers comes in lacquer and real-wood veneer finishes. The more contemporary lacquer finish is available
in black or white, while your wood options are Walnut or Rosewood. Dynaudio sent the Rosewood version, which looks suitably classy and distinguished.
The X34 is a handsome if unremarkable floorstander. Dynaudio hasn't tried anything clever or look-at-me with the cabinet, sticking with a classic box shape, although the tapered front corners break up the straight lines. Anyone worried about the impact of these floorstanders on carpet space can rest assured that they're relatively slim and discreet, measuring 950mm tall by 170mm wide.
Build quality is superb. Lift one up and there's a satisfying heft to the cabinet, and all the bits and pieces are firmly bolted together. The lacquer finishes no doubt add an extra sense of luxury, but the wood veneer's matt texture is pleasant to the touch. The cabinet can sit on four resonance-absorbing feet or adjustable spikes.
The X34s come with a cloth grille held on by hidden magnets, giving them a clean, minimal look. Peel them off, however, and the old-school wood finish is attractively juxtaposed by silver driver surrounds, peppered with screws that create an industrial vibe.
Unsurprisingly at this price, the X34s offer bespoke technologies. The driver array comprises two Magnesium Silicate Polymer (MSP) mid/bass cones with lightweight aluminium wire voice coils, above which sits a specially-coated fabric dome tweeter. Identical driver technology is employed in the X24 centre, except the dual mid/bass cones flank the tweeter in the horizontally aligned cabinet. There's an integrated metal base that angles the speaker upwards towards your ears. Again, build quality is exemplary and the slender cabinet shouldn't cause installation headaches. The X14 is the most compact Excite speaker to date. Basically a mini-me version of the X34s, it's designed to sit on a tabletop or the optional 3X stand.
Rounding off the system is the Sub 600, which isn't part of the Excite family but offers a blockbuster spec and similarly smart design. A sealed enclosure weighing 21kg and built like a tank, it's Dynaudio's most advanced woofer, partnering its 12in forward-facing driver with a 300W amplifier. Getting it hooked up in a home cinema environment is a doddle, with the LFE input joined by a phase switch, plus gain and crossover dials. It also doffs a hat to two-channel setups where processor-based bass management will not be an option by offering full bandwidth input and a high-pass filter to cut off low frequencies at 60Hz or 80Hz, before passing the audio signal on via its 'SAT' speaker output. There's also an LFE output for daisy-chaining additional subs.
Filling the room
After rigging up the Excite system to an Onkyo TX-NR818 – not a high-end receiver by any stretch but equally no slouch in the power department – it does indeed deliver impressive results. This is a refined, effortless listen, taking blockbuster soundmixes like The Desolation of Smaug in its stride. Its sound is fast and detailed with a crisp leading edge, and it musters a big room-filling soundstage when the material demands it.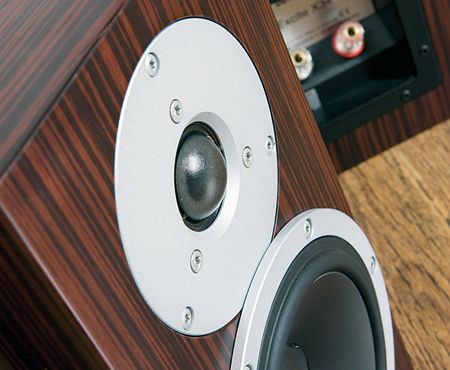 The riotous 'Orc Attack' chapter is the perfect showcase for the system's talents. In the build-up, orcs creep across the rooftops and their gentle footsteps are audible thanks to the speakers' terrific detail and sensitivity, while Bolg's subtle growl is similarly lucid. When they launch their attack, the 'thunk' of feet landing on wooden floors sounds solid and realistic. Every effect is delivered with clarity and conviction, from creaking floorboards to snarling orcs, and as Tauriel and Legolas start slicing up their assailants, the metallic chink of their blades is incisive.
The powerhouse subwoofer plays an integral part, layering every sound with deep bass. There's plenty of slam, demonstrated every time an orc crashes through the roof – the crunch of splintering wood is bolstered by a fast, forceful bass punch.
It's also seamlessly integrated and gels everything together. This lends authority to dialogue, particularly the Necromancer's – his menacing voice is locked to the centre of the front stage while the tweeters tease
out the sibilance and ethereal effects.
Switch to a bigger scene and Excite's sense of scale makes it easy to suspend disbelief. As Smaug stomps around the caverns of Erebor you'll really believe his size and heft, thanks to the subwoofer's convincing treatment of his footsteps and bellowing roar. Surround presentation is also impressive – effects from the X14 surrounds are clean and precise, and the echoes that ring out around the hall create an amazing sense of space and distance. As the dragon passes while the dwarves cross the bridge, the swooshing noise and its throaty gurgle sweep between channels with a smooth, consistent tone.
However, I do feel the Excite array could do with more bite and dynamism to bring the excitement levels up a notch. It has a highly enjoyable sonic character, but even with my eager-sounding Onkyo it's a tad reserved.
Is its sound more suited to music? I dusted off a 48kHz/24-bit DVD-Audio disc of a terrific Japanese jazz album called Variations by Atagiin, skipped to the stunning 5.1 mix of What The World Needs Now Is Love and luxuriated in this system's expressive presentation and confident staging. The sax and oboe solos are cleanly separated and precisely located, while crystal-clear surround information placed me right in the middle of the performance. The full-bodied double bass that plays the song's timeless melody is pinned to the centre and accentuated by the fine pluck of the strings, while gorgeous piano chords and delicate brushed drums drift gracefully around it.
Cost considerations
Another concern is the price. This 5.1 array packs a sparkling performance, but having heard, for instance, Monitor Audio's £2,800 6AV12, I didn't really perceive the huge step up in quality I expected from a system costing over £2,000 more. So, in short, Dynaudio's new package sounds delightful, with a measured and balanced output, but falls short of Best Buy status.
Specification
Excite X34 floorstanders
Drive units: 2 x 5in MSP mid/bass drivers; 1 x 1in coated fabric dome tweeter
Enclosure: Bass reflex
Frequency response: 37Hz-23kHz
Sensitivity: 86dB
Power handling: 200W
Dimensions: 170(w) x 929(h) x 270(d)mm
Weight: 17kg
Excite X24 centre
Drive units: 2 x 4in MSP mid/bass drivers; 1 x 1in coated fabric dome tweeter
Enclosure: Bass reflex
Frequency response: 55Hz-23kHz
Sensitivity: 84dB
Power handling: 150W
Dimensions: 500(w) x 145(h) x 210(d)mm
Weight: 8kg
Excite X14 surrounds
Drive units: 1 x 5in MSP mid/bass drivers; 1 x 1in coated fabric dome tweeter
Enclosure: Bass reflex
Frequency response: 50Hz-23kHz
Sensitivity: 85dB
Power handling: 150W
Dimensions: 170(w) x 285(h) x 255(d)mm
Weight: 6.5kg
Sub 600 subwoofer
Drive units: 1 x 12in woofer
Enclosure: Sealed cabinet
Low Frequency response: 22Hz-200Hz
On board power: 300W
Remote control: No
Dimensions: 350(w) x 370(h) x 420(d)mm
Weight: 21kg
Connections: Stereo phono input and output; LFE input and output

SPONSORED VIDEO

SPONSORED VIDEO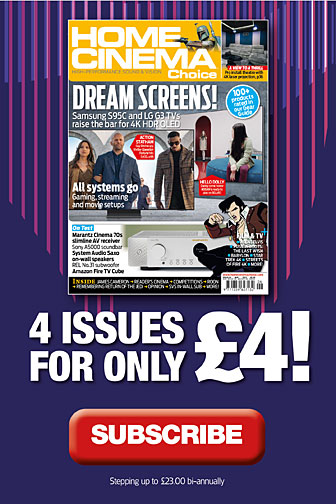 Home Cinema Choice #332

is on sale now, featuring: Samsung's 8K flagship; Anthem AVM 90 processor; B&W 800 Series Diamond; LG smart projector; Hollywood box office bombs; Hitchcock 4K; and more
Want to see your home cinema system featured in the pages of HCC? Click
here
for more info.